Welcome to REIT.com
Welcome to REIT.com
REIT.com is the online home for all things REIT. Brought to you by NAREIT®, the National Association of Real Estate Investment Trusts®, REIT.com delivers the latest real estate investment data and analysis, news, policy developments and industry information. Be sure to come back often for the latest updates.
French retail-center owner Klepierre is acquiring the Netherlands' largest listed property owner, Corio, for $9.68 billion.
INVESTING 
Index Data
REIT Basics
NAREIT 
Upcoming Events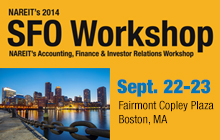 The SFO Workshop presents a focused educational program for REIT officers who manage accounting, financial reporting, capital markets and investor relations.
See All upcoming NAREIT events.
---
U.S. Senate Overwhelmingly Passes TRIA Reauthorization Bill; Bipartisan Bill Would Renew Vital Program for Seven Years
Read More updates on key policy issues.
Interested in real estate investment? Corporate and Individual memberships available