Welcome to REIT.com
Welcome to REIT.com
REIT.com is the online home for all things REIT. Brought to you by NAREIT®, the National Association of Real Estate Investment Trusts®, REIT.com delivers the latest real estate investment data and analysis, news, policy developments and industry information. Be sure to come back often for the latest updates.
U.S. claims for initial unemployment benefits remained near a pre-recession low last week, with analysts crediting fewer layoffs as businesses prepare for renewed consumer demand.
INVESTING 
Index Data
REIT Basics
NAREIT 
Upcoming Events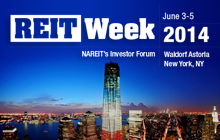 REITWeek 2014: NAREIT's Investor Forum® brings the largest concentration of REIT management teams into one location, enabling you to get the best insights and hear first-hand from REIT executives about their latest company developments.
See All upcoming NAREIT events.
---
NAREIT issues a letter to Chairman Goodlatte commending the House Judiciary Committee for holding a hearing regarding "Exploring Alternative Solutions on the Internet Sales Tax Issue."
Read More updates on key policy issues.
Interested in real estate investment? Corporate and Individual memberships available