Welcome to REIT.com
Welcome to REIT.com
REIT.com is the online home for all things REIT. Brought to you by NAREIT®, the National Association of Real Estate Investment Trusts®, REIT.com delivers the latest real estate investment data and analysis, news, policy developments and industry information. Be sure to come back often for the latest updates.
An unexpected 14.5% drop in new-home sales deflated optimism over the economic outlook, pushing up trading in Treasury bonds Wednesday as investors sought haven assets.
INVESTING 
Index Data
REIT Basics
NAREIT 
Upcoming Events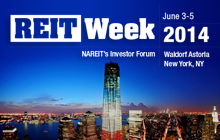 REITWeek 2014: NAREIT's Investor Forum® brings the largest concentration of REIT management teams into one location, enabling you to get the best insights and hear first-hand from REIT executives about their latest company developments.
See All upcoming NAREIT events.
---
Senate Banking Committee Senators Introduce a Bill to Extend and Reform TRIA.
Read More updates on key policy issues.
Interested in real estate investment? Corporate and Individual memberships available