Welcome to REIT.com
NAREIT's Brad Case says broad gains across equity REIT sectors reflect increasing consumer confidence in economic recovery.

CEO Donald Wood says with cap rates contracted, sensible retail-centric acquisitions are scarce in current market.
Welcome to REIT.com
The redesigned REIT.com is the online home for all things REIT. Brought to you by NAREIT®, the National Association of Real Estate Investment Trusts®, REIT.com delivers the latest real estate investment data and analysis, news, policy developments and industry information.
Rising home prices are boosting the economy and some homeowners' finances, but they also are putting homeownership out of reach for some, including first-time buyers.
INVESTING 
Index Data
REIT Basics
NAREIT 
Upcoming Events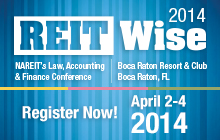 REITWise 2014®: NAREIT's Law, Accounting & Finance Conference® provides attendees with a broad, yet focused educational program that presents a clear picture of current political, economic and market events that impact legal, financial and accounting operations within REITs and publicly traded real estate companies.
See All upcoming NAREIT events.
---
On Feb. 17, 2014, NAREIT issued an SFO Alert on the SEC's areas of focus in reviewing 2013 10-K filings.

Read More updates on key policy issues.
Interested in real estate investment? Corporate and Individual memberships available