Welcome to REIT.com
Welcome to REIT.com
REIT.com is the online home for all things REIT. Brought to you by NAREIT®, the National Association of Real Estate Investment Trusts®, REIT.com delivers the latest real estate investment data and analysis, news, policy developments and industry information. Be sure to come back often for the latest updates.
The Securities and Exchange Commission adopted rules requiring institutional money market mutual funds to use floating net-asset-value share prices rather than a $1 fixed price.
INVESTING 
Index Data
REIT Basics
NAREIT 
Upcoming Events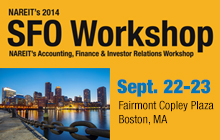 The SFO Workshop presents a focused educational program for REIT officers who manage accounting, financial reporting, capital markets and investor relations.
See All upcoming NAREIT events.
---
U.S. Senate Overwhelmingly Passes TRIA Reauthorization Bill; Bipartisan Bill Would Renew Vital Program for Seven Years
Read More updates on key policy issues.
Interested in real estate investment? Corporate and Individual memberships available