What is a REIT?
A REIT is a company that mainly owns, and in most cases, operates income-producing real estate such as apartments, shopping centers, offices, hotels and warehouses. Some REITs also engage in financing real estate. The shares of many REITs are traded on major stock exchanges.
To qualify as a REIT, a company must have most of its assets and income tied to real estate investment and must distribute at least 90 percent of its taxable income to its shareholders annually. A company that qualifies as a REIT is permitted to deduct dividends paid to its shareholders from its corporate taxable income. As a result, most REITs remit at least 100 percent of their taxable income to their shareholders and therefore owe no corporate tax. Taxes are paid by shareholders on the dividends received and any capital gains. Most states honor this federal treatment and also do not require REITs to pay state income tax. Like other businesses, but unlike partnerships, a REIT cannot pass any tax losses through to its investors.
Why were REITs created?
Congress created REITs in 1960 to make investments in large-scale, income-producing real estate accessible to average investors. Congress decided that a way for average investors to invest in large-scale commercial properties was the same way they invest in other industries — through the purchase of equity. In the same way shareholders benefit by owning stocks of other corporations, the stockholders of a REIT earn a pro-rata share of the economic benefits that are derived from the production of income through commercial real estate ownership. REITs offer distinct advantages for investors: portfolio diversification, strong and reliable dividends, liquidity, solid long-term performance and transparency.
How does a company qualify as a REIT?
In order for a company to qualify as a REIT, it must comply with certain provisions within the Internal Revenue Code. As required by the Tax Code, a REIT must:
Be an entity that is taxable as a corporation
Be managed by a board of directors or trustees
Have shares that are fully transferable
Have a minimum of 100 shareholders
Have no more than 50 percent of its shares held by five or fewer individuals during the last half of the taxable year
Invest at least 75 percent of its total assets in real estate assets
Derive at least 75 percent of its gross income from rents from real property or interest on mortgages financing real property
Have no more than 25 percent of its assets consist of stock in taxable REIT subsidiaries
Pay annually at least 90 percent of its taxable income in the form of shareholder dividends
How many REITs are there?
As of Jan. 31, 2014, there were 204 REITs registered with the Securities and Exchange Commission in the United States that trade on one of the major stock exchanges — the majority on the New York Stock Exchange. These REITs have a combined equity market capitalization of $719 billion.
Additionally, there are REITs that are registered with the SEC but are not publicly traded, and REITs that are not registered with the SEC or traded on a stock exchange. Internal Revenue Service shows that there are about 1,100 U.S. REITs that have filed tax returns.
What Types of REITs are there?
The REIT industry has a diverse profile, which offers many investment opportunities. REITs often are classified in one of two categories: equity or mortgage.
Equity REITs:
Equity REITs mostly own and operate income-producing real estate. They increasingly have become real estate operating companies engaged in a wide range of real estate activities, including leasing, maintenance and development of real property and tenant services. One major distinction between Equity REITs and other real estate companies is that a REIT must acquire and develop its properties primarily to operate them as part of its own portfolio rather than to resell them once they are developed.
Mortgage REITs:
Mortgage REITs mostly lend money directly to real estate owners and operators or extend credit indirectly through the acquisition of loans or mortgage-backed securities. Today's Mortgage REITs generally extend mortgage credit only on existing properties. Many mortgage REITs also manage their interest rate and credit risks using securitized mortgage investments, dynamic hedging techniques and other accepted derivative strategies.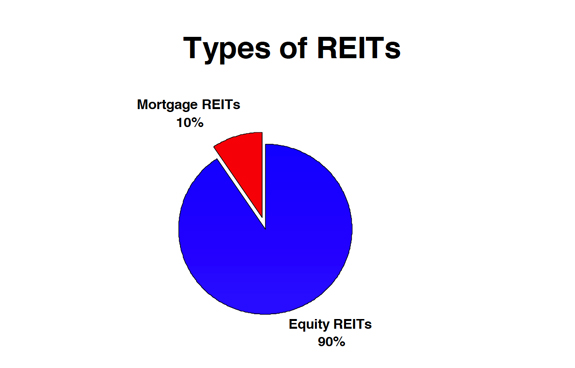 Who manages a REIT?
Like other publicly traded companies, a REIT's executive management team operates the company, deciding what properties it will own and manage. Management's decisions are overseen by a board of directors that is responsible to the shareholders. As with other corporations, REIT directors are typically well-known and respected members of the real estate, business and professional communities. Many of today's REITs became public companies within the past 20 to 25 years, often transforming to public ownership what previously had been private enterprises. In many cases, the majority owners of these private enterprises became the senior officers of the REIT and contributed their ownership positions to the REIT.
What types of properties do REITs own and manage?
REITs own and manage a variety of property types: shopping centers, health care facilities, apartments, warehouses, office buildings, hotels and others. Most REITs specialize in one property type only, such as shopping malls, timberlands, data centers or self-storage facilities.
Some REITs invest throughout the country or in some cases, throughout the world. Others specialize in one region only, or even in a single metropolitan area.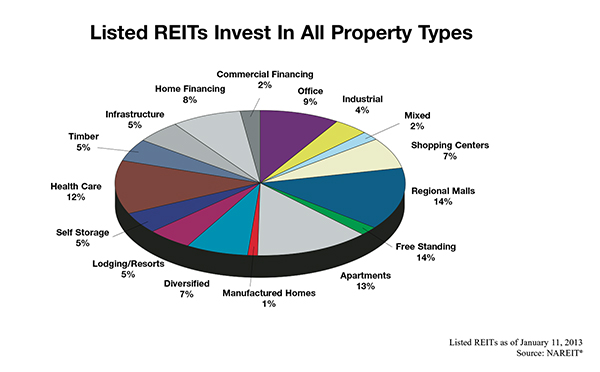 How are REITs different from partnerships?
REITs are not partnerships. Most publicly traded REITs are vertically integrated real estate companies that develop, own and actively manage commercial real estate. Shares in these companies are traded, the same as other stocks, on major exchanges, providing complete liquidity and market pricing. Publicly traded REITs are subject to the same financial disclosure requirements as other publicly traded companies. Independent corporate governance consultants have rated the REIT industry's governance among the best of all U.S. industry groups.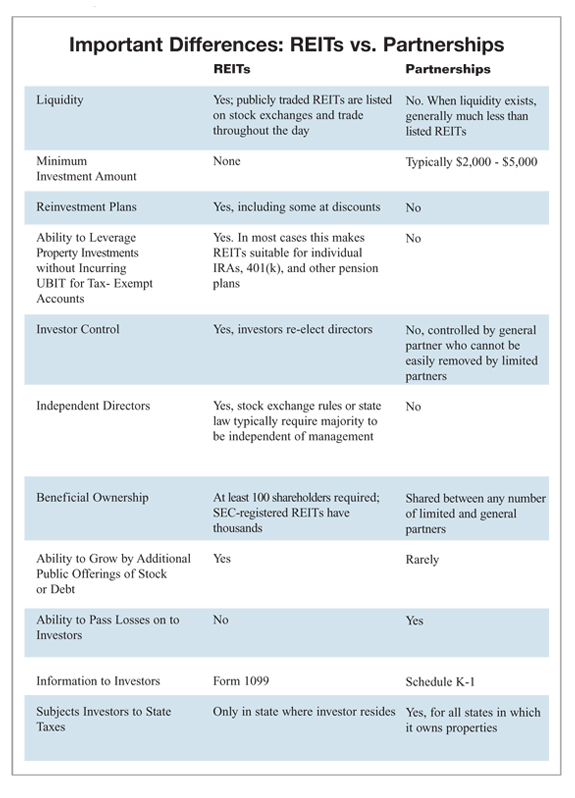 How do REITs use partnerships?
Like other industries, the real estate industry, including REITs, often uses partnerships to co-venture with others. In addition, REITs are typically structured in one of three ways: the traditional REIT, the umbrella partnership REIT (UPREIT) and the DownREIT.
A traditional REIT is one that owns its assets directly rather than through an operating partnership.
In the typical UPREIT, a REIT partners with others, and the partnership is termed the "operating partnership." In return for their respective contributions, the REIT as well as the other partners receive interests in the operating partnership called operating partnership units (OP units). The REIT typically is the general partner and the majority owner of the OP units. For the partners contributing property to the operating partnership, any capital gain tax liability is deferred until such time as the OP units are converted into common shares of the REIT.
After a period of time (often one year), the non-REIT partners may enjoy the same liquidity of the REIT shareholders by tendering their units for either cash or REIT shares (at the option of the REIT or operating partnership). This conversion may result in the partners incurring the tax liability that had been deferred at the UPREIT's formation. However, the unitholders may tender their units over a period of time, thereby spreading out such tax. In addition, when a partner holds the units until death, the estate tax rules operate in such a way as to provide that the beneficiaries may tender the units for cash or REIT shares without paying income taxes.
A DownREIT is structured much like an UPREIT, but the REIT owns and operates properties other than its interest in a controlled partnership that owns and operates separate properties.
Characteristics of Publicly Traded, Non-Exhange Traded and Private REITs: Comparison Chart
More Frequently Asked Questions About REITs: