Read NAREIT's latest submission regarding ESMA's proposed to the European Union regarding ESMA's proposed rule on the Euopean Union's Alternative Investment Fund Managers Directive.

REITWise 2014®: NAREIT's Law, Accounting & Finance Conference® provides attendees with a broad, yet focused educational program that presents a clear picture of current political, economic and market events that impact legal, financial and accounting operations.
POLICY SPOTLIGHT
SFO Alert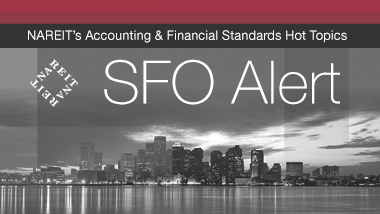 NAREIT has identified potential areas of financial reporting that the Division of Corporation Finance of the Securities and Exchange Commission may focus on in their review of 2013 real estate company (including non-REITs) 10-K fillings.

REIT.com RECOMMENDED
From REIT.com NAREIT
Industry Awards
Learn about awards and award winners for superior performances across the REIT industry.
Learn More
Career Center
Browse or list REIT-related jobs in NAREIT's Career Center, powered by SelectLeaders.
Learn More