Commercial Property Update 2014:Q3 (November 13, 2014)
Sustained above-trend job growth is having a broad impact on commercial property markets. Demand for rental housing has accelerated this year, allowing the apartment sector to absorb a significant increase in new supply with little impact on vacancy rates. The office sector was little changed, on balance, with both completions and net absorption up roughly 40 percent year-to-date. The retail sector remains sluggish, with low net absorption and flat rent growth. For more information, see Commercial Property Update 2014:Q3.
---
Current Market Commentary
Rising job openings show job market momentum still supporting the real estate recovery
A healthy job market has been the key to economic recovery, and especially the recovery in commercial real estate markets.  The link between hiring and the demand for office space is particularly obvious, and the impact that rising employment and wages have on consumer spending, retail sales and demand for retail properties is also clear.  Recently we have seen that the strong job market has helped fortify the multifamily market in the face of increasing supply, as the Millenials that are finding new jobs are fueling rapid growth in demand for apartment rentals.
There has still been the nagging question, though, of just how durable the job market recovery will be, following the spate of setbacks the economy has suffered over the past few years.  Recent data on job openings provide a bit more confidence that the job market has finally turned the corner.  Job openings rose 12 percent (NOT annualized) in the three months ending in June, to the highest level since early 2001 (first chart).  The increase in job openings indicates businesses are more confident about hiring new workers.  Stronger business demand for workers makes it easier for the unemployed to find a suitable position, and there are now just two unemployed workers per job opening, in line with pre-crisis levels, from a high of nearly seven unemployed workers per opening in 2009 (second chart).
These recent figures on the health of the labor market reinforce our view that commercial real estate markets will continue to improve as the economy builds momentum in the second half of this year.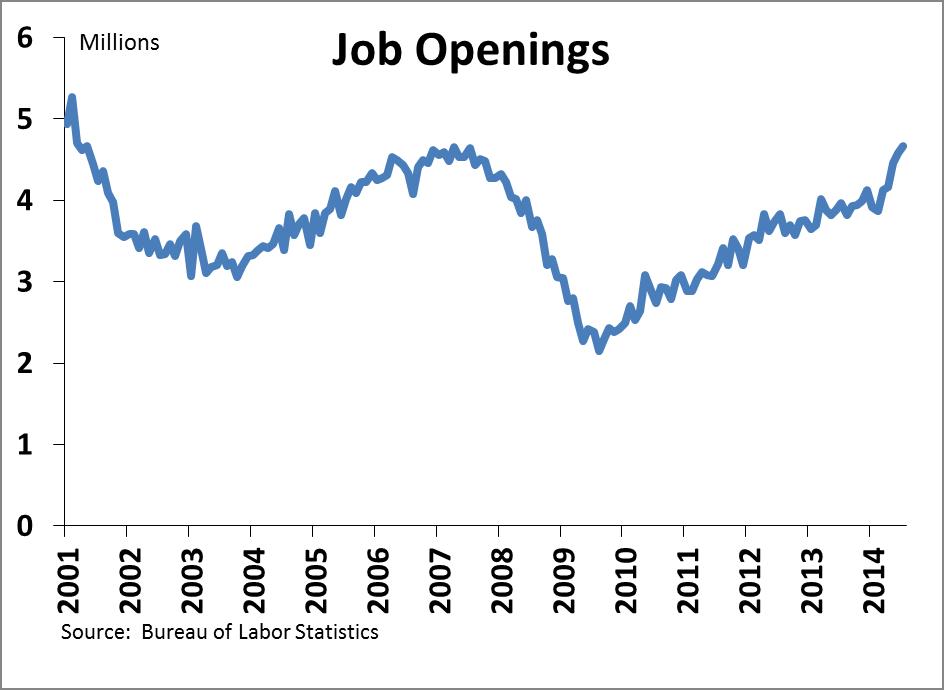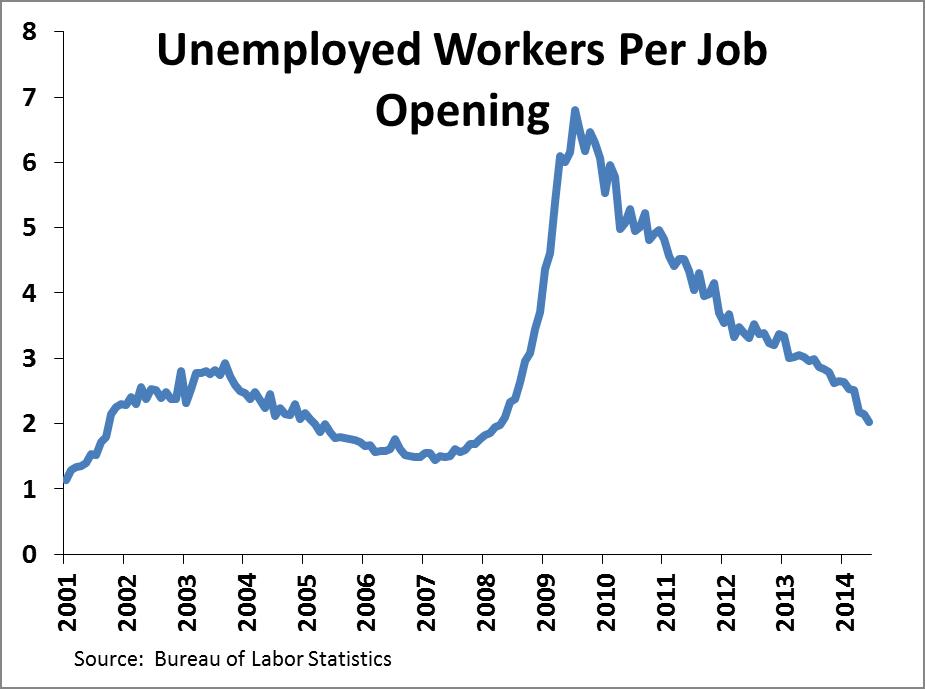 ---
Commercial Property Update 2014:Q2 (August 7, 2014)
Solid economic growth and sustained job market gains are translating into recovery in the commercial property markets. The apartment sector continues to thrive despite increasing deliveries of new units, as job growth has spurred the formation of new rental households, boosting demand for apartments.  The office and retail sectors have been slower to reflect the improving macroeconomic fundamentals, however, as vacancy rates remain elevated and rent growth is more moderate.  The recent gains in labor markets, however, are likely to translate into better conditions in property market before long.  For more information, see Commercial Property Update 2014:Q2.
---
Multifamily update:  Fundamental forces continue to support demand in the face of rising supply
Fundamentals for the multifamily housing sector remain firm, even as new construction comes onto the market. Vacancy rates remain at their lows for the cycle, and rent growth has firmed.
Going forward, we anticipate that the pent-up demand for apartments is likely to continue to bolster household formation, which is the ultimate source of demand for multifamily housing (see attached presentation for slides on historical trends in household formation and estimates of the level of pent-up demand).  With job growth gaining momentum in 2014, demand is likely to meet or exceed new supply for several years into the future.  This will keep vacancy rates low and support rent growth and valuations.
---
Economic Update (July 3, 2014)
Where's the "New Normal" Now? 
It has been popular to say that the economy suffered permanent (or at least long-lasting) damage during the financial crisis, and the economy's new speed limit once recovery was fully underway would be 2 percent GDP growth and nonfarm payrolls rising 160,000 or so per month.
We've long been skeptical of this unduly pessimistic view. While the recovery to date has certainly been disappointing and has suffered one frustrating setback after another, it has been impossible to gauge the long-term potential when so many short-term drags were in play.  And the list of these temporary forces—deleveraging, Euro debt crisis and austerity, Japanese tsunami, debt ceiling, sequester and government shutdown, to name a few—is quite long.
Now the picture is starting to change, and the medium-term outlook is quite different than it seemed in the early stages of recovery. Nonfarm payrolls have grown 230,000 per month on average in the first half of 2014, capped off with June's 288,000 gain. We're finally getting a glimpse of what this recovery can look like once the roadblocks are removed, and the "New Normal" is rapidly becoming Old News.
There are still plenty of weak spots in the economy, to be sure. The millions of unemployed or out of the job market completely, including many long-term unemployed, are a stark reminder of how much more the economy needs to heal. Over the medium term, however, the economy is likely to have more upside surprises than downside.
Commercial real estate will be a major beneficiary as the economy gains momentum. The pick-up in hiring will have a direct impact on the office sector, with more rapid declines in vacancy rates supporting rent growth. Retail properties will benefit as well, as consumers with jobs are more likely to head to the mall than those without. Other sectors will also improve along with the overall economic environment.
---
Economic Update (May 12, 2014) 
Single Family Rentals: Demographic, Structural and Financial Forces Driving the New Business Model
The Single Family Rental (SFR) housing market has grown rapidly since the start of the housing crisis. Home prices have risen sharply, however, especially in some of the markets where institutional investors including several REITs have set up SFR business.  This raises questions about the prospects for the SFR sector.
The transition to a lower rate of homeownership generated large flows of households from owner-occupied into rental properties.  The transition of the housing stock from ownership to rental is not frictionless, however, and requires both capital to purchase homes for rental, and management expertise to operate the rentals.  Institutional investors, including several REITs, bought homes for rental in many metro areas (MSAs) where the flows were large relative to the pool of potential local investors.
Housing stress rose during the crisis, especially in the MSAs with large housing tenure transitions.  Institutional investors made significant investments in these MSAs, which increased the availability of suitable rental properties. REITs have demonstrated their ability to raise capital in public markets to finance real estate, and achieve scale economies by operating large portfolios of properties. Had REITs and other institutional investors not provided capital and management teams, housing stress may have been even worse in these markets.
See here for recent NAREIT research on the demographic, structural and financial forces driving the business model.
For a more in-depth look at the analysis of the SFR model, access the academic research paper posted in March 2014:  http://papers.ssrn.com/sol3/papers.cfm?abstract_id=2418684
Growth in Single Family Rentals is concentrated in a few metro areas--as is the change in ownership, shared and "phantom" households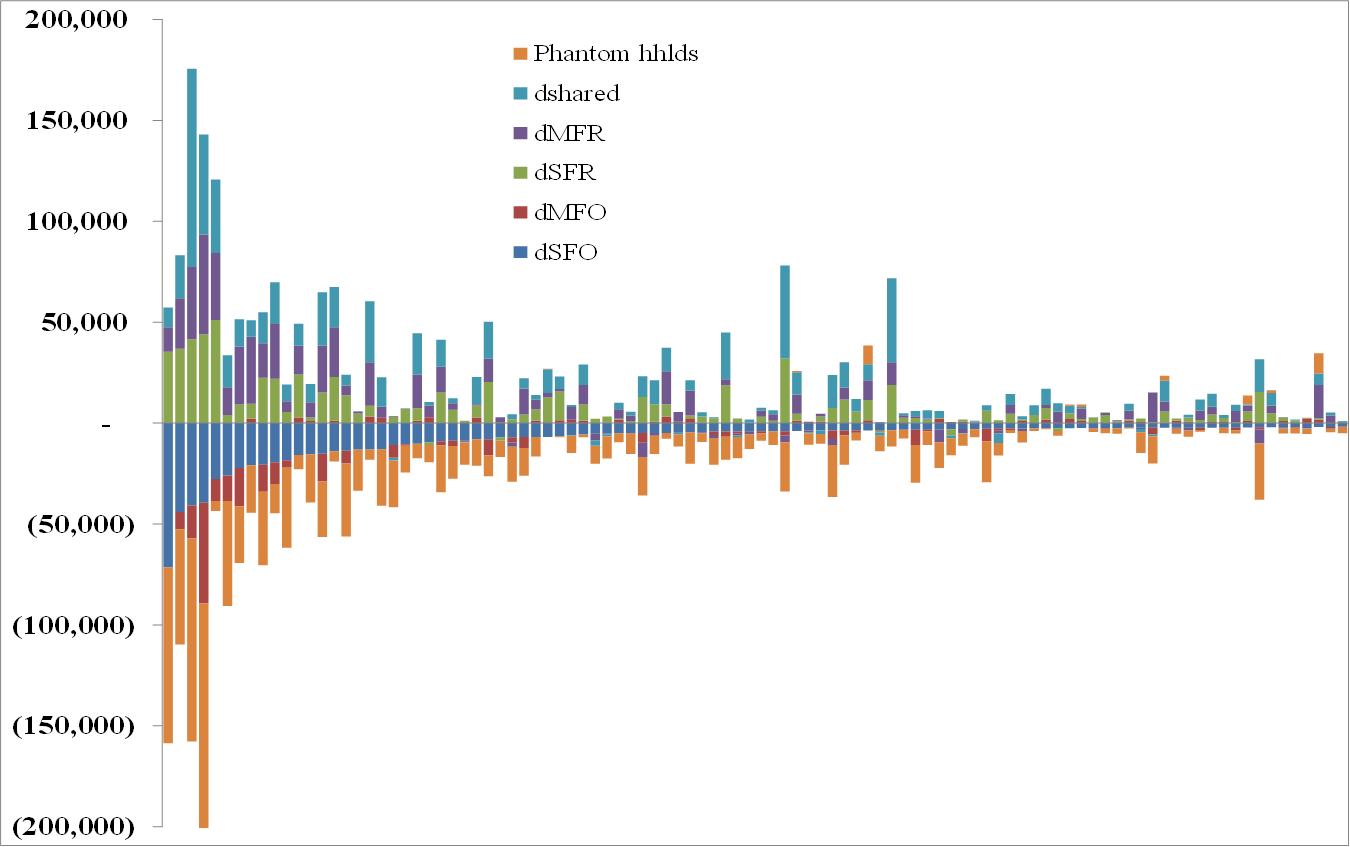 Metro areas with large declines in SFO  had institutional investor purchases, which are a large share of the rise in SFR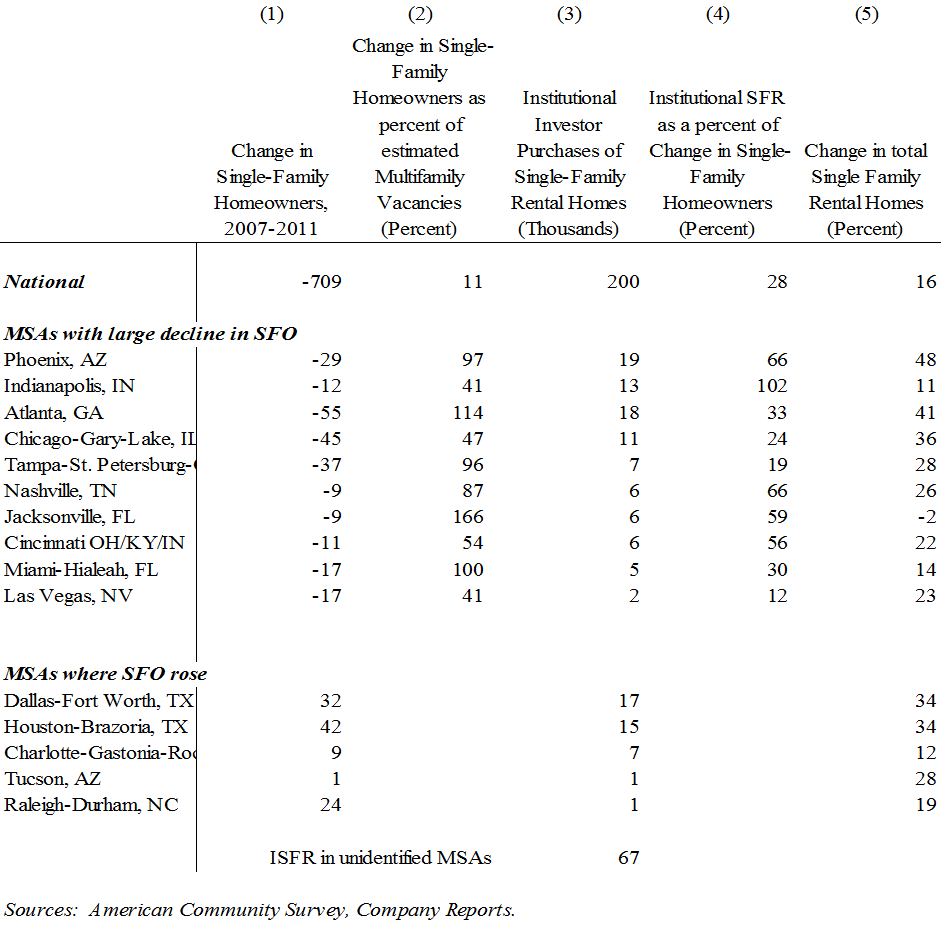 ---
Commercial Property Update 2014:Q1 (May 6, 2014)
Familiar themes from 2013 in commercial property markets carried over in the first quarter of 2014:  Apartment markets held firm despite the steady ramp-up of new supply, the office sector continued to recover—gradually—but the retail market lagged behind. Check the latest Commercial Property Update for details.
---