New Research by Wilshire Offers Target Date Fund Managers a Better Way to Build Retirement Portfolios
Key Findings:
Positive impact of REITs: Better performance, lower risk
Over the 35-year period 1976 - 2010, a Target Date Fund portfolio that includes U.S. REITs would have produced an ending portfolio value nearly 10 percent higher than a portfolio without REITs while also reducing risk.
Optimal allocation
Analysis shows that an allocation of up to 16% in U.S. REITs is optimal for investors planning to retire in 40 years, or 7% for an investor who just retired in 2010.
Time for Target Date Fund industry to optimize
A number of leading TDF providers including BlackRock, PIMCO, UBS and Alliance Bernstein have put significant REIT allocations into their funds. Yet, many TDF providers are giving up performance because they are under-allocated to REITs.
Four for one
Study highlights the power of REITs' attributes versus other asset classes:
High and stable dividends,
Long-term capital appreciation,
Inflation protection, and
Low to moderate correlation to other assets over time.
Download a free copy of Wilshire's Research Report - The Role of REITs and Listed Real Estate Equities in Target Date Fund Asset Allocations.
Leading Target Date and Target Risk Fund Providers' Maximum Real Estate Allocations by Investment Manager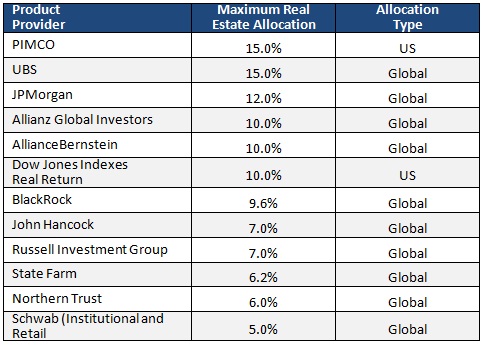 (Source: NAREIT, as of 3/31/2011)