Event description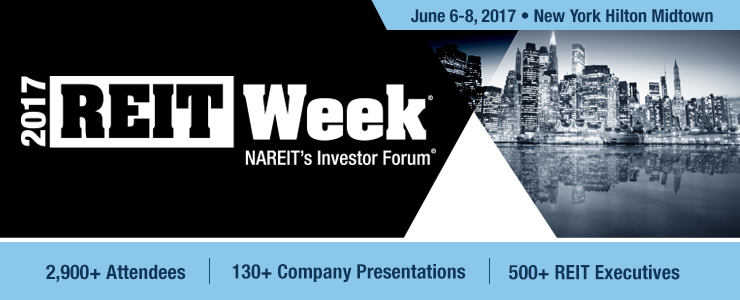 Real estate is a growing sector. And institutional investors are gathering in New York City from June 6 – 8 to learn first-hand from more than 500 REIT executives about investment opportunities in this more than $1T market.
At REITWeek® 2017: NAREIT's Investor Forum®, investors will gain insight from NAREIT Corporate Members on their business plans, forecasts and strategies via: 
130+ individual company presentations
One-on-one meetings
Fantastic luncheons and networking events
In addition, you'll benefit from a fantastic opening general session featuring Emmy Award-winning Journalist Charlie Rose and compelling panels that provide the latest perspectives on the economy, industry trends and other investment insights and information.
Thank you to our generous sponsors for making REITWeek 2017 possible.
Event Details
June 6 - 8, 2017 • Hilton New York Midtown
Sponsorship, Individual Company Presentation and One-on-one meeting Information
Sponsors

 

 

Thank you our sponsors for making REITWeek possible. To learn more about sponsorship opportunities, contact Chris Flood at cflood@nareit.com

Gold level:

Detailed Schedule

 

At REITWeek, investors will gain insight from NAREIT Corporate Members on their business plans, forecasts and strategies via 130+ individual company presentations. Check out the companies confirmed to present in the below schedule.

Monday, June 5

| | |
| --- | --- |
| 3:00pm - 7:00pm | Registration |

Tuesday, June 6

7:00am - 5:00pm
Registration
7:00am - 5:00pm
Networking Room
7:00am - 9:00am
Continental Breakfast
8:00am - 5:00pm
REITPAC Suite (invitation only)
8:00am - 8:30am

Individual Company Presentations

American Campus Communities, Inc.
Kite Realty Group Trust
Rexford Industrial Realty, Inc.
TIER REIT Inc.
Unibail-Rodamco
Washington REIT

8:45am - 9:15am

Individual Company Presentations

Acadia Realty Trust
Bluerock Residential Growth REIT, Inc.
DuPont Fabros Technology, Inc.
EastGroup Properties, Inc.
Gramercy Property Trust

9:00am - 11:00am
Executive Board Meeting (closed meeting)
9:30am - 10:00am

Individual Company Presentations

Columbia Property Trust
Cousins Properties
Equinix, Inc.
Kilroy Realty Corporation
NexPoint Residential Trust Inc..

10:15am - 10:45am

Individual Company Presentations

EdR
Forest City Realty Trust, Inc.
Monmouth Real Estate Investment Corporation
PS Business Parks, Inc.
QTS Realty Trust, Inc.
Tanger Factory Outlet Centers, Inc.

11:00am - 11:30am

Individual Company Presentations

CyrusOne Inc.
Easterly Government Properties
First Industrial Realty Trust, Inc.
Kimco Realty Corporation
MAA
UMH Properties, Inc.

11:45am - 12:15am

Individual Company Presentations

Digital Realty
Duke Realty Corporation
EPR Properties
Rayonier Inc.
Regency Centers Corporation
W. P. Carey Inc.

12:15pm - 2:00pm


            Rose
Opening Lunch General Session

Speaker:
Charlie Rose, Host, PBS's The Charlie Rose Show and Charlie Rose-The Week; Co-Host, CBS This Morning
2:15pm - 2:45pm

Individual Company Presentations

Essex Property Trust, Inc.
Federal Realty Investment Trust
Investors Real Estate Trust
Prologis, Inc.
Weyerhaeuser

3:00pm - 3:30pm

Individual Company Presentations

CatchMark Timber Trust, Inc.
Colony NorthStar, Inc.
DCT Industrial Trust Inc.
Highwoods Properties, Inc.
Independence Realty Trust
Jernigan Capital, Inc.

3:45pm - 4:15pm

Individual Company Presentations

Boston Properties, Inc.
iStar
Liberty Property Trust
Potlatch Corporation
VEREIT, Inc.
Weingarten Realty Investors

4:30pm - 5:00pm

Individual Company Presentations

Government Properties Income Trust
Japan Retail Fund Investment Corporation
NorthStar Realty Europe Corp.
Ramco-Gershenson Properties Trust
Stag Industrial, Inc.

5:00pm - 6:30pm

Book Signing: The Intelligent REIT Investor

Authors: Brad Thomas & Stephanie Krewson-Kelly
6:00pm - 9:30pm
  
       Halperin

         Heilemann
Advisory Board of Governors' Dinner (invitation only)

Speakers:
Mark Halperin, Creator, Executive Producer, and Co-Host, Showtime's The Circus; Senior Political Analyst, NBC News and MSNBC; and Co-author New York Times Best Sellers Game Change and Double Down: Game Change 2012.

John Heilemann, Executive Producer and Co-Host, Showtime's The Circus; Managing Editor, Bloomberg Politics and Co-Host, Bloomberg TV and MSNBC's With All Due Respect during the 2016 election cycle; and Co-Author of New York Times Best Sellers Game Change and Double Down: Game Change 2012.

Wednesday, June 7

7:00am - 5:00pm
Registration
7:00am - 5:00pm
Networking Room
7:00am - 9:00am
Continental Breakfast
7:15am - 8:30am
Real Estate Investment Advisory Council Breakfast (invitation only)
8:00am - 5:00pm
REITPAC Suite (invitation only)
8:00am - 8:30am

Individual Company Presentations

CBL & Associates Properties, Inc.
Consolidated-Tomoka Land
Gladstone Land Corporation
Select Income REIT
Xenia Hotels & Resorts, Inc.

8:45am - 9:15am

Individual Company Presentations

Crown Castle International Corp.
GGP, Inc.
Gladstone Commercial Corporation
Hospitality Properties Trust
Life Storage, Inc.
Sabra Health Care REIT, Inc.

9:30am - 10:00am

Individual Company Presentations

Apple Hospitality REIT, Inc.
Armada Hoffler Properties, Inc.
CIM Commercial Trust Corp
Global Medical REIT
National Retail Properties, Inc.
Pennsylvania Real Estate Investment Trust

10:15am - 10:45am

Individual Company Presentations

Getty Realty Corp.
Hersha Hospitality Trust
National Storage Affiliates
Paramount Group, Inc.
Physicians Realty Trust
RPAI

11:00am - 11:30am

Individual Company Presentations

Broadstone Net Lease, Inc.
Iron Mountain
National Health Investors, Inc.
Public Storage
Sotherly Hotels Inc.
Taubman Centers, Inc.

11:30pm - 1:30pm
Networking Lunch
11:45am - 12:15pm

Individual Company Presentations

Agree Realty Corporation
Chatham Lodging Trust
Empire State Realty Trust
Extra Space Storage, Inc.
Sun Communities, Inc.
Ventas, Inc.

12:30pm - 1:00pm

Individual Company Presentations

CoreCivic
Corporate Office Properties Trust
Equity Residential
Global Net Lease
Reven Housing REIT, Inc.
Ryman Hospitality Properties, Inc.

1:15pm - 1:45pm

Individual Company Presentations

American Assets Trust
Healthcare Realty Trust
Mack-Cali Realty Corporation
MGM Growth Properties LLC
STORE Capital Corporation
Uniti Group Inc.

2:00pm - 2:30pm

Individual Company Presentations

American Tower Corporation
Farmland Partners Inc.
Host Hotels & Resorts, Inc.
Invitation Homes
Lexington Realty Trust
Welltower Inc.

2:45pm - 3:15pm

Individual Company Presentations

Ashford Hospitality Prime
CorEnergy Infrastructure Trust
Gaming and Leisure Properties, Inc.
InvenTrust Properties Corp.
Macerich
MedEquities Realty Trust, Inc.

3:30pm - 4:00pm

Individual Company Presentations

Alexander & Baldwin, Inc.
American Homes 4 Rent
Ashford Hospitality Trust
City Office REIT
The GEO Group
Senior Housing Properties Trust

4:15pm - 4:45pm

Individual Company Presentations

Clipper Realty Inc.
Colony Starwood Homes
Fibra Prologis
Landmark Infrastructure Partners LP

5:00pm - 6:30pm

Dividends Through Diversity Reception

Thursday, June 8

| | |
| --- | --- |
| 7:00am - 10:00am | Registration |
| 7:00am - 10:00am | Networking Room |
| 7:00am - 10:00am | Continental Breakfast |
| 8:00am - 10:00am | REITPAC Suite (invitation only) |
| 10:00am | Program Concludes |

 

Companies Presenting

Learn first-hand about real estate investment opportunities from more than 500 REIT executives at REITWeek, NAREIT's Investor Forum.

Check out the companies scheduled to present their business plans, forecasts and strategies:

Acadia Realty Trust
Agree Realty Corporation
Alexander & Baldwin, Inc.
American Assets Trust
American Campus Communities, Inc.
American Homes 4 Rent
American Tower Corporation
Annaly Capital Management, Inc.
Apple Hospitality REIT, Inc.
Armada Hoffler Properties, Inc.
Ashford Hospitality Prime
Ashford Hospitality Trust
Bluerock Residential Growth REIT, Inc.
Boston Properties, Inc.
Broadstone Net Lease, Inc.
Care Capital Properties, Inc.
CatchMark Timber Trust, Inc.
CBL & Associates Properties, Inc.
Chatham Lodging Trust
CIM Commercial Trust Corp
City Office REIT
Colony Starwood Homes
Columbia Property Trust
CoreCivic
CorEnergy Infrastructure Trust
Corporate Office Properties Trust
Cousins Properties
Crown Castle International Corp.
CyrusOne Inc.
DCT Industrial Trust Inc.
Digital Realty
Duke Realty Corporation
DuPont Fabros Technology, Inc.
Easterly Government Properties
EastGroup Properties, Inc.
EdR
Empire State Realty Trust
EPR Properties
Equinix, Inc.
Equity Residential
Essex Property Trust, Inc.
Extra Space Storage, Inc.
Farmland Partners Inc.
Federal Realty Investment Trust
First Industrial Realty Trust, Inc.
Forest City Realty Trust, Inc.
Four Corners Property Trust
Gaming and Leisure Properties, Inc.
Getty Realty Corp.
GGP, Inc.
Gladstone Commercial Corporation
Gladstone Land Corporation
Global Medical REIT
Global Net Lease
Government Properties Income Trust
Gramercy Property Trust
Healthcare Realty Trust
Healthcare Trust of America, Inc.
Hersha Hospitality Trust
Highwoods Properties, Inc.
Hospitality Properties Trust
Host Hotels & Resorts, Inc.
Independence Realty Trust
InvenTrust Properties Corp.
Investors Real Estate Trust
Invitation Homes
Iron Mountain
IStar
Japan Retail Fund Investment Corporation
Jernigan Capital, Inc.
Kilroy Realty Corporation
Kimco Realty Corporation
Kite Realty Group Trust
Landmark Infrastructure Partners LP
Lexington Realty Trust
Liberty Property Trust
Life Storage, Inc.
MAA
Macerich
Mack-Cali Realty Corporation
Macquarie Mexican REIT
MedEquities Realty Trust, Inc.
MGM Growth Properties LLC
Monmouth Real Estate Investment Corporation
National Health Investors, Inc.
National Retail Properties, Inc.
National Storage Affiliates
NexPoint Residential Trust Inc.
NorthStar Realty Europe Corp.
Paramount Group, Inc.
Pennsylvania Real Estate Investment Trust
Physicians Realty Trust
Potlatch Corporation
Prologis, Inc.
PS Business Parks, Inc.
Public Storage
QTS Realty Trust, Inc.
Ramco-Gershenson Properties Trust
Rayonier Inc.
Regency Centers Corporation
Rexford Industrial Realty, Inc.
RPAI
Ryman Hospitality Properties, Inc.
Sabra Health Care REIT, Inc.
Select Income REIT
Senior Housing Properties Trust
SL Green Realty Corp.
Sotherly Hotels Inc.
Spirit Realty Capital
Stag Industrial, Inc.
STORE Capital Corporation
Sun Communities, Inc.
Tanger Factory Outlet Centers, Inc.
Taubman Centers, Inc.
The GEO Group
TIER REIT Inc.
UMH Properties, Inc.
Unibail-Rodamco
Uniti Group Inc.
Ventas, Inc.
VEREIT, Inc.
W. P. Carey Inc.
Washington REIT
Weingarten Realty Investors
Welltower Inc.
Weyerhaeuser
Wheeler Real Estate Investment Trust, Inc.
Xenia Hotels & Resorts, Inc.

Hotel Information

New York Hilton Midtown
1335 Avenue of the Americas
New York, NY 10019
Phone: 212-586-7000
Guest Fax: 212-315-1374
http://www.newyorkhiltonhotel.com/
Note: This is the link to the New York Hilton Midtown website. This is NOT the link to reserve your hotel room at the NAREIT group rate. Please see the Hotel Reservation Policy below for information about how to reserve your hotel room at the NAREIT group rate.

NAREIT Room Rate
$419 Single/Double

Guest Room Check-In: 3:00PM
Check-Out: 12:00PM

Hotel Reservation Policy
In order to reserve a hotel room within the NAREIT negotiated group block, you must first register for the conference. Should you have questions regarding the hotel, contact Lacey Rimoli-Wiesel at lacey@stagedrightevents.com. You can reach Staged Right Events offices by calling 954-404-8252. Please do not contact the hotel directly. Note: All room reservations will be charged a one-night, non-refundable deposit at the time of reservation request. Hotel reservations are due no later than Friday, May 12, 2017, to receive the group rate (pending availability).

Hotel Cancellation Policy
NAREIT requires a one night, non-refundable deposit paid to the hotel at the time of reservation. To cancel your entire hotel reservation, all requests must be received in writing to Lacey Rimoli-Wiesel at lacey@stagedrightevents.com 72 hours prior to your arrival date. Please do not contact the hotel directly.

NOTE: Hotel reservations at the group rate are subject to availability after Friday, May 12, 2017.

Guest Room Amenities

High Speed Internet Black Out Curtains Two-line Speaker Phones, with Voicemail and Dataport Television with Premium Channels Complimentary Weekday Delivery of USA Today Work Desk with Lamp and Ergonomic Chair

 

Restaurants & Lounges

Herb N' Kitchen
Serving breakfast buffet from 6:30am – 11:00am and takeaway coffee and light fare items from 6:00am – 1:00am
Dress attire: Casual

Minus5 Ice Bar and Lounge
Dress attire: Casual

Bridges Bar and Lounge
Dress attire: Casual

Fitness Center
The Fitness Center is located on the 5th floor and features Lifecycles, Quinton, and Tredex Treadmills, Stairmaster, NordicTrack, a cybex UBE and Free Weights. 24 hour access is complimentary to hotel guests.

Dry Cleaning, Laundry, Valet
Dry cleaning, laundry, and valet services are available 7 days a week.

Pets
No pets are allowed. However, service animals are welcome and will be accommodated.

Safe Deposit Boxes
Most guest rooms are equipped with a combination safe. There are also safety deposit boxes located next to the front desk.

Business Center
The Business Center offers a complete range of technological, internet and business services 7 days a week.

The Business Center hours are:
Mon. - Fri., 7:00AM - 9:00PM
Sat. - Sun., 7:00AM - 7:00PM

For further information, call (212) 586-7000, ex. 5212.

Badges
Forum, educational, and networking activities are open only to registered attendees. A badge is proof of registration and required for admission to all activities.

Please note that attendance at all Individual Company presentations will be tracked, via an RFID chip in your badge. Each presenting company will receive a list (with contact information given when registering for REITWeek) of those individuals that attended their presentation. If you prefer not to be included in these lists, please notify the attendant at registration when picking up your badge.

Forum Cancellation Policy
To cancel your registration, please submit your request in writing to Katelyn Rowland at krowland@nareit.com. Please note that registration for REITWeek is complimentary, thus no fees will be charged or refunded.

Alarm Radio
24-hour housekeeping

Opening Lunch General Session

Charlie Rose is anchor and executive editor of Charlie Rose, the nightly one-hour program that engages in one-on-one, in-depth conversations and round-table discussions, and the newly launched Charlie Rose: The Week, chronicling the best stories and interviews of the past seven days. He also co-anchors CBS This Morning and is a contributing correspondent to 60 Minutes.

Enjoy lunch and a fireside chat with this Emmy Award-winning journalist and NAREIT Chair Timothy Naughton, chairman and CEO of AvalonBay Communities. Hear Rose discuss his highest-profile interviews, his perspective on the most challenging world issues, and his thoughts on where the U.S. is headed in light of current political and social tides that are rising.

Charlie Rose appears nightly on PBS and in prime time on Bloomberg Television in the United States and around the world. The show's iconic round oak table and simple black backdrop provide an intimate atmosphere for intelligent conversation. Since 1991, Rose has aired countless hours with Nobel Laureates and extraordinary men and women of science, politics, art, business, sports, technology, literature and entertainment. These conversations have made the broadcast a cultural and intellectual archive of our time.

Each weeknight, Rose creates programs that introduce new people, explore fresh ideas and illuminate difficult issues. Special series on science, education and Islam have probed even deeper. He is the recipient of the Legion d'honneur, 2014 Vincent Scully Prize, numerous awards from the scientific and journalism communities, and many honorary degrees. Rose won an Emmy Award and Peabody Prize for his 2013 interview with Syria's President Bashar al-Assad and was named among the 100 most influential people in the world by TIME magazine. Rose is also the recipient of the 2015 Walter Cronkite Award for Excellence in Journalism.

Rose was born in Henderson, North Carolina and graduated from Duke University with a Bachelor of Arts degree in History and a Juris Doctor degree from the School of Law. He is a frequent moderator at global forums around the world. He lives in New York City and Bellport, Long Island.

"[Charlie Rose] is not simply a talented interviewer; he has emerged as the major cultural and intellectual historian of recent times and has done so by causing a paradigm shift in how we learn—of how we acquire new knowledge of what is happening in the world around us."
– Eric Kandel, Recipient of the 2000 Nobel Prize in Medicine

Registration Guidelines

 


Registration for REITWeek 2017: NAREIT's Investor Forum® is complimentary for qualified attendees.

Who should attend?

NAREIT Corporate Members (REITs)
Qualified Institutional Investors
Approved representatives from sponsoring firms

How can I register?

Registration is now closed. Fast-track registration is for REIT Corporate Members and pre-approved investors.

The Request to Attend form is now closed.
Onsite registration will be open from 3:00 p.m. – 7:00 p.m. on Monday, June 5 and then from 7:00 a.m. – 5:00 p.m. on Tuesday, June 6.

If you have already submitted the Request to Attend form, you will hear back about your status by Friday, June 2.

 


Please note that photographs, video and/or audio recordings may be taken by NAREIT staff and/or approved vendors during conference activities during REITWeek events. Registration and attendance at, or participation in, REITWeek constitutes an agreement by the registrant to NAREIT's use and distribution (both now and in the future) of the registrant or delegate's image or voice in photographs, videotapes, electronic reproductions and audiotapes. For any questions or concerns about the use of your Image, please contact Member Services at member@nareit.com.

Registration and attendance at, or participation in, NAREIT conferences, meetings, events and other activities constitutes an agreement by the registrant to NAREIT's use and distribution (both now and in the future) of the registrant or delegate's image or voice in photographs, videotapes, electronic reproductions and audiotapes of such events and activities. Please direct any questions or concerns about the use of your Image or NAREIT's policies to Member Services at member@nareit.com

Become a Sponsor

 

 

Join the list of growing REITWeek sponsors. Gain visibility when you becomes a sponsor of the leading REIT investor forum of the year.

Contact Chris Flood at cflood@nareit.com for sponsorship information.

REITweek