An unmatched industry resource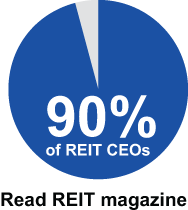 Regarded by executives as their most important industry resource, 90 percent of CEOs of U.S. listed REITs and mREITs read REIT magazine.
Further, more than 73 percent of readers take an action in response to the magazine's content.
If marketers want to create meaningful connections with REIT companies and the REIT investor community, then your brand needs to be in the magazine they read.
A multi-trillion-dollar opportunity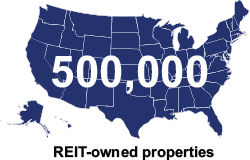 REITs of all types collectively own more than $3 trillion in gross assets across the United States, with stock-exchange listed REITs owning approximately $2 trillion in assets.
U.S. listed REITs have an equity market capitalization of more than $1 trillion.
REITs own over 500,000 properties across the United States.
An elite and engaged audience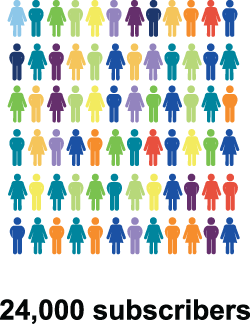 With over 24,000 subscribers REIT magazine is not a trade association publication—it is the dedicated REIT industry news publication.
The most senior decision makers in REITs—CEOs, Presidents, CFOs, CAOs, General Counsels, COOs, and more—regularly and reliably read REIT magazine.
96 percent of subscribers read every single print issue. While 80 percent of subscribers report that they read REIT magazine to keep up-to-date with the real estate investment industry.
 

2019 editorial calendar*
The editorial content for each issue of REIT magazine is designed to focus on topical issues, companies, and trends impacting the REIT and real estate investment industry. The editorial lineup is finalized two-to-three months prior to an issue's publication. If you have questions regarding what stories will be covered in an upcoming issue, contact Matt Bechard.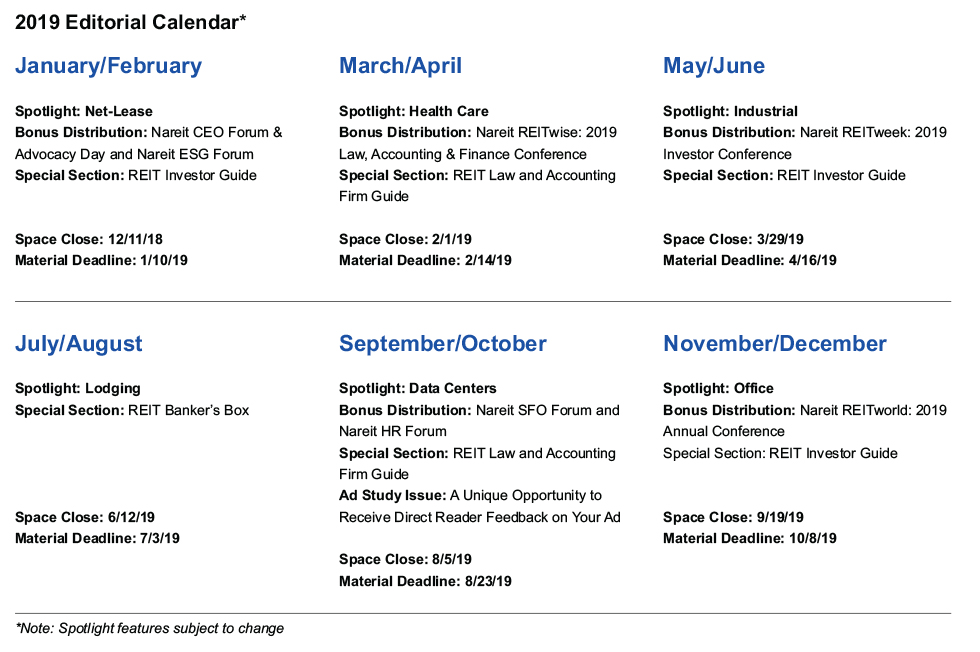 2019 print and digital rates
Advertising in REIT magazine and its associated digital properties delivers unparalleled opportunity to connect your brand to a highly qualified audience of REIT industry decision makers.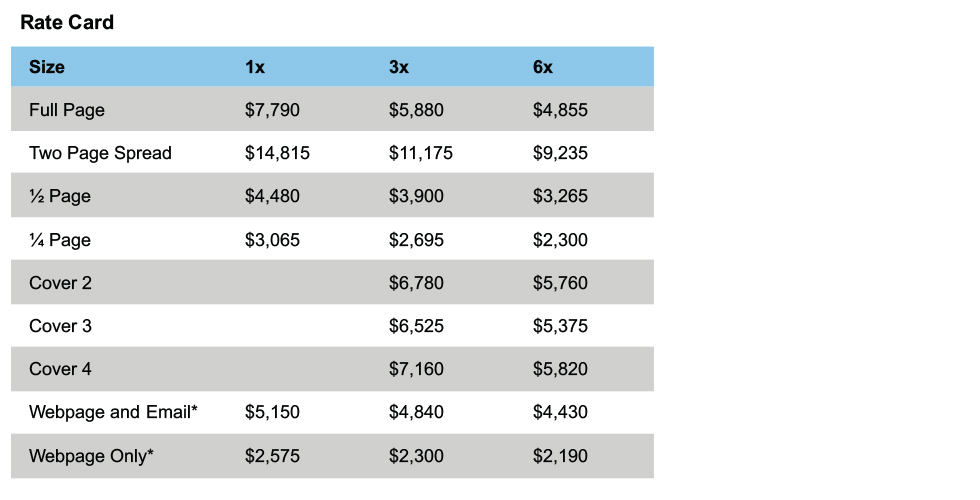 *REIT magazine digital advertising is reserved for all print advertisers with a minimum of a ½ page ad placement. All digital REIT magazine advertisers must have a print insertion running during the time the digital ad runs.
For more information on integrated digital packages, contact Zachary Buchanan at zack.buchanan@theygsgroup.com and 717-430-2291.
Specs and submission guidelines
Ensure your ad runs correctly by following these production specifications for print advertising in REIT magazine.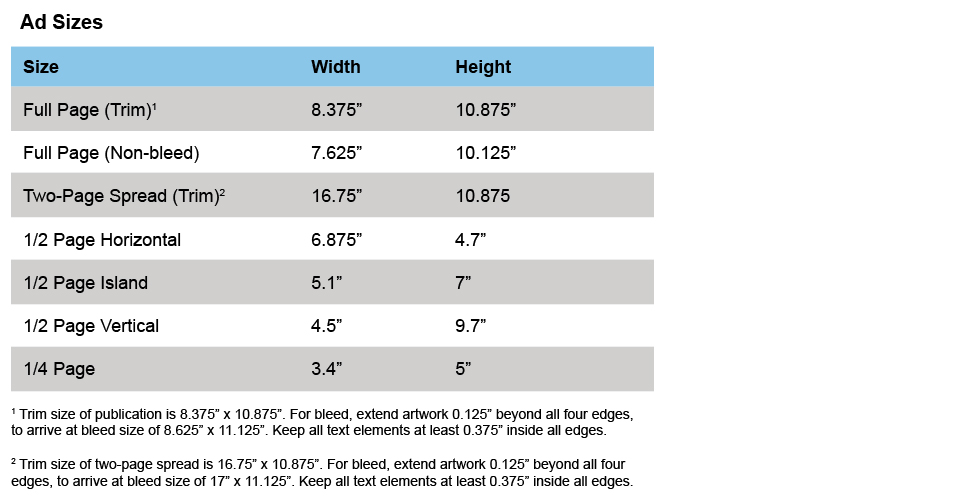 Binding: Perfect bound with hinge score
Bleeds: Allow 1/8" on all sides. Keep all live matter 3/8" from trim and gutter for full page ads and1/2" for two-page spread.
Upload your ad: https://theygsgroup.sendmyad.com/
Please supply only a print-ready PDF file. We cannot accept any native application file formats (i.e., MS Word, InDesign, Publisher) or any other file format. PDF must be a hi-res, print-ready file. All raster images should be 300 dpi. All fonts must be embedded.
Do not include a bleed with factional ads.
Color ads must use CMYK color only. RGB color or spot colors are not acceptable.
Materials that are not properly prepared may be subject to additional production charges.
Ads must be submitted in the exact size they are to appear.
Digital file specs: JPG, static PNG; 72 dpi resolution preferred; 40k max file size. 
Email banner ad (728x90 pixels)

Leaderboard banner ad (780x90 pixels)

For questions please email sendmyad@theygsgroup.com
Reach out today to get access to the elite audience of REIT executive and investors who read REIT Magazine.
Contact Zachary Buchanan at zack.buchanan@theygsgroup.com and 717-430-2291 to begin an advertising relationship.