12/14/2011 | By Carisa Chappell
With economic challenges in the commercial real estate market, few U.S. markets experienced significant rent increases in 2010 from the previous year, according to new data released in December based on the Building Owners and Managers Association's (BOMA) 2011 Exchange Report.
"Rents are still compressed from the 2007 highs, but it looks like in most markets, the bottom has hit and it's stable now," said Lorie Damon, BOMA's vice president of education and research. "There has been modest rent growth in some of the better-performing markets, which tend to be on the coast."
At $48.27 per square foot, New York tops the list of the most expensive commercial real estate markets, Shreveport, La. ranks is the least expensive at $10.47 per square foot.
Washington, D.C. followed in second place for most expensive at $42.63 per square foot. Five California cities ranked among the 10 most expensive markets. New York and San Francisco were the only markets in the group of most expensive cities to show an increase in rental income from the previous year.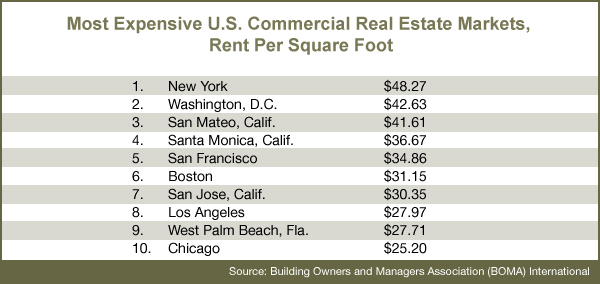 BOMA noted the data suggest that prices remain favorable for tenants seeking to pursue new leases or renegotiate existing ones. Damon said building owners appear confident that rents will remain stable.
"They may not grow, but they will remain stable and at least won't continue downward," Damon said.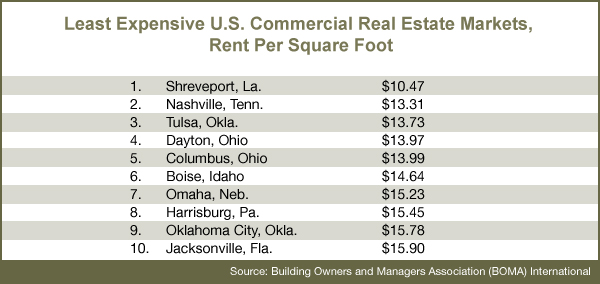 In terms of least expensive markets, Nashville, Tenn., followed behind Shreveport at $13.31 per square foot. Of the least expensive markets, both Dayton, Ohio, and Omaha, Neb., recorded 10 percent increases from the previous year.
The data are based on BOMA's 2011 Experience Exchange Report. The annual report offers an analysis of BOMA's data regarding operating income and expenses in more than 65,000 commercial buildings in close to 300 markets. The rental rates in each market reflect total income divided by total rentable square feet for that market.