Content

What a Difference A Year Makes!
Last year, I wrote that Washington, D.C. was full of "energy and excitement" with the results of the 2008 elections, and anticipated with "great enthusiasm" the arrival of the new Obama Administration. Anticipation was high for the 111th Congress, whose Democratic leadership confidently rode into Washington with increased numbers, especially in the United States Senate, and promised to pass legislation to overhaul health care, Wall Street, climate control, and union organizing. Now, increased tension within and between the major parties, as well as a lower job approval rating for the new president, have resulted in none of these key proposals becoming law – yet.

Time may not be on the side of the ruling party in Congress to achieve its stated political objectives. Last January, in the shadow of President Obama's historic victory, Democrats looked likely to gain more seats in the Senate – three to five – and the House – up to ten. Now, after strong showings in 2006 and 2008 that gave them 60 votes in the Senate and a 78-seat advantage in the House, Democrats will have to deal with history and adopt a defensive game plan in 2010, especially after last Tuesday night's outcome in the Massachusetts Senate race. History appears to be repeating itself, because the party possessing the White House has historically lost seats in the first midterm election of a new administration. This statistic, plus the changing mood of the electorate on several prominent issues and policies, symbolized by Tuesday's vote, has energized Republicans, many of whom believe a political tsunami similar to the one that propelled them into control of both the House and the Senate in 1994 may be on the horizon this year.

That could be a little too optimistic. Most political pundits do not expect control of Congress to change this year. However, they are clear to point out that considering last November's GOP gubernatorial wins in New Jersey and Virginia, the shocking result in the Massachusetts Senate race, successes in GOP recruiting of top-flight candidates, and the shifting national political environment, the outlook for this year's congressional races has shifted. Democrats will likely lose seats in both chambers, which is a dramatic change from last January's forecast.

In the House, a projection of a 20-30 seat net gain by Republicans, which is supported by most current polls, will not be sufficient to achieve the 41-seat net gain to flip control of the House. But, by bringing the parties closer together numerically, it should also make Republicans and centrist Democrats, such as the so-called "Blue Dogs," more relevant when it comes to debates on legislative issues and House procedures. In the Senate, only 62 percent of this year's races – 21 out of 34 – could be classified as "secure" for either party, and the betting money at this point is that Republicans will realistically achieve a 2-3 seat net gain…and that was before the outcome in Massachusetts. The true GOP optimist is hoping for a 5-6 seat net gain. Either way, this year's election results could bring an end to the Democrat party's 60-seat margin and threaten to derail any initiatives that remain on the table once Congress adjourns this fall for the November elections.

NAREIT will have more to say on the 2010 congressional elections, and more often, as the year proceeds. The possibility of additional retirements from Congress, and a continuation of the shifting national political landscape and its impact on the activities of Congress and the Obama Administration, could make the results of the 2010 midterm elections one for the history books.

In terms of national politics, what a difference THIS year could make, and is making! Stay tuned.


– Robert Dibblee, VP, Government Relations
 
In Focus: A Gallery of Recent Events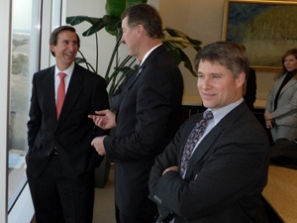 Jan. 8: Congressman Bob Etheridge (D-NC) (center) visited Highwoods Properties' RBC Plaza in Raleigh, NC. Edward Fritsch, President and CEO (left) and Thomas "Skip" Hill, Vice President, Raleigh Division, (right), along with other members of the management team briefed Congressman Etheridge on the impact of RBC Plaza on the Raleigh economy and skyline as well as Highwoods' presence in North Carolina's 2nd Congressional District. The Congressman, a member of the House Ways and Means Committee, shared his thoughts on possible economic recovery legislation and on issues of importance to REITs and commercial real estate.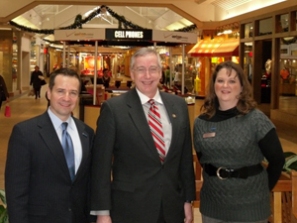 Jan. 6: Representative Geoff Davis (R-KY) visited Glimcher Realty Trust's Ashland Town Center in Ashland, KY. Also pictured are Glimcher's Armand Mastropietro, Sr. VP and Director of Property Management (left) and Merri Hurn, General Manager at Ashland Town Center (right). The Congressman toured the property and discussed the credit crisis in commercial real estate as well as other challenges faced by companies in the retail sector. The Congressman, a member of the House Ways & Means Committee, was also briefed on NAREIT tax initiatives including proposals that would improve the ability of REITs to access equity capital and participate in energy efficiency programs.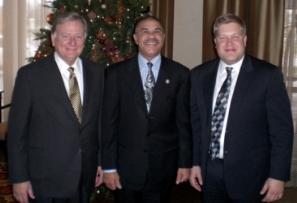 Dec. 7: Representative Wm. Lacy Clay (D-MO) (center) visited Behringer Harvard's Chase Park Plaza in St. Louis, Mo. Also pictured with the Congressman are Jason Mattox, Chief Administrative Officer, Behringer Harvard (right) and Jim Smith with Kingsdell, LP (left). The Congressman toured this recently renovated property, was briefed on Behringer Harvard's presence in Missouri and discussed the impact of the crisis in commercial credit on the real estate industry, as well as regulatory reform proposals being considered by Congress.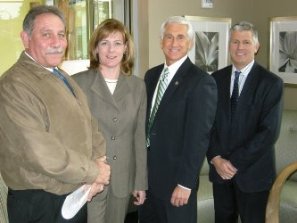 Nov. 24: Congressman Dave Reichert (R-WA), second from right, toured BRE Properties' Belcarra community in Bellevue, WA. From left to right, the following individuals from BRE Properties are pictured with the Congressman: Joe Jackson, Director of Construction; Deirdre Kuring, Senior Vice President, Property Operations and Pete Rocereto, Senior Vice President, Construction. In addition to touring the community, Congressman Reichert met with community staff and was briefed on BRE Properties' other communities in his district and the region along with pending legislative issues affecting the REIT and publicly traded real estate industry.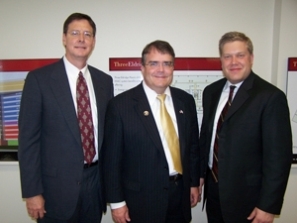 Nov. 10: Rep. John Culberson (R-TX), middle, is pictured with Jason Mattox, Chief Administrative Office, Behringer Harvard, right, and Greg Brooke, Behringer Harvard's Vice President, Asset Manager, during a recent visit to the company's Eldridge Place properties in Houston, TX. Rep. Culberson toured the site and then was briefed on the company's portfolio of properties and pending legislative issues affecting the REIT and publicly traded real estate industry.
 
PAC State: Facts & Figures for REITPAC