Content

October 14, 2010
Last week, the Wall Street Journal reported on a non-scientific study that calculated the amount of "action" that fans will witness in each of the broadcast's of this year's post-season baseball playoff games. The study examined two baseball games from earlier this year and calculated the time from when the pitcher began his pitching motion to when the ball hit the catcher's mitt, or if the ball was put in play, to a call made by the umpire or the players stopped moving. Excluding commercials, the total "action" time for a nine-inning broadcast of a baseball game is 14 minutes! – or 10.9% of the total broadcast time. The majority of the game's time – 68.6% - was described as "players standing around between plays."

We are now within three weeks of Election Day. If the past 6-8 months of campaigning can be labeled as candidates "standing around," then the "action" of the political season is just beginning.

No one has a crystal ball, and no amount of fortune telling, star watching, dream interpretation or opinion polls can predict the outcome of the 2010 congressional elections. Both professional prognosticators and political enthusiasts are unsure as to what the make-up of the 112th Congress will be come next January.

And yet, one thing is clear: Republicans will win a number of seats and should make sizeable gains in both the U.S. House of Representatives and the U.S. Senate. The only question is how big the GOP wave will be in a year with "perfect storm" conditions: a high unemployment rate, a slower than average economic recovery, low approval ratings for Congress and the president, and the rise of tea party enthusiasts. Republicans need a net gain of 39 seats to take over the House and 10 seats to take control of the Senate. Questions still abound as to whether Democrats can energize their base and thus limit the number of Republican victories to keep control of the House and the Senate, or is the forecasted wave actually a tsunami that results in a GOP takeover of both chambers.

Traditional measures of voter attitudes this year are clearing trending toward Republicans. A few data points to consider:
 
The president's latest approval rating according to Gallup is 46%, which is comparable to the rating for LBJ in 1966 (44%) when Democrats lost 47 House seats, and President Clinton in 1994 (46%) when his party lost 53 seats. Since 1962, when the President's approval rating has been below 50% going into a mid-term election, his party has lost on average 41 House seats.


The current approval rating for Congress, according to Gallup, is 18%, which is nearly the lowest it has ever been for a mid-term election since 1974, including 1994 (23%) and 2006 (26%), when Republicans lost 30 seats and control of the House.


Gallup indicates the public's satisfaction with the direction of the country stands at 19%, the lowest in 18 years. This figure does not blame any one party, but does not bode well for the party in control of Congress and the White House.


According to Gallup, the national generic ballot of registered voters is tied for both parties at 46%. A tied number usually translates into a gain for the party not in power, because their turnout of registered voters tends to be greater.


As a senior Republican senator recently indicated, "This may not be the best year to be running as a Democrat…but it is also not the best year to be running as a Republican, especially as an incumbent from either party. Yes, the electorate is angry, but in my opinion what makes this year different from past elections is that they know why they are angry and to whom this anger should be directed: people like me! I'm just glad that 'None of the Above' is not an option on the ballot."

No matter the outcome of this year's elections and which measurements or data points prove to be the most accurate, NAREIT is well-positioned to work with the new 112th Congress. Through the generous contributions of our member companies to REITPAC this year, NAREIT has been able to participate in this year's election by financially supporting incumbents and candidates who understand commercial real estate and the publicly-traded real estate industry. Last year, REITPAC's contributions to both Democrats and Republicans were consistent with the make-up of the current Congress. As the pie chart below demonstrates, this bipartisan support has been modified in 2010 in anticipation of how the new Congress will likely look next January. Being able to work with the incoming Members of Congress next year on the issues of concern to our industry is of vital importance to NAREIT.

It should be an interesting few weeks leading up to November 2. Enjoy all the "action" that is about to unfold.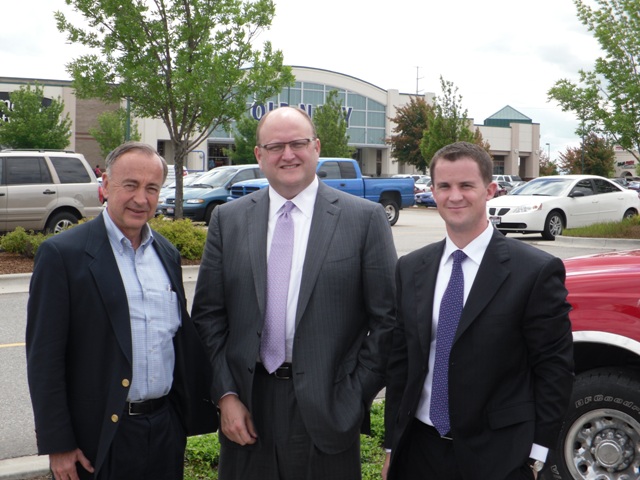 June 3, 2010: Representative Walt Minnick (D-ID) (left) visited Meridian Crossroads, a Developers Diversified Realty property in Boise, Idaho. Rep. Minnick met with Dan Hurwitz (center), President and CEO and Joe Tichar (right), Corporate Operations Director. Rep. Minnick, a member of the House Financial Services Committee, was briefed on DDR's presence in Idaho. The group also discussed DDR's experience with TALF, the ongoing concerns in the credit markets, and legislative priorities such as the Main Street Fairness Act, which would create sales and use tax parity for online and traditional retailers, and FIRPTA reform, which would reduce barriers to foreign equity investments in U.S. real estate companies.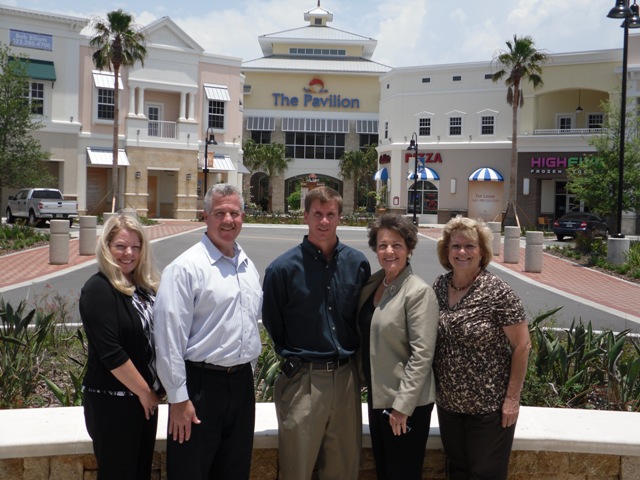 June 7, 2010: Representative Suzanne Kosmas (D-FL) (second form right) visited The Pavilion at Port Orange, a new open-air lifestyle center developed by CBL & Associates. Rep. Kosmas met with (from left to right) Mandy York, Wayne Bohl and Bob Elliott, of CBL. Mary S. Martin (right), the Vice Mayor of the City of Port Orange, also participated in the meeting. Rep. Kosmas, a member of the House Financial Services Committee and former real estate executive, was briefed on CBL's presence in Florida, the initial success of The Pavilion, and on some of the tax and regulatory issues currently facing REITs and publicly traded real estate companies.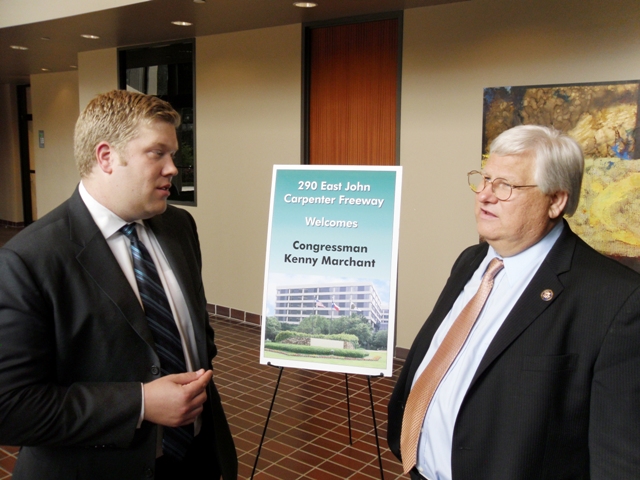 August 19, 2010: Representative Kenny Marchant (R-TX) (right) met with members of Behringer Harvard's management team at Behringer Havard's 250 and 290 East John Carpenter Freeway office properties. Present from Behringer Harvard were Jason Mattox, Chief Administrative Officer (left) and Mark Flynt, Vice President - Portfolio Manager. Rep. Marchant was briefed on the on-going renovation of the property. Policy issues were also discussed, with a particular focus on the implementation of certain provisions of the Dodd-Frank Financial Reform Act and possible Congressional efforts to reform the government-sponsored enterprises (GSEs).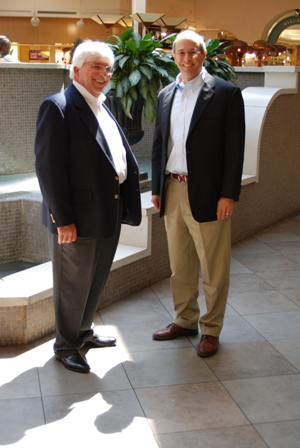 Aug. 23, 2010: Representative Charles Boustany (R-LA) (right) visited CBL & Associates' The Mall of Acadiana, in Lafayette, LA. Rep. Boustany met with Jay Keef (left), General Manager, and other members of the mall staff. Rep. Boustany received an update on Acadiana's economic benefits to the surrounding community and other CBL properties located throughout the region. In addition, Rep. Boustany was apprised of recent congressional developments involving the Foreign Investment in Real Property Tax Act, or FIRPTA, and energy tax legislation.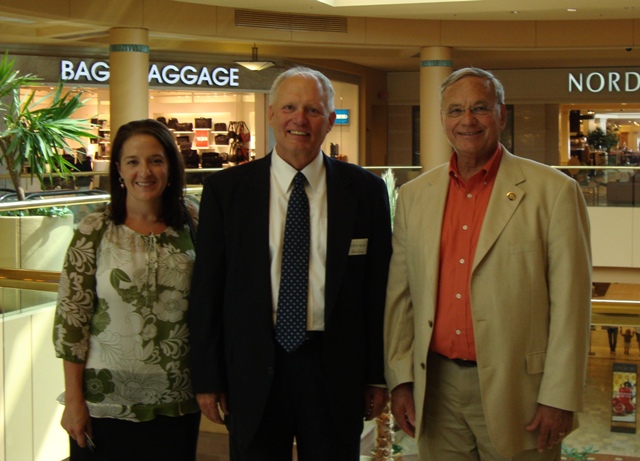 Aug. 30, 2010: Congressman Harry Mitchell (D-AZ) (right) visited Scottsdale Fashion Square in Scottsdale, AZ, a property owned by Westcor, a subsidiary of Macerich. The Congressman and was briefed on the significant redevelopment activities recently completed at the property and Macerich's presence in Arizona through Westcor. Present at the meeting were Rebecca Stenholm, AVP, Public Relations, Macerich (left) and Steve Helm, AVP, Property Management, Westcor (center). In addition to a detailed conversation related to the operations of the property, the group discussed the ongoing concerns in the retail sector and the commercial real estate markets more broadly.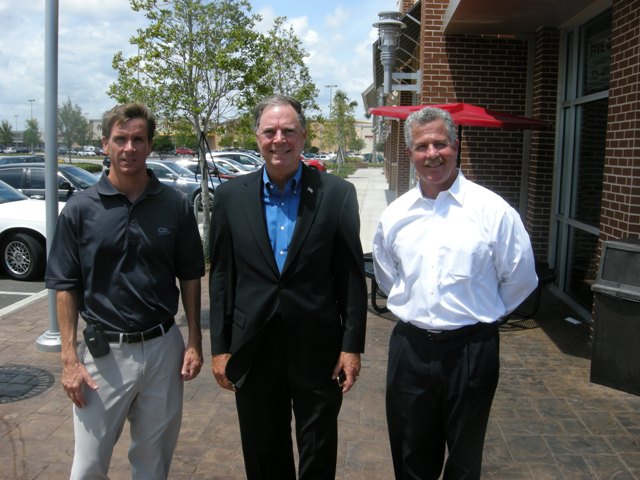 Aug. 31, 2010: Representative Bill Posey (R-FL) (center) visited CBL & Associates' Hammock Landing, in West Melbourne, FL which opened in April 2009. Rep. Posey met with Wayne Bohl (right) and Bob Elliott (left) of CBL. Rep. Posey received an update on recent developments at Hammock Landing, and CBL's future plans for the site. In addition, Rep. Posey was briefed on current REIT issues pending before Congress, including FIRPTA reform.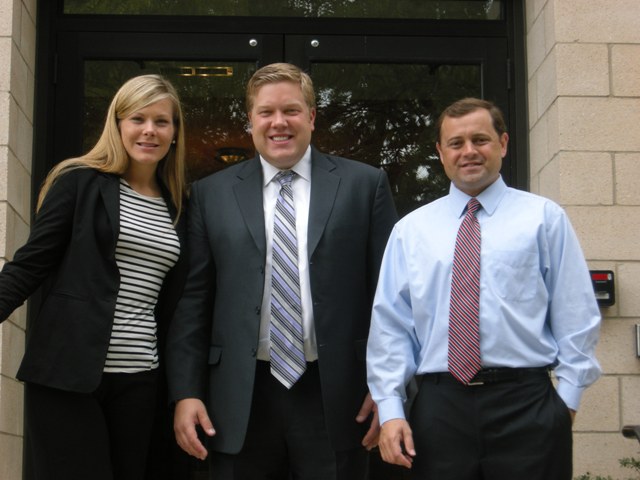 Sept. 8, 2010: Representative Tom Perriello (D-VA) (right) visited Behringer Harvard's GrandMarc at The Corner, a multifamily property located within walking distance of the University of Virginia in
Charlottesville, VA. Present from Behringer Harvard were Jason Mattox, Chief Administrative Officer (center) and Frances Thompson, Community Manager (left). Rep. Perriello was briefed on recent developments at the GrandMarc as it begins a new academic year, as well as several legislative issues now pending before Congress, including FIRPTA reform and federal-state security regulation.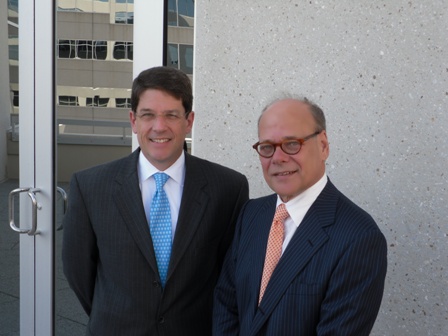 Sept. 27, 2010: Rep. Steve Cohen (D-TN) (right) visited Highwoods Properties' Triad Centre III, which is the first LEED certified office building in Memphis. Steve Guinn, Vice President, Memphis Division, discussed Highwoods' significant investment in Memphis and the company's efforts to pursue sustainable building and retrofitting practices. Rep. Cohen was also briefed on NAREIT's proposals that would allow REITs to benefit from existing federal tax incentives for energy improvements, as well as NAREIT's efforts to encourage new equity investments in commercial real estate through changes to FIRPTA.
How You Can Get Involved With NAREIT's Grassroots Program
We encourage you to get involved with the growing grassroots program at NAREIT. NAREIT stands ready to better inform Members of Congress on your company's activities.

To find out how you may be able to participate in these important grassroots events, please contact Ryan Kilpatrick at rkilpatrick@nareit.com or (202) 739-9436.