Content

Message from the President

On 9/11, al-Qaida intended for its terrorist attacks on the United States to do more than just cause the loss of human life. An important part of their goal was to create a catastrophic level of disruption to our country's economy.

Before insurers and reinsurers paid out more than $30 billion in claims tied to policies written prior to 9/11, they began to exit the market for terrorism risk insurance. It took the enactment of the Terrorism Risk Insurance Act (TRIA) in 2002 to ensure that insurance would be available in the future to cover a terrorist attack.

A study published last week by the RAND Corporation determined that without TRIA, another 9/11-type event in the U.S. could put taxpayers on the hook for as much as $7 billion to cover uninsured losses.

TRIA is set to expire at the end of 2014. The negative impact of the program's elimination is a major reason why NAREIT and its partners in the Coalition to Insure Against Terrorism (CIAT) remain steadfast in calling for its extension.

A bipartisan group of legislators in the Senate struck an accord last week on a bill that would extend TRIA until 2021. Their bill joins three separate extension proposals that have already been put forward in the House of Representatives, one of which boasts more than 80 co-sponsors.

As the events of last week demonstrate, support for our industry's position on TRIA is growing across both sides of the aisle on Capitol Hill. No bill has reached President Barack Obama's desk yet, but we will continue to encourage policymakers to extend this program that is vital to the health of the national economy.







Steven A. Wechsler
President and CEO
Senators Reach Deal to Extend TRIA to 2021

A bipartisan group of senators announced April 10 that they had reached a deal on legislation to extend the Terrorism Risk Insurance Act (TRIA) beyond its current expiration date at the end of 2014.

Sens. Charles Schumer (D-NY), Dean Heller (R-NV), Roy Blunt (R-MO), Mike Johanns (R-NE), Mark Kirk (R-IL), Robert Menendez (D-NJ), Christopher Murphy (D-CT), Jack Reed (D-RI) and Mark Warner (D-VA) said their bill, The Terrorism Risk Insurance Program Reauthorization Act of 2014 (S. 2244) would extend the program until 2021. In announcing the introduction of the bill, Schumer said he would "work with my colleagues to get TRIA passed this year to preserve this essential tool."

"TRIA cannot stop a terrorist attack, but it can undermine the goals of terrorists by providing a means for U.S. businesses and the economy to recover more quickly in the event of an attack," said Martin DePoy, spokesperson for the Coalition to Insure Against Terrorism (CIAT). "We applaud members of the committee for their sponsorship and ongoing efforts to extend this very important program."

On the same day, the RAND Corporation released a study that found that absent TRIA, another terrorist attack along the lines of 9/11 could cost U.S. taxpayers as much as $7 billion to cover uninsured losses. Advocates for the bill's extension cited the RAND study as evidence of the need for its extension.

"The RAND study further demonstrates that terrorism risk insurance is an indispensable economic backstop that protects taxpayers and the American economy," DePoy said. "Congress must work quickly to reauthorize TRIA."

CIAT represents a wide range of businesses and other organizations throughout the real estate, manufacturing, utility, construction, transportation, entertainment and retail sectors. NAREIT is a member of the group.

(Contact: Robert Dibblee at rdibblee@nareit.com)
FASB Issues Highly Anticipated Discontinued Operations Standard

The Financial Accounting Standards Board (FASB) last week issued Accounting Standards Update No. 2014-08, Presentation of Financial Statements (Topic 205) and Property, Plant, and Equipment (Topic 360): Reporting Discontinued Operations and Disclosures of Disposals of Components of an Entity. The final standard has been highly anticipated in the real estate industry, as it will eliminate the great majority of discontinued operations reported by NAREIT member companies.

Under the final standard, only disposals representing a strategic shift in operations (e.g., a disposal of a major geographic area, a major line of business, or a major equity method investment) will be presented as discontinued operations. Under current U.S. Generally Accepted Accounting Principles, companies that sell a single investment property are generally required to report the sale as a discontinued operation, which requires the companies to reclassify earnings from continuing operations for all periods presented.

The final standard requires expanded disclosures about discontinued operations that will provide financial statement users with more information about the assets, liabilities, income and expenses of discontinued operations. Additionally, the final standard requires disclosure of the pre-tax income attributable to a disposal of a significant part of an organization that does not qualify for discontinued operations reporting. The disclosure is intended to provide financial statement users with information about the ongoing trends in a company's results from continuing operations.

The final standard is effective in the first quarter of 2015 for public entities with calendar year ends. For most nonpublic entities, it is effective for annual financial statements with fiscal years beginning on or after December 15, 2014. The FASB will permit early adoption of the final standard, beginning in the first quarter of 2014, but only for disposals or classifications as held for sale that have not been reported in financial statements previously issued or available for issuance.

(Contact: George Yungmann at gyungmann@nareit.com)
NAREIT Attends REESA Meeting in China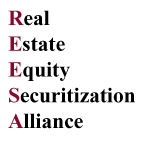 NAREIT representatives visited China last week for meetings with other real estate industry groups and institutional investors.

On April 8, Steve Wechsler, NAREIT's president and CEO, and Bonnie Gottlieb, NAREIT's senior vice president for industry and member affairs, attended a meeting of the Real Estate Equity and Securitization Alliance (REESA) in Hong Kong. The agenda for the event included discussions regarding possible joint research on the economic impact of global REITs and real estate operating companies, global financial standards and major initiatives taking place within each of the regions represented by the REESA member organizations. NAREIT's partners in REESA include the Asia Pacific Real Estate Association, the British Property Federation, the European Public Real Estate Association, the Property Council of Australia, the Real Property Association of Canada and the Association for Real Estate Securitization of Japan.

Gottlieb and Wechsler then traveled to Shanghai and Beijing for one-on-one meetings with representative Chinese real estate organizations and investment fund managers that are investing in–or intend to invest in–listed real estate securities around the world, including U.S. REITs.

(Contact: Bonnie Gottlieb at bgottlieb@nareit.com)
Cardin Introduces Bill to Extend and Improve Energy Efficiency Deduction

On April 1, Sen. Ben Cardin (D-MD) introduced legislation designed to extend, improve, and expand the expired deduction under section 179D for energy efficiency expenditures relating to new commercial buildings to include retrofits of existing buildings through 2016.

The Energy Efficiency Tax Incentives Act, S. 2189, also would better allow REITs to include this deduction in determining taxation of their dividends. Furthermore, it would allow commercial and multifamily building owners, including REITs, to allocate the deduction to tenants, lenders, architects or other building professionals.

The bill is co-sponsored by Sens. Dianne Feinstein (D-CA) and Brian Schatz (D-HI).

On April 3, the Senate Finance Committee approved a narrower extension of section 179D, along with a number of other expiring or expired tax provisions, through 2015.

(Contact: Dara Bernstein at dbernstein@nareit.com)
REIT.com Videos: REITWise 2014 Insights
REIT.com was onsite at REITWise 2014 in Boca Raton, Fla., to speak with attendees about some of the latest developments in the real estate industry. Below are some of the highlights from those interviews.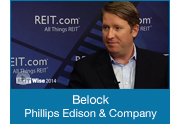 D.J. Belock, senior vice president of finance with Phillips Edison & Company, discussed what criteria the company's public, non-listed REIT, Phillips Edison-ARC Shopping Center REIT, looks for in potential acquisitions, as well as which markets are currently most attractive.

"In terms of the specific markets, [the criteria are] great demographics, employment diversity and population growth," he said. "We actually tend to focus outside of the top 25 markets. We're finding that there is similar rent growth, if not better, in some of those markets. And we feel like we can buy at a higher yield than if we were trying to buy in the top 25 markets, so we feel that it is better returns. In terms of the specific acquisitions, we're focused on buying the dominant grocer in the market. We want to have a portfolio that's diversified by geography, by grocer, by tenants, lease maturity, things like that."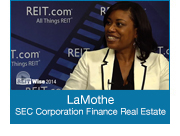 Cicely LaMothe, senior assistant chief accountant in the Securities and Exchange Commission (SEC) Division of Corporate Finance-Real Estate, discussed steps that REITs can take to minimize SEC requests regarding their financial reporting.

"We view our reviews as a dialogue," LaMothe said. "We have a dialogue with the registrant in order to try to improve the disclosure that's in the filings. We consider a couple of things in the comment process, both inside the filing and outside the filing. We consider things like earnings releases, analyst reports, and information on the company's website. We use this mix of information when we also consider the information in their filing to develop our comments."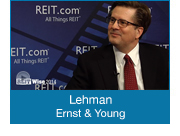 Bob Lehman, partner and global REIT head at accounting and advisory firm EY, reviewed recent developments at the Public Company Accounting Oversight Board (PCAOB), the private sector body that oversees the auditors of U.S. public companies.

One PCAOB proposal relates to auditor opinions, Lehman noted. He explained that the PCAOB wants auditor opinions to be more descriptive and informative. "That could lead to the audit firms getting out in front of management, and they would be discussing things management should discuss. It seems that it's backward, the cart before the horse," Lehman said.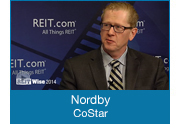 Hans Nordby, chief economist with CoStar, discussed the potential for changes in demand for commercial real estate.

"In terms of demand, there are a couple of big mega-trends at work," he said. "In office, the millennials are used to working in a collaborative work environment. Their idea of privacy has a lot more to do with putting headphones on that it does with closing an office door. Corporate America likes the collaborative environment, and they like having fewer square feet per worker."

(Contact: Matt Bechard at mbechard@nareit.com)
Sternlicht to Headline Real Estate Luminaries Event

The next event in the Real Estate Luminaries Series at Georgetown University will feature a conversation with Starwood Capital Group Chairman and CEO Barry Sternlicht.

Mike Kirby, chairman of real estate research firm Green Street Advisors, and Steve Wechsler, president and CEO of NAREIT, will interview Sternlicht as part of the program. The event is scheduled to take place April 23 beginning at 5 p.m. in the Lohrfink Auditorium of the Rafik B. Hariri Building at Georgetown University in Washington, D.C.

The program will begin with a panel discussion on global real estate investing led by Matthew Cypher, a professor at Georgetown's McDonough School of Business who heads the school's Real Estate Finance Initiative. GreenOak Capital Founder & Partner Sonny Kalsi, Cerberus Capital Head of Real Estate Investing Ronald Kravit and Carlyle Head of International Real Estate Adam Metz will take part in the roundtable with Cypher.

(Contact: Jeff Henriksen at jhenriksen@nareit.com)
NAREIT Attends Defined Contribution Institutional Investment Association Public Policy Forum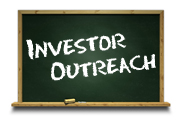 On April 9-10, the NAREIT Investor Outreach team participated in the fifth annual Public Policy Forum of the Defined Contribution Institutional Investment Association (DCIIA).

Attendees of the forum, which was held in Washington, D.C., heard presentations by Sen. Sherrod Brown (D-Ohio); individuals from congressional committees and regulatory bodies with jurisdiction over DC plans, including the Senate Finance Committee and Senate Health, Education, Labor and Pension Committee; the Department of Labor; the Securities and Exchange Commission (SEC); and the Treasury Department. Representatives from the American Benefits Council, the Investment Company Institute, and the Employee Benefits Research Institute appeared as well.

The five-year-old DCIIA seeks to improve the $5.8 trillion defined contribution (DC) retirement plan system. Since it was established in January 2010, the association has steadily built an impressive membership roster that includes a vast majority of the most visible thought leaders in the DC industry. As evidence of this, approximately 100 individuals attended the first Public Policy Forum in 2010; this year's event drew more than 300 attendees.

In addition to NAREIT, founding members of DCIIA include some of the largest investment consultants, such as Callan Associates, Hewitt EnnisKnupp, Ibbotson Associates, Mercer, Morningstar and TowersWatson. DCIIA members also include major investment managers, such as AllianceBernstein, BlackRock, Fidelity Investments, Goldman Sachs, J.P. Morgan, PIMCO, Russell Investments, T. Rowe Price, UBS, Vanguard, Wellington Management and Wells Fargo. NAREIT maintains an ongoing dialogue with these organizations through its direct meetings program. Plan sponsors of the largest and most influential DC plans also participate.

As a board member, NAREIT continues to serve on the organization's public policy and investment policy and design committees. Advocating for the automation of key aspects of DC plan participation is of particular importance to NAREIT as well as promoting full opportunity for the inclusion of all major asset classes and investment product formats within DC plans.

(Contact: Kurt Walten at kwalten@nareit.com)
Case Delivers Guest Lecture

Brad Case, NAREIT's senior vice president for research and industry information, last week delivered a guest lecture before an MBA class on real estate finance at George Washington University. The lecture focused on the ways in which the REIT business model may be responsible for decades of outperformance by listed equity REITs relative to institutional real estate investments or private equity real estate funds. The class is taught by Min Hwang, an academic who has published several of his own research projects on REITs.

(Contact: Brad Case at bcase@nareit.com)