Content

Message from the President

As the story in this issue of NewsBrief reports, five NAREIT members have been named winners of the 2014 ENERGY STAR award presented by the Environmental Protection Agency and the U.S. Department of Energy. Sustainability is a key issue for property companies today, and REITs are in the forefront of sustainable energy use practices in the real estate industry.

Managing property on a sustainable basis is important for a number of reasons. One reason is that it is simply good business. Well-designed and implemented sustainability programs reduce the costs of energy and other resources. Environmentally sound building systems also help create a more appealing rental proposition for tenants and contribute to the long-term value of properties.

Still another benefit of sustainability for REITs is that an increasing number of investors today – in the U.S. and, especially overseas – understand the value of sustainable business practices and favor the stocks of companies that have implemented them.

NAREIT has been working to promote sustainability within our industry for a number of years. Since 2005, we have been presenting our annual Leader in the Light Awards, which honor NAREIT members that have achieved measurable results in reducing their consumption of energy and other resources.

More recently, we have integrated our Leader in the Light Award judging criteria with the annual Global Real Estate Sustainability Benchmark (GRESB) survey, which measures the environmental performance of property portfolios around the world. Incorporating the GRESB survey into the Leader in the Light judging enables NAREIT members to compare their performance against a global standard – a comparison that is steadily becoming more favorable.

NAREIT members clearly have made significant strides in sustainability, and we will continue to encourage progress in this important area.








Steven A. Wechsler
President and CEO
Five NAREIT Members Win ENERGY STAR awards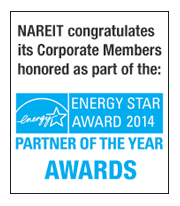 Five NAREIT member companies have been named 2014 ENERGY STAR award winners by the Environmental Protection Agency (EPA) and the Department of Energy.

ENERGY STAR was introduced by the EPA in 1992 as a voluntary, market-based partnership to reduce greenhouse gas emissions through increased energy efficiency. The 2014 award winners include Hines, Liberty Property Trust (NYSE: LRY), Brandywine Realty Trust (NYSE: BDN), Vornado Realty Trust (NYSE: VNO) and Kilroy Realty Corp. (NYSE: KRC).

Liberty was named a Partner of the Year for Sustained Excellence, the highest honor given by the program.

"Receiving the Sustained Excellence award is a wonderful confirmation of what hundreds of our tenants already know: Sustainable design and property management save measurable amounts of energy, which translates into measurable savings on their bottom lines," said Marla Thalheimer, director of sustainability for Liberty.

Brandywine Realty was recognized for the second consecutive year as an ENERGY STAR Partner of the Year. EPA deputy administrator Bob Perciasepe noted that "Brandywine Realty Trust's leadership in energy management supports the well-being of American families and businesses while also fighting climate change."

Kilroy and Vornado were each designated as an ENERGY STAR Partner of the Year as well.

Hines, a privately owned, international real estate firm, also received the Partner of the Year for Sustained Excellence award. This marks the tenth time that Hines has been recognized by the EPA and the seventh time it has received the Sustained Excellence award.

Hines president and CEO Jeffrey Hines said the company uses ENERGY STAR in tandem with its proprietary building management tools "to support our engineering efforts to maximize performance, minimize risk and preserve long-term value."

(Contact: Sheldon Groner at sgroner@nareit.com)
REIT.com CEO Spotlight Video: Mitchell Sabshon, Inland Real Estate Investment Corp.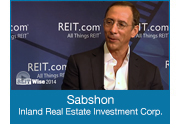 Mitchell Sabshon, CEO of Inland Real Estate Investment Corp., was asked about his plans to sharpen the focus of the company in light of changing conditions in the marketplace.

"The marketplace is far more competitive, the competitors are far more aggressive and Inland has to be capital market focused," he replied.

Sabshon also outlined a number of changes that the REIT is undergoing to boost its performance.

Traditionally Inland has focused on one PNLR at a time, he explained. Now, however, he said the company will be shifting to a multiple-property, multiple-strategy format.

"In addition to core competencies such as retail and multifamily, we'll also be moving into the mortgage REIT area, medical office building, self-storage, and a number of other property types and asset types," Sabshon said.

(Contact: Matt Bechard at mbechard@nareit.com)
Sternlicht to Headline Real Estate Luminaries Event

The next event in the Real Estate Luminaries Series at Georgetown University will feature a conversation with Starwood Capital Group Chairman and CEO Barry Sternlicht.

Mike Kirby, chairman of real estate research firm Green Street Advisors, and Steve Wechsler, president and CEO of NAREIT, will interview Sternlicht as part of the program. The event is scheduled to take place April 23 beginning at 5 p.m. in the Lohrfink Auditorium of the Rafik B. Hariri Building at Georgetown University in Washington, D.C.

The program will begin with a panel discussion on global real estate investing led by Matthew Cypher, a professor at Georgetown's McDonough School of Business who heads the school's Real Estate Finance Initiative. GreenOak Capital Founder & Partner Sonny Kalsi, Cerberus Capital Head of Real Estate Investing Ronald Kravit and Carlyle Head of International Real Estate Adam Metz will take part in the roundtable with Cypher.

(Contact: Jeff Henriksen at jhenriksen@nareit.com)
REIT.com Videos: REITWise 2014 Insights
REIT.com was onsite at REITWise 2014 in Boca Raton, Fla., to speak with attendees about some of the latest developments in the real estate industry. Below are some of the highlights from those interviews.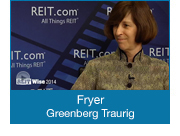 Judith Fryer, principal shareholder with Greenberg Traurig, was asked her opinions on the parallels between traded and non-traded REITs and her concept of the non-listed segment as "incubators" for stock exchange-listed REITs.

"Non-traded REITs are not perpetual life REITs," she said. "They have some endgame in mind, and in order to do that, they need an exit strategy. The exit strategy is a liquidity event. It can be listing or merging or selling all their assets, but there needs to be some event. At least initially, people thought that was going to be a listing. So when you think about it, it really is the perfect incubator for the REIT world if you have to take the non-traded REITs and list them."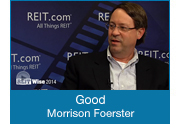 John Good, partner and co-head of the REIT group at law firm Morrison Foerster, explained that in the post-recession recovery environment, companies are examining their portfolios and their stock performance and realizing that there may be opportunities to create value for shareholders by focusing more closely on particular property types.

"While REITs have for many years been single property types, they're becoming hyper-single property types now where anything that doesn't really fit, either from a growth standpoint or from a quality standpoint, they need to move out and have their portfolio focused in a way that drives better growth, better share value," Good said.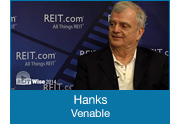 Jim Hanks, partner with Venable, discussed some of the issues surrounding "say on pay" for REITs.

"First and foremost, a REIT, through its compensation committee, should design a good plan with the key emphasis being on pay for performance and whatever metrics it is that the compensation committee thinks will best promote pay for performance," Hanks said. "After that, it's important that the compensation committee run the process as much as possible and be perceived as running the process."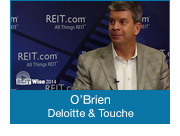 Bob O'Brien, partner and U.S. and global real estate services leader at Deloitte & Touche, was asked to comment on the evolving nature of real estate as seen within the REIT industry. O'Brien noted that a whole series of alternative or non-core-property REITs have come to the market over the past few years in segments including timber, cell towers and data centers.

"What we've seen is that it's become a very efficient way to finance real estate… and investors have a great deal of interest in investing in it. There's low correlation with those types of assets and the S&P 500, even in some cases with the traditional REIT segments, and so it has gotten traction. People have been very creative in some of the things they are bringing to market," O'Brien said.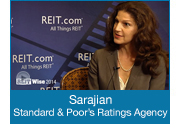 Lisa Sarajian, managing director at Standard & Poor's Ratings Agency, was asked about the state of the market for REIT bonds and preferred stocks.

"Our outlook for the sector is stable with a positive bias," she said. "That means we think more ratings will go up than down this year. That's consistent with what we experienced last year. The support for that is strengthening fundamentals across most asset classes, maybe office being a laggard and pockets of multifamily and retail a little bit vulnerable. But fundamentals strengthened. Access to capital continues to be robust."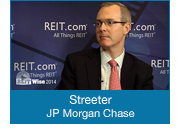 Mark Streeter, managing director at JP Morgan Chase, was asked about appropriate debt levels for REITs and how the industry as a whole performs in this area. He noted that since the financial crisis, the REIT industry has been more focused on the metric of debt to earnings before interest, taxes, depreciation and amortization (EBITDA).

"The debt-to-EBITDA metric is more comparable across sectors, and that's been driven in part by the desire by investors and the ratings agencies to really compare REITs to the broader market," Streeter said.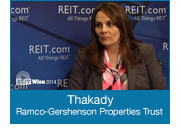 Shari Thakady, director of tax at Ramco-Gershenson Properties Trust (NYSE: RPT), spoke about under-the-radar tax issues that could become more prominent for REITs.

"I think the biggest issue for most of us is impermissible services , especially with the invention of social media," she said. "At what point are those customary services, as opposed to just one-offs that only a few REITs here and there manage to use?"

(Contact: Matt Bechard at mbechard@nareit.com)
NAREIT's Schnure Makes Radio Appearance

Calvin Schnure, NAREIT's vice president for research and industry information, appeared last week on the Commercial Real Estate Show in Atlanta. He discussed the performance of office REITs in the first quarter, the current state of the recovery in the office sector and the outlook for the future with host Michael Bull. (CLICK HERE to download the episode.)

Office REITs outperformed in the first quarter with an 11-and-a-quarter percent return. The sector continues to strengthen with a slowly declining vacancy rate supporting rent growth. Macroeconomic fundamentals point to continued improvement, especially the increase in trend job growth to 200,000 per month.

(Contact: Calvin Schnure at cschnure@nareit.com)
Panel Talks TRIA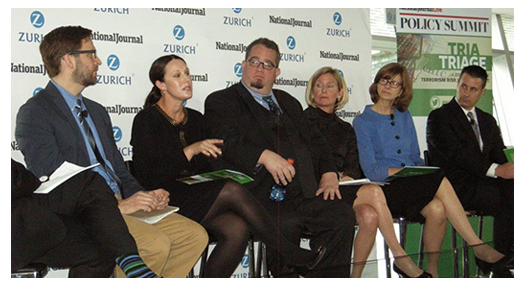 The National Journal organized a forum last week on terrorism risk insurance that featured Kristen Pate (pictured, second from left), General Growth Properties, Inc. (NYSE: GGP) associate general counsel.

Rep. Randy Hultgren (R-IL) gave the keynote remarks at the event, which took place at Chicago's Soldier Field and examined the extension of the Terrorism Risk Insurance Act (TRIA).

TRIA is currently set to sunset at the end of 2014. Different versions of bills to extend the program are now under consideration on Capitol Hill.

Other participants in the panel included (pictured, left to right): Kyle D. Logue, professor, University of Michigan School of Law; R.J. Lehmann, senior fellow, editor-in-chief and co-founder, R Street Institute; Leigh Ann Pusey, president and CEO, American Insurance Association; Anne Gron, vice president, NERA Economic Consulting; and Ted Nickel, Commissioner of Insurance, State of Wisconsin. Steve Clemons (not pictured), editor-at-large of the National Journal and The Atlantic, moderated the panel.

(Contact: Robert Dibblee at rdibblee@nareit.com)
REIT.com CEO Spotlight Video: Justin Hutchens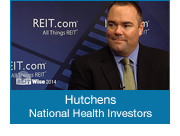 Justin Hutchens, president and CEO of National Health Investors (NHI), discussed the benefits of National Health Investors' expressed goal of staying small in size.

"The market that we're focused on is senior housing, primarily," he said. "We're focused on regional operators that have been part of a marketplace that has grown dramatically over the past five years. We have peers that have grown very dramatically. What we're trying to do is convey a message to the operators that when you're dealing with NHI, you're dealing with a company that is not focused on becoming big. We're focused on creating a valuable experience for our customer and also creating value for our shareholders. We have no ego about being big. We just want to do smart investments that make sense for all parties involved and ultimately create value at the end of the day."

Hutchens was asked about areas of the health care market that provide the greatest opportunities as well as those that may pose more risk.

"There has certainly been a lot of movement in private-pay senior housing," he said. "It has been a very stable asset class, and, therefore, it has attracted a lot of competition. The opportunity that we're most excited about is private-pay assisted living and assisted living campuses, but everyone else is most excited about that as well."

(Contact: Matt Bechard at mbechard@nareit.com)
REITs in the Community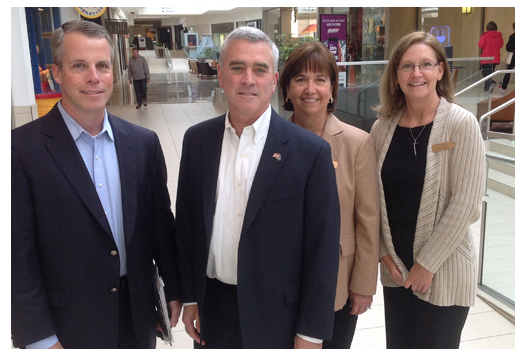 April 15: Rep. Brad Wenstrup (R-OH), second from left, visited the Kenwood Towne Center in Cincinnati, a property owned and operated by General Growth Properties, Inc. (NYSE: GGP). Wenstrup toured the center, received a briefing on its economic impact in the area and discussed GGP's activities in Ohio and across the nation with (from left to right): Kevin Berry, GGP vice president for investor relations; Wanda Wagner-Turiak, Kenwood Towne Center senior general manager; and Cindy Hart, Kenwood Towne Center marketing manager. Additionally, several legislative issues pending before Congress were discussed, including the Mainstreet Fairness Act, reauthorization of the Terrorism Risk Insurance Act, tax reform and FIRPTA reform.

(Contact: Jessica Davis at jdavis@nareit.com)