Content

Message from the President

As the story in this issue of NewsBrief reports, President Barack Obama last week provided his own blueprint for the reform of the U.S. housing finance market. The proposal contains a number of initiatives that also are included in housing finance reform bills introduced this summer in the House of Representatives and Senate.

The centerpiece of each of these approaches to restructuring the housing finance marketplace is the winding down of the operations of the government-sponsored enterprises (GSEs) Fannie Mae and Freddie Mac. The Obama plan calls for Fannie's and Freddie's investment portfolios to be reduced by 15 percent per year, bringing their holdings to a "manageable balance" by 2018.

The GSE's portfolios today contain approximately $1.4 trillion of mortgages and mortgage-backed securities. A major issue that will have to be addressed in executing the White House's plan or either of the legislative proposals is providing an answer to the question of who will hold this mortgage debt. Also, who will perform the GSEs' past role of providing liquidity to the mortgage market going forward?

Mortgage REITs already play an important role in providing liquidity for residential lending, channeling private sector capital into investment in mortgage-backed securities to support the financing of 2.5 million homes. They could assume an even more critical and valuable role in a restructured housing finance market.

The movement toward private-sector solutions for the housing market's problems appears to be gaining momentum. NAREIT will continue to monitor these developments and provide constructive input for all of the plans that have been proposed.








Steven A. Wechsler
President and CEO
 
Obama Proposes GSE Reform Plan

In a speech given in Phoenix last week, President Barack Obama offered his administration's vision for the future of U.S. housing finance.

The speech was accompanied by a White House fact sheet. The White House had not previously detailed its views on how to move forward from the conservatorship of government-sponsored enterprises (GSEs) Fannie Mae and Freddie Mac, now in its fifth year. In February 2011, the Obama Administration outlined three broad policy options for addressing the GSEs, but did not provide specifics or a preferred approach.

The administration's plan shares many similarities with the bipartisan bill introduced in the Senate in July by Sens. Mark Warner (D-VA) and Bob Corker (R-TN). Obama also advocated terminating the role of Fannie Mae and Freddie Mac and replacing these entities with a more limited federal entity restricted to performing oversight over private-sector securitization activities and providing limited federal catastrophic insurance.

Obama's support for multifamily housing was notable for its specific references to rental housing. The White House fact sheet specifies that the housing finance system must support both construction and rehabilitation of multifamily housing, including rental housing for households at or below the median income and households that recently departed the single family sector.

The administration also advocated:


Continuing to wind down Fannie Mae and Freddie Mac's investment portfolios by at least 15 percent per year;



Accelerating the reduction of the government's direct credit risk exposure, both by issuing more securities enabling private investors to take on the risk of first losses and by encouraging the participation of private insurers to cover portfolio first losses;



Prioritizing the development of a common infrastructure/securitization platform currently underway pursuant to ongoing FHFA directives;



Reducing loan limits "in a manner consistent with our housing finance reform principles and market developments;" and



Reducing the multifamily footprint of Fannie Mae and Freddie Mac "by limiting support of high-end properties, while exploring ways to serve the unmet mortgage needs of smaller multifamily properties and loan sizes."
(Contact:
Victoria Rostow
at vrostow@nareit.com)
Senate Committee Approves FHA Bill


On July 31, the Senate Banking Committee approved S. 1376, the Federal Housing Administration Solvency Act of 2013, a bill co-sponsored by Sens. Tim Johnson (D-SD), the committee's chairman, and Mike Crapo (R-ID), the committee's ranking Republican.

The bill had been previously circulated as a discussion draft and is intended to strengthen FHA underwriting and promote the long-term solvency of FHA by:
 
Raising the minimum for the Mutual Mortgage Insurance Fund's capital reserve ratio to 3 percent;



Requiring minimum annual mortgage insurance premiums, to be reevaluated annually, to ensure that the premiums cover loans' expected risk and maintain the capital reserve ratio;



Requiring HUD to evaluate and revise underwriting standards, using criteria similar to the CFPB's Qualified Mortgage rule;



Requiring HUD to consolidate guidelines for lenders and servicers regarding the requirements, policies, processes and procedures that apply to loans insured by FHA; and



Providing HUD with new enforcement tools to hold lenders accountable for issuing inappropriate or fraudulent mortgages.
(Contact:
Victoria Rostow
at vrostow@nareit.com)
Fundamentally Speaking: Signs of Recovery in Lending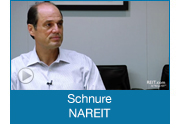 In the latest edition of "Fundamentally Speaking," Calvin Schnure, NAREIT's vice president of research and industry information, discussed the latest developments in the commercial lending market.

"We've actually seen a significant turnaround, just in the past couple of months, for the first time since the crisis," Schnure said. "One of the easiest ways to see this is to look at the [Federal Reserve's Senior Loan Officer Opinion Survey] that came out very recently. It showed almost half of banks are reporting increases in demand for commercial mortgages. That's not saying that they're seeing a lot of strong demand, but we're seeing widespread increases in demand for commercial lending."

Schnure noted that the demand for loans, as well as the supply of credit, supports the idea of a healthy recovery continuing in the sector.

"It's a sign that we are beginning to see the foundation for a real, sustainable recovery in commercial real estate," Schnure said.

(Contact: Calvin Schnure at cschnure@nareit.com)
NAREIT Podcast: Clint Laurent, Global Demographics LTd.

The latest edition of the NAREIT Podcast features an interview with Clint Laurent, founder and managing director of Global Demographics Ltd., based in Hong Kong.

Laurent's 2012 book Tomorrow's World sketched out a preview of what the global socio-economic structure might look like 20 years from now, as well as the implications for top decision makers.

In the podcast, Laurent discusses some of the most important trends - and misconceptions - that will define the global economy in the next two decades.

(Contact: Allen Kenney at akenny@nareit.com)