Content

Message from the President

As this issue of NewsBrief illustrates, NAREIT's Investor Outreach staff maintained its active pace of briefings with financial organizations in July, providing continuity for a program that operates in all seasons of the year. In addition to the schedule of meetings itself, maintaining continuity in our messaging also is a central element of our Investor Outreach program.

Investment managers and advisors across the spectrum – from sovereign wealth funds to individual financial advisors – share a common concern today with the state of the economy and its impact on investment fundamentals. For investors in REITs and real estate otherwise, that concern translates into a desire to better understand how macroeconomic factors are likely to impact occupancy rates and rents in various sectors of the real estate marketplace.

In our investor outreach meetings, NAREIT also provides supporting economic analysis to help investors understand how the current and near-term supply and demand fundamentals may affect REIT performance. This information has become an important component of our meetings, coupled with our ongoing message about the benefits of including REITs in an investment portfolio.

Our meetings emphasize how the diversifying power of REITs can help manage portfolio risk; how strong REIT dividends can generate significant income for a portfolio in good times and bad; and how REITs' solid long-term performance, which has outpaced that of the S&P 500 for most periods over the past 40 years, enhances a diversified portfolio.

Consistency and continuity in our message combined with supporting economic analysis helps put the REIT approach to real estate investment both in context and in the mix.







Steven A. Wechsler
President and CEO

 
Investor Outreach Beats the Heat with July Meetings

NAREIT's Investor Outreach team spent July visiting with a diverse range of 27 organizations controlling close to a combined $5 trillion in assets in the institutional investment market. The 27 meetings were held with organizations across all targeted investment cohorts, including: 10 with prominent domestic and international pension, retirement and sovereign wealth fund plan sponsors representing more than $304 billion in assets; three with investment consultants with assets under advisement of more than $4 billion; and 11 with investment managers sponsoring global and domestic products for the institutional and retail investor markets that represent more than $4 trillion in assets under management.

‪In response to growing investor interest, many of our meetings led off with a discussion of the current macroeconomic outlook and its implications for commercial real estate and REITs. The macroeconomic news has been disappointing, especially the weak job growth and lack of significant improvement in the unemployment rate. The economy remains vulnerable to risks, both domestic and from abroad. Despite the sluggish growth in demand, though, new construction is still well below trend levels, allowing occupancy rates to edge higher. Over the medium and longer term, the supply picture suggests REITs are well positioned for strong performance as the fundamentals for commercial real estate continue to improve.‬‬

‪Through the end of July, NAREIT has conducted 247 meetings in 2012 with many of the largest and most influential investment organizations within the institutional investment marketplace. Collectively, these entities represent close to $31 trillion in assets under management or advisement.‬‬

(Contact: Kurt Walten at kwalten@nareit.com)

 
NAREIT Submits Comments on South African REIT Law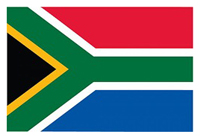 On July 31, NAREIT submitted comments to the South African national government regarding the country's draft REIT law.

The South African government is currently considering the introduction of REITs by 2014. In its comment letter, NAREIT encouraged the government to see the effort through.

"NAREIT believes that adopting a tax transparent structure that resembles the current United States REIT vehicle would capitalize on over 50 years of experience with, and evolution of, REITs in the United States, and should promote a number of the South African government's objectives," the letter said.

(Contact: Dara Bernstein at dbernstein@nareit.com)
 
REIT.com Videos: Bolton, Matros, Beam and Brady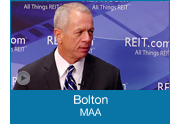 There's still room for the multifamily sector to grow in the Sun Belt region, according to Eric Bolton, chairman and CEO of Memphis-based REIT MAA (NYSE: MAA). "Fundamentals are terrific. We continue to see very high traffic levels, and rent levels are higher than we've seen historically," he said. "We continue to feel very good about the business and really think for the next several quarters, the runway is wide open." Bolton added that a consistent upswing in rents will be one of the main drivers for growth in the second half of 2012. The multifamily company also has renovation projects underway that Bolton said will "turbocharge growth."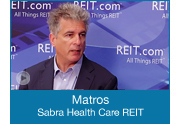 Sabra Health Care REIT Inc. (NYSE: SBRA) is looking to grow by focusing more of its investments in the senior housing sector of the health care industry, according to Rick Matros, chairman and CEO of the California-based company. When it comes to driving returns in the second half of the year, Matros said Sabra Health Care REIT is looking to grow by rolling out more senior housing facilities. "We are really focused more on branching out into senior housing," he said. "Our portfolio today is predominately skilled nursing, so executing on the pipeline, which consists of at least as much senior housing as skilled nursing, would be key for us."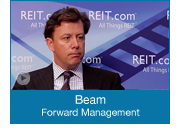 Investor's views of REITs have evolved over the years from a place of skepticism to understanding, according to Joel Beam, portfolio manager with Forward Management. "I think that skepticism has been replaced over the years by what REITs bring to the table, both in terms of the return opportunities that they provide and the promise of sustainable long-term returns, as well as just the overall qualities of the companies and their access of capital," Beam said. Beam added that the "enviably low cost to capital" offered by REITs, along with strong balance sheets, are among the ongoing themes in today's REIT market. He anticipates that this trend will continue in the coming years.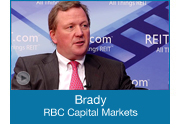 Look for more consolidation on the horizon in the health care REIT sector, according to John Brady, managing director with RBC Capital Markets and co-head of the firm's U.S. real estate group. "You see in the existing health care REIT asset portfolios that, generally speaking, growth is muted," he said. "They need to acquire assets to grow their business." Because top-tier health care REITs are trading at higher multiples, the market is paving the way for accretive acquisitions in the sector, according to Brady. Additionally, Brady speculated that private owners seeking to create efficiencies have been motivated to sell off health care real estate assets.

(Contact: Matt Bechard at mbechard@nareit.com)

 
Senators Introduce Bill to Clarify Derivatives Rules

A bipartisan group of senators introduced a bill last week to clarify Congressional intent that financial regulators do not have the authority to impose margin requirements on bilateral derivatives entered into by non-financial end-users in order to manage risk.

S. 3480, introduced by Sens. Mike Johanns (R-NE), Mike Crapo (R-ID), Kay Hagan (D-NC), Herb Kohl (D-WI), Jon Tester (D-MT) and Pat Toomey (R-PA), is a companion to a bill that was passed by the House in March 2012 by a vote of 370-24.

NAREIT and its partners in the Coalition for Derivatives End-Users have been strongly advocating for the introduction of this bill in the Senate, and will now turn their attention to urging Senate leadership to bring this bill up for a vote.

(Contact: Kirk Freeman at kfreeman@nareit.com)
 
Despins Speaks at Institutional Investors Summit

Meredith Despins, NAREIT vice president for investment affairs and investor education, spoke on the REIT investment proposition at a joint session of the concurrent U.S. Pensions and Foundation & Endowments Investment Summits, sponsored by conference producer Marcus Evans, last week in Chicago.

Despins delivered a featured presentation entitled "Design and Construction of the Real Estate Portfolio: Optimizing Risk and Return through REITs and Private Equity Real Estate." While much of the programming for the U.S. Pensions Investment Summit and the Foundation & Endowment Investment Summits was run independently, Despins' presentation was delivered during a session combining the attendees from both events. The presentation highlighted the role REITs can help play in building portfolio value, delivering income, and as a risk management tool when combined with private equity real estate investments in the construction of a real estate investment program. Despins focused on how investors are using REITs strategically and tactically in portfolios as a method to optimizing their real estate investment programs and managing risk.

The session was attended by more than 200 delegates, including senior investment executives from a number of the prominent pension and endowment funds in the United States and Canada, as well as representatives from leading investment consulting and advisory organizations.

Following the summit, Despins traveled to Toronto for a series of outreach meetings with a variety of Canadian investment organizations, including briefings with the CCP Investment Board, which manages the investments of the $162 billion Canadian Pension Plan, and API Asset Performance Inc., Canada's largest independent national consulting firm. API provides investment consulting and risk analytics to over 100 clients, primarily consisting of Canadian pension plans. The focus of these conversations was on the contribution U.S. REITs can make within the investment portfolios of Canadian institutional investors.

(Contact: Meredith Despins at mdespins@nareit.com)
 
Second Quarter Commercial Property Update

Second-quarter performance in commercial real estate markets was mixed. The apartment sector posted a strong quarter, with vacancy rates dropping another 20 basis points to 4.7 percent, the lowest since 2001. Rent growth accelerated during the spring leasing season and many apartment REITs raised their fiscal year 2012 earnings guidance. The office and retail sectors, in contrast, showed little improvement, with vacancy rates unchanged at high levels and sluggish rent growth.

These results largely reflect the economic fundamentals, with GDP and employment growth losing momentum through the spring. Job growth recovered a bit in July, to 163,000, but not fast enough to bring down the unemployment rate. The recent news suggests that another recession is unlikely, but the economic recovery still lacks vigor.

(Contact: Calvin Schnure at cschnure@nareit.com)