Content

Message from the President
This week's edition of NewsBrief features an update on NAREIT's ongoing initiative to constructively engage with China's real estate community, its institutional investors and its relevant policymakers. During NAREIT's most recent visit to China earlier this month, senior NAREIT representatives met with Chinese government officials and private-sector actors who play important roles in the country's real estate community.

One of the highlights of the trip was the signing of an agreement to work with the newly formed China REITs Alliance on areas of mutual interest, including their efforts to create an effective REIT model for the country. Such partnerships reflect NAREIT's longtime interest in promoting the REIT approach to real estate investment around the world. In fact, two of NAREIT's partners in the Real Estate Equity Securitization Alliance (REESA) -- the Asia Pacific Real Estate Association (APREA) and the European Public Real Estate Association (EPRA) -- were on hand to sign the agreement as well. Other members of REESA, which seeks to grow the opportunities for investment in securitized real estate equity around the globe, include the Association for Real Estate Securitization (ARES), the British Property Federation (BPF), the Property Council of Australia (PCA) and the Real Property Association of Canada (REALpac).

A look at the global real estate investment landscape illustrates the impact of NAREIT's collaborative approach. In August, the Indian government finalized its rules for REITs, bringing the total to 31 countries that have formally adopted REIT-based real estate investment.

In the new year, NAREIT and its international partners will continue working together to ensure that REIT-based real estate investment continues to grow and to be better understood around the world.







Steven A. Wechsler
President and CEO
Congress Fails to Pass TRIA Extension

The U.S. Senate last week adjourned for the year without completing action on S. 2244, the "Terrorism Risk Insurance Program Reauthorization Act of 2014." The program will now expire on Dec. 31.

The bipartisan bill would have reformed the Terrorism Risk Insurance Act (TRIA) and reauthorized it for six years. The House of Representatives passed the proposal on Dec. 10 by a vote of 417-7, following earlier Senate passage of a different version of the bill in July.

NAREIT and its partners in the Coalition to Insure Against Terrorism (CIAT) worked aggressively with the House and the Senate during the past year to secure a TRIA extension bill that all interested parties could support.

"We are extremely disappointed that the 113th Congress failed to pass legislation that would have provided measured reforms to TRIA and reauthorized the program for another six years," said Steve Wechsler, NAREIT's president and CEO. "Since 2002, TRIA has protected taxpayers and limited the government's exposure to only the most extreme terrorist events while preserving the availability of terrorism risk insurance in the current marketplace. It has been critical to U.S. economic stability and security in the face of the ongoing terrorism threat. With the lapse of TRIA, our economy – and American jobs – will be exposed once again as they were in the months after 9/11. NAREIT and CIAT will work with leadership of the new Congress convening in January 2015 to rectify this untenable situation as soon as possible."

TRIA was enacted following the Sept. 11, 2001, terrorist attacks as a federal plan for economic continuity and recovery after a severe terrorist attack on the U.S. The law has previously been extended and modified twice on a bipartisan basis and was on schedule to be reauthorized again before year-end.

The Senate approved a previous version of the bill by a vote of 93-4. However, the House-passed version stalled when senators were unable to resolve objections regarding provisions added to the bill that were not related to TRIA.

Speaker of the House John Boehner (R-OH) said on Dec. 17 that he expects the House to work quickly to extend TRIA when Congress returns to action in January.

(Contact: Robert Dibblee at rdibblee@nareit.com)
NAREIT Meets with China REITs Alliance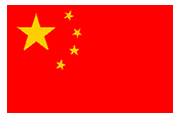 Earlier this month, Mike Grupe, NAREIT's executive vice president for research and investor outreach, and Bonnie Gottlieb, NAREIT's senior vice president for industry and member affairs, traveled to China to meet with various investment and government organizations.

Grupe spoke at the inaugural meeting of the China REITs Alliance, a new Chinese organization established to promote the development of REITs in China. The China REITs Alliance is sponsored by the China Real Estate Chamber of Commerce and the Tsinghua Alumni Association of Real Estate. It is supported by the Asset Management Association of China.

Additionally, Grupe joined Peter Verwer, CEO of the Asia Pacific Real Estate Association (APREA), and Philip Charls, CEO of the European Public Real Estate Association (EPRA), to promote REIT-based real estate investment at the 2014 Annual Meeting of the China Real Estate Chamber of Commerce. At this meeting, NAREIT, EPRA and APREA joined Nie Meisheng, founding president of the China Real Estate Chamber of Commerce, and Hong Lei, chairman of the Asset Management Association of China, in signing memoranda of understanding with the China REITs Alliance to work cooperatively on matters of mutual interest.

While in Beijing, NAREIT's delegation also met with Qi Bin, director general of the Department of International Affairs at the China Securities Regulatory Commission (CSRC); Zhao Ran, deputy director of the department; and Wang Jianjun, director general of the CSRC Research Institute. They discussed the purpose, growth and importance of REITs in the U.S. and how that experience may be helpful to Chinese government officials as they consider the design and development of a REIT model for China. Grupe and Gottlieb also held a meeting with Li Fuan, director general of the Non-Bank Financial Institutions Supervision Department at the China Banking Regulatory Commission, which may play a regulatory role along with the CSRC in any future Chinese REIT model. Chinese government officials indicated that they would seek input from the real estate industry and real estate investment community in China with respect to the planning and design of a Chinese REIT model.

In addition, NAREIT also met in Beijing with Jian Na of the Financial Markets Department at The People's Bank of China; China Real Estate Association General Secretary Xiao Xiao Jian and Director General Hu Andong; and Ma Hongfan, deputy director of the Division of Finance and Research at the Research Institute for Fiscal Science of the Ministry of Finance.

In Shanghai, NAREIT visited with representatives of the Shanghai Stock Exchange, which has been developing proposals for the China Securities Regulatory Commission with respect to a REIT model for China. Both the Shanghai Stock Exchange and Shenzhen Stock Exchange, which NAREIT visited in June, could play important roles when it comes to developing the listing rules that would apply to future stock exchange-listed REITs.

(Contact: Mike Grupe at mgrupe@nareit.com)
REIT.com Videos: CEO Spotlights
REIT.com conducted video interviews with REIT CEOs at REITWorld 2014: NAREIT's Annual Convention for All Things REIT. Here's a sample of the videos currently available online.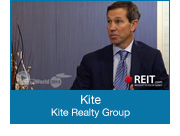 John Kite, chairman and CEO of Kite Realty Group Trust (NYSE: KRG), describes his company's merger this summer with Inland Diversified Real Estate Trust Inc. as a "transformational transaction" that was driven by the quality of the Inland assets. Since the deal's completion, Kite Realty's enterprise value has grown from $2 billion to $4 billion, Kite adds. Free cash flow is also significantly higher, according to Kite.

"It really met every metric," Kite says.

CLICK HERE to view Kite's interview in its entirety.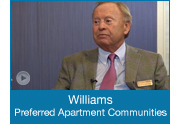 John Williams, co-founder and CEO of Preferred Apartment Communities (NYSE: APTS), describes the current market for multifamily REITs as a "Goldilocks world" in light of the widespread demand for apartment housing. Preferred Apartment Communities buys class-A apartment communities. However, Williams notes that the company stands out because it also makes mezzanine loans to developers with an option to buy the finished properties when they're completed at a discount market price.

"It's a great program for us to be able to get brand new, high-quality assets at a very competitive price," Williams says.

CLICK HERE to view Williams' interview in its entirety.

(Contact: Matt Bechard at mbechard@nareit.com)
NAREIT Joins Call on White House to Nix Like-Kind Exchange Proposal

NAREIT and a coalition of real estate industry groups wrote to President Barack Obama last week requesting that the White House's forthcoming 2016 budget proposal omit a measure to limit the deferral of gain on real property like-kind exchanges.

The president's 2015 budget included a version of the measure, "which could raise the tax burden on hundreds of thousands of real estate transactions," according to the organizations. If enacted, the change "would undermine the functioning of the real estate marketplace, reduce capital investment, and discourage job-creating property improvements and land conservation efforts," the organizations said.

(Contact: Dara Bernstein at dbernstein@nareit.com)
REIT.com Videos: Market Insights
REIT.com conducted video interviews with dozens of REIT investors, analysts, bankers and industry stakeholders at REITWorld 2014: NAREIT's Annual Convention for All Things REIT. Here's a sample of the videos currently available online.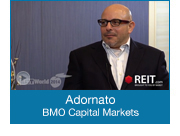 According to Paul Adornato, managing director with BMO Capital Markets, the big story for REITs during 2014 was their "tremendous performance" compared with the overall market. Although concerns about interest rate increases did impact REITs earlier in the year, REITs "sailed away" once investors determined that those increases were not imminent, he says.

"REITs are on track to have a really great year, both in absolute terms and relative to the broader market," Adornato observes.

CLICK HERE to view Adornato's interview in its entirety.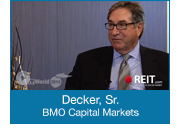 Mark Decker Sr., vice chairman with BMO Capital Markets, rebuffs the suggestion that the U.S. REIT market is approaching the upper limit of its growth.

"We're still a very small part of a much greater whole," he says in reference to the size of the REIT market versus investable real estate. "It's a highly capital-intensive industry, and it's going to get much larger."

CLICK HERE to view Decker's interview in its entirety.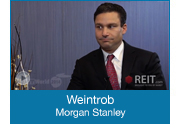 Seth Weintrob, managing director at Morgan Stanley, says the pipeline for real estate deals "is probably as robust as we've seen it in a while" and spans a range of sectors. He's keeping a particularly close watch on the retail sector.

"Retailers continue to evolve in terms of managing the impact of e-commerce and a different sales environment from what we've seen in a while. I actually think that will drive continued consolidation (in retail), but, more broadly, I think we're seeing it across asset classes," Weintrob says.

CLICK HERE to view Weintrob's interview in its entirety.

(Contact: Matt Bechard at mbechard@nareit.com)
NAREIT Investor Outreach Participates in DCREC Planning Meeting

Last week, the NAREIT investor outreach team traveled to New York to participate in a business planning meeting of the Defined Contribution Real Estate Council (DCREC). Council members discussed the research that will be performed in 2015 and marketing efforts.

DCREC aims to promote the inclusion of direct and securitized commercial real estate investments within defined contribution plans. Given the shared interests of DCREC and NAREIT, members of the NAREIT Research & Industry Information and Investment Affairs & Investor Education teams continue to play an active role in the operations of the council.

(Contact: Kurt Walten at kwalten@nareit.com)
NAREIT Welcomes New Corporate Member

NAREIT is pleased to welcome STORE Capital Corp. (NYSE: STOR) as its newest corporate member. Based in Scottsdale, Ariz., STORE Capital focuses on the acquisition of free-standing, single-tenant operational real estate. The net lease REIT's portfolio includes 850 properties involved in a range of businesses in the service, retail and industrial sectors. Morton Fleischer is the company's chairman, and Chris Volk is the president and CEO.

(Contact: Bonnie Gottlieb at bgottlieb@nareit.com)
Happy Holidays from NAREIT
NewsBrief will not publish for the next two weeks in observance of the holidays. Look for the next edition on Jan. 12, 2015.
| | |
| --- | --- |
| Follow us on:   | REIT.com RSS Feeds:   |