Content

Message from the President
Last week on Capitol Hill we witnessed an important step toward reforming the Foreign Investment in Real Property Tax Act (FIRPTA). NAREIT, The Real Estate Roundtable and a number of other real estate organizations have been seeking FIRPTA reform for several years.

As this week's edition of NewsBrief reports, the Senate Finance Committee unanimously agreed to a proposal from Sens. Mike Enzi (R-WY) and Bob Menendez (D-NJ) permitting non-U.S. investors to hold up to 10 percent of a publicly traded U.S. REIT's stock without triggering FIRPTA upon sale of the stock. Current law requires that FIRPTA is triggered upon sale if a foreign investor holds more than 5 percent of a U.S. REIT's shares.

NAREIT has long maintained that FIRPTA is a relic from a previous era in need of serious overhaul. As noted by Sen. Ron Wyden (D-OR), the Finance Committee's ranking Democrat, during discussions on the proposal, reforming FIRPTA stands to open up the U.S. real estate industry to a greater amount of foreign equity-oriented investment. Sens. Johnny Isakson (R-GA) and Chuck Schumer (D-NY) voiced similar sentiments during the committee meeting.

Multiple members of the tax-writing committee expressed support for pursuing additional reforms of FIRPTA in the future, such as equalizing the tax treatment of foreign pension funds with domestic pension plans. This provision was part of an amendment offered by Menendez and Enzi to last year's highway bill. President Obama's latest Federal budget proposal for Fiscal Year 2016 also included the measure, which NAREIT supports.

NAREIT will work with key supporters in the Senate and the House of Representatives to build on the momentum for FIRPTA reform sparked last week by the Senate Finance Committee.







Steven A. Wechsler
President and CEO
Senate Finance Committee Approves FIRPTA Reform Proposal

The Senate Finance Committee last week unanimously adopted a proposal to reform the Foreign Investment in Real Property Tax Act (FIRPTA).

Under the proposal, a non-U.S. investor could hold up to 10 percent of the stock of a publicly traded U.S. REIT without triggering FIRPTA. Currently, the FIRPTA threshold is 5 percent.

Senate Finance Committee members Mike Enzi (R-WY) and Bob Menendez (D-NJ) crafted the proposal, which includes a partial version of FIRPTA reform legislation the two Senators introduced in the last session of Congress as S. 1181, the "Real Estate Investment and Jobs Act of 2013."

"NAREIT is pleased with the committee's action and expresses its appreciation to Chairman Orrin G. Hatch (R-UT) and Ranking Member Ron Wyden (D-OR) for agreeing to consider the FIRPTA proposal as part of a group of non-controversial tax proposals that had bipartisan support from committee members," said Steve Wechsler, NAREIT's president and CEO. "NAREIT commends Senators Enzi and Menendez for their tireless efforts in recent years to achieve FIRPTA reform. This outcome is a direct result of their unremitting efforts to bring this issue before Congress."

CLICK HERE to read a letter from NAREIT to the committee members in support of the proposal. CLICK HERE to read a similar letter from NAREIT and a coalition of industry organizations to the committee.

(Contact: Dara Bernstein at dbernstein@nareit.com)
SEC Areas of Focus When Reviewing 2014 10-K Filings

Through informal conversations with the staff of the Division of Corporation Finance of the Securities and Exchange Commission (SEC), NAREIT has identified potential financial reporting areas for review in 2014 real estate company 10-K filings.

General items of interest include non-GAAP financial measures, Rule 314 financial statements and dividends per share. Areas related to Equity REITs include management discussion and analysis (MD&A) and leasing activity. Fair value accounting will be an area of review for Mortgage REITs.

CLICK HERE for more information.

(Contact: Chris Drula at cdrula@nareit.com)
U.S. Court of Appeals Upholds Michigan's NMLA
Earlier this month, the United States Court of Appeals for the Sixth Circuit unanimously affirmed a federal district court decision that upheld Michigan's Nonrecourse Mortgage Loan Act ("NMLA").

The NMLA retroactively invalidated insolvency carveouts/solvency covenants from otherwise nonrecourse mortgage loans.

NAREIT and a number of real estate industry organizations last summer filed an amicus curiae brief with the Sixth Circuit Court of Appeals in favor of upholding the NMLA.

(Contact: Victoria Rostow at vrostow@nareit.com)
REIT.com Videos: Leader in the Light Working Forum
REIT.com was on hand at last month's 2015 Leader in the Light Working Forum to conduct interviews with real estate sustainability specialists in attendance. Here are a sample of some of the videos now available at REIT.com.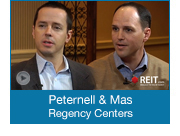 Mark Peternell and Mike Mas of retail REIT Regency Centers (NYSE: REG) discuss the company's approach to sustainability. Peternell, the company's vice president of sustainability, says going green can serve as a "competitive differentiator" for REITs. Additionally, Mas says the company's green bond offering last year was "very well received."

"People believed in the story that Regency had to offer, they understood it and they supported it by eventually buying the bonds," Mas says.

CLICK HERE to see the interview with Mas and Peternell in its entirety.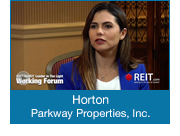 Daniele Horton, founder and principal of Verdani Partners and head of sustainability at Parkway Properties, Inc. (NYSE: PKY), highlights some of Parkway's successes as the company continues to improve its ovreall sustainability.

She notes that last year Parkway placed in the top quartile in the Global Real Estate Sustainability Benchmark (GRESB) survey and ranked eighth in its office peer group. She calls the finish "a great testament to all the sustainability programs we've implemented."

CLICK HERE to see Horton's interview in its entirety.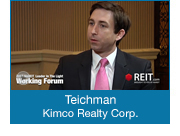 Will Teichman, director of sustainability with retail REIT Kimco Realty Corp. (NYSE: KIM), notes that green leases, which have clauses in place with sustainability guidelines for tenants, are on the rise in the real estate industry.

"What we've worked to do over time is to improve our base form lease incrementally to include more clauses or to modify existing clauses to promote sustainable activity on the part of Kimco as well as our tenants," he says.

CLICK HERE to see Teichman's interview in its entirety.

(Contact: Matt Bechard at mbechard@nareit.com)
NAREIT Welcomes New Corporate Member

NAREIT welcomes Paramount Group, Inc. (NYSE: PGRE) as its newest corporate member.

Paramount Group owns, operates, manages, acquires and redevelops class-A office properties located in premier submarkets within midtown Manhattan, San Francisco and Washington, D.C.

Based in New York City, Albert Behler is the company's chairman, CEO and president.

(Contact: Bonnie Gottlieb at bgottlieb@nareit.com)
REITs in the Community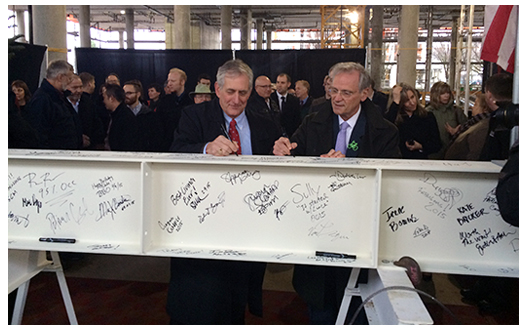 Feb. 9, 2015: House Ways and Means Committee member Earl Blumenauer (D-OR), right, and Portland Mayor Charlie Hales, left, sign a steel beam as part of the "topping off" ceremony of Hassalo on 8th, a 657-unit, three-building project developed by American Assets Trust (NYSE: AAT).

The development is pending LEED Platinum certification. It includes a system that recycles and reuses all of the building's wastewater and offers more than 1,000 bike parking spaces and a bike valet.

(Contact: Jessica Davis at jdavis@nareit.com)
| | |
| --- | --- |
| Follow us on:   | REIT.com RSS Feeds:   |