Content

Message from the President
As this week's edition of NewsBrief reports, REITs got off to a strong start in 2015. That continued into early February, as the FTSE NAREIT All REITs Index showed a total return of 7.09 percent for the year through Feb. 5, while the S&P 500 provided 0.34 percent during the same time period.

This is in keeping with the REIT market's strong performance in 2014. Last year, the FTSE NAREIT All REITs Index returned 27.15 percent, compared with a total return of 13.69 percent from the S&P 500. Through the end of January, the All REITs Index had total returns of 19.04 percent over a five-year period, 8.98 percent over a 10-year period, 12.67 percent over a 15-year period, 11.51 percent over a 20-year period and 9.51 percent over a 30-year period. In the 40-year period ending Jan. 31, the REIT market was up 12.23 percent on a total return basis.

Those total returns to investors have been accumulated while simultaneously providing complementary benefits to investment portfolios, including significant dividend yields, meaningful portfolio diversification and potential inflation hedging.

The REIT market's performance in recent years has led some market observers to conclude that this latest run may be coming to an end soon. Like any other investment, REITs won't outperform over every period of time on an annual compound total return basis and will underperform at times. However, REITs do have a demonstrable track record of competitive performance over the long term and do provide investment attributes that should continue to make them a staple of portfolios for all types of investors. As it has in the past, NAREIT will continue to communicate to the broader public that message about the enduring appeal of REIT-based real estate investment.






Steven A. Wechsler
President and CEO
REITs Off to Solid Start in 2015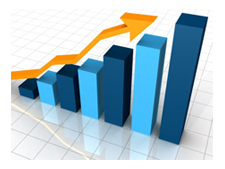 REITs started 2015 on solid ground, as continued low interest rates and promising fundamentals fueled industry performance in January.

The FTSE NAREIT All REITs Index had a total return of 5.6 percent last month, while the return on the S&P 500 Index fell 3.0 percent.

Almost all REIT sectors performed well in January. Gains were led by the self-storage sector, which rose 9.6 percent. Health care REITs trailed slightly, up 9.3 percent.

In the latest edition of Quick Study with REIT.com, Brad Case, NAREIT's senior vice president for research and industry information, notes the REIT market's returns were in line with longer-term trends.

CLICK HERE to watch Quick Study in its entirety.

(Contact: Ron Kuykendall at rkuykendall@nareit.com)
NAREIT Joins Coalition Encouraging Congress to Retain Timber Tax Treatment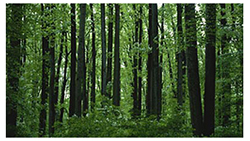 NAREIT and dozens of industry organizations sent a joint letter to the leadership of both the House Ways and Means and Senate Finance Committees last week encouraging them to retain the current tax treatment for timber.

The tax-writing committees have indicated they intend to explore comprehensive tax reform in the new session of Congress, which prompted the letter.

"Current provisions in the tax code recognize that timber is real estate and reflect the unique nature of owning and managing private forestland," the organizations wrote. "The timber provisions in the code benefit the economy by creating jobs, biomass energy, equity and financial returns for private landowners and investors, and provide public benefits from privately-owned working forests, by helping to address the significant threat of conversion of private working forests."

(Contact: Dara Bernstein at dbernstein@nareit.com)
Treasury Implementing Reauthorized TRIA Program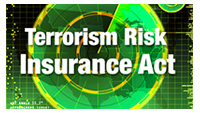 The Treasury Department announced last week that implementation of the Terrorism Risk Insurance Program Reauthorization Act of 2015 has started. The law, which was signed by President Obama last month, extended the Terrorism Risk Insurance Act (TRIA) program, which had expired at the end of 2014.

The announcement was accompanied by interim guidance regarding the immediate application of the program's guidelines.

(Contact: Robert Dibblee at rdibblee@nareit.com)
NAREIT Submits Comments to Hawaii

NAREIT last week submitted written testimony to the Hawaii House of Representatives Committee on Consumer Protection and Commerce and the Committee on Judiciary to oppose a bill that would eliminate the dividends paid deduction (DPD) for REITs in the state.

In his testimony, NAREIT Executive Vice President & General Counsel Tony Edwards cited examples of REITs committing hundreds of millions of dollars to development projects that would generate thousands of jobs for the state's economy.

"If Hawaii repeals the DPD, Hawaii would not be viewed as an attractive place for REIT investments," Edwards stated.

CLICK HERE to read Edwards' testimony opposing Hawaii H.B. 82.

(Contact: Tony Edwards at tedwards@nareit.com)
REIT.com Videos: Leader in the Light Working Forum
REIT.com was on hand at last month's 2015 Leader in the Light Working Forum to conduct interviews with real estate sustainability specialists in attendance. Here are a sample of some of the videos now available at REIT.com.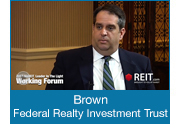 Chris Brown, sustainability manager at Federal Realty Investment Trust (NYSE: FRT), observes that REIT shareholders want to have a sense that companies' sustainability platforms are "authentic."

"They want to see that what you are doing is really beneficial and truly reflective of good business practices," Brown says.


CLICK HERE to see Brown's interview in its entirety.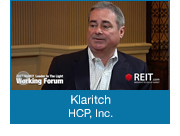 Tom Klaritch, executive vice president of medical office properties at HCP, Inc. (NYSE: HCP), emphasizes the importance of benchmarking, both in terms of comparing HCP with its peers and comparing assets across the portfolio. Furthermore, he says companies need a good database in order to succeed at benchmarking.

"It's really key that you have the right statistics in place and that they match the utilization of the building," Klaritch said.

CLICK HERE to see Klaritch's interview in its entirety.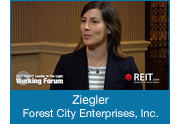 Jill Ziegler, director of sustainability and corporate responsibility with Forest City Enterprises, Inc. (NYSE: FCE.A), discusses the convergence of sustainability reporting standards. The biggest drawback to convergence is the lack of a standard that fits all companies, according to Ziegler. On the other hand, investors benefit from greater uniformity, she said.

"If investors are using these reports to make financial decisions about our companies, I think it is helpful to have a standard or two so that they can compare apples to apples," she comments.

CLICK HERE to see Ziegler's interview in its entirety.

(Contact: Matt Bechard at mbechard@nareit.com)
Fidelity MSCI Real Estate Index ETF Debuts on NYSE

The Fidelity MSCI Real Estate Index ETF (NYSE: FREL) began trading last week on the New York Stock Exchange.

"We believe there is strong client demand for diversified real estate investments in an ETF wrapper, given there is currently $907 billion in listed real estate instruments in the U.S.," said Anthony Rochte, president of Fidelity SelectCo, the firm's dedicated sector investing division.

FREL, Fidelity's 10th real estate fund, is a passively managed, market-cap weighted real estate ETF. Fidelity uses BlackRock as the sub-advisor for the fund.

(Contact: Abby McCarthy at amccarthy@nareit.com)
REIT.com Video: Fundamentally Speaking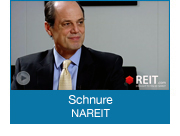 In the latest edition of Fundamentally Speaking, Calvin Schnure, NAREIT's senior vice president for research and industry information, says economic developments haven't hampered the strength of the multifamily real estate market.

Concerns about new multifamily supply and a possible shift to home buying have not materialized, Schnure notes: "We're not seeing that at all."

Schnure points out that rental occupancy surged in the fourth quarter. Over the past four quarters the increase in rental occupancy was about 2 million units, Schnure says, versus a long-term average of about 300,000.

CLICK HERE to watch Fundamentally Speaking in its entirety.

(Contact: Calvin Schnure at cschnure@nareit.com)
NAREIT's Despins Attends FPPTA Winter Trustees School

Meredith Despins, NAREIT's vice president for investment affairs and investor education, last week attended the Florida Public Pension Trustees Association's (FPPTA) Winter Trustees School in Orlando.

The FPPTA was established for the purpose of providing access to education and information for Florida's public pension system trustees. The Trustees School is intended to provide information on investments and pension plan operations to help trustees fulfill their responsibilities on behalf of their pension systems.

Nearly 500 representatives from organizations active in the management and administration of Florida's public pension systems attended the event. Attendees included 340 delegates from pension boards representing police officers, firefighters and general government employees. These delegates oversee the provision of benefits to nearly 180,000 active and retired pension plan members.

(Contact: Meredith Despins at mdespins@nareit.com)
| | |
| --- | --- |
| Follow us on:   | REIT.com RSS Feeds:   |