Content

Message from the President

One of our industry's longest-established REITs, Washington Real Estate Investment Trust (NYSE: WRE), last week announced its 207th consecutive quarterly dividend. The dividend of 30 cents per share, equating to $1.20 per share annually, amounted to a 4.3 percent dividend yield based on the closing price of the company's stock.

Washington REIT's unbroken track record of quarterly dividends is about as long as the REIT approach to real estate investment – established by Congress in 1960 – has been in existence. Dividends are central to the REIT investment proposition and are at the core of making the income-producing benefits of real estate available to investors from all walks of life.

Last year alone, U.S. REITs paid out $29 billion in dividends to their shareholders. Over longer holding periods, dividends have accounted for nearly two-thirds of REIT total returns, which have outpaced those of the S&P 500 for the past 3-, 5-, 10-, 15-, 20-, 25-, 30-, 35- and 40-year periods.

Thanks to the dividends and the diversifying power of real estate investment, REITs have become a staple of portfolios for the full spectrum of investors. Additionally, for investors looking over the horizon who are concerned with the possibility of rising inflation, REITs provide another benefit. Their annual dividend growth has surpassed the rate of inflation in all but two of the last 20 years.

And since the creation of REITs more than five decades ago, REITs have moved into the investment mainstream. A number of factors have contributed to the success of the REIT industry, but by far the most important has been the consistency and growth over time of dividend-based income.







Steven A. Wechsler
President and CEO
 
Board of Governors Nominations

NAREIT is looking for members to assist its Governance Committee with its effort to identify appropriate candidates for NAREIT's Board of Governors. The NAREIT Board of Governors advises the NAREIT Executive Board, which is NAREIT's governing body.

Consistent with NAREIT's bylaws, we are canvassing the entire membership for recommendations; all members are eligible. Members of the Board of Governors must commit to participate in and provide support to NAREIT through their elected term, including reasonable efforts to attend meetings and to assist NAREIT's policy, political and investor outreach initiatives.

Through its nominations process, the Governance Committee will develop a slate of candidates to serve as NAREIT officers (Chair, Vice Chairs, and Treasurer), as elected members of the Executive Board, as members of the Board of Governors, and as members of the Audit & Investment Committee. In undertaking its responsibilities, the Governance Committee also strives to ensure that the Executive Board and the Board of Governors are representative of geographical dispersion, asset size, property type and structural configuration of NAREIT member companies.

NAREIT Chair W. Edward Walter of Host Hotels & Resorts (NYSE: HST) is chair of the 2013 Governance Committee. The other committee members include Jon E. Bortz of Pebblebrook Hotel Trust (NYSE: PEB), Edward J. Fritsch of Highwoods Properties (NYSE: HIW), Daniel B. Hurwitz of DDR Corp. (NYSE: DDR) and Timothy J. Naughton of AvalonBay Communities (NYSE: AVB).

Please submit your recommendations to Dominique Wilburn at dwilburn@nareit.com or 202-739-9420 by Friday, Aug. 23.

(Contact: Dominique Wilburn at dwilburn@nareit.com)
House Financial Services Committee Approves GSE Reform Bill



The House Financial Services Committee approved the Protecting American Taxpayers and Homeowners Act of 2013 (PATH Act), H.R. 2767, on July 24. The bill would ultimately replace Fannie Mae and Freddie Mac with a largely privatized housing finance system without federal backing. The measure would also reduce the role and size of the Federal Housing Administration.

The bill's chief sponsor, Rep. Scott Garrett (R-NJ), added a provision that would modify the definition of "interests in real estate" as referenced in section 3(c)(5)(C) of the Investment Company Act of 1940 to specifically include "risk-sharing transactions, qualified securities, and any other mortgage-related instruments or products created pursuant to the Protecting American Taxpayers and Homeowners Act of 2013 or amendments made by the Act."

The bill would require Fannie and Freddie to be scaled down and liquidated over a period of five years. During this five-year transition, the two government-sponsored enterprises would be required to shrink their portfolios at a rate of 15 percent per year until they hit a floor of $250 billion. They would also be required to share 10 percent of the credit risk from new business every year with the private market.

Last week, NAREIT published a FirstBrief providing more details on the bill, how it compares to other proposals and what lies ahead for housing reform.

(Contact: Victoria Rostow at vrostow@nareit.com)
REIT.com Videos: Market Insights
REIT.com's video team sat down with more than 70 industry leaders during REITWeek 2013 to get their insights into the current state of the REIT market, where things are heading and what specific issues and trends they are watching. Below is a sample of the interviews currently available.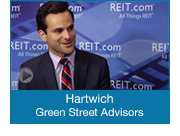 Lukas Hartwich, lodging analyst with Green Street Advisors, discussed what the big story will be in the lodging REIT sector in the course of the next six months.

"For me, it's how we're going to keep up this momentum," he said. "We're in our fourth year of RevPAR growth, in the 6 percent-plus range. That's pretty remarkable when you consider how lackluster the macro environment is. So, I really want to see what's going to continue driving it."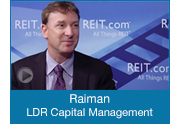 Lawrence Raiman, founder and CEO of LDR Capital Management, offered his take on how the Federal Reserve's monetary policy has affected the REIT capital markets.

"Monetary easing has caused a considerable decline in cost of capital for REITs across each and every property type," he said. "Debt costs, preferred capital costs and equity capital costs have all declined, which has enabled fluidity of capital into the companies to grow their businesses."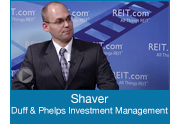 Geoffrey Shaver, analyst with Duff & Phelps Investment Management, said there are three major trends he expects to play out in the REIT space over the remainder of 2013.

"You're going to continue to see REITs raise capital. The equity markets are open, it's still a good time to raise debt and we've been seeing some historically low coupons on [preferred stocks]," he said. "I think we're going to continue to see market rents trend up, and, lastly, those higher rents are going to lead to more development in many of the sectors."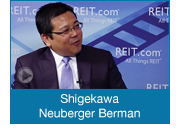 Steven Shigekawa, managing director with Neuberger Berman, discussed resurgence in the mall sector and why he is still bullish on mall REITs.

"When we look at the fundamentals in that space they are continuing to improve. When we look at tenant sales or retail sales, those numbers continue to improve," he said. "We think that the mall landlords are in a very competitive space relative to their tenants. The tenant-landlord discussion is in favor of the landlord at this point because the retailers want to add new space and they want it to be in the highest productivity malls. Those are largely owned by the mall REITs."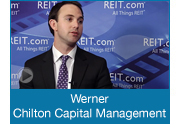 Mathew Werner, portfolio manager with Chilton Capital Management, discussed his view that publicly traded equity REITs are the superior means to invest in commercial real estate.

"First and foremost, liquidity is very important to investors today," he said. "Secondly, there is very high transparency. The REITs have done a lot of work on their disclosures and what they show in terms of their portfolio and their supplemental financial information. Furthermore is the ability to have a portfolio of REITs that you can diversify by property type, by geography, by risk and strategy, as well as tenant. There are low fees; all you have to do is buy a stock like you would any other stock on the New York Stock Exchange or NASDAQ. Probably most importantly is the total returns over time have been higher with the publicly traded equity REITs."

(Contact: Matt Bechard at mbechard@nareit.com)
SFO Workshop Schedule Set



The NAREIT 2013 SFO Workshop is designed exclusively for NAREIT Corporate Members with a focused educational program tailored to REIT officers who manage accounting, financial reporting, capital markets and investor relations. A schedule of this year's program can be found on REIT.com.

The SFO Workshop program is structured to provide REIT executives with pertinent information that can be taken back to the office and implemented right away. This year's program directors are Wendy Gill of Columbia Property Trust, Kevin Habicht of National Retail Properties (NYSE: NNN) and Jean Wood of Macerich (NYSE: MAC)

Registration is now open, be sure to act soon to take advantage of early-registration discounts.

(Contact: Afia Nyarko at anyarko@nareit.com)
Kroeker Named FASB Vice Chairman

James L. Kroeker, former chief accountant for the U.S. Securities and Exchange Commission, has been appointed a member and vice chairman of the Financial Accounting Standards Board (FASB). Kroeker's term will begin on Sept. 1 and conclude on June 30, 2018, when he will be eligible for appointment to an additional term of five years. He fills a vacancy created by the retirement on June 30 of former FASB Chairman Leslie F. Seidman.

The position of vice chairman had been retired at the FASB, but was reinstated due to increased demands on the time of the FASB chairman, currently Russ Golden.

(Contact: Chris Drula at cdrula@nareit.com)
NAREIT Launches Investor App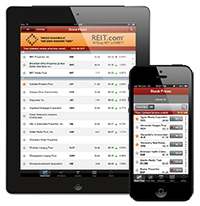 To meet the needs of investors increasingly seeking information away from their desks, NAREIT recently launched the REIT Investor App. After downloading the app to their iPhone or iPad, users have the ability to scan indexes, stock prices and other financial data. They can also use filters to narrow a search to specific segments of the industry. Users can also drill down into individual company specifics, including financial data, events, news and press releases. Below is a detailed list of features within the REIT Investor App:
 
Stock prices for publicly listed REITs on the NYSE/AMEX and NASDAQ;


Profile pages for public REITs that are NAREIT members;


Returns for 42 different FTSE NAREIT indexes;


Top financial news and press releases updated throughout each business day;


Calendar listing upcoming conference calls, earnings announcements and company meetings;


Links to company websites and investor relations pages allowing users to "go to the source" for complete company information;


Ability to add companies to a list of favorites, enabling users to build a portfolio of companies to watch more closely;
The app is available for free download in the
iTunes store
by searching "REIT Investor."
(Contact:
Jeff Henriksen
at jhenriksen@nareit.com)