Content

Message from the President

Independent academic research on the significant role REITs play in the commercial real estate market and the economy last week attracted the attention of both The American Banker and Bloomberg BusinessWeek.

The research by Timothy Riddiough, a real estate professor at the University of Wisconsin and two co-authors from the Hong Kong office of the Bank for International Settlements, makes a strong case that, since the 1990s, stock exchange-listed Equity REITs have served as a "flashing road sign" for the entire commercial real estate marketplace. The authors say REITs have likely played a role preventing the type of overbuilding that plagued the residential housing market and helped trigger the Great Financial Crisis and the Great Recession.

The authors say that stock exchange-listed Equity REITs serve as a bellwether for the real estate market. Their public share prices and filings increase the market's transparency, providing direct real estate lenders and investors with a way to quickly spot over- or under-valuation and adjust their strategies.

The authors conclude in their paper: "Our principal finding is that the U.S. REIT market provides a nice example of how a well-structured real estate securitization market, by moderating construction boom and bust tendencies, can generate positive spillover benefits to the economy at large."

Our industry advocacy on Capitol Hill has focused in part on the important policy role REITs play in the real estate as well as the broader economy. These articles and this research surely will help us drive that point home.








Steven A. Wechsler
President and CEO
RAND Conference Addresses Importance of TRIA Extension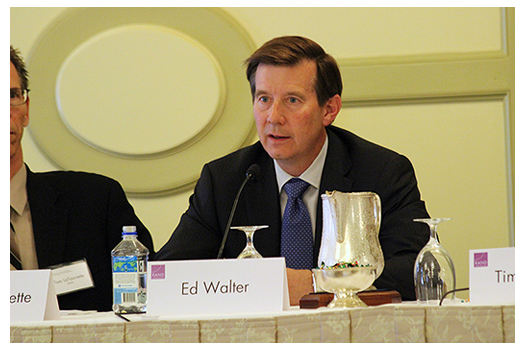 The RAND Corporation hosted an event last week to discuss and examine its recent research on the terrorism risk insurance market.

The program, which was held in Washington, D.C. on June 10, delved into the impact of the Terrorism Risk Insurance Act (TRIA) on the current market and the likely effect of the law's potential expiration at the end of the year. Congress is currently considering proposals to extend TRIA beyond the end of the year.

W. Edward Walter, president and CEO of Host Hotels & Resorts, Inc. (NYSE: HST) and NAREIT's immediate past chair, participated as a panelist discussing the long-term outlook for TRIA.

A day later, RAND held a briefing on its research for congressional staff.

(Contact: Kirk Freeman at kfreeman@nareit.com)
18 REITs Celebrate 20 Years on NYSE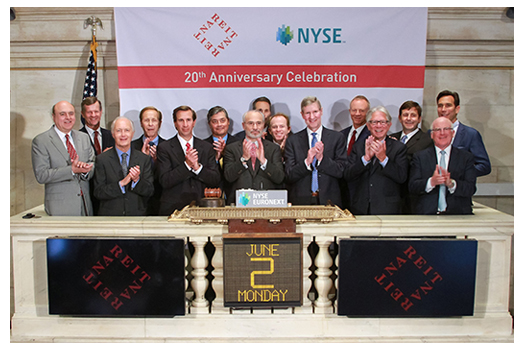 Eighteen REITs celebrating their 20th anniversaries of listing on the New York Stock Exchange (NYSE) were recognized June 2 in a closing bell ceremony. CLICK HERE to watch a video commemorating the event.

The 18 companies celebrating their 20th anniversary in 2014 are: Agree Realty Corp. (NYSE: ADC); Aimco (NYSE: AIV); AvalonBay Communities, Inc. (NYSE: AVB); Duke Realty Corp. (NYSE: DRE); EastGroup Properties, Inc. (NYSE: EGP); Essex Property Trust, Inc. (NYSE: ESS); FelCor Lodging Trust Inc. (NYSE: FCH); First Industrial Realty Trust, Inc. (NYSE: FR); Glimcher Realty Trust (NYSE: GRT); Highwoods Properties, Inc. (NYSE: HIW); Home Properties, Inc. (NYSE: HME); Liberty Property Trust (NYSE: LRY); MAA (NYSE: MAA); Macerich (NYSE: MAC); Mack-Cali Realty Corp. (NYSE: CLI); National Retail Properties, Inc. (NYSE: NNN); Rayonier (NYSE: RYN); and Realty Income Corp. (NYSE: O).

NAREIT President and CEO Steven A. Wechsler summed up the event by reflecting upon how the industry has evolved during the past two decades.

"This is a day to recognize those companies that helped create the critical mass of the modern REIT industry we have today," Wechsler said. He noted that the industry currently has an equity market capitalization of more than $800 billion and controls assets worth more than $1.5 trillion. In addition, REITs now form the ninth-largest industry group in the Standard & Poor's industry classification system, between media and insurance, Wechsler observed.

(Contact: Ron Kuykendall at rkuykendall@nareit.com)
REIT.com Videos: CEO Spotlights
REIT.com interviewed dozens of leading industry CEOs during REITWeek 2014: NAREIT's Investor Forum earlier this month. Below is a sample of recent interviews posted online.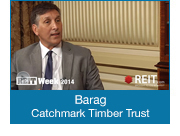 Jerry Barag, president and CEO of timber REIT Catchmark Timber Trust (NYSE: CTT), discussed pricing and competition for acquisitions.

"We've been very pleased since the beginning of this year," he said. "There has been an ample supply of property that has come on the market or that has been available to transact. We have been working our way through that and have been successful at garnering and closing several transactions. Quite frankly, our pipeline continues to expand. It looks like, after a six-year hiatus in the timberland markets, 2014 is shaping up to be a more normalized year in terms of transaction volume. We expect to participate fully in that."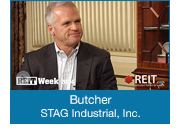 Ben Butcher, chairman, president and CEO of STAG Industrial, Inc. (NYSE: STAG), also discussed his company's acquisition activity, which picked up in April after a slow start to the year.

"We pride ourselves on our agnosticism with regard to assets. We're really looking for assets that produce great cash flows, and we are willing to go to anywhere in the secondary or primary markets in the U.S. to find those," Butcher said.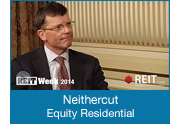 David Neithercut, president and CEO of Equity Residential (NYSE: EQR), offered some insight into the company's acquisition and disposition plans for the remainder of 2014.

"After many years of elevated activity as we went about transforming our portfolio… [transactions] will be significantly less," he said. "In the past, that has really created a lot of earnings dilution for us. We're pleased to say that going forward, that amount of dilution is behind us."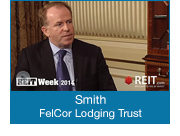 Richard Smith, president and CEO of FelCor Lodging Trust (NYSE: FCH), was asked to describe the most transformative decision of the past 20 years that has shaped how the company is performing today. FelCor is among 18 REITs celebrating 20 years on the NYSE in 2014.

"We were in a position where we had, from an investor perspective, an issue with the overall quality of the portfolio," he said. "The moves that we have made—changing everything from an operational standpoint, a capital deployment standpoint, and a strategic and tactical standpoint as it related to the portfolio—led us to selling a number of assets, adding some and really cleaning up the portfolio from an overall quality standpoint."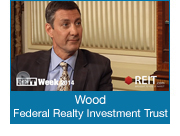 Donald Wood, president and CEO of Federal Realty Investment Trust (NYSE: FRT), said the retail REIT is "firing on all cylinders" and that he expects it to effectively double earnings during the next 10 years.

"We can do that with things that we already have under our control, both in the form of the great core portfolio that we have, development opportunities that are starting to deliver, and the occasional acquisition," he said.

(Contact: Matt Bechard at mbechard@nareit.com)
EPRA/NAREIT Big Apple Road Show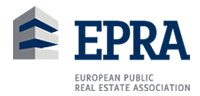 During the last week of May, NAREIT and the European Public Real Estate Association (EPRA) joined forces for the fifth-consecutive year in a series of joint investor outreach meetings – this time with major investment organizations in New York. NAREIT and EPRA representatives met with decision makers at 12 large investment consultants and investment management firms controlling more than $10 trillion in assets. Two of the meetings were held with investment consultants with assets under advisement of $3.8 trillion and 10 were with investment managers sponsoring global and domestic products for the institutional and retail investor markets, and representing more than $6.2 billion in assets under management.‬

Based on the interests expressed by investors recently, most of the meetings in New York led off with representatives of EPRA and NAREIT discussing the current macroeconomic outlook in Europe and the U.S. and its implications for commercial real estate and listed REITs and real estate securities. A key part of the message was tied to the benefits of global real estate investment. Together with EPRA, NAREIT made the case that a global investment strategy can be implemented efficiently and effectively through listed REITs and real estate securities.

(Contact: Kurt Walten at kwalten@nareit.com)
Texas Supreme Court Rules in Host's Favor in Significant Lease Dispute Case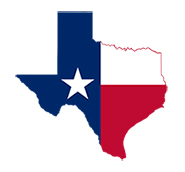 On June 13, the Texas Supreme Court vindicated NAREIT Corporate Member Host Hotels & Resorts, Inc. (NYSE: HST) in an important case in which a jury verdict in excess of $50 million hung in the balance. In HMC Host Properties v. Keystone, the Texas Supreme Court affirmed Host's argument that its refusal to waive its contractual right of "first negotiation," in a lease did not constitute business interference, affording Host a complete victory in this case, which had been on appeal for more than two years.

The case centered on an attempt in 2004 to sell two pieces of real estate in downtown San Antonio—the Rivercenter Mall and the ground beneath the San Antonio Marriott Riverwalk hotel—which fell through, prompting the sellers to sue its tenant, Host, claiming its assertion of its right of "first negotiation," clearly set forth in the lease, "killed the deal." Justice Jeff Brown, writing for the Texas Supreme Court, found "no evidence their actions caused the sale's demise."

NAREIT, together with the Commercial Real Estate Development Association (NAIOP), the National Multi Housing Council (NMHC), American Hotel & Lodging Association (AH&LA) and the Real Estate Roundtable (RER) filed two amicus briefs in this case supporting Host's position.

(Contact: Penny Rostow at vrostow@nareit.com)
NAREIT Supports Legislation Requiring Detailed Study of FAA's Proposed Changes to Navigable Airspace

NAREIT and a coalition of industry organizations have written to the bipartisan leadership of the House Committee on Transportation and Infrastructure urging swift action on legislation (H.R.4623) to require the Federal Aviation Administration (FAA) to follow ordinary notice and comment procedures before implementing a proposed policy change related to navigable airspace.

The FAA is proposing to change its criteria for determining potential hazards to navigable airspace. NAREIT and its coalition partners are concerned, however, that the proposal may have far-reaching impacts on owners of properties near airports. "Our paramount concerns are the safety of airline passengers, building occupants, and neighborhoods near airports," the letter stated.

Citing the FAA's acknowledgment that its proposal may have a major impact on the decisions of zoning authorities and private insurers that permit and underwrite building and construction projects, the coalition added, "We support H.R. 4623 because it compels a fuller and more robust consideration of changing the FAA's traditional analysis regarding potential obstructions to navigable airspace."

The comment period on the FAA's proposed policy is open until July 28, and the FAA will be holding a public meeting on the matter on June 25.

(Contact: Kirk Freeman at kfreeman@nareit.com)
REIT.com Videos: REITWeek 2014 Insights
Dozens of REIT insiders, analysts and investors sat down for video interviews with REIT.com at REITWeek 2014: NAREIT's Investor Forum earlier this month. Below is a sample of interviews now available on REIT.com.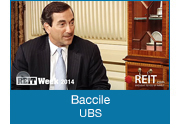 Peter Baccile, global co-head of real estate at UBS, discussed the market appetite for REIT initial public offerings, as well as which sectors are seeing the most activity.

"Investor demand for REIT IPOs is very strong, particularly for large portfolios with significant embedded growth. It also helps if the management teams have had experience in the public markets, and I think the Brixmor Property Group Inc. (NYSE: BRX) transaction is a good example of that," Baccile said.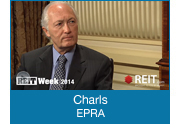 Philip Charls, chief executive of the European Public Real Estate Association (EPRA), gave a broad overview of developments in the European property market, starting with the arrival of REITs in the Spanish market about a year ago. Spanish REITs have performed "very well," according to Charls.

He noted that hedge fund managers Paul Soros and John Paulson were among the first investors in Spanish REITs. "You can't imagine a better place to start it off," Charls said. The introduction of additional Spanish REITs is expected "in the near future," he added.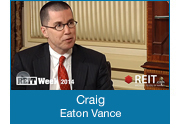 Scott Craig, portfolio manager and vice president with Eaton Vance, said that he has concerns about how some REITs are managing their balance sheets.

"Early in the financial recovery, a lot of REITs were talking about very heavily equitizing their capital deployment, issuing a lot of equity to buy or build properties," he said. "As we got further into the recovery, you heard more companies talk about funding their activity in a balance sheet-neutral fashion. Now, I'm hearing more companies funding their activities purely with debt and counting on cash flow growth to fund their de-levering over time. I don't think that's a healthy development."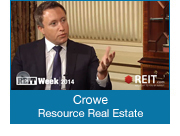 Scott Crowe, global portfolio manager at Resource Real Estate, was asked about the impact of the slow economic recovery on asset allocation. Crowe explained that a slow pace of recovery is actually good for real estate because it means that interest rates are going to stay low "and there are not enough animal spirits to really start development."

"We're in for a sustained period of low interest rates and low supply," Crowe said. Meanwhile, he said the economic recovery is gaining pace and is strong in certain sectors, including technology and energy. "That's very, very good for some cities and submarkets, so it means when we're allocating capital, we really have to concentrate on the specific city and even the submarket."

(Contact: Matt Bechard at mbechard@nareit.com)
REITs in the Community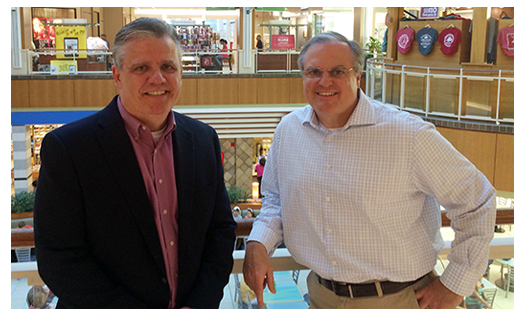 June 6: Sen. Mark Pryor (D-AR), right, visited CBL & Associates Properties, Inc.'s (NYSE: CBL) Park Plaza Mall in Little Rock, Ark. Tim White, general manager, left, described the economic impact of the mall and thanked Sen. Pryor for his support for the Marketplace Fairness Act, the Real Estate Investment and Jobs Act, and the extension of the Terrorism Risk Insurance Act.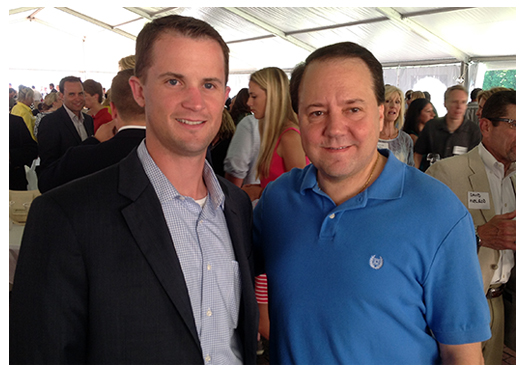 May 30: Rep. Pat Tiberi (R-OH), right, is pictured with Joe Tichar, chief of staff and senior vice president of corporate operations at DDR (NYSE: DDR), during a recent visit to Columbus, Ohio. Tichar was in Columbus to attend an event in Rep. Tiberi's honor. Rep. Tiberi, a senior member of the House Ways and Means Committee, was briefed on DDR's recent activities in Ohio. The two also discussed the importance of passing the Marketplace Fairness Act, which is currently being considered by the House Judiciary Committee.

(Contact: Jessica Davis at jdavis@nareit.com)