Content

Message from the President

For a number of years, NAREIT, along with The Real Estate Roundtable and other organizations, has advocated for the reform of the Foreign Investment in Real Property Tax Act (FIRPTA), which places a special tax burden on the capital gains of non-U.S. investors who sell U.S. equity real estate, including REIT stock – a burden that is not imposed on the sales of other equity investments.

FIRPTA reform took a significant step forward last week with the introduction into the Senate of the Real Estate Investment and Jobs Act of 2013 by Senators Bob Menendez (D-NJ) and Mike Enzi (R-WY) with bipartisan support from 22 co-sponsors. We greatly appreciate the leadership of these senators. The story below explains the content of the bill.

International tax codes typically call for global investors to pay taxes on their profits from the sale of equity investments in their home countries, rather than in the countries where the investments are made. This is the case in the U.S. for all equity investments other than real estate.

Removing or minimizing the FIRPTA tax burden would be an important step in allowing the U.S. commercial real estate industry to compete on a level playing field with other types of equity investments for the global capital that is critically needed to recapitalize and strengthen the real estate segment of our economy, which is an important engine of job creation.

The Obama Administration's proposed Fiscal Year 2014 budget introduced this spring also recognized the need for FIRPTA reform. It called for modifying FIRPTA to allow non-U.S. pension funds that invest in U.S. real estate to receive the same tax treatment as U.S. pension funds. Additionally, we anticipate legislation similar to the Senate bill to be introduced in the House later this year.

There clearly is recognition among a broad range of national policymakers that FIRPTA reform is needed. NAREIT will continue to support this effort.








Steven A. Wechsler
President and CEO
 
FIRPTA Reform Bill Proposed in Senate

Sens. Bob Menendez (D-NJ) and Mike Enzi (R-WY) introduced S. 1181, the "Real Estate Investment and Jobs Act of 2013," on June 18. The measure calls for two significant changes to the Foreign Investment in Real Property Tax Act (FIRPTA) and is identical to legislation introduced in the previous congressional session.

First, the bill includes a proposal that would increase the current "portfolio investor" exception for sales of stock and capital gains dividends of listed REITs from 5 percent to 10 percent. With this change, the definition of "portfolio investor" for FIRPTA purposes would conform with that used in tax treaties and which is applicable to foreign investment in U.S. debt securities. REIT dividends paid to non-U.S. portfolio investors would remain subject to U.S. withholding (but not FIRPTA) tax.

Second, the proposal would reverse a 2007 IRS Notice with respect to the treatment of liquidating distributions of a domestically controlled qualified investment entity pursuant to which such distributions are currently taxed as a sale of real estate subject to FIRPTA, rather than being taxed as a sale of stock. Prior to 2007, most tax practitioners believed FIRPTA did not apply to these transactions.

The two changes would mark an important step in the enactment of necessary reforms to FIRPTA that NAREIT, The Real Estate Roundtable and a number of other real estate organizations have been advocating for several years. The bill has 22 co-sponsors, including 13 members of the Senate Finance Committee.

NAREIT issued a FirstBrief with additional information on the development last week.

(Contact: Robert Dibblee at rdibblee@nareit.com)
Latin America Real Estate Forum and Outreach in Mexico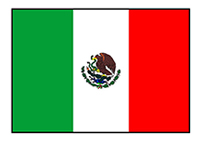 Earlier this month, Meredith Despins, NAREIT's vice president of investment affairs and investor education, participated in the "Real Estate Latin America Forum" held in New York. A number of the world's leading institutional investors attended the event to exchange information and hear from leading experts on the Latin American economies, capital markets environment, and the challenges and opportunities that the region affords for institutional investor capital.

Mexico and Brazil figured prominently in many of the sessions, with the impact of growth and development of the listed real estate industry in Mexico through the Mexican REIT model, or FIBRAs, being the focus in a number of the sessions. The forum also featured presentations on international opportunities for Latin American real estate investors in the U. S., Europe and global emerging markets. The forum provided NAREIT with the opportunity to further its understanding of, as well as its relationships with, Latin American real estate investors to build upon relationships with prominent U.S. and international investment organizations with which it has developed an ongoing dialogue, including Harvard University, the GIC, the Townsend Group and PGGM.



In addition, Michael Grupe, NAREIT's executive vice president of research and investor outreach, and Bonnie Gottlieb, senior vice president of industry and member affairs, joined Despins last week on a visit to Mexico City for a series of outreach meetings. In an effort to develop stronger relationships with participants in the Mexican commercial real estate investment landscape and to introduce NAREIT, the NAREIT team participated in a series of nine meetings with key stakeholders in Mexico's rapidly developing listed real estate industry, including the executive management teams of the four FIBRAs located in Mexico City.

NAREIT also met with the president of the Comisión Nacional Bancaria y de Valores (CNBV), the Mexican authority responsible for the monitoring and regulation of Mexico's financial system; the president of the Comisión Nacional del Sistema de Ahorro para el Retiro (CONSAR), the regulator and supervisor of Mexico's pension system; and the executive president of the Asociación Mexicana de Administradoras de Fondos para el Retiro (AMAFORE). AMAFORE is the body that brings together and represents the interests of Mexico's pension fund managers, the AFORES. The AFORES are emerging as the dominant segment of the growing Mexican institutional investor marketplace and have been active investors in recent equity offerings of Mexico's FIBRAs.

(Contact: Meredith Despins at mdespins@nareit.com)
House Committee Moves to Halt Auditor Rotation

The members of the House Financial Services Committee last week approved H.R. 1664, the Audit Integrity and Protection Act, which would prevent the Public Company Accounting Oversight Board (PCAOB) from writing rules requiring public companies to rotate their outside auditors every few years.

NAREIT had joined a coalition of industry groups in writing to the committee to endorse the proposal.

The PCAOB in 2011 published a concept release regarding mandatory audit firm rotation. At the time, NAREIT wrote to the board to express its concerns with the idea.

(Contact: Chris Drula at cdrula@nareit.com)
NAREIT Active at Morningstar Conference
Abby McCarthy, vice president of investment affairs and investor education, and Kurt Walten, senior vice president of investment affairs and investor education, recently participated and exhibited at the Morningstar Investment Conference at McCormick Place in Chicago. Participation in this conference is a component of NAREIT's investor outreach program focused on promoting REIT investment to the retail investor marketplace through financial intermediaries, including family wealth offices, registered investment advisors (RIAs) and financial planners.

Financial intermediaries are important investor constituencies because they have significant influence over the $5.4 trillion of assets in individual retirement accounts (IRAs) in the United States, representing approximately one-third of the overall $16.6 trillion retirement savings market. Because of the size, scope, diversity and fragmentation of its many audiences, reaching this investor cohort is especially challenging.

The Morningstar event is the largest of its kind, attracting more than 1,800 financial advisors, RIAs, investment management firms, financial publishers and software developers. It provides NAREIT an opportunity to inform and educate the financial advisor and RIA attendees on the benefits of REIT investing. It also provides the opportunity to develop stronger relationships with many of the participating investment firms with which NAREIT maintains a regular dialogue through its direct meetings program, including BlackRock, CBRE Clarion Securities, Natixis, PIMCO and Schwab.


(Contact: Abby McCarthy at amccarthy@nareit.com)
REIT.com Videos: CEO Spotlights
REIT.com's video team sat down with three dozen REIT CEOs during REITWeek 2013 to discuss recent company developments, strategic plans and thoughts on where the market is headed. New videos will be made available on REIT.com regularly for the next several weeks. Below is a sample of the interviews currently available.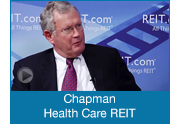 George Chapman, chairman and CEO of Health Care REIT (NYSE: HCN), talked about how the acquisition of Sunrise Senior Living will enhance his company's portfolio.

"In a way, Sunrise epitomizes what we're trying to do best," he said. "And what's really unique about Sunrise properties are that 90 percent of them are mansion style. They're in the best markets in the country. They're eight years on average old. Their market rent is about two times the average rent in the country – these are very high end."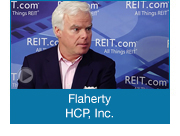 Jay Flaherty, chairman and CEO of HCP, Inc. (NYSE: HCP), said the results of the implementation of the Affordable Care Act should bring new opportunities for his company.

"As this plays out in the next 12 to 18 months, it's going to create significant opportunities for our operating partners and, as a second derivative, HCP, because we want to continue to be their real estate capital partner of choice," he said.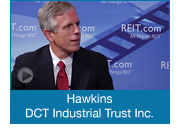 Phil Hawkins, CEO of DCT Industrial Trust Inc. (NYSE: DCT), said he is optimistic about the broader economy and what it means for the industrial sector moving forward.

"We've had several good quarters in a row now, and I think it reflects a continued recovery in the industrial market. Rents and occupancies are up in the markets, and we expect that to continue," he said.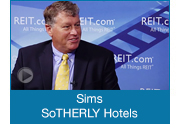 Drew Sims, chairman and CEO of SoTHERLY Hotels (NASDAQ: SOHO), said the lack of new supply in the hotel sector will help to ensure continued growth.

"It bodes well for the future of our industry. We're not seeing a lot of new product and as a result of increased demand we're actually in a very good position for extended growth," he said. "Our belief is that in the next two or three years we should see a continued growth in rates, and occupancy has already stabilized at a very healthy level."

(Contact: Matt Bechard at mbechard@nareit.com)
Council Focuses on Real Estate Investment Among DC Plans

NAREIT attended the second quarterly meeting of the Defined Contribution Real Estate Council (DCREC), a newly formed organization, in New York on June 11. In its founding documents, DCREC is described as being formed "… to promote the inclusion of investments in direct commercial real estate and real estate securities within defined contribution plans by furthering education about, advocacy for and best practices of such investments."

In a recent press release, the New York-based DCREC said it intends to serve as a resource for investors and plan sponsors who may be considering alternative investment options, such as real estate, through their existing portfolios. "At the end of the day, our goal is to help plan sponsors and their participants achieve better investment outcomes through the use of institutional quality real estate solutions," according to Scott Brooks of Deutsche Asset & Wealth Management and co-president of the new organization.

As a founding member of DCREC, NAREIT has been asked to serve as a member of the organization's research committee and to join TIAA-CREF as co-chairs of its marketing and public relations committee. Through DCREC, NAREIT has joined with a number of other organizations to promote real estate solutions to the defined contribution market. These organizations include Clarion Partners, Goldman Sachs, Principal Global Investors, Prudential Real Estate Investors, RREEF, State Street Global Advisors, Ten Capital, TIAA-CREF and UBS. Other members of the investment management community are expected to participate.

Activities of DCREC of particular importance to NAREIT include:
Supporting and encouraging dialogue and cooperation among the leaders of the defined contribution plan community and others committed to the best interests of American employees who are passionate about improving defined contribution plan investment structures and design though real estate investment allocations;


Encouraging and sponsoring research, publishing analysis and insights, and hosting events that support the advancement of improved defined contribution plan designs that include real estate and real estate allocations;


Identifying issues and removing barriers for plan sponsors so they may pursue improved real estate allocations within defined contribution institutional investment structures;


Educating policymakers and regulators about the importance of including real estate investment opportunities in institutional defined contribution plan designs as a way to improve retirement security.
(Contact:
Kurt Walten
at kwalten@nareit.com)
REIT.com Videos: Market Insights
REIT.com's video team sat down with more than 70 industry leaders during REITWeek 2013 to get their insights into the current state of the REIT market, where things are heading and what specific issues and trends they are watching. New videos will be made available on REIT.com regularly for the next several weeks. Below is a sample of the interviews currently available.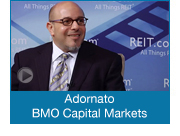 Paul Adornato, managing director with BMO Capital Markets, discussed the implications of recovering commercial real estate prices for REITs.

"First of all, for those REITs that are looking to sell properties, they have had a pretty good time of it," he said. "They've been able to sell whatever assets that they want to sell and have also been able to get pretty good pricing for those assets." On the flip side, he said companies that are active acquirers are finding that cap rates are becoming compressed and that valuations, in some cases, "are getting a little bit frothy."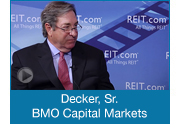 Mark Decker Sr., managing director with BMO Capital Markets, said he anticipates an uptick in REIT M&A activity.

"I think we're starting to see quite a bit of activity now. Mergers are typically synergy-related and require more than stock price valuation differences. But, as the market normalizes a little bit, I think we'll see more. We're on track this year for seven or so, which is a little higher than average," he said.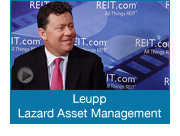 Jay Leupp, portfolio manager with Lazard Asset Management, discussed valuations of U.S. REIT stock shares in light of the recent market correction.

"We're actually seeing some real attractive values, both on an absolute basis that is, share prices relative to underlying real estates well as some good relative values," he said. "There is some fear of rising interest rates. That has put some sell pressure on the shares near term. We're trying to take advantage of that and are buying some of the better-positioned companies going forward."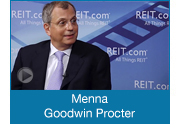 Gil Menna, partner with the law firm of Goodwin Procter, offered his opinion on the outlook for private portfolios coming into the public market.

"You really need a platform," he said. "Obviously, some of the single-family residential property companies have strong platforms. Some of them are externally advised. Homes 4 Rent is not. If you take a look at some of Blackstone's portfolios, for example, on the office side, the question is what management team would be around that portfolio to affect a successful initial public offering (IPO). I think that there's more likely to be trades into the existing public market, or possibly even foreign capital coming into the U.S., which was significant last year."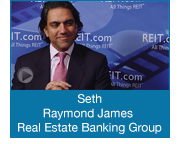 Vick Seth, managing director with Raymond James Real Estate Investment Banking Group, described sectors where initial public offering (IPO) activity could accelerate in the second half of 2013.

"I think the sectors that are particularly ripe for IPOs are those that are trading at premiums to NAVs, whether it is multifamily or retail. The retail sector is probably my top choice to see a couple of fairly large portfolios come to market for the second half of the year, because the arbitrage between the private and public sector is favoring the public markets today."

(Contact: Matt Bechard at mbechard@nareit.com)
REITs in the Community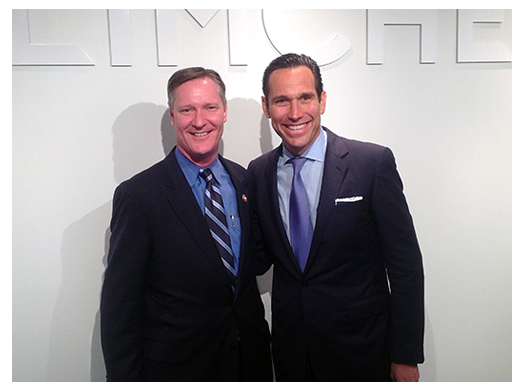 June 17, 2013: Rep. Steve Stivers (R-OH), left, a member of the House Financial Services Committee, visited with Glimcher Realty Trust (NYSE: GRT) Chairman & CEO Michael Glimcher, right, at Glimcher's corporate offices in Columbus, Ohio. During his visit, Stivers was briefed on Glimcher's current development activities in Ohio and across the nation. In addition, the two discussed several legislative issues important to the REIT industry, including passage of the Marketplace Fairness Act, the pending expiration of the Terrorism Risk Insurance Act and the current tax reform debate in Congress.

(Contact: Kate Smith at ksmith@nareit.com)