Content

Message from the President

REITWise 2014: NAREIT's Law, Accounting and Finance Conference takes place this week in Boca Raton, Fla. Record attendance of more than 1,100 participants is expected.

REITWise is a "hands-on" conference designed to help law, accounting and finance professionals deliver more value by becoming more knowledgeable and better equipped to address the professional challenges they encounter every day.

This week, we will offer 25 educational sessions providing the most current information on tax policies, accounting standards, SEC regulations, risk management and other subjects. The sessions will be presented by CFOs, treasurers, tax directors and general counsels of our corporate members, as well as senior members of major accounting and law firms. Additionally, representatives of the Internal Revenue Service (IRS), Financial Accounting Standards Board (FASB) and Securities and Exchange Commission (SEC) will participate to provide their highly informed insights on tax issues, proposed accounting standards and SEC filing requirements.

Analysts and investment bankers from the leading banks will provide their forecasts on the mergers and acquisitions climate, the outlook for initial public offerings and the impact of the Federal Reserve's tapering program on interest rates. Also, at a special breakfast session, Washington Post columnist Dana Milbank and MSNBC political analyst Steve Schmidt will provide their views on the political landscape in this election year.

Importantly, conference participants will have the opportunity to engage their industry peers, share best practices and build new relationships.

All in all, REITWise is a unique value proposition that will attract key participants in our industry to Boca Raton this week. If you're one of them, I look forward to seeing you there.








Steven A. Wechsler
President and CEO
NAREIT's March Investor Outreach Features a Visit to Lone Star State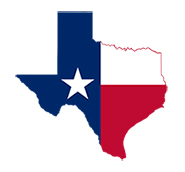 NAREIT's Investor Outreach team's busy March itinerary included 14 meetings in Dallas and Austin, Texas.

During this southwestern road show, NAREIT met with a diverse range of 14 organizations in the institutional investment market controlling more than $833 billion in assets. The 14 meetings were held with organizations across all targeted investment cohorts, including: nine with prominent pension, retirement and endowment funds representing more than $86 billion in assets; three with investment consultants with assets under advisement close to $1 billion; and two with investment managers sponsoring global and domestic products for the institutional and retail investor markets and representing more than $745 billion in assets under management.‬

The focus of the discussion in each of the 14 meetings varied to a significant degree as did the internal, academic and sponsored research that was presented to each organization. For some of the visits, NAREIT's message began at a very fundamental level. The focus for these meetings was on making the case for real estate as the third-largest asset class in the U.S. market basket and for the fact that an investment in stock exchange-listed equity REITs is an investment in real estate.

In instances where organizations have already embraced real estate, the focus was more on the utility that listed REITs bring to investment portfolios and the fact that REITs have both strategic and tactical portfolio applications. Using a combination of internal and sponsored research, practical examples were provided of how REITs may be employed within institutional investment portfolios.

Finally, in response to growing investor interest, a number of our meetings featured an outlook on the current domestic macro economy and the implications for commercial real estate, REITs and the global real estate market.

(Contact: Kurt Walten at kwalten@nareit.com)
NAREIT Joins Coalition in Endorsing Extension of Tax Provisions
NAREIT and a group of real estate organizations last week wrote to the Senate Finance Committee to express support for a number of expired tax provisions.

The tax-writing committee is preparing legislation to extend expired tax provisions. The provisions supported by the organizations include 15-year depreciation of leasehold improvements, the new markets tax credit and the expensing of brownfields remediation costs.

"Collectively, the measures help create healthy communities by supporting affordable housing, encouraging new public-private partnerships in blighted areas and incentivizing energy-efficient building practices," the organizations said.

(Contact: Dara Bernstein at dbernstein@nareit.com)
Hawaii Senate Stops Bill to End REIT DPD
The Hawaii Senate Committee on Ways and Means last week deferred legislation that would eliminate the "dividends paid deduction" (DPD) for REITs from the state's tax laws.

In effect, the bill is not going to be passed this year.

Tony Edwards, NAREIT's executive vice president and general counsel, testified at a hearing on the bill earlier this month. Edwards noted that the bill (H.B. 1726, H.D. 2) "would enact a serious policy change that would put Hawaii at odds with virtually all other states regarding the taxation of REIT income at the shareholder level only based on the state of shareholder residence."

(Contact: Tony Edwards at tedwards@nareit.com)
REIT.com CEO Spotlight Video: Eric Bolton, MAA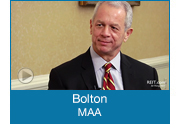 Eric Bolton, chairman and CEO of apartment REIT MAA (NYSE: MAA), joined REIT.com for a video interview at the St. Regis Hotel in Washington, D.C. during NAREIT's 2014 Washington Leadership Forum.

Last year MAA merged with Colonial Properties Trust. Bolton was asked to describe the progress of the merger.

"The process is going very well. We're well into the integration of the back office systems. We expect to have almost all the systems complete by the time we get to late spring, early summer," Bolton explained.

He added that the integration of property management software has gone smoothly, thanks to the high degree of familiarity that both companies had with each other. "There wasn't a steep learning curve associated with the integration," Bolton said.

(Contact: Matt Bechard at mbechard@nareit.com)
Real Estate in the Spotlight at TEXPERS Conference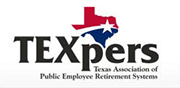 NAREIT's Investor Outreach team participated in the TEXPERS (Texas Association of Public Employee Retirement Systems) annual conference on Mar. 23 -25 in Fort Worth, Texas.

TEXPERS's mission is to provide education to pension plan trustees, investment staffs and their advisors about investment options, fiduciary duties, governance, ethics, investment terms and practices, and actuarial and legal matters. The association's membership includes 80 Texas pension systems representing more than 300,000 active and retired pension plan participants with more than $22 billion in assets. Member systems include police and fire departments, municipal employees, authority and hospital districts, state agencies and university medical centers.

The theme of this year's conference was "learn, connect, promote, and protect." Many of Texas' public pension systems have embraced commercial real estate investment as an integral component of their pension investment portfolios, and there were several sessions during the conference on the asset class. In fact, the conference opened with a presentation titled "The Future Shape of the Real Estate Asset Class." The presentation offered a global perspective on the outlook for commercial real estate, and highlighted several reasons for optimism in 2014, including the entry of new sources of capital, accelerating economic growth among many of the developed countries and muted development in many markets.

The conference also featured a session focused more specifically on the outlook for U.S. commercial real estate investment titled "The Normalization of Monetary Policy and the Near-Term Outlook for U.S. Commercial Property." Trends noted during the presentation included increasing allocations to commercial real estate among public pension funds and the global capital inflow to the United States, which increased by 75 percent during 2013. Canadian and Chinese investors have been among the most active.

(Contact: Meredith Despins at mdespins@nareit.com)
NAREIT Welcomes New Corporate Member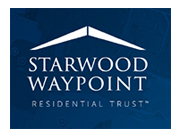 NAREIT is pleased to welcome Starwood Waypoint Residential Trust (NYSE: SWAY) as its newest Corporate Member. Starwood Waypoint Residential Trust is an externally advised, publicly traded equity REIT that acquires, renovates, leases, maintains and manages single-family homes in the West, South and Midwestern United States. Based in Oakland, Calif., Starwood Waypoint, which recently spun off from NAREIT mortgage REIT member Starwood Property Trust, Inc. (NYSE: STWD), is listed on the NYSE (ticker: SWAY). Barry Sternlicht is the chairman. Gary Beasley and Doug Brien are co-CEOs.

(Contact: Bonnie Gottlieb at bgottlieb@nareit.com)
Sector Focus: Industrial REITs Benefitting from Robust Demand, Limited Supply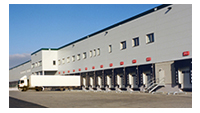 Robust demand for space, fueled by improving economic fundamentals and limited supply, is expected to bolster the industrial REIT sector for the rest of 2014, according to analysts.

So far in 2014, the sector has continued to outperform the broader REIT market. Total returns for industrial REITs gained 7.4 percent last year, compared with a 2.9 percent gain for all equity REITs. As of March 24, total returns for industrial REITs were up 9.4 percent for the year, versus a 6.8 percent gain for all equity REITs.

A report by the NAIOP Research Foundation estimated that net demand for industrial space could reach 250 million square feet in 2014, compared with 233 million square feet in 2013. In 2012 demand totaled 106 million square feet.

Thomas Bisacquino, president and CEO of NAIOP, a commercial real estate development association, pointed out that demand for all types of industrial space, such as warehouses, distribution centers and manufacturing, is "robust."

Green Street Advisors analyst Eric Frankel observed that demand for warehouse and distribution space is improving most rapidly. He said he believes that widespread demand and muted supply should push overall market rents 1 to 5 percent higher in the near term.

SNL Financial analyst Jason Lail noted that from a financial standpoint, industrial REITs appear healthy. "The balance sheets are nice and clean, and we have seen positive same store growth for just about all of the industrial REITs," he said.

The rest of this article is available at REIT.com.

(Contact: Sarah Borchersen-Keto at sborchersen-keto@nareit.com)
REIT.com CEO Spotlight Video: Tyler Morse, MCR Development LLC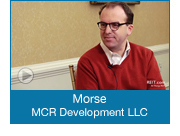 Tyler Morse, CEO of MCR Development LLC, joined REIT.com for a video interview at the St. Regis Hotel in Washington, D.C. during NAREIT's 2014 Washington Leadership Forum.

New York-based MCR Development is one of the 20 largest hotel owner-operators in the country.

Morse was asked about the relative strength of the business and leisure travel segments of his company's customers.

"The business traveler is coming back with great strength right now. Corporate CEOs are sending their sales forces out on the road. We're seeing that in both occupancy and rate across the country," Morse replied.

The leisure traveler is also coming back, he said, helped in large part by the prevalence of low-cost airlines.

(Contact: Matt Bechard at mbechard@nareit.com)