Content

Message from the President

Two important events in the history of REITs and REIT-based real estate investment took place 12 years ago, and two developments last week served as a reminder as to how what happened in 2001 helped catapult REITs into the investment mainstream.

NAREIT met with the S&P Index Committee in April 2001 to make the case for why REITs should be eligible for inclusion in the S&P Indexes, including the S&P 500. NAREIT's S&P Task Force was led by former NAREIT chair Hamid Moghadam, who's now the chairman and CEO of Prologis (NYSE: PLD). Our S&P delegation was led by past NAREIT chair Sam Zell, chairman of Equity Group Investments. As you know, our efforts succeeded, with S&P bringing its first REIT constituent, Equity Office Properties Trust, into the S&P 500 in October 2001.

Last week, S&P announced the addition of Macerich (NYSE: MAC) to the S&P 500. Macerich's inclusion brings the number of REITs in the large-cap index to 17. The index is essentially the proxy for the U.S. equity market, and as Macerich Chairman and CEO Art Coppola, also a past NAREIT chair, pointed out, S&P's decision is a statement about the acceptance of REITs by the investment community as well as a reflection of investors' interest in Macerich itself.

Also last week, assets invested in exchange-traded funds (ETFs) based on the FTSE EPRA/NAREIT Global Real Estate Index Series passed the $10 billion mark. That represents about 9 percent of the total $124 billion in ETF assets benchmarked to all FTSE indices worldwide.

When NAREIT joined with the European Public Real Estate Association (EPRA) 12 years ago to institute the Global Real Estate Index Series, one of our goals was to ensure that global "liquid" real estate would become easily and efficiently available to investors worldwide. Given the prominence and success of the FTSE EPRA/NAREIT Global Real Estate Index Series today, this goal also has truly become a reality.







Steven A. Wechsler
President and CEO
 
Marketplace Fairness Bill Approved by Senate
The Senate last week passed the Marketplace Fairness Act of 2013, S. 743, in an overwhelmingly bipartisan vote of 69-27.

The bill, which was introduced by Sens. Mike Enzi (R-WY), Dick Durbin (D-IL), Lamar Alexander (R-TN) and Heidi Heitkamp (D-SD), would allow states with sales and use tax regimes that meet certain simplification standards to require retailers to collect sales and use taxes from consumers within the state, whether or not those retailers have a physical presence. Additionally, the Marketplace Fairness Act provides an exemption for small businesses and would relieve consumers of having to self-report sales/use taxes they already owe.

The Marketplace Fairness Act now goes to the House for consideration, where a similar bill, H.R.684, has been introduced. H.R. 684 was introduced in February by Reps. Steve Womack (R-AR), Kristi Noem (R-SD), Jackie Speier (D-CA), Peter Welch (D-VT) and John Conyers (D-MI). H.R. 684 currently has 65 bipartisan co-sponsors.

NAREIT has supported legislative changes along these lines since 1999 and now serves on the management committee of the Marketplace Fairness Coalition, a coalition of businesses and trade associations.

(Contact: Dara Bernstein at dbernstein@nareit.com)
Tax-writing Committees Launch Tax Reform Website


House Committee on Ways and Means Chairman Dave Camp (R-MI) and Senate Finance Committee Chairman Max Baucus (D-MT) last week announced the launch of TaxReform.gov, a website dedicated to the ongoing policy dialogue on Capitol Hill regarding tax reform.

The site was developed in partnership with the Joint Committee on Taxation and will serve as a platform for visitors to submit comments to Congress on tax reform. Camp and Baucus have also established a Twitter account, @simplertaxes, dedicated to the tax reform discussion.

(Contact: Tony Edwards at tedwards@nareit.com)
Macerich Added to S&P 500

Regional mall REIT Macerich (NYSE: MAC) was added to the S&P 500 on May 8, making it the first REIT to be added to the large-cap benchmark index in four years. There are now 17 REITs in the index.

Arthur Coppola, chairman and CEO of Macerich, said inclusion in the S&P 500 is as much of a positive reflection on the entire REIT industry as it is on his company.

"This represents a growing recognition of the attractiveness of the REIT model and of REITs maturing in our industry and the fact that our industry has performed well in the broader markets and in all indices," Coppola said in an interview with REIT.com.

Another indicator of the growing recognition of REITs occurred in February, when S&P Dow Jones Indices announced that mortgage REITs would now be eligible for inclusion in S&P global and U.S. indices.

Health care REIT Ventas (NYSE: VTR) was the last REIT added to the index, joining the S&P 500 in March 2009. Prior to that, Health Care REIT Inc. (NYSE: HCN) was added in January 2009.

(Contact: Ron Kuykendall at rkuykendall@nareit.com)
FTSE EPRA/NAREIT Global Real Estate Indices Surpass $10B in ETF-linked AUM

Total assets under management of exchange traded funds (ETFs) linked to the FTSE EPRA/NAREIT Global Real Estate Index Series reached the $10.5 billion mark as of April 30, 2013. In total, more than $124 billion of ETF assets are currently benchmarked to FTSE indices worldwide. NAREIT has partnered with FTSE and the European Public Real Estate Association (EPRA) for more than a decade in the pioneering development of global investment performance benchmarks for listed REITs and property companies worldwide.

"This is an important milestone which underscores both FTSE's position as the preeminent provider of global real estate benchmarks and as the preferred index provider for ETF issuers seeking to create new opportunities in real estate investment," said Jonathan Horton, president of FTSE Americas and head of FTSE's ETP Service Unit.

"This significant development highlights the fact that liquid and diversified real estate investment is now available to investors worldwide through a growing number of financial products, due in part to the successful partnership undertaken by NAREIT and EPRA with FTSE," said NAREIT President and CEO Steven Wechsler.

FTSE collaborates with EPRA and NAREIT to produce a broad range of real estate benchmarks, including regional and country indices covering developed and emerging markets, as well as dividend and real estate sector indices. Constituents are screened for liquidity, and the indices are calculated using actual free float to enhance transparency and investability. ETFs benchmarked against the FTSE EPRA/NAREIT Global Real Estate Index Series are listed by six issuers on seven exchanges across Europe and North America.

(Contact: Mike Grupe at mgrupe@nareit.com)
First Quarter Commercial Property Update

The pace of the recovery in commercial real estate fundamentals slowed in the first quarter, and vacancy rates remained high in the office and retail sectors, according to a recent market report compiled by NAREIT Vice President of Research & Industry Information Calvin Schnure.

Apartment vacancy rates, in contrast, continued to decline to new cyclical lows. Rent growth in the office sector decelerated to a 2.8 percent annual rate after jumping above 3 percent growth in the fourth quarter. The retail sector continues to lag, especially neighborhood and community shopping centers, which tend to sell more discount products. Regional malls and super malls, whose tenants include more upscale retailers, have fared somewhat better.

The economic fundamentals continue to firm, however, and the increasing momentum will likely more than offset the drag on GDP growth from spending cuts due to the sequester, Schnure said.

(Contact: Calvin Schnure at cschnure@nareit.com)
Register Today for the Real Estate Research Conference



On June 4, the day before REITWeek 2013 begins, NAREIT is co-hosting a complimentary, one-day Real Estate Research Conference to discuss results of leading REIT and real estate investment related research papers submitted to the American Real Estate and Urban Economics Association, publisher of Real Estate Economics, the premier academic journal for real estate investment.

This information-packed, one-day event will present the latest research submitted for publication in a forthcoming special issue of Real Estate Economics. This event is complimentary and open to anyone interested in the latest research related to REITs and real estate investment. To attend the Real Estate Research Conference, a separate registration form from REITWeek must be completed.

The conference will begin with a session titled "Research in Support of Real Estate Management and Investment," moderated by NAREIT's Michael Grupe. The panelists are Debra Cafaro of Ventas (NYSE: VTR), Mike Kirby of Green Street Advisors, Joseph Pagliari, Jr. with the University of Chicago and Timothy Riddiough with the University of Wisconsin.

A second panel, moderated by NAREIT's Brad Case, will look at "Commercial Real Estate Returns in Public and Private Markets." The panel will include Merrie Frankel of Moody's Investors Service, Michael Hudgins of J.P. Morgan Asset Management, David Ling with the University of Florida, Andrew McCulloch of Green Street Advisors and Sheridan Titman of the University of Texas at Austin.

The final panel of the day, moderated by NAREIT's Calvin Schnure, will focus on "Geographic Diversification in Global REIT Portfolios and U.S. REIT Holdings." Panelists include Zeno Adams of the University of St. Gallen, Jacques Gordon of LaSalle Investment Management, Sherry Rexroad of BlackRock and Susan Wachter of the University of Pennsylvania.

(Contact: Mike Grupe at mgrupe@nareit.com)
REITs in the Community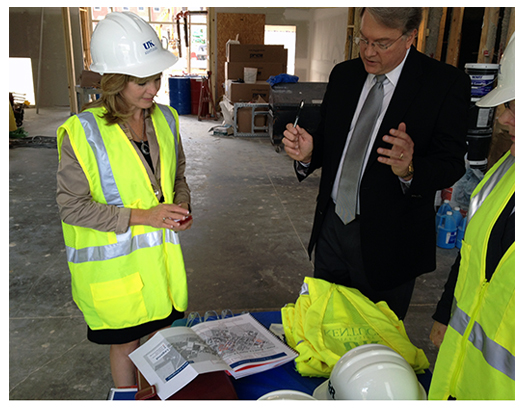 May 9, 2013: Regina Stivers, left, field representative for Senate Minority Leader Mitch McConnell (R-KY), met with Mark Gambergs, right, vice president of real estate development for EdR (NYSE: EDR), and Penny Cox, vice president of financial operations and treasurer for the University of Kentucky, at the newly constructed Central Residence Hall. The group discussed the successful partnership between EdR and the university and its anticipated impact on student life and the university community.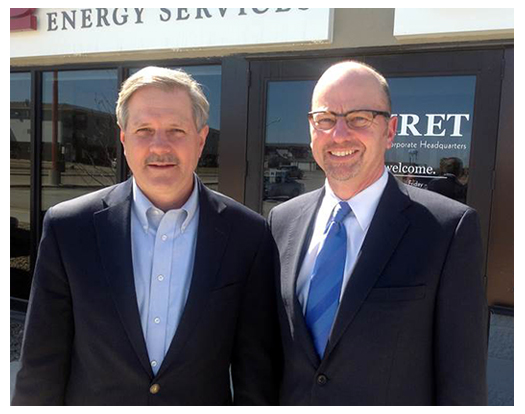 May 3, 2013: Sen. John Hoeven (R-ND), left, visited the corporate headquarters of Investors Real Estate Trust (NYSE: IRET) in Minot, N.D., and met with Tim Mihalick, right, president and CEO. During his visit, the senator was updated on IRET's recent activities in North Dakota and throughout the Midwest.

(Contact: Kirk Freeman at kfreeman@nareit.com)