Content

Message from the President

More than 1,300 members of the REIT community attended REITWorld 2014: NAREIT's Annual Convention for All Things REIT, held last week at the Atlanta Marriott Marquis, marking yet another successful NAREIT meeting.

As always, last week's event offered NAREIT Corporate Members an opportunity to hold productive meetings with analysts, investors and associated industry stakeholders. The REITWorld 2014 program also featured a series of compelling panel discussions on the industry's latest developments, as well as presentations from leading authorities on the domestic and international economic and political landscapes.

In the conversations taking place on the panels and in the halls during REITWorld 2014, one theme that came up time and again was favorable supply-demand dynamics. Attendees remarked on the healthy operating environment for REITs in terms of demand for space, which speaks to their prudent deployment of capital in recent years. Looking ahead, talk of the ongoing growth of the economy also pointed to the potential for another strong year of performance for REITs in 2015.

NAREIT thanks this year's REITWorld sponsors and attendees for helping to make the meeting an unqualified success, further cementing NAREIT's annual convention as one of the industry's preeminent annual events.







Steven A. Wechsler
President and CEO
REITWorld 2014 Recap: Highlights from Atlanta
More than 1,300 REIT executives, investors and industry professionals gathered at the Atlanta Marriott Marquis last week for REITWorld 2014: NAREIT's Annual Convention for All Things REIT. With REIT shares outperforming the broader market through the first 10 months of the year and fundamentals looking strong across most markets, the overall mood was positive as speakers discussed the opportunities and challenges that lie ahead for 2015.

If you missed any of the sessions during the event or want to share the replays with a colleague, visit http://reitstream.com/reitworld2014.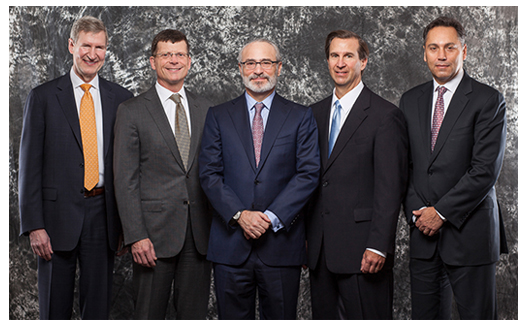 REITWorld annually signifies the transition of NAREIT's leadership team. Pictured are NAREIT's 2015 officers (left to right): First Vice Chair David B. Henry, chairman, president and CEO of Kimco Realty Corp. (NYSE: KIM); Chair David J. Neithercut, president and CEO of Equity Residential (NYSE: EQR); Steve Wechsler, president and CEO of NAREIT; Second Vice Chair Edward J. Fritsch, president and CEO of Highwoods Properties, Inc. (NYSE: HIW); and Treasurer Timothy J. Naughton, chairman and CEO of AvalonBay Communities, Inc. (NYSE: AVB).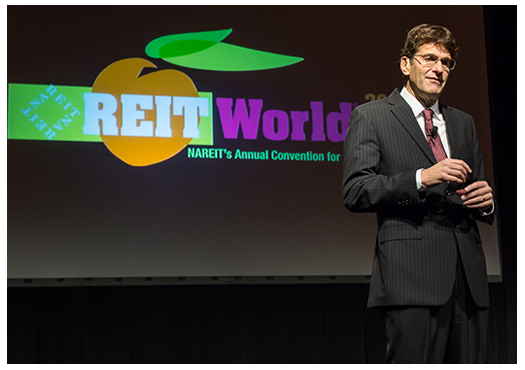 Jeffrey Rosensweig, director of the Global Perspectives Program at Emory University's Goizueta Business School, kicked off REITWorld with a global economic outlook. He expressed the view that continued growth in the U.S. working population bodes well for the real estate sector, resulting in increased net absorption of space and rising rental rates.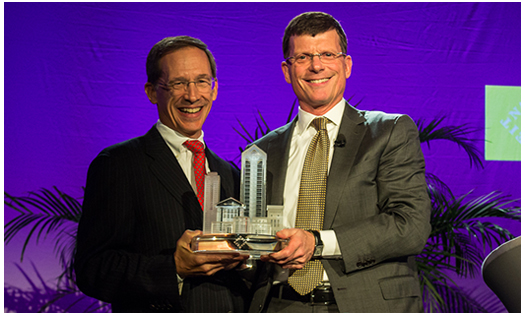 Incoming NAREIT Chair David Neithercut (right) presented outgoing NAREIT Chair Ronald Havner, Jr., chairman, president and CEO of Public Storage (NYSE: PSA), with the NAREIT Chair's Award in recognition of his service to the industry.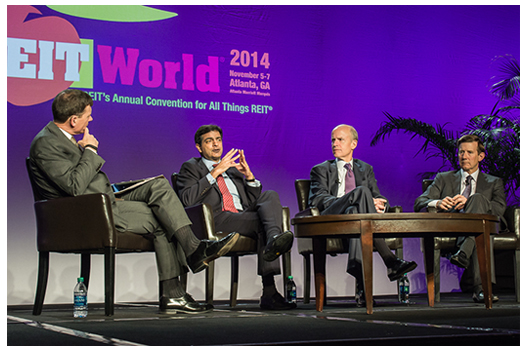 In a session moderated by Neithercut, a panel of leading REIT CEOs discussed expectations for growth in their sectors amidst a backdrop of changing consumer and tenant preferences. Pictured left to right: Neithercut, General Growth Properties (NYSE: GGP) CEO Sandeep Mathrani, Boston Properties (NYSE: BXP) CEO Owen Thomas and Host Hotels & Resorts (NYSE: HST) President and CEO Ed Walter.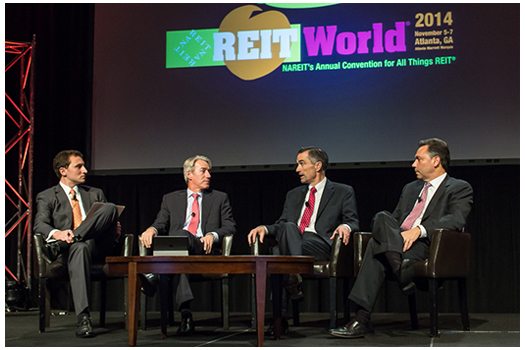 Fundamentals continue to be in the favor of REITs focused on the rental housing market, according to a REITWorld session moderated by Nicholas Joseph (pictured left), senior analyst with Citi Research. The panel featured CEOs representing companies across the housing spectrum, including Gary Beasley of Starwood Waypoint Residential Trust (NYSE: SWAY), Richard Dugas of Pulte Group and Timothy Naughton of AvalonBay Communities.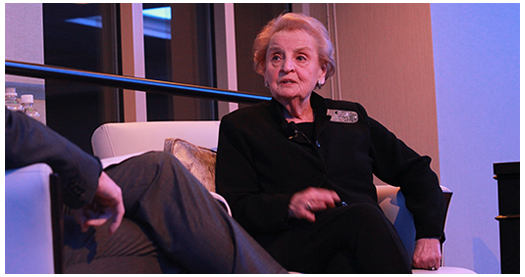 Speakers at NAREIT's Board of Governors dinner typically offer a compelling political or timely perspective on global events. This year's speaker, former Secretary of State Madeleine Albright, offered both. In a thorough, engaging and often humorous conversation with NAREIT Chair David Neithercut, Albright shared stories of her childhood and rise to become secretary of state as well her view of current international hot spots.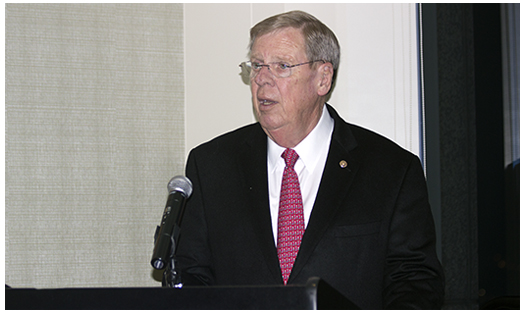 A reception with Sen. Johnny Isakson (R-GA), a member of the Senate Finance Committee, took place prior to the Board of Governors dinner.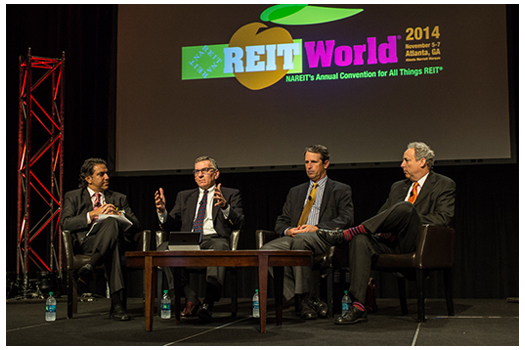 Always a hot topic in the REIT industry, the session on real estate capital markets moderated by Vivek Seth (pictured left), managing director and head of real estate investment banking at Raymond James, provided a lively discussion on capital flows, particularly the rise in interest from outside the United States. Participating in the panel (pictured second from left to right): Timothy Pire, managing director at Heitman; Louis Taylor, senior vice president at Paulson & Co., Inc.; and Jon Bortz, chairman and CEO of Pebblebrook Hotel Trust (NYSE: PEB).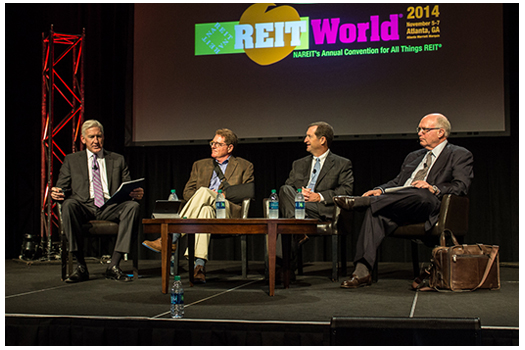 Real estate and how it is utilized continually evolves to meet the needs of a changing economy. No session better represented this fact than "Real Estate in the Digital Age," moderated by Green Street Advisors' Jim Sullivan. Technology is changing the traditional model of real estate, Sullivan said, and pointed to the businesses run by the executives on his panel. Participating in the panel (pictured second from left to right): Sean Reilly, CEO of Lamar Advertising Co. (NASDAQ: LAMR); Benjamin Moreland, president and CEO of Crown Castle International Corp. (NYSE: CCI); and William Stein, interim CEO and CFO at Digital Realty Trust (NYSE: DLR).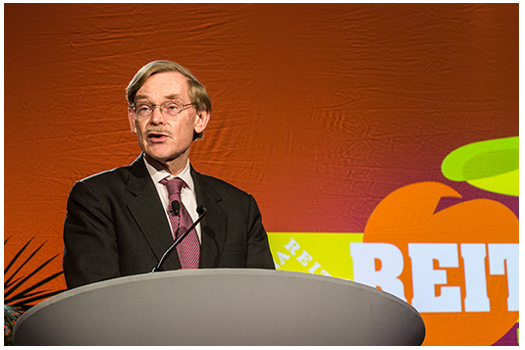 Robert Zoellick, chairman of Goldman Sachs' International Advisors and former president of the World Bank Group, discussed an array of global issues and their impact on world markets.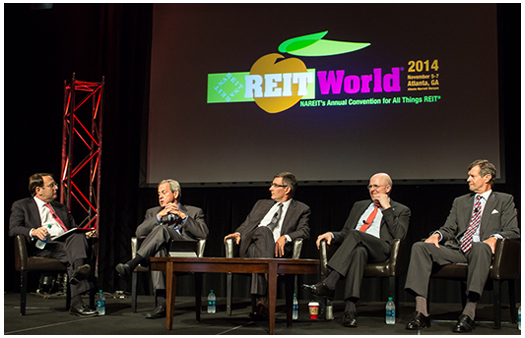 A lack of new supply and a concerted effort by retailers to develop omnichannel shopping strategies bode well for the future of retail REITs, according to a retail panel at REITWorld. Panelists agreed that retail and the impact of technology continue to evolve rapidly and the onus is on companies to remain flexible and adapt quickly. Featured on the panel were (pictured left to right): moderator Ross Smotrich, managing director, Barclays; Arthur Coppola, chairman and CEO, Macerich (NYSE: MAC); Donald Wood, president and CEO, Federal Realty Investment Trust (NYSE: FRT); Michael Carroll, CEO, Brixmor Property Group (NYSE: BRX); and Craig Macnab, chairman and CEO, National Retail Properties (NYSE: NNN).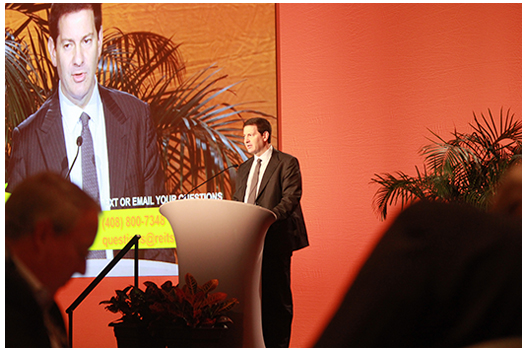 REITWorld 2014 opened on Election Day and it was fitting the event ended with a post-election wrap-up from Mark Halperin, co-host of "With All Due Respect," managing editor of Bloomberg Politics, and co-author of New York Times bestsellers "Game Change" and "Double Down: Game Change 2012."

(Contact: Katelyn Rowland at krowland@nareit.com)
Debra Cafaro, Keith Pauley Receive Industry Awards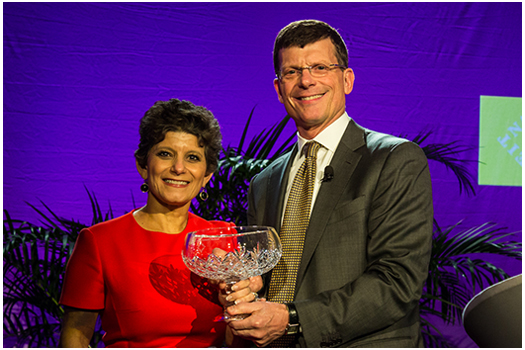 NAREIT presented its Industry Leadership and Industry Achievement Awards during REITWorld 2014 to Debra Cafaro and Keith Pauley, respectively.

NAREIT Chair David Neithercut (above right) presented Cafaro (above left), the chairman and CEO of Ventas, Inc. (NYSE: VTR), with the Edward H. Linde Leadership Award. The award -- which is named in recognition of Ed Linde, the late CEO of Boston Properties -- is presented annually to a REIT executive who has made significant and lasting contributions to the growth and betterment of the industry.

Cafaro served as NAREIT chair in 2012, as well as first vice chair in 2011 and second vice chair in 2010. Cafaro has served as Ventas CEO since 1999 and as chairman since 2003. She was recently included on Harvard Business Review's list of the 100 best-performing CEOs in the world, with the publication noting that Ventas' market capitalization rose to $20 billion in early 2013 from $200 million during her first year as CEO.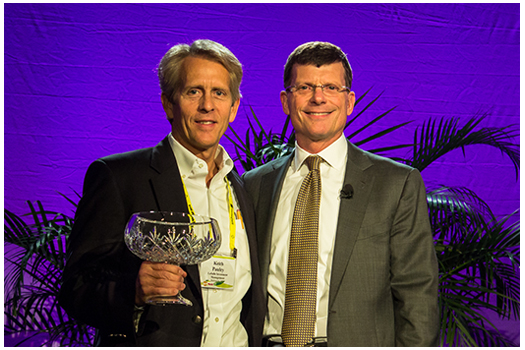 Neithercut presented the E. Lawrence Miller Industry Achievement Award to Keith Pauley (above left), co-head of LaSalle Investment Management Securities.

The award -- which is named in honor of past NAREIT Chair E. Lawrence Miller, the former CEO of Bradley Real Estate Trust -- is presented each year to an industry professional whose acumen and integrity have helped build awareness and understanding of the value of REITs and publicly traded real estate.

Pauley joined LaSalle as a financial analyst in 1986. During his career at LaSalle he has provided leadership in a broad range of areas: securities analysis, portfolio management, oversight of trading, and client relationship management.

As a dedicated REIT fund manager, he worked to introduce, explain and build acceptance among investors for the REIT investment proposition.

"It's clear that public real estate has become the dominant player in the commercial real estate industry," Pauley said upon accepting the award.

NAREIT has presented the Industry Achievement and Industry Leadership Awards annually for two decades to industry members who have made outstanding contributions to the REIT industry and to NAREIT's own programs.

(Contact: Ron Kuykendall at rkuykendall@nareit.com)
NAREIT Names 2014 Leader in the Light Award Winners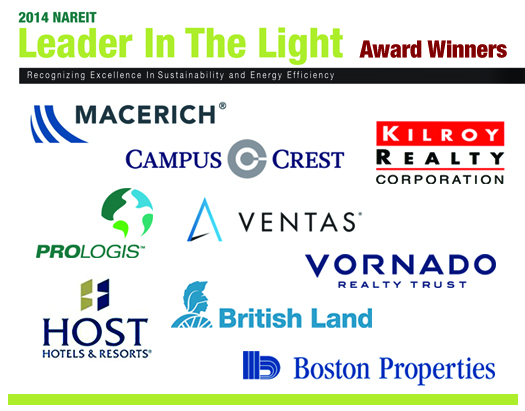 NAREIT announced the nine winners of its annual Leader in the Light Awards, which honor NAREIT member companies that have demonstrated superior, portfolio-wide sustainability practices.

The awards were presented in Atlanta at REITWorld 2014 to U.S. Equity REITs in seven property sectors: retail, residential, office, industrial, lodging/resorts, health care and diversified. A global award was presented for non-U.S. companies, and a special recognition award was presented to a company demonstrating significant improvement in sustainability achievement since last year's competition.

Macerich was the award winner in the retail sector, while the residential sector award was presented to Campus Crest Communities (NYSE: CCG). Kilroy Realty Corp. (NYSE: KRC) was recognized as the office sector winner, and Prologis, Inc. (NYSE: PLD) won the industrial sector award.

Host Hotels & Resorts, Inc. won in the lodging/resorts category, and in the health care category, the award was presented to Ventas, Inc. Vornado Realty Trust (NYSE: VNO) was the diversified category winner, and British Land Company PLC (London: BLND) won the global award.

Boston Properties, Inc. received the special recognition award for its significant improvement compared to 2013.

"REITs recognize the clear business benefits of investing in sustainability, and the achievements of these nine companies exemplify the industry's commitment to innovation in this area," said Sheldon Groner, NAREIT's executive vice president for finance and operations, who administers the Leader in the Light Awards program.

In 2012, NAREIT modified its judging criteria to include the results of the Global Real Estate Sustainability Benchmark (GRESB) annual survey. GRESB's annual survey measures the environmental performance of property portfolios around the world. Incorporating the GRESB survey results into the Leader in the Light judging criteria has enabled the companies competing in Leader in the Light to measure their performance against a global benchmark.

This year's Leader in the Light Award submissions were evaluated by a panel of four judges: David Stanford of Real Foundations, Maria Vargas of the U.S. Department of Energy, Mark Vorreuter of Cornell University and Nils Kok of GRESB.

(Contact: Sheldon Groner at sgroner@nareit.com)
REIT.com Video: REITWorld 2104
REIT.com conducted video interviews with dozens of REIT CEOs, investors and analysts at REITWorld 2014: NAREIT's Annual Convention for All Things REIT. Here's a sample of the videos currently available online.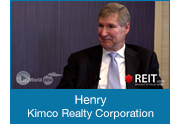 Kimco Realty Corp. has gone through a high volume of property acquisitions and dispositions in 2014. The retail REIT has been "all about recycling," according to CEO David Henry. Current capitalization rates make now a good time to sell assets, Henry said.

"We're trying to sell the bottom parts of our portfolio and add high-quality properties," he told REIT.com.

CLICK HERE to view the interview with Henry in its entirety.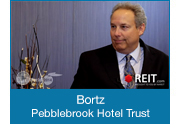 Jon Bortz, chairman, president and CEO of Pebblebrook Hotel Trust, noted that Pebblebrook went public nearly five years ago as a blind pool REIT with no assets. Since then, the firm has taken a number of steps to build a balance sheet that Bortz described as "beautiful." Pebblebrook's debt level currently sits at approximately 20 percent of the company's total enterprise value, and the company recently extended its credit facility.

"As we've gotten larger, we've developed a need for more ongoing liquidity," he said. "As our credit has improved, we've become a real company in the last four-and-a-half years. Our terms have gotten a lot better, along with the improving environment for debt."

CLICK HERE to view the interview with Bortz in its entirety.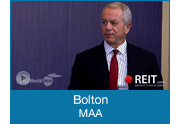 Eric Bolton, chairman and CEO of MAA (NYSE: MAA), said strong multifamily market fundamentals in the Sun Belt mean "2015 is shaping up to be a good year" for MAA. Demand for apartment space continues to swell as hiring in the broader economy picks up, according to Bolton. Looking ahead, Bolton said MAA's secondary markets could outperform its core areas.

"We actually the secondary markets could do better in 2015 than they did in 2014," Bolton said.

CLICK HERE to view the interview with Bolton in its entirety.

(Contact: Matt Bechard at mbechard@nareit.com)
NAREIT Submits Comments on Singapore REITs
NAREIT last week provided comments to the Monetary Authority of Singapore (MAS) in response to the government's call for input on strengthening the country's REIT regime.

NAREIT said it supports the MAS's goals for the project. They include enhancing REITs' corporate governance and aligning incentives between REIT managers and unitholders.

NAREIT also urged the Singapore government to allow REITs to be internally managed.

(Contact: Dara Bernstein at dbernstein@nareit.com)
NAREIT Joins Group Urging Senate to Take Up FIRPTA Reform
With the latest two-year session of Congress drawing to a close, NAREIT joined a coalition of industry organizations in advocating for the Senate to take up a proposal to reform the Foreign Investment in Real Property Tax Act (FIRPTA).

In a letter to current Senate Majority Leader Harry Reid (D-NV) and Minority Leader Mitch McConnell (R-KY), the organizations encouraged the inclusion in the legislative agenda of a "bipartisan and widely supported" amendment from Sens. Mike Enzi (R-WY) and Robert Menendez (D-NJ) designed to encourage international investment in U.S. real estate.

"The United States is among the world's favorite places to invest," the coalition wrote. "Yet, today's outdated tax laws actively discourage investment from overseas in places where it could have a tremendous economic impact – notably infrastructure and the commercial real estate industry, which alone represents 13 percent of U.S. GDP by revenue and generates or supports over 9 million American jobs."

(Contact: Tony Edwards at tedwards@nareit.com)
| | |
| --- | --- |
| Follow us on:   | REIT.com RSS Feeds:   |