Content

Message from the President

With the clock ticking on the expiration of the Terrorism Risk Insurance Act (TRIA), dozens of industry organizations gathered their members in Washington last week to encourage Congress to extend the federal terrorism reinsurance program. This important program, which sunsets at the end of the year, stabilized the terrorism risk insurance market following the 9/11 terrorist attacks on the United States in 2001. In seeking a long-term extension of TRIA, NAREIT and its partners in the Coalition to Insure Against Terrorism (CIAT) are working to see that terrorism insurance is both available and affordable for U.S. businesses into the future.

Collaboration of this sort between NAREIT and other like-minded groups is often useful.

On the international level, NAREIT has teamed with the Asian Pacific Real Estate Association (APREA), the Association for Real Estate Securitization (ARES), the British Property Federation (BPP), the European Public Real Estate Association (EPRA), the Property Council of Australia (PCA) and the Real Property Association of Canada (Realpac) to convene the Real Estate Equity Securitization Alliance (REESA). The efforts of this coalition are helping to promote REIT-based real estate investment around the world.

Back at home, NAREIT frequently teams up on initiatives with organizations such as The Real Estate Roundtable, the International Council of Shopping Centers (ICSC), the Building Owners and Managers Association (BOMA) and the National Multifamily Housing Council (NMHC).
By working together, NAREIT and its partners can concentrate their efforts and expand their reach among industry stakeholders. They also have an opportunity to share and refine ideas and familiarize themselves with new perspectives.

Ultimately, collaboration enables NAREIT to not only promote the REIT approach to real estate investment, but to build greater awareness of the importance of real estate investment more generally.








Steven A. Wechsler
President and CEO
CIAT Takes to Capitol Hill to Urge TRIA Extension

NAREIT and its partners in the Coalition to Insure Against Terrorism (CIAT) headed to Capitol Hill last week to urge members of Congress to quickly approve a long-term reauthorization of the Terrorism Risk Insurance Act (TRIA).

CIAT representatives held 38 meetings with members of Congress to discuss the role TRIA plays in the economic and national security of the United States. Their efforts focused on House and Senate leadership, as well as members of the financial services, banking and homeland security committees.

CIAT's delegation to Capitol Hill included more than 70 representatives from national organizations such as the American Association of Railroads, Marriott International, the National Association of Manufacturers, the National Rural Electric Corporation, the American Association of Port Authorities and the U.S. Chamber of Commerce.

"Bringing the voices of business leaders directly to Congress is critical to our effort to ensure a long-term, bipartisan TRIA reauthorization," said Marty DePoy, CIAT's spokesman. "There is widespread agreement that the program is critical to U.S. economic stability and must be reauthorized."

Following the 9/11 terrorist attacks on the United States, reinsurers and primary insurers withdrew from the terrorism risk insurance marketplace after paying out more than $30 billion in claims. TRIA allowed businesses to once again purchase insurance. It is set to expire at the end of 2014.

(Contact: Robert Dibblee at rdibblee@nareit.com)
Global Logistic Properties Co-Founder Jeffrey Schwartz Dies at Age 55

Jeffrey Schwartz, 55, co-founder, chairman of the executive committee and deputy chairman of the board of the NAREIT Corporate Member and Singapore-based industrial REIT Global Logistic Properties Ltd. (SGX: MCO.SI), died on Nov. 19.

Schwartz is survived by his wife, Carole; his four children, Heather, Sophia, Ian and Myles; and his daughter-in-law, Lucia.

Schwartz played a leading role in building GLP into one of the top providers of logistics facilities in Brazil, China and Japan.

"We are all deeply saddened by the death of my mentor, my partner and, most importantly, my closest friend. [Schwartz's] vision was key in making GLP the company that it is today. I am honored to continue his legacy. He will be greatly missed by our company, its stakeholders, our employees and the industry overall," said Ming Mei, GLP co-founder and CEO.

Before co-founding GLP, Schwartz also was active in the U.S. REIT marketplace. He served as CEO of U.S. industrial REIT ProLogis from 2005 to 2008. He was a member of the NAREIT Executive Board from 2006 through 2008, and he served as an officer of NAREIT as treasurer in 2007 and as first vice chair in 2008.

"Jeff provided NAREIT with strong leadership as an officer and member of its Executive Board," said Steve Wechsler, NAREIT's president and CEO. "He ably represented NAREIT in the investment community and on Capitol Hill, where he participated in congressional hearings on behalf of the REIT industry. Jeff was a tireless advocate for REIT-based real estate investment, and the REIT industry will miss him."

(Contact: Ron Kuykendall at rkuykendall@nareit.com)
REIT.com Videos: CEO Spotlights
REIT.com conducted video interviews with REIT CEOs at REITWorld 2014: NAREIT's Annual Convention for All Things REIT. Here's a sample of the videos currently available online.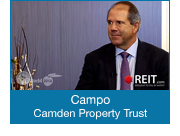 Ric Campo, chairman and CEO of Camden Property Trust (NYSE: CPT), provided an overview of supply fundamentals in the multifamily sector. While construction is at peak levels compared with the recent past, the new supply is acting to replenish the dearth of new development that occurred during the financial crisis, Campo explained.

"We are definitely not seeing overbuilding at this point," he said.

CLICK HERE for more of Campo's interview with REIT.com.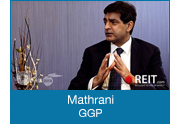 Sandeep Mathrani, CEO of retail REIT GGP (NYSE: GGP), reflected on the transition that he has overseen in the company during his tenure as CEO. He said his chief goal has been to "reinvigorate" GGP, including both its property portfolio and staff. He noted that he has made a great effort to build an "appropriate" culture within the firm.

"I'm a big believer of having the right culture within the organization," he said. "I believe having a winning culture gets a winning team."

CLICK HERE for more of Mathrani's interview with REIT.com.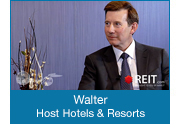 W. Edward Walter, chairman and CEO of Host Hotels & Resorts (NYSE: HST), outlined the lodging REIT's international strategy, noting that Host started to invest outside North America in 2006 when it acquired a portfolio of hotels from Starwood Hotels & Resorts Worldwide, Inc. Since that time, Host has expanded into Brazil, Australia and New Zealand, Walter noted. He explained that international investments probably represent about 15 percent of the overall properties that Host "has some level of control over." However, international properties' contribution to the company's earnings before interest, taxes, depreciation and amortization (EBITDA) is slightly less than 10 percent.

CLICK HERE for more of Walter's interview with REIT.com.

(Contact: Matt Bechard at mbechard@nareit.com)
REITs Recognized for Sustainability Efforts in 2014

The Environmental Protection Agency ENERGY STAR program has recognized a number of NAREIT Corporate Member companies for their efforts to certify properties under the program in 2014.

Brandywine Realty Trust (NYSE: BDN) was named an "Executive Member," honoring organizations that have certified a minimum of 50 properties in 2014.

Named "Premier Members" for certifying at least 15 properties this year: Behringer Harvard; Boston Properties (NYSE: BXP); Columbia Property Trust (NYSE: CXP); Highwoods Properties, Inc. (NYSE: HIW); Hines; Kilroy Realty Corp. (NYSE: KRC); Liberty Property Trust (NYSE: LPT); and Vornado Realty Trust (NYSE: VNO).

Named "Members" for certifying at least five properties this year: Government Properties Income Trust (NYSE: GOV); Health Care REIT, Inc. (NYSE: HCN); Piedmont Office Realty Trust (NYSE: PDM); and Washington Real Estate Investment Trust (NYSE: WRE).

(Contact: Sheldon Groner at sgroner@nareit.com)
NAREIT's Meredith Despins Participates in SACRS 2014 Fall Conference

Meredith Despins, NAREIT's vice president of investment affairs and investor education, participated in the California State Association of County Retirement Systems' (SACRS) 2014 Fall Conference.

SACRS is an association of 20 California county retirement systems having combined assets of more than $115 billion. Attendance at the conference provided Despins with an important opportunity to engage in conversation with key constituents in the investment decision making process of California's public sector pension plans on the REIT approach to real estate investment.

All of the SACRS member plans invest in real estate and have a 7 percent median allocation to the asset class. A number of the county systems gain their real estate exposure through investments in REITs.

(Contact: Meredith Despins at mdespins@nareit.com)
REIT.com Videos: Market Insights
REIT.com conducted video interviews with dozens of REIT investors, analysts, bankers and industry stakholders at REITWorld 2014: NAREIT's Annual Convention for All Things REIT. Here's a sample of the videos currently available online.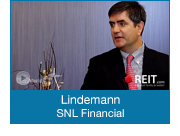 Keven Lindemann, real estate group director at SNL Financial, described the REIT capital markets in 2014 as "fairly active" on an historical basis. Overall, the amount of REIT capital raised in 2014 is approximately $50 billion.

"REITs still seem to have very ready access to the capital markets, it's just that they are tapping different parts of the capital structure this year," Lindemann said.

CLICK HERE for more of Lindemann's interview with REIT.com.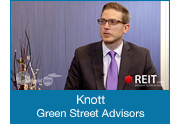 Michael Knott, managing director with Green Street Advisors, offered an assessment of the valuations of health care properties in the current market. Deals that have taken place in the health care REIT sector in 2014 have helped to drive the value of health care real estate assets up "dramatically" and boosted the interest of capital markets in the sector, according to Knott.

"We think that you could have a small wave of new supply build-up over the next 24 to 36 months that could really start to decelerate [net operating income] growth and cause NOI growth to slow from the really white-hot level that it has been at," Knott said.

CLICK HERE for more of Knott's interview with REIT.com.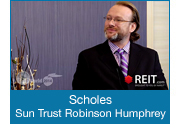 C. Patrick Scholes, managing director with SunTrust Robinson Humphrey, said healthy fundamentals in the hotel REIT sector are likely to continue into 2015, based on a favorable supply-and-demand balance. Revenue per available room (RevPAR) should accelerate in the first half of 2015, according to Scholes.

Scholes also commented on the trend of hotel REITs pruning their portfolios. He observed that the wave of hotel REITs reconfiguring their assets has yet to be completed. "It's not completed until you see some of these REITs selling to private equity," said Scholes, adding that he does not expect this to occur before 2016.

CLICK HERE for more of Scholes' interview with REIT.com.

(Contact: Matt Bechard at mbechard@nareit.com)
NAREIT Recognized at Defined Contribution Real Estate Council (DCREC) Annual Meeting

During the Annual Meeting of the Defined Contribution Real Estate Council (DCREC), NAREIT was recognized for the leadership roles it played for 2014 as co-treasurer as well as co-chair of the PR & Marketing Committee.

DCREC aims to promote the inclusion of investments in direct commercial real estate and real estate securities within defined contribution plans.

Given the shared interests of DCREC and NAREIT, members of the NAREIT Research & Industry Information and Investment Affairs & Investor Education teams continue to play an active role in the operations of the council. In addition to the Finance and PR & Marketing Committees, NAREIT is a member of DCREC's Research and Content and Membership and Best Practices committees.

(Contact: Kurt Walten at kwalten@nareit.com)
REITs in the Community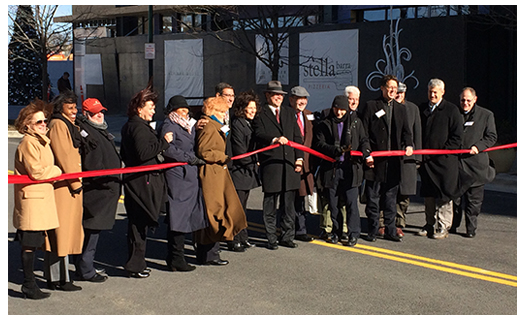 Nov. 18: Federal Realty Investment Trust (NYSE: FRT) executives were joined by members of the Montgomery County Council and Planning Department for a ribbon-cutting ceremony marking the opening of Phase I of Pike & Rose, a mixed-use development at the center of a transformation of White Flint, Md. Among other attendees was a representative from the office of Rep. Chris Van Hollen (D-MD).

(Contact: Jessica Davis at jdavis@nareit.com)
NewsBrief Will Not Publish Next Week
NewsBrief will not publish on Monday, Dec. 1. The next issue of NewsBrief will publish on Dec. 8. We hope everyone has a safe and happy Thanksgiving.

| | |
| --- | --- |
| Follow us on:   | REIT.com RSS Feeds:   |