Content

Message from the President

Tax reform isn't quite yet just "around the corner" in Washington, but as the story below reports the subject is active on Capitol Hill.

Last week, Senate Finance Committee Chairman Max Baucus (D-MT) released three discussion drafts meant to provoke conversation and seek input.

A few items would be positive for REITs and real estate investment – specifically three proposals tied to reform of the Foreign Investment in Real Property Tax Act (FIRPTA).

FIRPTA reform, long advocated by NAREIT, would help encourage foreign equity investment in U.S. real estate, rather than debt. Equity investment by foreigners in no other industry faces such a burden.

The drafts, however, also contain proposals that could meaningfully disrupt the real estate industry, most notably the repeal of the rules deferring gain for like-kind exchanges of property.

These rules date back almost to our tax code's beginnings. Eliminating them likely would reduce liquidity in the overall real estate market by encouraging the "lock-in" of capital, helping to make the most immoveable, illiquid asset in the economy far more so.

Other elements in the drafts also bear special mention. A proposal to extend the depreciation period for real estate to 43 years would apply to all property owners whether the investment is new or has already been made. Most of all, the proposal would touch multifamily real estate because it currently uses a depreciation term of 27.5 years, rather than the 39-year period used by nonresidential real estate.

Additionally, upon the sale of real estate, gains stemming from previously claimed depreciation are currently taxed at the rate of 25 percent. The Baucus drafts would require that these gains be taxed at the ordinary income tax rate.

NAREIT will carefully review the proposals in the coming days; and, as requested, we will provide our industry's perspective to Chairman Baucus, other members of the Senate Finance Committee and its staff.









Steven A. Wechsler
President and CEO
Senate Finance Committee Releases Tax Reform Discussion Drafts

Last week, Senate Finance Committee Chairman Max Baucus (D-MT) unveiled three packages of documents in a series of tax reform staff discussion drafts.

The first set of documents relates to international tax reform. Among other measures, the Senate Finance Committee international tax reform proposals would repeal "the deferral system for the earnings of foreign subsidiaries of U.S. companies and [would replace] it with a more competitive system under which all such income is either taxed immediately when earned or exempt from U.S. tax, after which no additional U.S. tax is due." These proposals could impact the activities of U.S. REITs investing abroad in a similar manner to the international tax discussion draft issued by House Ways & Means Chairman Dave Camp (R-MI), to which NAREIT submitted comments and consulted with the appropriate committee staff and members.

The international tax proposals plan also largely would adopt the FIRPTA reforms advocated by NAREIT that are included in the Real Estate Investment and Jobs Act of 2013, S. 1181, co-sponsored by Sens. Bob Menendez (D-NJ) and Mike Enzi (R-WY), by: 1) increasing the current "portfolio investor" exception for sales of stock and capital gain dividends of listed REITs from 5 percent to 10 percent; and 2) reversing the 2007 IRS notice that adversely affected the FIRPTA treatment of liquidating distributions from a domestically controlled REIT. In addition, the discussion draft would include President Barack Obama's 2013 budget proposal to equalize the treatment under FIRPTA of domestic and foreign pension fund investors.

The second package of documents proposes reforms to the administration of U.S. tax laws, along with technical corrections.

Baucus' third tax reform discussion draft focuses on cost recovery and tax accounting. The most relevant changes to current law for real estate investment include repealing the like-kind exchange rules, modifying depreciation of real estate to 43 years and repealing the real estate depreciation recapture rules, meaning that the depreciation recapture would be taxed at the ordinary rate rather than the current 25 percent rate.

The Senate Finance Committee has requested comments on these proposals by Jan. 17, 2014. NAREIT's Government Relations Committee is in the process of reviewing and analyzing these proposals and plans to submit comments to the Senate Finance Committee.

(Contact: Dara Bernstein at dbernstein@nareit.com)
FASB Moves Toward Final Standard for Discontinued Operations

On Nov. 13, the Financial Accounting Standards Board (FASB) completed its redeliberations and voted to issue a final standard on Reporting Discontinued Operations.

The final standard will eliminate the great majority of discontinued operations reported by NAREIT member companies. Under current U.S. GAAP, companies that sell even a single investment property are generally required to report the sale as a discontinued operation, which requires the companies to restate earnings from continuing operations for all periods presented. The final standard will more faithfully represent economic performance and eliminate the need for analysts to unwind the current required accounting treatment.

For more information on the developments, please see the SFO Alert issued by NAREIT last week regarding the decision. Responding to NAREIT's request, the final standard will allow companies to adopt it for periods earlier than mandated.

(Contact: Chris Drula at cdrula@nareit.com)
Moghadam Wins Entrepreneur Award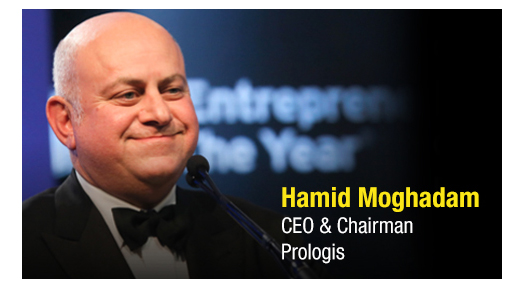 Hamid Moghadam, chairman and CEO of industrial REIT Prologis, Inc. (NYSE: PLD), has been named the overall winner of the 2013 National Ernst & Young Entrepreneur of the Year Award.

EY said the award "recognizes leaders and visionaries who demonstrate innovation, financial success and personal commitment as they create and build world-class businesses." Moghadam also won top honors in EY's Real Estate, Construction and Lodging category.

Bryan Pearce, who leads the EY Entrepreneur of the Year and Venture Capital Advisory Group (VCAG) initiatives for EY in the Americas region, remarked that "entrepreneurship is embedded in this industrial logistics real estate firm's DNA by design." He noted that Moghadam has helped create a decentralized organizational structure that allows Prologis to combine a global reach with a strong local presence.

At an awards ceremony, Moghadam reflected that "this is indeed a great honor…(in) what other country in the world would a Persian kid out of business school in 1980, a couple of years after the Revolution and the hostage crisis, be given the opportunity to be up here in front of you?"

According to EY, Moghadam's timing was "impeccable" in 2011 when AMB Property Corporation merged with its former competitor ProLogis. Moghadam co-founded AMB in 1983 and led the company through its initial public offering in 1997, as well as its merger with ProLogis.

EY lauded Moghadam for moving against conventional wisdom when, under his leadership, AMB began buying distribution facilities near global trade hubs, such as seaports, international airports and large metropolitan areas, while other real estate companies were building warehouses in low-cost areas. AMB also pursued an alternative strategy with rapid growth markets in Brazil, Mexico and China, EY pointed out, in order to aggressively develop facilities to store and deliver consumer products to the expanding middle classes in those countries.

The EY Entrepreneur of the Year Award winners were selected by an independent panel of judges from more than 250 regional award recipients.

Moghadam is a former chair of NAREIT. He received NAREIT's Industry Leadership Award in 2005.

(Contact: Matt Bechard at mbechard@nareit.com)
Sustainability Peers to Meet on Pier



NAREIT's fourth annual Leader in the Light Working Forum will take place Jan. 8-9, 2014, and will be hosted by NAREIT Corporate Member Prologis, Inc. (NYSE: PLD) at its office on Pier 1 in San Francisco. Program details and registration information are available on REIT.com.

Since 2005, NAREIT's Leader in the Light program has honored NAREIT member companies that have demonstrated superior and sustained energy-use practices and sustainability initiatives. In recent years, NAREIT's involvement in the energy efficiency and sustainability dialogue has progressed beyond just the Leader in the Light program with NAREIT serving in an advisory capacity with the Global Real Estate Sustainability Benchmark (GRESB) Survey, an initiative backed by more than 50 of the world's largest institutional real estate investors. In the recently released 2013 GRESB Report, GRESB aggregates data from 543 property companies and funds around the world on 49,000 assets, representing $1.6 trillion in gross asset value.

In June 2012, the NAREIT Executive Board, at the recommendation of NAREIT's newly created Sustainability Committee, authorized NAREIT to migrate the Leader in the Light program into the GRESB platform, beginning with last year's 2012 GRESB Survey. Earlier this year, the 2013 Leader in the Light Working Forum provided NAREIT Corporate Members with the opportunity to gain an in-depth understanding of the 2013 GRESB Survey, including the supplemental Leader in the Light questions that were embedded directly within the 2013 GRESB Survey. Importantly, the upcoming 2014 Leader in the Light Working Forum will take place in advance of the April 1-June 30 timeframe during which the 2014 GRESB/Leader in the Light submissions will be accepted.

In addition to GRESB/Leader in the Light, the 2014 Leader in the Light Working Forum will provide NAREIT Corporate Members with the opportunity to discuss a wide range of key sustainability issues that affect them. Program Directors for the 2014 Leader in the Light Working Forum are Rick Avery, vice president of information management, Health Care REIT (NYSE: HCN); Aaron Binkley, director of sustainability programs, Prologis; and Marla Thalheimer, director of sustainability, Liberty Property Trust (NYSE: LRY). The program will once again be facilitated by the consulting firm RealFoundations, a NAREIT Board Associate member.

Designed as an interactive, hands-on, collaborative workshop, the 2014 Leader in the Light Working Forum will give NAREIT Corporate Members the opportunity to once again advance the sustainability conversation, and to better understand leading sustainability practices among their peers.

(Contact: Sheldon Groner at sgroner@nareit.com)
Fidelity Report Explores REITs as Portfolio Diversifier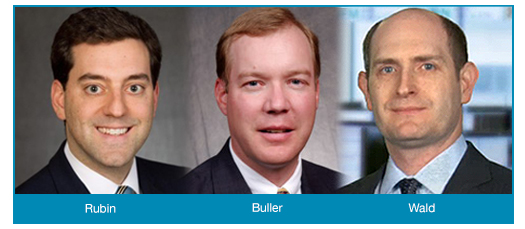 A new "Investment Insights" white paper from Fidelity Investments Research, REIT Stocks: An Underutilized Portfolio Diversifier, explores the fact that many investors remain underexposed to REIT stocks despite the diversification benefits they can provide to investment portfolios.

Co-authored by Andy Rubin, Steve Buller, and Sam Wald, the paper provides arguments for why investors should consider higher exposures to commercial real estate through listed REITs. In particular, it looks at the role that REITs play in multi-asset class portfolios with longer-term strategic objectives.

While the paper was intended to help make the case with individual investors, it also notes that REITs have been "embraced" by institutional investors including pension funds, endowments and foundations. The paper references NAREIT information in a number of its analyses.

(Contact: Meredith Despins at mdespins@nareit.com)
REIT.com Videos: CEO Spotlights
A number of REIT CEOs sat down for video interviews with REIT.com at REITWorld 2013: NAREIT's Annual Convention for All Things REIT in San Francisco. Below is a sample of recent interviews posted online.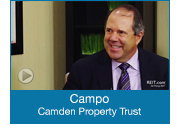 Ric Campo, chairman and CEO of Camden Property Trust (NYSE: CPT), discussed the long-running strength of the apartment sector, saying that "overall, the fundamentals are really good… but trees can't grow to the sky."

He noted that in 2012, Camden had its best same store net operating income (SSNOI) growth in 20 years.

"Coming out of the recession, we were really strong, but we have seen a moderation in our NOI growth," Campo noted. However, current growth is still 350 basis points above the company's 15-year trend, he said, and Camden's markets are all seeing above-trend revenue growth.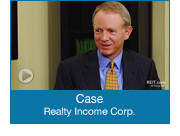 John Case was recently named CEO of Realty Income Corp. (NYSE: O), and he was asked about any changes in strategy that he plans to implement.

"No major changes going forward," he said. "We're going to remain quite disciplined in our underwriting approach on our acquisitions. We're also going to maintain a conservative balance sheet as we've always done, and our focus is really on our dividend."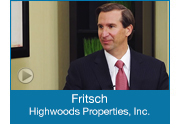 Edward Fritsch, president and CEO of Highwoods Properties, Inc. (NYSE: HIW), reflected on his company's significant refocusing of its portfolio over the last several years and indicated that it remains a work in progress. Fritsch noted that the refocusing shift started in 2005 when the company launched its strategic plan, "and we've changed our portfolio dramatically since then."

"We feel like there's no finish line in business, that it's a constant culling process and that you continually look at what you have and the dynamics of the market," he said.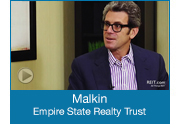 Tony Malkin, president and CEO of Empire State Realty Trust (NYSE: ESRT), talked about the market reaction to his company's recent IPO.

"It's been terrific," he said. "The great thing about our action and our activity over time is that we fulfilled exactly what the investors asked us to do. They voted for consolidation and an IPO. We went through what was an arduous process – very interesting by the way, it really was – and now we're public. We're thrilled, we've got fantastic investors, and we're actually thrilled to be here at REITWorld."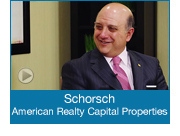 Nicholas Schorsch, chairman and CEO of American Realty Capital Properties (NASDAQ: ARCP), discussed the series of high-profile transactions his company has made this year, including the most recent $11.2 billion deal for Cole Real Estate Investments Inc.

"Most people think size is for size," he said. "It really isn't. It's really about building something that has a lower cost of capital. It gives us lower operating expense. It gives us scale and trading volume. And then it comes down to how the investor sees it. From a capital standpoint, a lot of the larger funds are able to buy it because we have the fund flows."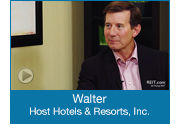 Ed Walter, president and CEO of Host Hotels & Resorts, Inc. (NYSE: HST), discussed his company's plans to increase its acquisition activity and some of the challenges it has faced in doing so.

"What we are seeing as we look out the next few years is that fundamentals in the lodging business are great," he said. "Supply is still low - certainly for the next two years, and I suspect longer than that. The combination of good demand growth domestically and superb demand growth internationally has created an environment where we're seeing demand growth above historical norms with supply growth projected to be below. While we would love to buy assets that take advantage of that, I think sellers are being very careful about what they put on the market because they also recognize that there's a lot of upside."

(Contact: Matt Bechard at mbechard@nareit.com)
Schnure Speaks on Market Outlook, Single-Family and Interest Rates

Calvin Schnure, NAREIT vice president for Research and Industry Information, analyzed current conditions in commercial property markets and the outlook for REITs and the macro economy in 2014 at an Oct. 29 meeting of the Philadelphia Chapter of the American Association of Individual Investors. He was joined by senior executives of several REITs, including Liberty Property Trust (NYSE: LRY), CubeSmart (NYSE: CUBE) and Monmouth Real Estate Investment Corporation (NYSE: MNR), who spoke about their companies and markets.

Schnure also assessed the emerging single-family rental REIT business model for the Housing Statistics Users Group, a Washington, D.C.-based association of researchers, government economists and private sector participants in the housing and mortgage markets. Schnure outlined how, rather than being a one-time trade on depressed home prices that are expected to rebound, the single-family REITs responded to a void in the market caused by the large-scale shift from ownership to rental in many metro areas across the country.

The magnitude of this change in living patterns created a need for a new business model to raise outside capital and manage thousands of properties - a task well beyond the scope of the local base of individual investors. Given the demographic trends in these markets and the prospects that many families will remain renters for several years into the future, Schnure suggested that these REITs will face a sustained demand for single-family rentals.

Schnure also addressed the Investment Program Association's Nov. 6-7 conference on public non-listed REITs, speaking on a panel on the listed REIT sector. He discussed the performance of listed REITs in a rising interest rate environment. History shows that REITs often perform well as interest rates rise in a strengthening economy like that seen today, because - unlike fixed income - their earnings and dividends improve as a growing economy pushes rents and occupancy rates higher.

(Contact: Calvin Schnure at cschnure@nareit.com)
REIT.com Videos: REITWorld 2013 Insights
Dozens of REIT analysts and investors sat down for video interviews with REIT.com at REITWorld 2013: NAREIT's Annual Convention for All Things REIT in San Francisco. Below is a sample of recent interviews posted online.


REITs will likely face a higher cost of capital in 2014, along with the likelihood of higher interest rates, according to Paul Adornato, managing director with BMO Capital Markets.

Adornato pointed out that REITs have benefitted from a period of very low interest rates and good equity market access during the past year. In 2014, however, "we think that those REITs that are less dependent on the capital markets, that have more growth from internal sources, that is from re-leasing and redevelopment of existing properties… might have better results," Adornato said.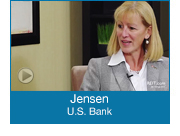 Banks will likely increase lending to REITs in 2014, although access to capital is unlikely to match the "unsustainable" levels seen in the late 1990s and early 2000s, according to Lori Jensen, vice president for commercial real estate at U.S. Bank.

"I don't see anything on the horizon that is going to have a significant impact to slow down the activity" in the capital markets. She noted that if the federal government shuts down again in January and if there is no consensus on the debt ceiling in February, then "we'll probably have a little pause." Overall, though, Jensen predicted that "we'll continue to move with positive momentum."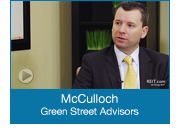 Andrew McCulloch, managing director with Green Street Advisors, said concerns over the impact of current interest-rate policy on private market property valuations may be a bit "overblown."

"Prior to rates rising, return expectations for real estate had really become decoupled from the appropriate fixed-income benchmarks," he said. "The spread between return expectations for real estate and fixed income had become abnormally wide. What that means is that private market real estate investors and real estate lenders had pushed cap rates down, but they stopped pushing cap rates down as interest rates continued to fall. Really what that created was a cushion or shock absorber. That cushion ignored the initial rise in rates that we've seen. That's why cap rates haven't moved that much."

(Contact: Matt Bechard at bechard@nareit.com)
NAREIT Welcomes Newest Corporate Member

NAREIT is pleased to welcome Ashford Hospitality Prime (NYSE: AHP) as its newest Corporate Member. Ashford Hospitality Prime is an externally advised equity REIT that invests primarily in high RevPAR, full-service and urban select-service hotels located predominantly in domestic and international gateway markets. Based in Dallas, Ashford Prime was created by NAREIT member, Ashford Hospitality Trust (NYSE: AHT), which spun out eight properties to form this new REIT, and which is the owner of AHP's external advisor. Monty Bennett is Ashford Prime's CEO (as well as chairman and CEO of Ashford Hospitality Trust), and Doug Kessler is the company's president.

(Contact: Bonnie Gottlieb at bgottlieb@nareit.com)
NewsBrief Will Not Publish Next Week
NewsBrief will not publish Monday, Dec. 2, following the Thanksgiving holiday. We hope everyone has a safe and happy holiday. NewsBrief will return Monday, Dec. 9.

(Contact: Matt Bechard at mbechard@nareit.com)