5/19/2014 | By Anna Robaton
Published in the May/June 2014 issue of REIT magazine.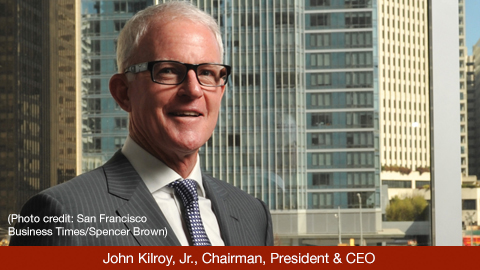 KILROY REALTY CORP. (NYSE: KRC) has long capitalized on shifting economic tides to expand its portfolio. Until fairly recently, though, the Los Angeles-based office REIT had yet to break out of Southern California, where its most-distant predecessor was founded more than six decades ago.

In the wake of the Great Recession, Kilroy Realty wasted no time capitalizing on distress in the San Francisco Bay Area and Seattle markets to make its first acquisitions there. In all, the company has undertaken about $2.5 billion worth of acquisitions along the West Coast since 2010, focusing initially on core properties it could buy for less than their replacement cost. Later, as prices climbed, the firm moved on to value-add assets that it could reposition. Today, Kilroy Realty is a dominant player in Western coastal markets that are enjoying technology-fueled growth. The company has a presence in markets stretching from San Diego to Seattle and is a landlord to some of the biggest names in the tech sector, from Microsoft Corp. to Salesforce.com. Some 35 percent of its annualized rental revenue is generated by tenants in the tech and media industries, where Kilroy Realty has set itself apart by concentrating on the kind of urban submarkets and cutting-edge office buildings that appeal to the modern workforce and its large contingent of Millennials.

"In 2010, we saw an opportunity to expand into the San Francisco Bay Area and Seattle. Prior to that time, we couldn't find the quality of product and location at prices that made sense for us. The downturn opened the door for us to become earlier acquirers in both of these markets," says John Kilroy Jr., the company's chairman, president and chief executive officer.

In San Francisco, Kilroy Realty was one of the first major investors in the South of Market Street (SoMa) district during the early days of the recovery. Today, other investors are paying significantly more than Kilroy Realty did to acquire office properties in the up-and-coming neighborhood, says David Rodgers, an analyst with Robert W. Baird & Co. Since Kilroy Realty made its first SoMa acquisition, the vacancy rate for office space in the district has plunged from 12 percent to 4 percent, according to John Kilroy.

"Kilroy [Realty] was buying assets in a part of the city that many other investors once dismissed. Now some of those same investors are paying two to three times as much to buy assets next door," Rodgers says.

Kilroy Realty is now one of the largest owners of office space in SoMa, where it is developing the city's first two ground-up, LEED-Platinum-certified office buildings, according to the company. Kilroy Realty leased one of the planned buildings—a 30-story glass tower featuring a 50-foot-high, open-air entry lobby with a huge digital media display—to cloud-computing giant Salesforce.com shortly after it acquired the project site in late 2012. It has leased all of the office space in its other SoMa project to Dropbox, the cloud-storage and data-syncing firm. The modern, brick-and-concrete building was designed to fit with the character of the neighborhood and will have 182,000 square feet of office space, 3,000 square feet of retail space and an expansive rooftop garden and deck.

Once both projects are complete, Kilroy Realty will own nearly 3 million square feet of office space in SoMa, where its properties are located near the future Transbay Transit Center. The center, which is now under development, will be a hub for 11 different transportation systems, including the planned high-speed rail from San Francisco to the Los Angeles metro area. Dubbed the Grand Central Station of the West, the project has been a catalyst for the neighborhood's revitalization. It is expected to open in late 2017 and will have a 5.4-acre rooftop park.

"The last three to four years have been transformative for Kilroy [Realty]," says Jed Reagan, an analyst at Green Street Advisors. "Kilroy [Realty] timed its growth very well and has built impressive new platforms in its new markets."

FUNDAMENTAL FLEXIBILITY
Kilroy Realty has added some 6.5 million square feet to its portfolio since 2010 as a result of acquisitions and tripled its enterprise value to about $7.5 billion in the last five years. Despite its rapid growth, the company, which went public in 1997, has one of the healthiest balance sheets in the office REIT sector, according to Green Street.

Kilroy Realty has long sought to maintain a "strong and flexible balance sheet" by keeping its leverage low, staggering its debt-maturity profile and limiting its exposure to floating-rate debt, according to the company. That discipline has allowed the REIT to take advantage of downturns to expand its reach through acquisition.

At the end of 2013, the company had a debt-to-enterprise-value ratio of 33.2 percent, down from 39 percent at the end of 2009. Kilroy Realty has reduced its leverage using proceeds from sales of non-strategic properties and equity offerings. It has also used proceeds from asset sales to fund its acquisition and development activities.

Last year, the company was added to the S&P MidCap 400 index and had funds from operations (FFO) of nearly $219 million, up from $165.5 million in 2012. It signed new leases and renewals on about 2.3 million square feet of space in 2013, marking its sixth-consecutive year with leasing results of 2 million square feet. Its stabilized portfolio was more than 95 percent leased at the end of last year.

CIRCLE (AND SQUARE AND TRIANGLE) OF TRUST
Kilroy Realty owns nearly 13 million square feet of class-A office space in Los Angeles, California's Orange County, San Diego, the San Francisco Bay Area and Seattle.

John Kilroy Jr., whose father founded the company's most-distant predecessor just after World War II, says the firm's investment strategy is pretty straight-forward. He likes to explain it using the imagery of "a circle, square and triangle."

The "circle" represents Kilroy Realty's ideal submarket – vibrant neighborhoods with good access to public transportation, a diverse housing stock, plenty of shopping and dining options, and office buildings populated by tech companies and other innovation-driven businesses. Kilroy Realty's properties are mostly located in central business districts and so-called urban-infill markets, although some of its best assets in the San Diego area are in suburban North County.

"If it is not in the circle, I don't want to buy or develop it," says Kilroy, whose namesake company has long been "keen on development" and has built office campuses over the past decade for Intuit Inc., Scripps Health and other companies.

The "square," he says, represents the physical characteristics of a property. The company focuses on buying and developing properties that "meet the demands of the 21st century workforce," or on buildings that it can reposition to meet those needs, he says.

Technology firms have helped to shape demand in the office sector, and other types of companies are following their lead by gravitating toward buildings with modern lobbies, relatively few private offices, plenty of natural light, exposed ceilings and large, open floor plans that foster collaboration among employees of all ranks, Kilroy says. Businesses also want higher-density space that can accommodate anywhere from six to 12 people per 1,000 square feet, he says.

Increasingly, tenants prefer buildings that project "warmth," rather than the monolithic skyscrapers that symbolize corporate power, Kilroy adds. Many of Kilroy Realty's properties are situated in relaxed, campus-style settings with a variety of outdoor and interior common areas. Given the growing number of employees who bike to work, Kilroy offers bicycle concierge services, for a fee, at some locations. All of its buildings have bike-storage areas equipped with showers.

"The investment has to be in my 'square,' and then my 'triangle' is simply this: Can I make money on it? Is it the right time to do it? We are highly disciplined with regard to those things," Kilroy explained. In recent years, the company has sold about $850 million worth of office and industrial properties in Southern California. The office properties it sold are largely in suburban areas and assets that it determined weren't good candidates for repositioning. In 2012, Kilroy Realty sold its entire industrial portfolio.

As it has expanded its reach, the company has bolstered its presence on the ground, recruiting "sharpshooters" in each of the markets it serves. "Office is more like retail than it used to be," John Kilroy explains. "The person is king, and you are trying to draw them in, make them comfortable and have the organizational structure that allows you to respond to tenants in real time," he says.

Kilroy Realty has put a major emphasis on sustainability, a priority for many tech companies and the large numbers of younger workers they employ. With the completion of current development projects, about half of its portfolio will have the Leadership in Energy & Environmental Design (LEED) certification awarded by the U.S. Green Building Council. Already, about half of its portfolio has the Energy Star certification awarded by the U.S. Environmental Protection Agency. Its development and redevelopment projects are designed to achieve LEED Gold or Platinum certification.

PIVOT TOWARD DEVELOPMENT
Although it focused on acquisitions early in the recovery, Kilroy Realty recently pivoted toward development in a big way. The company has one of the largest development pipelines of any U.S. office REIT with about $1.5 billion in projects underway.

Kilroy Realty seeks substantial preleasing of its projects. Historically, its projects have been about 70 percent pre-leased before the start of construction and about 80 percent leased by completion, according to the company. It now has about 2.5 million square feet of space under development. Four of its six projects are fully pre-leased. Those include its SoMa projects and new corporate campuses in Silicon Valley for LinkedIn and Synopsys Inc.

"In these great markets where we are involved, we are seeing very little class-A-quality stock that meets the demands of the modern workforce. When the math works, we like to develop because we only do it if we can get a superior yield," John Kilroy says.

The San Francisco market, according to a Green Street report, has experienced the best rental-rate growth in the country during the recovery with rents nearly doubling in SoMa and other top submarkets. Demand for space has been buoyed by a growing preference among tech companies for space in downtown San Francisco, rather than Silicon Valley.

Thanks to a strong forecast for job growth, the outlook for fundamentals in San Francisco remains robust, although rental-rate growth is expected to slow somewhat, according to the report. The supply of new space there is expected to grow, but "still appears manageable for now while demand remains strong," according to the report.

The Bay Area now has almost 5 million square feet of office space under construction, and in excess of 60 percent of that space is preleased, according to CBRE Group's Kevin Shannon, who oversees office investment for CBRE's Institutional Group in the Western region.

Kilroy Realty's success with its development projects in the Bay Area hasn't gone unnoticed.

"Kilroy [Realty] has done a good job so far during this cycle of being sensible about their risk appetite," says Reagan of Green Street. "It has done some build-to-suit developments, and other projects that were further out on the risk spectrum have had leasing success. The prospects for the other projects it has started seem pretty good."

HOORAY FOR HOLLYWOOD
Reagan and other analysts are watching closely to see whether Kilroy Realty can duplicate the success it has had in SoMa with its projects in Hollywood. The company is developing two mixed-use, campus-style projects in the densely populated, slowly gentrifying Los Angeles submarket.

Kilroy Realty made its Hollywood debut in 2012 with the purchase of Sunset Media Center, a 22-story building near the intersection of Sunset Boulevard and Vine Street. It renovated the building and is now commanding rents there that are nearly 30 percent higher than its initial projections, according to the company.

According to John Kilroy, Hollywood hasn't seen the construction of a new office building in decades, although it has strong retail offerings. A diverse mix of housing is under construction there as well.

In recent years, Hollywood has attracted large numbers of tech companies and younger residents who see it as a hipper alternative to more affluent and established markets. Kilroy Realty is betting that entertainment, media and tech companies will gravitate towards state-of-the-art office space in the district, where the vacancy rate for class-A office space is below 10 percent, according to the company. The overall vacancy rate in the district is in the low teens, according to Kilroy Realty.

In the L.A. market, Kilroy Realty also owns a number of properties in West Los Angeles, where it is headquartered, and in the Long Beach and Santa Monica areas. The West L.A. submarket has been relatively slow to recover, but it has one of the best five-year growth outlooks in the country, according to Green Street.

"Hollywood is definitely considered cool. New, best-in-class product typically does well there, and Kilroy [Realty] likes to own that type of product," says Shannon, a vice chairman at CBRE.

In January, Kilroy Realty bought a four-acre parcel in Hollywood from the Academy of Motion Picture Arts and Sciences. The parcel, where the Academy once planned to build a museum, spans a full city block and is one of the few remaining mixed-use development sites in Hollywood, according to Kilroy Realty. It is located two blocks from a stop on the subway line that runs between downtown Los Angeles and Hollywood. Kilroy Realty is seeking entitlements to build an approximately $275 million mixed-use project, called The Academy, on the site. The planned complex will include 475,000 square feet of creative media mixed-use office campus with apartments and retail space.

Last year, Kilroy Realty began construction of a $390 million mixeduse project on a site, south of the Walk of Fame, that was formerly home to CBS's Los Angeles television and radio operations. The project, called Columbia Square, will include a 20-story luxury residential tower, 350,000 square feet of new office space and 100,000 square feet of renovated office space in three historic buildings. It will also have about 20,000 square feet of retail space fronting Sunset Boulevard.

Once its projects are complete, Kilroy Realty will own nearly $1 billion worth of assets in Hollywood, which John Kilroy believes will be the L.A. version of SoMa. In recent years nearly $3 billion in public and private capital has been invested in the district, home to the Academy Awards, the TCL Chinese Theatre (originally named Grauman's Chinese Theater), Capital Records and other major media and entertainment businesses.

Kilroy says he is bullish on the outlook for the company's markets even though, historically, they have been some of the most volatile in the country, largely because of the concentration of tech companies. The bursting of the dot.com bubble in 1999 wreaked havoc on the Bay Area and other West Coast markets. But Kilroy says he believes this cycle is different in many ways.

For one thing, the technology sector has seen about a fifth of the IPO activity that it did during the period leading up to the dot.com crash. What's more, venture-capital funding for technology is not quite as robust as it was back then, and tech companies are generally more financially disciplined and profitable, he says.

Tech companies have been responsible for nearly half of the office-space absorption in the Bay Area during the recovery, according to Shannon of CBRE. But Kilroy notes that they are no longer leasing huge amounts of "shadow space" in anticipation of growth, as they did during the dot.com boom of the late '90s.

"I am not Pollyannaish in that I think everything is going to be fantastic," says Kilroy, "but it looks as if this cycle has several years to play out and probably longer."

Anna Robaton is a regular contributor to REIT magazine.