Economic Update (December 13, 2012)
The employment report for November was in line with consensus expectations, with an increase in payroll employment of 146,000, but a moderate downward revision to the October figures. The unemployment edged down a tick, to 7.7 percent.
While this pace of job growth is unexciting, it is considerably better than late summer, when there were widespread worries that weak job growth posed risks of a double-dip recession. Increases in private payrolls over the past five months — the red bars in chart 1 — averaged about 150,000 per month, more than twice the speed we saw last spring. Job growth year-to-date is slightly ahead of 2011.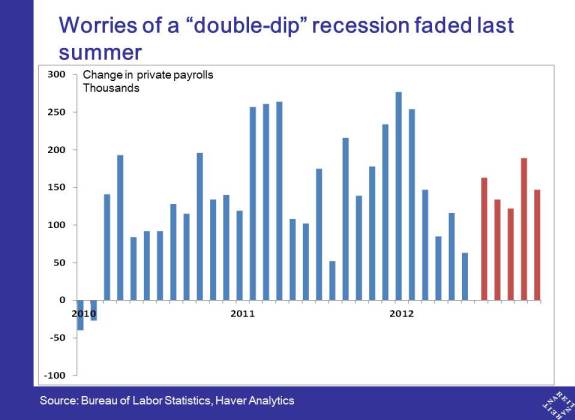 The economy has generated about 5 million new jobs since the end of the recession, and has recovered about half the total job losses during 2008 and 2009. There are other signs of improvement, however, including a 1.2 million decline in the number of people who are working part-time for economic reasons. That is, over a million people who previously wanted full-time work but could only find part-time jobs are now working a full workweek. The number of people working part-time is still very high, but it is headed in the right direction.
Temp workers are giving another positive sign for future job growth. While many workers in temporary positions would prefer a permanent job, employers often turn to temps while they are searching for a full-time employee, or if they are waiting to see if an upturn in sales appears sustainable. The number of temp workers has been growing a fairly steady 20,000 or more per month since 2010, a relatively high level compared to trends over the past decade, which signals continued increases in permanent jobs ahead (chart 2).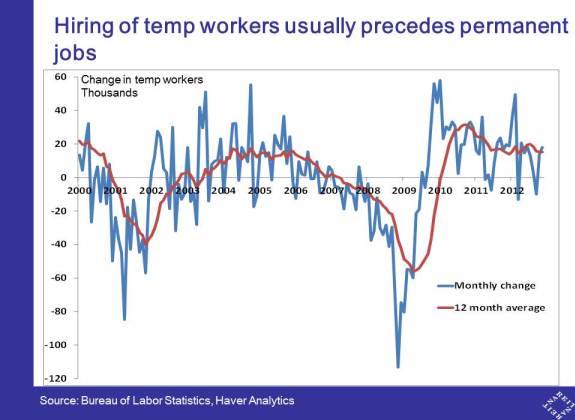 The outlook for commercial real estate markets depends on two main macroeconomic factors. First, the overall rate of GDP growth, and the increases in office employment, consumer spending and household incomes that accompany stronger GDP growth. The latest jobs numbers suggest that the improvements may be slow and gradual, but are progress nonetheless and likely to gain momentum in 2013.
Second, the supply of new commercial construction remains a little above 20-year lows (chart 3). Developers cancelled or postponed many projects during the recession. Activity has been slow to pick up due to concerns about the durability of the economic recovery and tight financing conditions. With so little new supply in the pipeline, the stronger GDP growth we anticipate should translate into rising occupancy, rents and prices of commercial properties.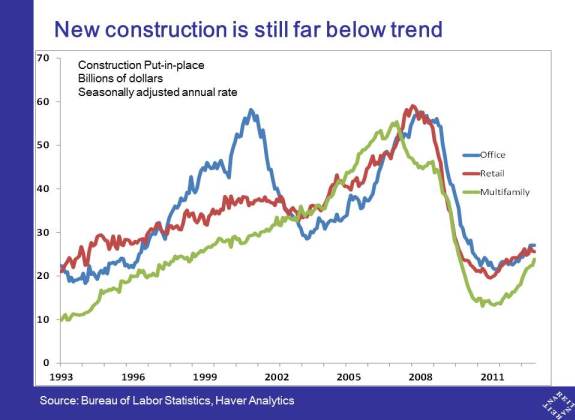 For more details on recent economic numbers and the outlook for commercial real estate, see the REIT.com video.
---
Commercial Property Update 2012:Q3 (November 6, 2012)
The commercial property market recovery took a breather in Q3, with smaller improvements in vacancies and slower rent growth in all main property types. Economic fundamentals began to regain momentum more recently, suggesting better times ahead. Check the Commercial Property Update for more details.
---
Commercial Property Update 2012:Q2 (August 3, 2012)
Performance was mixed in commercial real estate markets in the second quarter, with the apartment sector posting a strong quarter but office and retail moving sideways. These results largely reflect the economic fundamentals, with GDP and employment growth losing momentum through the spring. While avoiding recession, the economic recovery to date lacks vigor.
Learn more in our full report on second-quarter conditions in commercial real estate markets.
---
Economic Update (August 16, 2012)
The manufacturing and industrial sector has had a choppy recovery around a rising trend:
Manufacturing production rose 0.5 percent in July and is 5.0 percent above a year ago;
Output is still 5 percent below its pre-recession peak (Chart 1);
The outlook has softened with the weakening global economy: debt crisis in Europe and the U.S. "fiscal cliff" (Chart 2);
But the economic fundamentals for manufacturing remain firm; for example, there is no inventory overhang, as they are in line with sales (Chart 3);
Capacity utilization is back to long-term trends (Chart 4). Future increases in production will require more CAPX, which will support overall GDP growth;
Industrial properties saw further improvement in Q2:
Occupancy rates rose, but rent growth decelerated;
The supply pipeline of new development is growing. New supply should not be a problem if the U.S. economic recovery regains momentum later this year and early next year, as we expect, but poses some risks to the sector should the macroeconomic slowdown be more severe or longer-lasting.
Calvin Schnure, vice president of research and industry information with NAREIT, discusses the outlook on industrial REITs.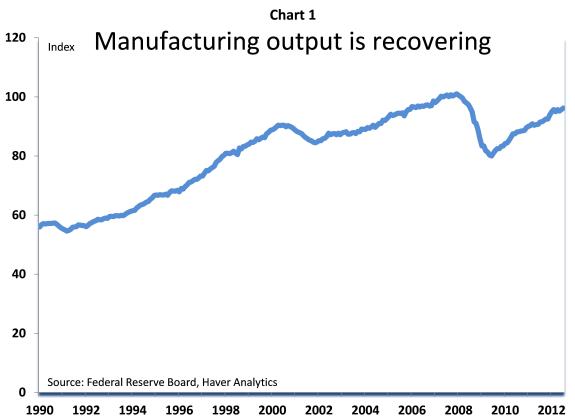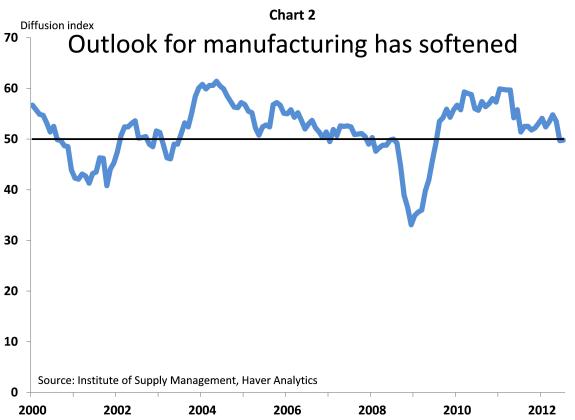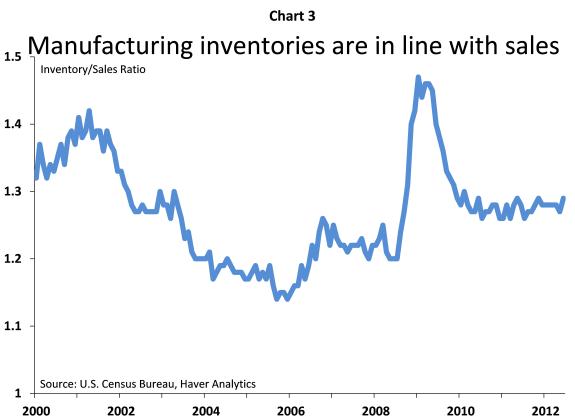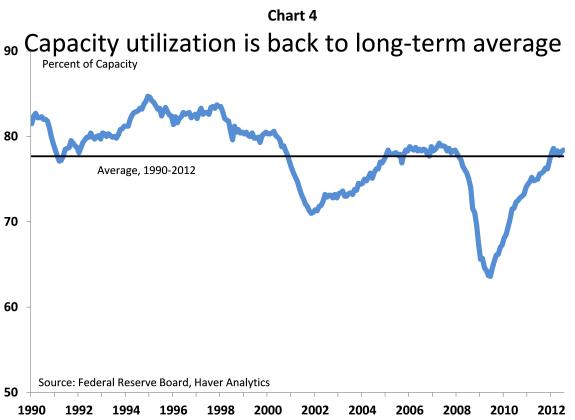 ---
Economic Update (August 1, 2012)
The fundamentals for multifamily residential sector continue to improve in the second quarter, as rental vacancy rates fell to the lowest level in a decade.
The rental vacancy rate declined 20 bps, to 8.6 percent, compared to a peak above 11 percent in 2009 (Chart 1).
New demand for living space is flowing almost entirely into rental units (Chart 2).
Demand for rental units remains strong even as the homeowner market begins to stabilize. For example, the homeowner vacancy rate has fallen nearly a full percentage point from its peak (Chart 3) and housing prices have turned up in recent months (Chart 4).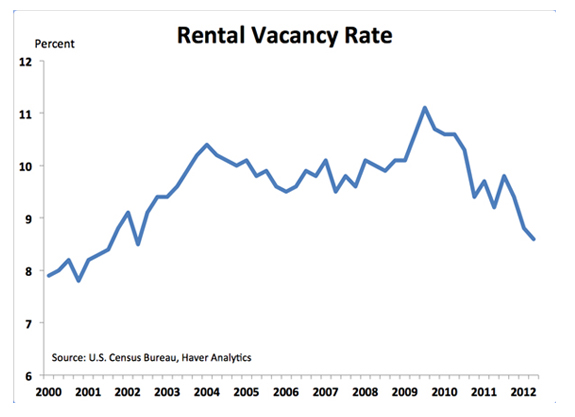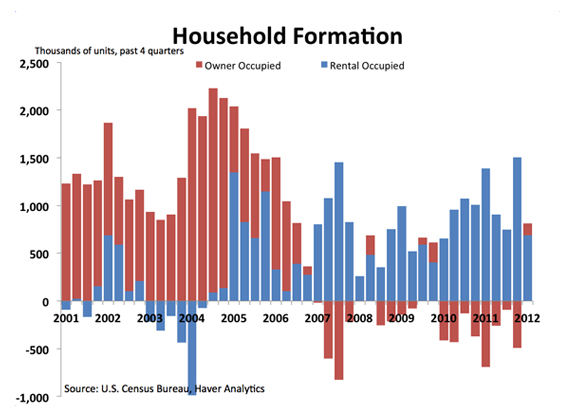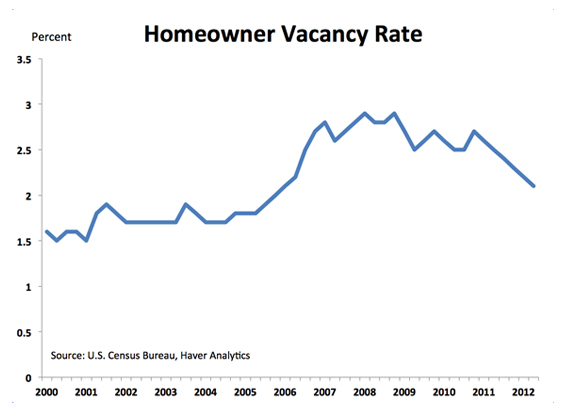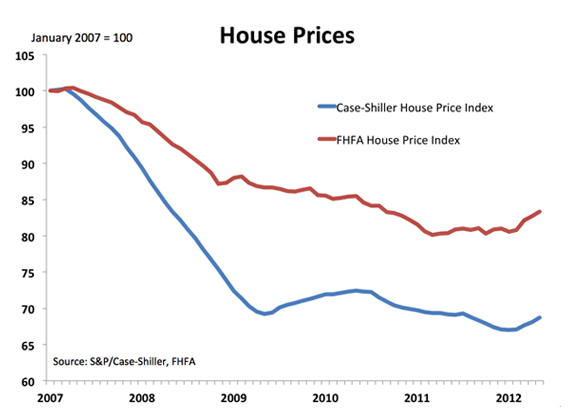 ---
Economic Update (July 6, 2012)
Disappointing job news contrasts with improving multifamily housing trends.
There was no silver lining in the June employment report, which showed net gains of 80,000 and the unemployment rate unchanged at 8.2 percent. Job growth in the second quarter averaged 75,000 per month, half the pace in 2011 and well below the 225,000 in Q1.
Young workers are still struggling. Unemployment rates among 35 – 44 year olds rose to 7.0 percent in June, from 6.8 percent in May and a recent low of 6.4 percent in March, while the unemployment rate of 25 – 34 year olds was unchanged at 8.2 percent. These young adults generate most of the new demand for rental apartments, and the outlook for multifamily housing is strongly influenced by their job prospects.
Yet the apartment sector continues to improve. Apartment vacancy rates fell another 20 bps in the second quarter, according to Reis, Inc., while rent growth accelerated. The contrast between the gloomy job market for young adults and rising occupancy reflects a huge pent-up demand for apartments. NAREIT estimates a "shadow demand" of 3 million or more households that "doubled up" during the financial crisis. While the recent slowdown in hiring and overall economic activity will no doubt impact the apartment sector's outlook, current trends despite the strong headwinds from the job market and macroeconomy confirm the strength of the fundamental forces driving the rental market.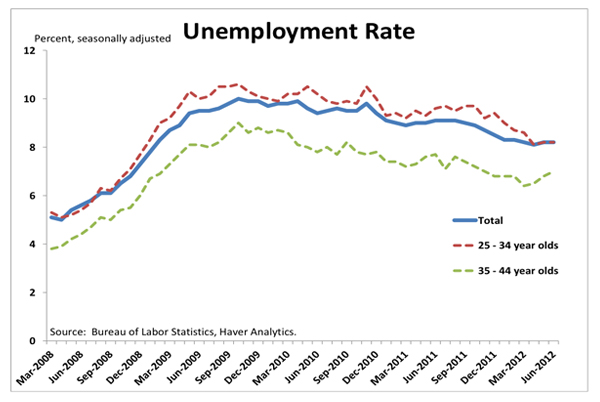 ---
Economic Update (May 30, 2012)
Commercial property prices were flat in March. The recovery in commercial property prices paused after having regained nearly half the decline that occurred during the financial crisis.
Apartment prices edged down 0.1 percent in March. Prices rose 18.0 percent over the prior 12 months, outpacing other commercial property sectors, and have recovered two-thirds of the peak-to-trough decline;
CBD office prices moved higher with a 0.3 percent increase, while prices of suburban office fell 3.5 percent. CBD office markets have recovered 62.5 percent of the peak-to-trough decline, versus 25.2 percent for suburban markets;
Retail turned up 1.7 percent in March after having declined in December and posting weak gains in January and February;
Industrial accelerated with a 1.7 percent increase in March, bringing the 12-month change into the double-digits for the first time since 2007.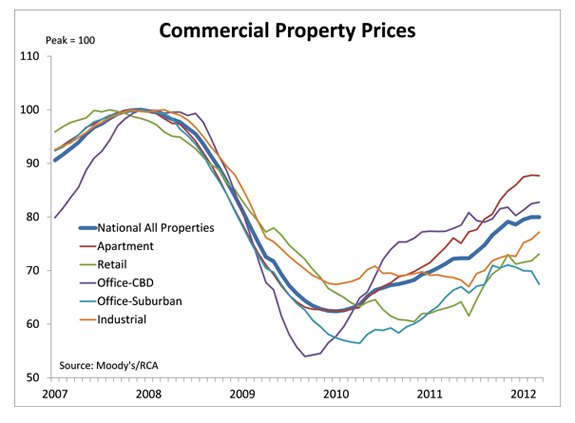 ---
Economic Update (May 18, 2012)
Construction of new multifamily housing units continues to recover as apartment rental market conditions tighten. Multifamily housing starts rose 4.3 percent in April to a 217,000 annual rate.
Despite having tripled from the lows reached during the financial crisis, multifamily starts remain well below the pre-recession trend rate of 300,000. Moreover, rental occupancy has been rising more rapidly than construction, pushing vacancy rates lower. (The Census Bureau recently reported that rental vacancy rates fell 0.6 ppt. in the first quarter to 8.8 percent, the lowest since early 2002.)
Learn more about the current outlook for multifamily REITs.