Modern portfolio theory holds that diversification is key to minimizing overall risk. In other words, investors should populate their portfolios with assets that yield returns with sufficiently different attributes from their other investments, i.e. create a portfolio of assets that behave differently across market conditions. Doing so requires investors to seek out different types of assets with low correlation—a measure of the extent to which returns from different investments move together over time.

Analysts and portfolio managers tend to consider investments with correlations of approximately 60 percent or less to provide diversification. Likewise, REITs compare favorably to other investment vehicles in terms of "beta," a common measure of volatility that reflects the movement of an asset class in relation to the broader market.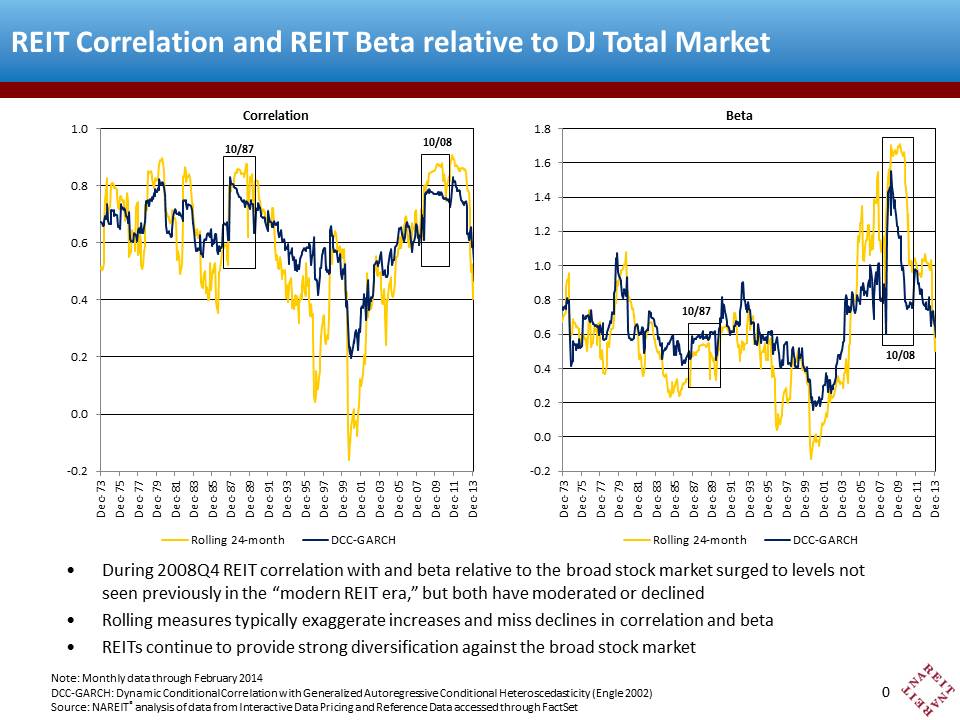 Complement Direct Investment

The financial community has started to recognize that within the total real estate portfolio, REITs offer a strong complement to direct investment in real estate. By taking advantage of both public and private investment in real estate, investors can take advantage of a broad continuum of investment options for their real estate allocations.

Academic studies have shown that the long-term returns generated by REITs are representative of the real estate asset class. One such study performed in 2006 examined REITs and REIT-like securities in eight different countries, including the United States, Australia and Japan. The findings were clear: "Real estate securities seem to represent an asset class distinct from bonds and stocks in most countries. In the long run they seem to reflect the performance of direct real estate investments and provide a potential for further diversification of asset portfolios." In short, investing in REITs is investing in real estate.

Optimization theory suggests that portfolios are more efficient when public and private real estate investments are combined. Consider, for example, a real estate allocation blended between two major real estate indexes, one for private investment in real estate (NCREIF Property Index) and the other for public investment in real estate (FTSE/NAREIT Equity REIT Index. Between 1978 and mid-2011, an allocation with 70 percent invested in the NCREIF Property Index and 30 percent invested in the FTSE NAREIT Equity REIT Index typically yield double-digit annual total returns ranging as high as 25 percent.

Furthermore, this blended real estate portfolio consistently avoided producing negative returns. The blended allocation never declined in value during the entire timeframe.