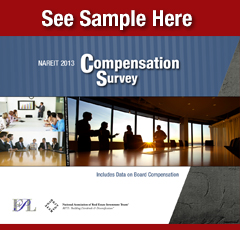 With 110 organizations participating and providing information on a record-high 124 positions covered, the NAREIT Compensation Survey remains the most comprehensive survey of its kind in the industry.
NAREIT and FPL have captured the latest market trends and developments across the real estate industry and broader legislative/corporate governance areas. As usual, comparisons are made to prior years' studies in order to identify current trends, and address relevant questions and competitive issues and approaches to compensation and benefits within the real estate industry.
The survey report will provide "real-time" insights into the following:
Compensation program design/structure and latest trends.
Employment Agreement Practices in terms of prevalence and key features.
Board of Director practices including retainers, meeting fees, equity award grants and stock ownership guidelines.
Compensation data for 124 positions across 28 functions, including a variety of unique real estate roles.
And much more!
Click here to get a copy of the order form. Please note that this is a NON-REFUNDABLE purchase.
NAREIT Compensation Survey questions should be directed to Megan Peichel at mpeichel@nareit.com