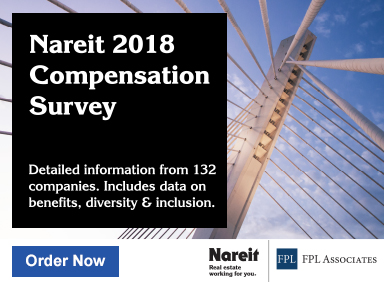 The Nareit 2018 Compensation Survey was released in July. This comprehensive real estate industry survey provides unique information on 67 percent of the equity market capitalization of listed equity REITs, with data from 132 companies and information on 192 positions.
Use the survey results to see how your company measures up to your peers and competitors. The survey contains invaluable data that will help you gain insight into:
How your company's health insurance options compare to industry norms.
Whether your company is implementing the most effective compensation and incentive programs.
How your employee salaries and benefits stack up to competitors.
The latest data on diversity and inclusion programs in the industry.
Learn more about the Nareit 2018 Compensation Survey, and order your copy today.
Get Nareit Developments blog posts delivered straight to your inbox.
Subscribe