About Nareit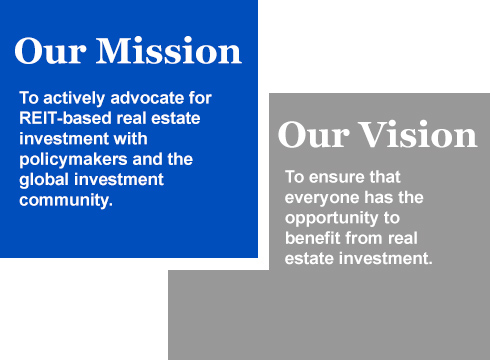 Nareit represents a large and diverse industry that includes equity REITs, which own commercial properties, mortgage REITs (mREITs), which invest in mortgage securities, REITs traded on major stock exchanges, public non-listed REITs and private REITs. Together, they own more than $3 trillion in gross real estate assets, with more than $2 trillion of that total from public listed and non-listed REITs and the remainder from privately held REITs. By making investment in these assets easy and widely available through the purchase of stock, our more than 200 REIT members enable all investors—importantly, small investors—to own income producing real estate—something that once was possible only for large institutions and the wealthy.
We are the voice for the REIT industry among U.S policymakers, whom we inform about the important roles that REITs and REIT investment play in job creation, economic growth and the lives of millions of investors. We also are an information resource for policymakers in countries around the world that have introduced or are considering introducing REITs.
Nareit is the leading producer and sponsor of research on REIT investment, which we use to communicate its benefits—continuing income, diversification, capital appreciation and inflation protection—to investors, policymakers and the media, worldwide. We also provide REIT news, data and our industry's perspective to all our audiences, and we host the REIT industry's primary investor conferences and educational events.
Join Nareit
Advocacy
Sustainability
Dividends Through Diversity Initiative