On Sept. 14, 1960 President Dwight D. Eisenhower signed legislation that created a new approach to income-producing real estate investment – a manner in which the best attributes of real estate and stock-based investment are combined.
REITs, for the first time, brought the benefits of commercial real estate investment to regular Americans – benefits that previously had been available only through large financial intermediaries and to wealthy individuals. The groundwork for the Modern REIT Era followed with the Tax Reform Act of 1986, when REITs were given the ability to operate and manage real estate, rather than simply owning or financing it.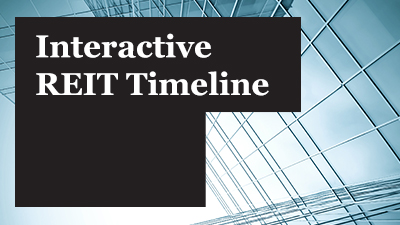 The REIT approach to real estate investment has been refined and enhanced over the ensuing years.
The original legislative intent was that REITs would be an inclusive approach that would allow all Americans to enjoy the benefits of investing in high-quality commercial real estate. The REIT approach to real estate investment has been refined and enhanced over the ensuing years, but this goal of inclusivity remains at the core of the REIT model. Research by Nareit shows that REITs have fulfilled this promise. Today, approximately 150 million Americans live in the roughly 45% of American households that own REIT stocks, directly or indirectly through mutual funds, ETFs, or target date funds.
REITs have also taken hold globally, and today 40 countries, including all G-7 nations and almost two-thirds of the Organisation for Economic Co-operation and Development (OECD) countries, have a REIT regime in place. Investors around the world now have access to portfolios of income producing real estate.
The REIT industry also continues to evolve to become a more diverse and inclusive working environment, which includes more women and more diverse boards. As we continue along that path, Nareit remains committed to educating and informing its members about these key issues through our Dividends Through Diversity & Inclusion (DDI) Initiative.