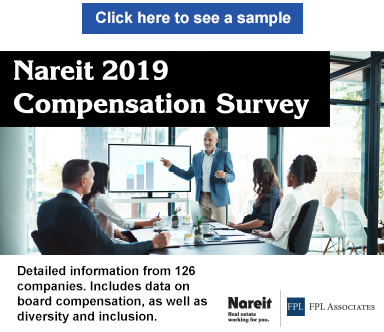 The Nareit 2019 Compensation Survey is the most comprehensive real estate survey of its kind with a 49% participation rate representing approximately 69% of the equity market capitalization of listed equity REITs.
This year's survey contains responses from 126 organizations providing information on 194 positions. Click here to order your copy today. 
Nareit and FPL have captured a vast amount of competitive data that help users identify the latest market shifts and developments regarding compensation levels, department sizes and organizational structures. From the latest trends in incentive programs to the industry norms for board of directors practices—the Nareit 2019 Compensation Survey provides the data you need to see how you measure up to your peers and competitors. Order now and you will be able to:
Set salary levels that keep employees engaged
Actively manage general and administrative costs
Identify and build career development paths
Help recruit and retain top talent
Benchmark employee salary with your competitors
Get the latest in-depth information on diversity and inclusion programs in the industry 



PLEASE NOTE: The digital or print editions may not be reproduced, re-distributed, sold, lent, licensed or otherwise transferred without the prior written consent of Nareit.  All sales are final and no refunds will be issued.
All inquiries regarding orders should be directed to Allison Shaw at 202-739-9420 or ashaw@nareit.com.