2020 Case Studies
Boston Properties, Inc.: Battery-powered Innovation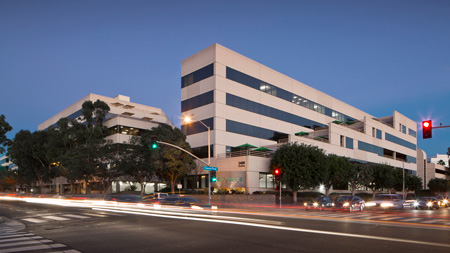 Boston Properties, Inc. (NYSE: BXP), a REIT with a portfolio of approximately 52 million square feet of primarily Class A office space, has fully embedded sustainability into its business strategy. The company's ESG strategy is underpinned by three pillars that guide its sustainability initiatives: climate action, resilience, and human health and wellness.
The company's ongoing sustainability efforts include public goals, significant energy, water, and carbon emissions reductions, and the issuance of $1.85 billion of green bonds with impact reporting on use of proceeds. In the 2019 GRESB assessment, Boston Properties ranked among the top 4% of all participants, achieved the highest 5-Star rating and a Green Star for the eighth consecutive year.
Host Hotels & Resorts, Inc. : Structuring a Successful Environmental Management System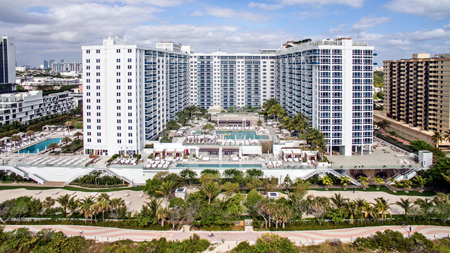 Host Hotels & Resorts, Inc. (NYSE: HST) is the largest U.S. lodging REIT by market cap, with 80 hotels and approximately 46,500 rooms in its portfolio, consisting primarily of luxury and upscale hotels.
Host is committed to sustainable business practices and works closely with its third-party management companies to review, monitor, and provide input on specific market risks in order to identify sustainable initiatives and invest in green building technologies. Having achieved its 2020 corporate responsibility goals, Host has set ambitious 2025 goals, including a new Science Based Target–aligned greenhouse gas emissions target and energy, water, renewable energy and waste diversion targets.
Host's cross-functional corporate responsibility team, including senior management and board oversight, assembled a robust environmental management system (EMS) for the company to identify risks, and monitor operations and progress against goals. The EMS provides a systematic approach to managing environmental impacts and improving operating efficiencies, with a focus on:
Return on investment through energy and water savings technologies;
Reduced GHG emissions with renewable energy;
Improved resilience of hotel properties against extreme weather and climate-related events;
Increased waste diversion in major renovations; and,
Continuous improvement to mitigate significant environmental risks and increase operational efficiencies.
In January 2017, Host's EMS attained ISO 14001 certification, which required implementation of ISO-recommended policies and procedures, and completion of an independent, third-party assessment. The ISO 14001-certified EMS has resulted in enhanced ongoing engagement with internal and external stakeholders, a standard against which to codify, organize, and implement ESG initiatives, and continuous improvement driven by the annual assessment process.
Equinix, Inc.: Internal Policies and Industry Advocacy Drive Renewable Energy Goals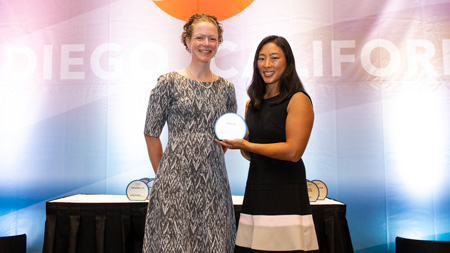 Equinix, Inc. (NASDAQ: EQIX) is the world's largest global data center REIT. The company currently operates 210 International Business Exchange™ (IBX®) data centers in 55 markets that spread across 26 countries and five continents.
Equinix is committed to connecting, protecting, and powering a more sustainable digital world and positively impacting its customers, partners, investors, and employees. A primary goal for the company is to achieve 100% clean and renewable energy usage across its global portfolio, which requires both internal initiatives as well as partnerships with customers, industry peers, and policymakers.
In order to address energy usage across its value chain, Equinix has established targeted procurement policies and data disclosure practices, while also working to help its customers understand their energy usage and climate impact. Since many of its customers also have renewable energy and climate goals or ESG disclosure requirements, Equinix developed customized templates, referred to as Green Power Reports or Attestation Statements, to help customers monitor their energy and carbon data. Combined with frequent customer engagement and willingness to share insight into its strategies, this approach by Equinix creates greater transparency and has been a key differentiator for the company—giving its sales team a powerful tool to use when communicating to current and prospective customers. Equinix believes the transparency drives ESG progress. The evidence is clear that customers and investors are looking to partner with responsible companies, as we continue to receive an increasing number of requests for information with sustainability requirements.
Equinix also collaborates with peers, industry groups, and local regulatory bodies to foster renewable energy investment beyond its own purchasing capabilities. Equinix holds a seat on the Board of Directors of the Renewable Energy Buyers Alliance (REBA) to help champion the renewable energy transition across industries. Through REBA, the company acts as an educator at their Renewable Energy Bootcamps to share lessons learned and educate future renewable energy buyers.
Federal Realty Investment Trust: Building a LEED-Certified Neighborhood Development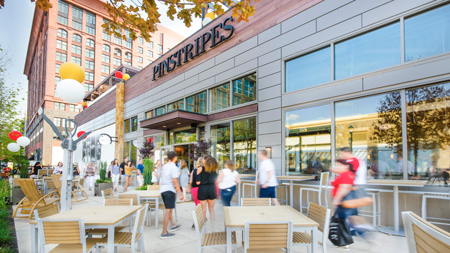 Federal Realty Investment Trust (NYSE: FRT) is a recognized leader in the ownership, operation, and redevelopment of high-quality, retail-based properties located primarily in the United States' major coastal markets. Federal Realty's 104 properties include over 24 million square feet, more than 3,000 tenants, as well as 2,700 residential units.
At Federal Realty, ESG is considered integral to the company's business model and values, and is incorporated into everything from its daily operations to green building-focused property development and redevelopment.
Federal Realty has recently achieved a major green building milestone for Pike & Rose, its 1.7 million square foot mixed-use redevelopment property in Bethesda, Maryland, which is the first REIT-owned LEED for Neighborhood Development Stage 3 Gold-certified project in the U.S.
Pike & Rose features a 350,000 kWh solar array, low water-use green landscaping with wide sidewalks and tree-lined streets, and the Mid-Atlantic's largest rooftop farm. There is also an abundance of alternative transportation options, including bike sharing and parking, EV charging stations, a metro station across the street, and several bus lines that stop at the property. The result has been a 250% year-over-year increase in foot traffic in just four years, driven in no small part by the community's perception that Pike & Rose is not just another project, but a neighborhood and destination in the community.
Federal Realty believes Pike & Rose—which enhances the local economy, provides access to food, entertainment, and living spaces, and is built in consideration of the environment—is an example of the future of real estate.
WashREIT: Showcasing Sustainable Practices in the Urban Ecosystem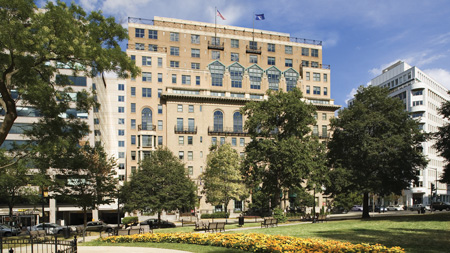 WashREIT (NYSE: WRE) owns and operates real estate assets in the greater Washington, D.C., market with a portfolio that includes 46 properties, more than 3.9 million square feet of commercial space, and more than 6,861 multifamily apartment units.
WashREIT works to transform environmentally and socially responsible strategies into sustainable actions that deliver value to its tenants and local communities. At the Army Navy Club Building, an iconic office building located near the White House, WashREIT worked with Love & Carrots, a local pioneer in urban organic gardening, to install a 700 square foot raised bed garden and a beehive on the roof. The bees pollinate the garden, and produce grown in the garden is featured on the menu of the Army Navy Club's restaurant.
With Compost Crew, a local company dedicated to "closing the food cycle," WashREIT takes over two tons of food and other organic waste for compositing and returns it to the Army Navy Club garden as organic soil.
Through local partnerships with sustainability organizations and regular private and public events that engage tenants and vendors, the Army Navy Club garden has become emblematic of WashREIT's dedication to sustainable development of the urban built environment, and has inspired other community gardening and composting efforts across the organization.
For these and other efforts, WashREIT was recognized as a leader in sustainability in Washington, D.C., being awarded the 2019 District Sustainability Award and designation as a Green Lease Leader, as well as the GRESB Green Star Rating four years running.
Simon Property Group, Inc.: Reducing Emissions Through Electric Vehicle Infrastructure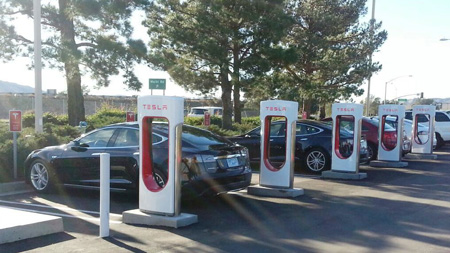 Simon Property Group, Inc. (NYSE: SPG) is a REIT engaged in the ownership of premier shopping, dining, entertainment, and mixed-use destinations, with a portfolio of 230+ iconic properties, comprising 181 million square feet in North America, Europe, and Asia, serving more than 2 billion shopper visits annually. Simon has been recognized as an ESG leader in retail real estate in the U.S., receiving the GRESB Green Star Rating six years in a row, and the CDP Leadership for Sustainability Performance Rating for the last five years.
Having set and achieved aggressive five-year goals for emissions, energy, water, and waste reduction, Simon recently announced that the company is setting its 2035 goals in alignment with the Science-Based Targets initiative, and is committed to achieving aggressive levels of decarbonization by 2035 in support of global goals to prevent continued climate change.
As part of its 2020 sustainability goals, Simon has installed electric vehicle charging stations (EVCs) at all relevant properties. By the end of 2019, Simon had installed over 740 EVCs at 115 U.S. properties, including Level 3 fast charging and Tesla stations.
The initiative has enhanced Simon's reputation as an innovative developer, operator and owner at the forefront of the transition to electric transportation, while providing an important amenity for customers and employees.
SITE Centers Corp.: Reimagining Land Use and Stakeholder Engagement Through Partnership and Technology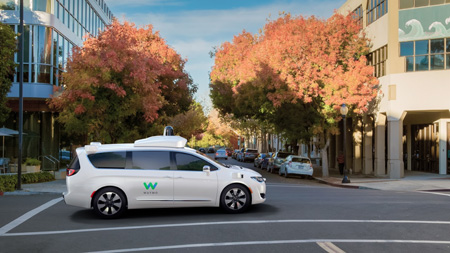 SITE Centers Corp. (NYSE: SITC) is a self-administered and self-managed REIT, in the business of acquiring, owning, developing, redeveloping, expanding, leasing, financing, and managing shopping centers. The company's current portfolio includes 69 wholly-owned and 101 joint venture shopping centers.
SITE Centers considers ESG as integral to business development, community partnerships, employee health and wellness, effective governance, and efficient property operations. Due to its ESG efforts, SITE Centers was included in the Bloomberg Gender-Equality Index, is recognized as a GRESB Green Star company, and is recognized by the Institute for Market Transformation and the U.S. Department of Energy's Better Buildings Alliance as a Silver Green Lease Leader.
In 2018, SITE Centers began a strategic partnership with Waymo, formerly Google's self-driving car project, with the goal of making it safer and easier for people to get to and move around its Ahwatukee Foothills Towne Center in Chandler, Arizona. Starting as a small pilot initiative, the program has already provided thousands of rides to Ahwatukee customers.
The Waymo rides have proven to be a popular and cost-effective option for many customers, as well as an excellent opportunity for SITE Centers to engage with tenants and customers in order to make effective business decisions based on crucial stakeholder input. At a moment when SITE Centers is exploring infilling portions of its properties with alternate uses, the Waymo program has provided crucial insights into how emerging technologies, such as self-driving cars, can help property owners and managers reimagine land use and, in this case, reduce unproductive parking areas, idling cars, and the associated Scope 3 GHG emissions from car traffic.
JBG SMITH : A Systematic Approach to Energy Audits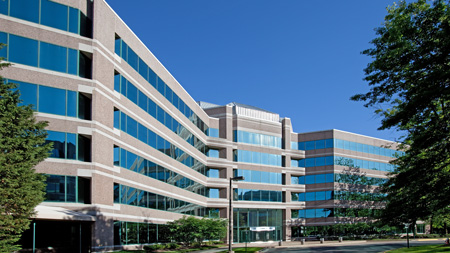 JBG SMITH (NYSE: JBGS) owns, operates, develops, and invests in a portfolio of mixed-use properties in and around Washington, D.C. The company's operating portfolio currently comprises 20.6 million square feet of office, multifamily, and retail assets.
As part of the company's broader ESG initiatives to foster growth, improve efficiency, and maximize value, JBG SMITH set a goal and developed a two-pronged approach to reduce its portfoliowide energy use intensity by 20% by 2024.
Critical to achieving this energy efficiency target, is the partnership with its Tenant Service Center (TSC). JBG SMITH works collaboratively with its TSC to monitor energy use in real-time, allowing the company to take timely action when energy fluctuations occur, which has resulted in both energy and cost savings. In 2019, the TSC identified 37 new controls-based opportunities for operational efficiencies and energy-use reduction. To gain further insight into its energy use, JBG SMITH established a blended ASHRAE Level 2 and 3 energy audit process. JBG SMITH worked with a team of energy engineers to prioritize auditable buildings based on parameters such as Energy Star scores and projected value to the business, with high priority buildings screened for commonalities and near-term capital expenditures. The outcomes of the first building audits identified 25 energy cost-saving measures that JBG SMITH assessed for value and impact using energy modeling. By implementing select energy-saving measures, engineers anticipate an annual energy savings of more than $145,000 with an initial investment of $750,000 representing a 19% yield on cost.
Through systematic efforts of engaging with their TSC and performing energy audits, JBG SMITH is able to identify and implement building-specific energy reduction measures across its portfolio and has created a roadmap to guide capital expenditures for long-term energy savings and cost reductions.
Brookfield Properties: Combining Technology and Engagement to Improve Energy Efficiency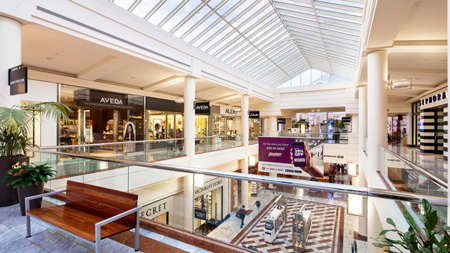 Brookfield Properties is a fully integrated, global real estate services company that provides industry-leading portfolio management and development capabilities. Within Brookfield's U.S. retail portfolio of more than 170 properties, the company has undertaken several initiatives to continually improve building efficiencies.
Brookfield's Stonestown Galleria property, a premier shopping destination in San Francisco, is a model for the company's ESG efforts. By considering the lifespan and impact of Stonestown Galleria on a longer time horizon, Brookfield has been able to identify and implement new technologies, goals, and processes to drive operational efficiencies.
Recent upgrades to the property include incorporating energy-efficient technology into HVAC equipment, collecting real-time analytics on energy, and vertical transport modernization.
A critical component to success of these energy efficiency upgrades is engagement with local operators through training and education, ensuring buy-in and smooth adoption of new technology and systems.
Since 2014, Brookfield's efforts at Stonestown Galleria have yielded a return in excess of 14% and led to the following achievements:
83% reduction in grid purchased electricity;
3,900+ solar panels installed, generating 1.5 million+ kWh annually;
1,800+ light fixtures upgraded to LED; and,
54% waste diversion from landfill with 30% organic and 25% mixed recycling.
As a result of the success at Stonestown Galleria, Brookfield has made its efficiency model standard operating procedure for all new developments and retrofits across its portfolio.
SL Green Realty Corp.: Achieving Waste Reduction Through Education and Engagement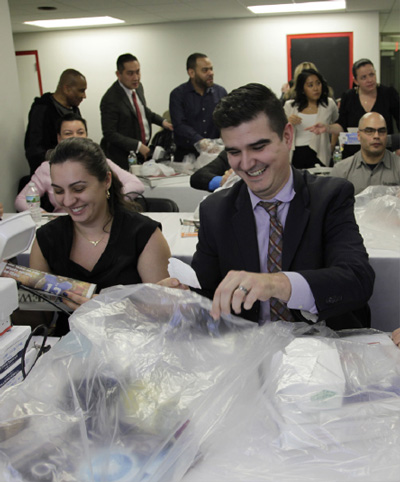 SL Green Realty Corp. (NYSE: SLG), an S&P 500 company and New York City's largest office landlord, holds interest in 97 buildings totaling 44 million square feet, including ownership interests in 26.5 million square feet of Manhattan buildings. SLG is committed to environmental, social, and governance initiatives that deliver value for stakeholders and contribute to building a more sustainable New York.
SLG is responsible for instituting a sustainable waste management program, tenant procedures, and janitorial operations across 21 million square feet of base building space. Education has been SLG's key strategy to improve recycling rates and drive behavior change for all building occupants.
Starting with tenant education, SLG's Sustainability Team offers annual recycling training to over 100,000 individuals who work across its portfolio. The team offers recycling walkthroughs where they help tenants identify ways to improve recycling rates and distribute educational material and sample signage to help reinforce best practices. To take it a step further, SL Green's waste stream is audited annually to identify sources of contamination and areas to improve recycling strategies. These results are then presented to property management teams and tenants to create customized corrective action plans.
Partnering with the local union, SEIU Local 32BJ, over 500 of SLG's janitorial staff are trained on proper waste collection procedures on an annual basis. These presentations are translated into a variety of languages to ensure the material is accessible for all employees. Additionally, a color coordinated waste system has been implemented portfoliowide to streamline procedures and minimize contamination.
SLG has set the goal of achieving a 50% recycling rate by 2025 and is committed to upholding its leadership by continuing to engage all stakeholders on recycling best practices.
Hersha Hospitality Trust: Aligning Business Priorities and Community Initiatives to Create Long-term Impact
Hersha Hospitality Trust (NYSE: HT) owns and operates 48 luxury and lifestyle hotels across bi-coastal markets in the United States.
Hersha embraces ESG as integral to maintaining and building a successful business, as demonstrated by its proprietary sustainability platform, EarthView®. Since its creation in 2010, EarthView has helped the company focus its ESG efforts on improving the well-being of its guests, associates, communities, and the planet, while also generating nearly $100 million in portfolio value through operational savings and revenue generation.

Following the creation of the UN SDGs, Hersha aligned its ESG initiatives to pertinent goals to ensure that EarthView creates lasting, global value for the company's stakeholders and its business. One of Hersha's ESG pillars is Environment, which includes initiatives around water usage that align efforts to UN SDG 6—Clean Water and Sanitation—and Hersha's own business competencies and capabilities. Hersha's water programs are designed to generate water efficiency and stewardship across the business and in global communities, including:
Laundry water reuse programs implemented at key properties across Hersha's portfolio, which have resulted in a 70% to 80% decrease in water consumption from laundry wash cycles;
A first-of-its-kind partnership with Clean the World, an organization that collects partially used hotel toiletries and sanitizes, repackages, and distributes them to communities in need; and,
A global clean water initiative, called EarthView Water, that donates $1 for every water bottle purchased toward clean water for communities. Since inception in 2014, EarthView Water has provided accessible clean water to 25,000 individuals in need.
2019 Case Studies
Boston Properties: Green Building Leaders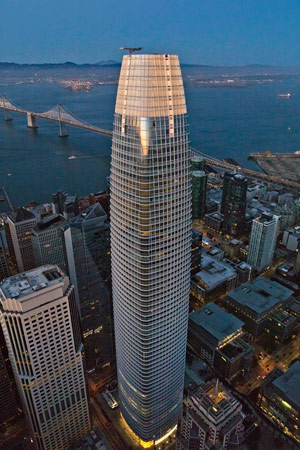 Boston Properties (NYSE: BXP) , the largest publicly traded developer, owner, and manager of Class A office properties in the U.S., has a long history of developing and operating properties that are certified under the U.S. Green Building Council LEED rating system. Since 2008, Boston Properties has certified over 21 million square feet of its current portfolio at the highest Gold and Platinum levels.
In 2018, the company achieved LEED Platinum certification of Salesforce Tower, the 1.4 million-square-foot, 61-story office tower that serves as the new headquarters of Salesforce in San Francisco. The project earned more points under the LEED Version 3 rating system than any other project in the San Francisco Bay Area and is the highest rated new skyscraper in the State of California.
Salesforce Tower features:
Energy efficient architectural and mechanical systems designed to reduce energy costs 30% below California's Title 24 Building Energy Efficiency Standards;
A state-of-the-art air distribution system with outdoor air intakes at each floor and low horsepower fans for ventilation and free cooling; and
The largest onsite blackwater treatment system in a commercial high-rise building in the U.S. The system is expected to save up to 30,000 gallons of fresh water a day and 7.8 million gallons a year.
 
Salesforce Tower has been described as a new benchmark for energy, water, and indoor environmental quality performance.

Alexandria Real Estate Equities: Green Building Leaders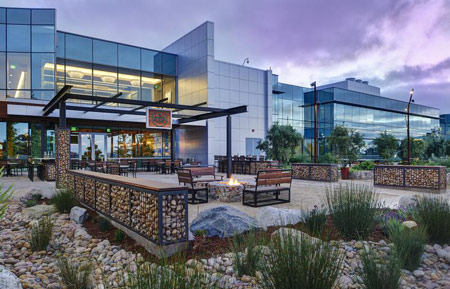 As of March 31, 2019, 51% of Alexandria Real Estate Equities, Inc.'s (NYSE: ARE) total annual rental revenue comes from LEED projects. Alexandria also targets LEED Gold or Platinum certification on all new, ground-up development projects.
To this end, Alexandria has implemented the following environmental leading practices in their operations, building designs, and property management:
Commitment to SMART energy, carbon, water, and waste reduction goals;
Partnerships with tenants and local community programs to develop innovative strategies to meet environmental targets;
Rigorous performance monitoring of air, water, and light qualities.
 
Alexandria's healthy building goal is to achieve healthy building certification of 50 properties by 2025.

Kilroy Realty: Carbon Neutral Operations Goals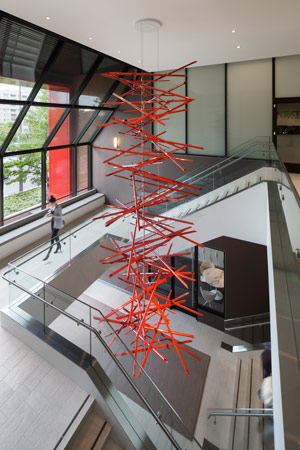 Kilroy Realty (NYSE: KRC) has made a commitment to address the impact of building-related carbon emissions.
At the 2018 Global Climate Action Summit, Kilroy set a goal to exceed its previous Science-Based Target initiatives for GHG reduction and pledged to establish carbon neutral operations by the end of 2020.
Kilroy has laid out a three-step strategy to achieve its goal of carbon neutral operations:
Maximize onsite energy reduction initiatives to continuously reduce overall energy consumption;
Capitalize on opportunities to install onsite solar and batteries;
Add capacity to the grid through renewable power purchase agreements.
Kilroy's ambitious Science-Based Targets demonstrate the opportunity for lasting impact within the real estate industry.

SL Green: Generating Impact Through Emission-Reducing Activities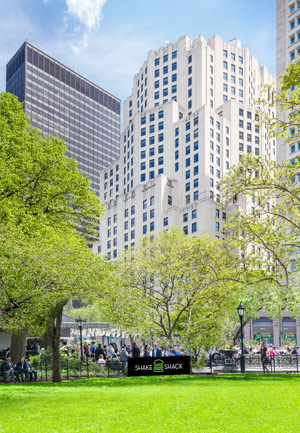 SL Green's (NYSE: SLG) sustainability strategy is aligned with the future resiliency of New York City, as the company invests in energy efficiency projects, deploys cutting-edge technology, and operates around the transportation hubs that are at the heart of the city's vitality.
As the largest owner of commercial real estate in New York, SL Green has committed to reducing GHG emissions intensity 30% portfolio-wide by 2025.
To meet this goal, SL Green has invested over $66 million in energy efficiency projects since 2010, including upgrades to HVAC, BMS, and lighting systems, and installing VFDs.
Generating Impact:
SL Green installed an ice plant at 11 Madison Avenue to reduce daytime electricity use and alleviate the strain on the electrical grid. The ice plant will reduce carbon emissions by 1.4 million pounds which is equal to removing 120 cars from the road each year or the planting of 186 acres of trees.
SL Green partnered with Viacom at 1515 Broadway in the mayor's Carbon Challenge and committed to a 30% reduction in GHG emissions by 2025. In conjunction with a central plant upgrade, BMS upgrade, and steam room insulation, a 26% energy reduction and 27 point increase in ENERGY STAR score were realized.
Equinix: Harnessing Renewable Energy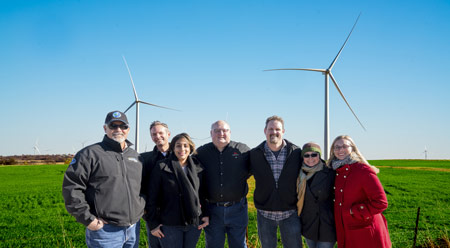 Equinix (NASDAQ: EQIX) is a global data center and interconnection provider with more than 200 data centers across five continents. As data centers are energy-intensive operations, Equinix strives to reduce its environmental footprint and help its customers operate more sustainably.
In 2018, Equinix covered approximately 90 percent of its electricity consumption with equivalent renewable energy purchases. Equinix's strategy for reaching 100 percent renewable energy coverage is based on five principles:
Utilize renewable and low-carbon energy sources;
Prioritize local sources of renewable energy across its diverse operating regions;
Prioritize new or recently built renewable energy sources;
Seek markets with favorable renewable energy policies when mapping new data center locations; and,
Advocate for utilities and suppliers to bring online more renewable generation in Equinix locations.
As a result of Equinix's global renewable energy purchases, customers at over 150 locations can reduce their carbon footprint through partnerships with Equinix.
Essex Property Trust: Leveraging Leading Practice Energy Systems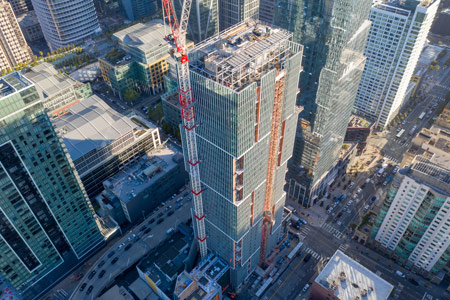 Essex (NYSE: ESS) has developed 25 GREEN or LEED-designated properties, representing almost 8,000 environmentally sustainable units over the past decade.
Essex's newest development, 500 Folsom, has targeted LEED Silver certification, and exemplifies how Essex leverages leading practice energy systems to improve efficiency, decrease environmental impact, and create cost savings for tenants.
500 Folsom uses solar thermal technology to passively preheat water for the property, which improves water heating equipment efficiency and significantly reduces the energy demand on the grid. This system also serves to decrease the costs associated with hot water for the property's tenants, thereby generating both environmental and economic benefits.
Built with over 10% local materials and over 80% recycled materials in the unit flooring, 500 Folsom also features low-flow fixtures, energy-efficient appliances, LED lights, electric-vehicle charging stations, and a graywater recycling system that has been designed to offset water usage in the building for toilet flushing and landscape irrigation.
500 Folsom is the latest example of Essex's commitment to creating sustainable buildings for its residents and the environment.
Simon is a global leader in shopping, dining, entertainment and mixed-use destinations. Sustainability is a business approach that enhances the communities in which the company operates, as well as long-term shareholder value, by embracing opportunities, improving the bottom line, and mitigating environmental and social risks.
To best achieve its environmental objectives, Simon's sustainability strategy includes bold goals for energy management, reduction and on-site generation. In 2018, the company achieved or surpassed all its initial energy targets, including improvement of both portfolio-wide energy efficiency and GHG efficiency by 5-10% by 2020.
Since 2003, Simon has achieved a 37% reduction in electricity consumption across the portfolio, which represents 363 million kilowatt hours. The company has also reduced portfolio-wide emissions by 45%, which equals 261,169 metric tons of CO2 and is inclusive of Scope 1 and Scope 2 emissions, as well as employee commuting and business travel Scope 3 emissions.
These results were achieved through targeted initiatives such as:
LED retrofit projects at over 178 properties across the U.S.;
Development and implementation of an energy benchmarking tool, used at enclosed centers across the portfolio;
Pilot of on-site solar and energy battery storage projects at select sites across the U.S.;
Ongoing energy audits and retro-commissioning across the portfolio; and
Participation in demand response systems to reduce peak loads and provide additional capacity to the grid during peak hours
Macerich: On the Path to Zero Waste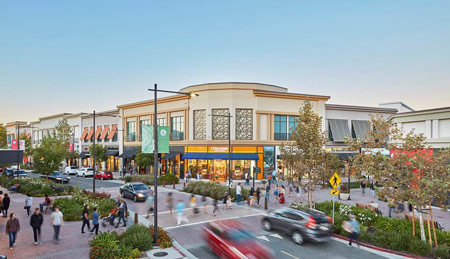 Macerich (NYSE: MAC), one of the largest owners, operators, and developers of major retail real estate in the United States, has set a goal to achieve zero waste at its facilities by 2030. As an initial target, Macerich aims to increase its waste diversion rate to over 70% by 2025 and to reduce overall waste generated by 50% from its 2015 baseline levels.
Macerich's innovative waste mitigation strategy is focused on reducing waste at the source. The company collaborates with tenants at each property to implement waste reduction initiatives, such as:
Participating in community waste programs and waste-to-energy programs;
Using biodigesters to divert waste from landfills;
Hosting e-waste community events; and
Leveraging existing programs in partnership with local organizations to support community job initiatives in waste management.
Between 2014 and 2018, Macerich recycled 93,408 tons of waste, including waste to energy, an annual average of 33% of all waste generated in its facilities.
In 2018, Macerich launched a pilot program with Glass King Recovery and Recycling at its five Arizona centers. Partnering with each property's restaurants – high producers of glass waste – the pilot program saw more than 782,017 pounds of bottles and glass waste being collected and kept out of Arizona landfills.
Digital Realty: Leveraging Water Conservation Efforts to Improve Energy Efficiency and Reduce Costs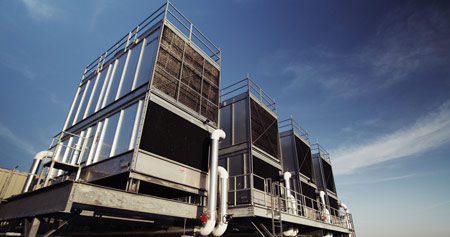 Digital Realty (NYSE: DLR) performed a cooling tower cleaning and disinfection (C&D) program at its data center on its Clifton, NJ campus in 2016, in coordination with Nalco Water. The C&D helped Digital Realty realize significant energy, water, and cost savings as part of a comprehensive water treatment and waterborne pathogen risk management program.
Following a thorough cleaning of heat transfer surfaces, condenser water temperatures were reduced by 6°F – from a pre-cleaning temperature of 84°F to a post-cleaning temperature of 78°F. This improvement was expected to deliver $100,000 in energy savings in the first year.
This reduction resulted in the realization of a 10% energy efficiency improvement and an energy cost reduction of $100,000 per year in chiller operations.
Additionally, as a result of the C&D program, the distribution deck of one of the cooling towers was cleared and flow was restored, reducing water wasted due to overflow conditions. This fixed the overflow condition and reduced excess water consumption by approximately 1 million gallons of water over a period of four-and-a-half months.
Simon Property Group:, Inc. Surpassing Energy Targets and Improving Efficiency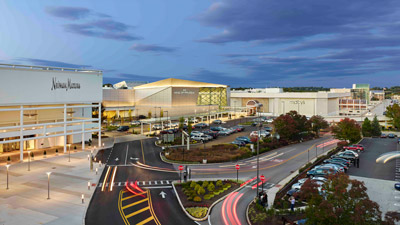 Simon (NYSE: SPG) is a global leader in shopping, dining, entertainment and mixed-use destinations. Sustainability is a business approach that enhances the communities in which the company operates, as well as long-term shareholder value, by embracing opportunities, improving the bottom line, and mitigating environmental and social risks.
To best achieve its environmental objectives, Simon's sustainability strategy includes bold goals for energy management, reduction and on-site generation. In 2018, the company achieved or surpassed all its initial energy targets, including improvement of both portfolio-wide energy efficiency and GHG efficiency by 5-10% by 2020.
Since 2003, Simon has achieved a 37% reduction in electricity consumption across the portfolio, which represents 363 million kilowatt hours. The company has also reduced portfolio-wide emissions by 45%, which equals 261,169 metric tons of CO2 and is inclusive of Scope 1 and Scope 2 emissions, as well as employee commuting and business travel Scope 3 emissions.
These results were achieved through targeted initiatives such as:
LED retrofit projects at over 178 properties across the U.S.;
Development and implementation of an energy benchmarking tool, used at enclosed centers across the portfolio;
Pilot of on-site solar and energy battery storage projects at select sites across the U.S.;
Ongoing energy audits and retro-commissioning across the portfolio; and
Participation in demand response systems to reduce peak loads and provide additional capacity to the grid during peak hours