There are several ways to gauge valuations and returns in the REIT sector. One can examine price trends in the underlying real estate, using any of the several commercial property price indices that are available. Additionally, one can look at REITs' total return, which consists of both price appreciation and dividends. Both approaches are helpful in gauging current REIT valuations and likely returns in the future.
Green Street produces a set of commercial property price indices based on cap rates and expected future net operating income (NOI), adjusted for capital expenditures. Green Street recently expanded their set of price indices from the core property sectors including apartments, office, retail and industrial, to include a full set of sectors in the REIT universe, including, for example, data centers, health care and self storage. (See Non-Core Sectors Come of Age, CPPI Expanded for Green Street's description of the new indices, and Commercial Property Price Index for the latest report.)
CoStar and Real Capital Analytics publish repeat-transaction indices that compare price gains across properties that have been sold two or more times.[1] Neither CoStar nor Real Capital Analytics publishes information on property prices for the full range of REIT sectors, however, so the new indices introduced by Green Street allow us for the first time to compare property price performance to total returns for property types outside of the traditional core REIT sectors.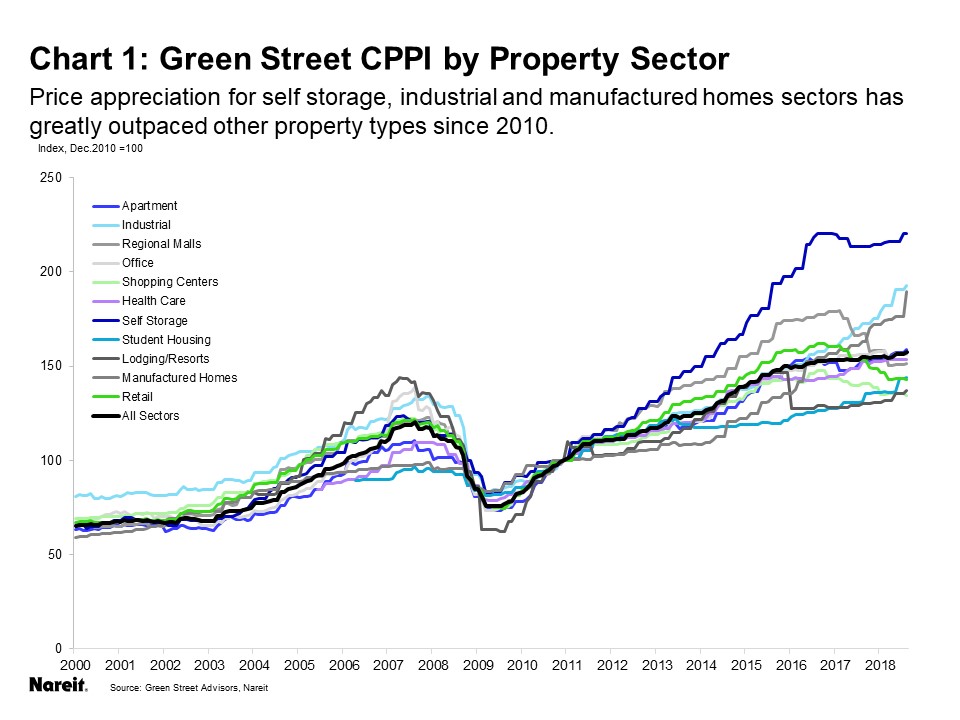 Self storage had the greatest price appreciation among the Green Street property sectors from 2010 through August 2018, rising 120.6 percent, while the industrial and manufactured homes sectors also posted solid gains, increasing 92.5 and 89.5 percent, respectively. The composite price index of all property sectors rose 57.3 percent over the same time period. Retail and its subsectors landed towards the bottom of the totem pole, increasing only 43.1 percent over the past eight years. This is consistent with the news headlines in these sectors, as price increases for self storage, manufactured homes, and industrial sectors have been supported by underlying demand driven by low homeownership rates and increases in e-commerce. The retail property sector, on the other hand, has experienced heightened store closures and consolidation.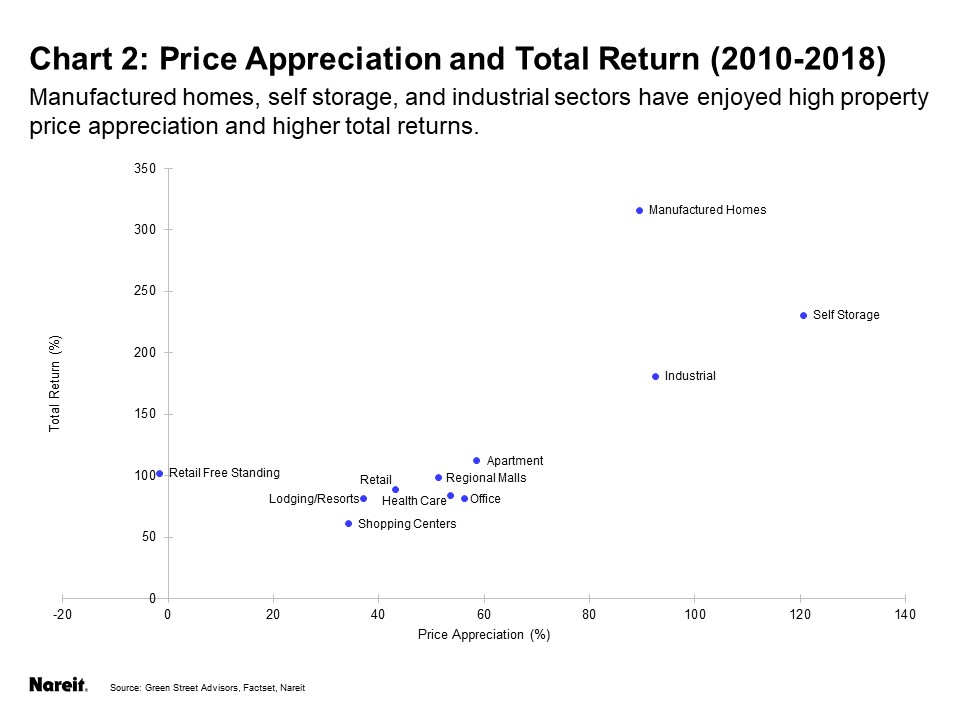 Total returns of these property sectors, as measured by the FTSE-Nareit index, are positively associated with the property price indices. Manufactured homes, self storage, and industrial both stand out with higher returns and price gains. Shopping centers, however, show significantly lower returns over the same period.
The strong relationship we observe between prices and total return comes with an important caveat, though, since the Green Street index is not based on actual transaction prices.[2] The relationship shows that historical and projected NOI growth tracks reasonably well with total return. It is possible that growth of actual transactions prices may diverge from the growth of NOI, which would suggest a relationship between property prices and total return that is weaker than what we observe in chart 2. It is reasonable to assume, however, that any such tracking errors between the Green Street index and the actual prices are relatively small compared to the significant increases in prices since 2010. This suggests that the new price indices for 15 REIT property sectors are a welcome addition to the tool box for evaluating the modern REIT sector.
---
[1] The repeat-transaction methodology allows a comparison of the appreciation of same-property prices over time. This avoids measurement problems that might arise when the mix of buildings sold changes, for example, if one year has a greater number of transactions in high-price cities like New York or Los Angeles.
[2] The Green Street's CPPI is estimated using cap rates and projected net operating income (NOI) growth, adjusted for capital expenditures, not actual sale prices. The repeat-transaction indices, in contrast, are based on actual prices for tens of thousands of commercial real estate transactions each year. If the Green Street estimates of cap rates or expected future NOI growth differ from those reflected in actual sales prices, there will be tracking error for the price index.
Get Nareit Market Commentary blog posts delivered straight to your inbox.
Subscribe