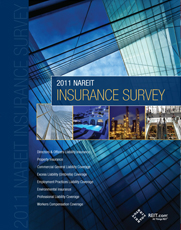 The 2011 NAREIT Insurance Survey provides valuable information to NAREIT members about the insurance marketplace, as well as useful data regarding the insurance purchasing practices of the REIT industry.
Sixty-seven NAREIT Corporate members participated in the 2011 NAREIT Insurance Survey, representing 52 percent of the entire REIT industry by market capitalization. Members provided information about the types of insurance they carry, as well as specific details regarding deductibles, limits and premiums of various policies.
Corporate Members that participated in the Survey can purchase additional copies for only $500 per copy.
To place an order, please visit the purchase page.  For questions, please contact Meredith Bastone at mbastone@advisen.com or (212) 897-4787.

Please note that this is a NON-REFUNDABLE purchase.