Content

Message from the President

This week, Congress is expected to take a significant step toward housing finance reform as legislation introduced in the Senate in March by Senate Banking Committee Chairman Tim Johnson (D-SD) and Ranking Member Mike Crapo (R-ID) is considered by the Committee. The Johnson-Crapo plan and other significant housing finance reform bills introduced in this Congress have one thing in common; they would wind down and ultimately eliminate Fannie Mae and Freddie Mac.

Today, Fannie and Freddie still own or guarantee more than half of the nearly $10 trillion U.S. home mortgage market, despite the fact that both organizations failed and were placed under federal conservatorship in 2008 during the Great Financial Crisis. Without the GSEs, various private market-oriented approaches will be required to provide capital and liquidity to the housing mortgage marketplace.

REIT-based real estate investment has an important stake in whatever future arrangements are adopted for our nation's housing finance marketplace. The worlds of Apartment REITs, Single-Family REITs, Senior Housing REITs and Residential Mortgage REITs will all be touched by whatever new paradigm and template for housing finance Congress chooses for the U.S.

NAREIT is closely monitoring the status of proposed legislation now before the Committee, as well as the broader discussion of housing finance reform on Capitol Hill. Working with other organizations involved in this critical issue, we will represent our industry's views to the policymakers who will ultimately shape the structure of the new housing finance marketplace.








Steven A. Wechsler
President and CEO
Real Estate Luminaries Series: Sternlicht Optimistic About Single-Family Housing REITs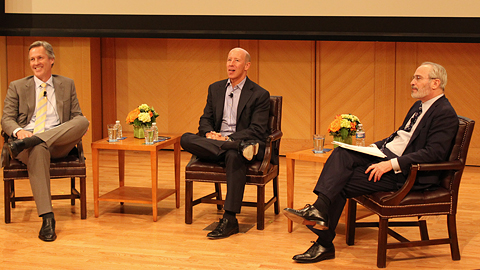 April 23: Green Street Advisors' Mike Kirby (far left) and Steve Wechsler of NAREIT (far right) interview Starwood Capital Group's Barry Sternlicht (center) at a Real Estate Luminaries Series event.

As the headline speaker at last week's Real Estate Luminaries Series event at Georgetown University, Starwood Capital Group Chairman and CEO Barry Sternlicht expressed confidence that the single-family rental housing sector has the potential to become a major REIT asset class.

Mike Kirby, chairman and director of research with Green Street Advisors, and Steve Wechsler, NAREIT's president and CEO, interviewed Sternlicht at the event, which is co-sponsored by NAREIT. Sternlicht, who also serves as the chairman of single-family home REIT Starwood Waypoint Residential Trust (NYSE: SWAY), acknowledged that investors still appear skeptical about the sector's prospects.

"We think it's a real business, but the jury's out," said Sternlicht, adding that he expects the housing market to see four to five years of "good growth" going forward.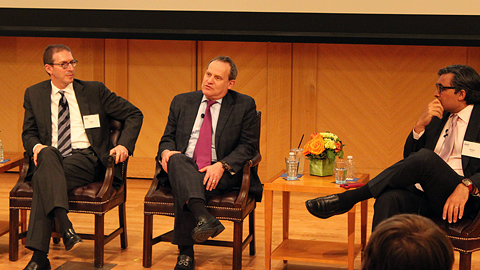 April 23: Carlyle's Adam Metz (left), Cerberus Capital's Ron Kravit (center) and Sonny Kalsi of GreenOak (far right) discuss international real estate investment at a Real Estate Luminaries Series event.

Turning to the broader global economy, Sternlicht offered a cautious view: "I don't see robust growth anywhere." That was echoed by another panel of investors at the Georgetown event.

Adam Metz, head of international real estate for global alternative asset management firm Carlyle, said the most challenging aspect of investing in U.S. real estate today is deciphering how far the real estate cycle has progressed. Ron Kravit, head of real estate investing with Cerberus Capital, remarked that U.S. real estate "is priced to almost perfection," and in many cases, prices are beyond peak levels seen in 2007.

Opportunities still exist in Europe, "but that window is closing," Kravit added.

Metz agreed that "great value" is hard to find in the U.S., while Europe is a "hot spot." Sonny Kalsi, the founder of real estate investment and advisory firm GreenOak said his concern regarding Europe is based on his assessment that the region is "equally or more competitive than the U.S."

(Contact: Ron Kuykendall at rkuykendall@nareit.com)
REIT.com Videos: Real Estate Luminaries Series
REIT.com was on hand at the Real Estate Luminaries Series event at Georgetown University on April 23 to speak with some of the participants.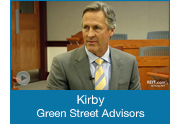 Mike Kirby, chairman and director of research at Green Street Advisors, addressed the trend towards REITs spinning off parts of their businesses.

"We're generally fans of the spinoffs," Kirby commented. "In many cases, the assets that are being spun off are assets that could use some loving attention. With the new management teams that are being hired to run these spinoffs, you'll see that."

Kirby was asked what his career in real estate has taught him about the REIT business model.

"As an industry, we are way too focused on growth," Kirby observed. "The best thing a REIT can do is offer 'real estate returns plus.' That doesn't necessarily entail developing. It doesn't necessarily entail getting huge through acquisitions. You can do that by merely listening to the capital allocation signals that the public market sends you."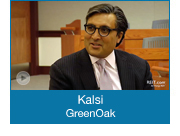 Sonny Kalsi, founder and partner of real estate investing and advisory firm GreenOak, said his firm has proceeded "very slowly" in its investments in Europe. Kalsi said buying opportunities in Europe are improving, but there are still challenges to be faced.

"It's a little bit like the U.S. was in 2009. I think we thought there was going to be a tidal wave of assets [going up for sale], and it just hasn't happened yet," Kalsi said.

Kalsi also stressed the importance to GreenOak of operating with local partners in international markets.

"Having that local partner is really key," he said. "I'm a big believer that real estate is a local business."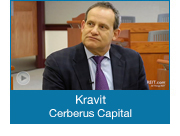 Ron Kravit, head of real estate investing with Cerberus Capital, discussed the availability of opportunistic real estate deals in the United States and the European market.

"It's really hard in the U.S.," he said. "We're still finding opportunistic situations in Europe."

Kravit described the level of interest he is seeing from non-U.S. investors in investing in U.S. real estate. He said international investors have shown a significant appetite for U.S. assets.

"There's just a massive amount of capital flowing into the U.S. from all over the world -- for safety, for yield and [for] just hard assets," he said.

(Contact: Matt Bechard at mbechard@nareit.com)
Marsh & McClennan Study Finds TRIA Vital to Market for Terrorism Risk Insurance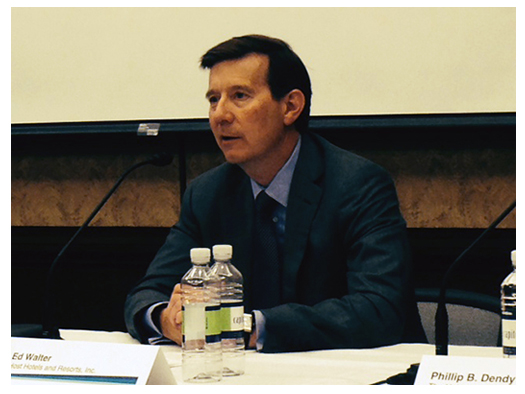 April 22: Ed Walter (pictured), president and CEO of Host Hotels & Resorts Inc. (NYSE: HST), spoke last week at a roundtable discussion on the Terrorism Risk Insurance Act (TRIA) that coincided with the release of a report from insurance brokerage firm Marsh & McLennan Companies, Inc. The Marsh & McLennan study concluded that TRIA has been responsible for the development and continuation of a reliable private market for terrorism risk insurance, which should serve as an "impetus for quick congressional action" to extend TRIA. The Coalition to Insure Against Terrorism, which includes NAREIT, called the report "a strong argument for [TRIA's] extension." TRIA is currently set to expire at the end of 2014.

(Contact: Robert Dibblee at rdibblee@nareit.com)
NAREIT Attends Conference on Single-Family Rental Business

Calvin Schnure, NAREIT vice president for research and industry information, last week attended a conference sponsored by the Mortgage Bankers Association on the institutionally owned single-family rental business. The program included presentations by executives from several REITs that are active in the sector, as well as investors and brokers.

In contrast to the debate in recent years, the discussion at the event was no longer focused on the viability of the single-family rental business, but rather on how the business and its financing will evolve as it continues to grow and mature. With home ownership rates likely to continue trending downward and many households still rebuilding their financial positions, rentals are expected to be an important part of housing for the foreseeable future. REITs figure prominently as a source of capital and professional management for this growing business segment.

(Contact: Calvin Schnure at cschnure@nareit.com)
REIT.com Videos: REITWise 2014 Insights
REIT.com was onsite at REITWise 2014 in Boca Raton, Fla., to speak with attendees about some of the latest developments in the real estate industry. Below are some of the highlights from those interviews.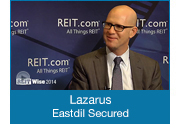 David Lazarus, senior managing director with Eastdil Secured, was asked about the lessons learned from the recent wave of liquidity events held by public, non-listed REITs (PNLRs).

"What we've seen as we've participated with these companies in generating liquidity for shareholders is that [the liquidity event] seems to have become the seminal event for shareholders to be able to evaluate the performance of these REITs over time," he said. "There are some of these [PNLRs] that have been in existence for more than a decade. On the other hand, there are some that have been existence for 18 months, two years, three years and created liquidity. Because of the nature of the business, you understand you're getting a dividend, and you know that you're getting it as some point marked to [net asset value]. But the realization of your investment is really that liquidity event."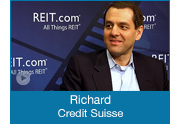 Andy Richard, managing director of the Real Estate Group at Credit Suisse, was asked about the state of REIT capital markets and the prospects they face going forward.

"On the equity side, stocks are trading at very healthy levels. It's a very seasoned asset class with a broad range of investors who are interested," Richard said.

On the debt side, he added, "I have never seen the debt markets healthier than they are now."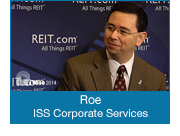 John Roe, head of advisory for Institutional Shareholder Services Corporate Services, was asked about the steps he would recommend a REIT take in order to win "say-on-pay" approval for executive compensation. The first step, according to Roe, is to create a "compelling" compensation program right from the start. He recommended that a large portion of an executive's pay package be performance-contingent. It should also be set up to create long-term alignment between the executive and the shareholders, he added.

"We see companies making mistakes in this area time and time again over things like guaranteed multi-year bonuses, or excessive perquisites, or benchmarking practices that are simply out of line with market norms," Roe said.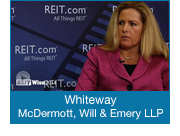 Andrea Whiteway, partner with the law firm McDermott, Will & Emery LLP, discussed the potential impact of proposed partnership debt regulations on UPREIT transactions.

"Basically, what these new regs provide are that with respect to any payment obligation that a partner enters into, they have to meet six recognition requirements," she said. "These requirements tie to what the IRS views as commercial loan arrangements and commercial payment obligations. From the IRS's perspective in drafting these regs, they're saying… if you are going to be entering into a guarantee, you should be getting arm's length consideration. I don't believe that is necessarily what most of the commercial markets require, but in the IRS's perspective, that's what they're requiring."

(Contact: Matt Bechard at mbechard@nareit.com)
REITWise 2014 Webcasting Videos & Sourcebook Now Available
Couldn't attend REITWise but want access to all the valuable information shared with attendees during the three-day conference?

You can now purchase access to REITWise webcast sessions and/or the conference materials and presentations provided in the REITWise Sourcebook.

The REITWise Sourcebook contains more than 5,000 pages of presentation material, primary sources such as IRS rulings or FASB Exposure Drafts, outlines of issues and practices as well as data presented at REITWise.

NAREIT also makes 13 general session webcast videos available to purchase for those that could not make the event. Sessions include:
 
State of the Capital Markets


Panoply of Issues Facing General Counsels


REIT Tax Potpourri


Financial Standards Current Topics


SEC Legal Issues


REITs Investing Outside of the United States


Discussion of the Current and Future Real Estate Markets


Impact of FASB/IASB Leases Proposal in the Real World


Issues Popping up on a Tax Director's Radar Screen


SEC Financial Reporting Issues


Winning the Say on Pay Vote
Together, both resources provide you with an immense collection of the most valuable information and reference material made available to REITWise attendees.
When you enter either site, you will be required to enter your REIT.com user ID and password to access the Sourcebook material and webcasting sessions.
Click Here to order the REITWise Session Webcasts and/or the REITWise Sourcebook
. Buy Both and Save!
(Contact:
Jeff Henriksen
at jhenriksen@nareit.com)
NAREIT Welcomes New Corporate Members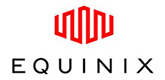 NAREIT is pleased to welcome three new Corporate Members. Equinix, Inc. (NASDAQ: EQIX) is a publicly traded real estate operating company that connects more than 4,500 companies directly to their customers and partners inside data centers across the Americas, EMEA and Asia-Pacific regions. Based in Redwood City, Calif., Steve Smith is the company's CEO and president.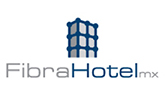 Fibra Hotelera, SC is publicly traded on the Bolsa Mexicana de Valores (FIHO12). The company is an externally advised, equity FIBRA (Mexican REIT) that acquires, develops and operates business-class hotels in the limited-service, select-service, full-service and extended-stay segments throughout Mexico. Simon Galante is CEO of the Mexico City-based company.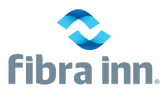 Fibra Inn is publicly traded on the Bolsa Mexicana de Valores (FINN). Fibra Inn is an externally advised, equity FIBRA that acquires, owns, develops and operates a broad range of hotel properties in Mexico.

Based in Monterrey, Mexico, Victor Zorrilla is the company's president and CEO.



Macquarie Mexican REIT is publicly traded on the Bolsa Mexicana de Valores (FIBRAMQ). The company is an externally advised, equity FIBRA that targets industrial, retail and office real estate opportunities in 24 cities in Mexico, with a primary focus on stabilized income-producing properties. Based in Mexico City, the company's CEO is Jaime Lara.

(Contact: Bonnie Gottlieb at bgottlieb@nareit.com)
REITs in the Community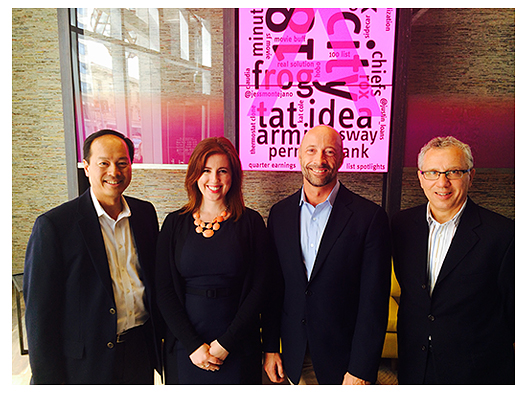 April 24: House Democratic Leader Nancy Pelosi's (D-CA) San Francisco Chief of Staff, Dan Bernal (center-right), and Field Representative, Sinçad Doherty (center-left) visited AvalonBay Communities Inc.'s (NYSE: AVB) recently opened AVA 55 Ninth. AvalonBay Executive Vice President - Development & Construction Steve Wilson (right) and Senior Vice President - Development Nathan Hong (left) described the scope of AvalonBay's investment in the Mid Market district. Wilson and Hong explained how this particular project is an example of how the REIT approach to real estate investment enables AvalonBay to make significant strategic investments in communities, create jobs and enhance shareholder value, even during the bottom of the real estate cycle.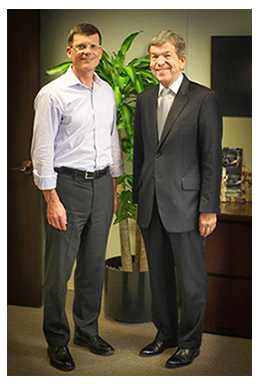 April 24: Sen. Roy Blunt (R-MO), right, visited Equity Residential (NYSE: EQR) at the company's offices in Chicago.

EQR President and CEO and NAREIT First Vice Chair David Neithercut, left, hosted Blunt during the visit.

Blunt received an update on EQR's properties around the country and the company's recent activities and future development plans.

In addition, Blunt was briefed on several legislative issues of concern to the REIT industry, including housing finance reform, extension of the Terrorism Risk Insurance Act (TRIA) and tax reform.

Blunt serves as vice chairman of the Senate Republican Conference. He sits on the Senate Committee on Appropriations; the Committee on Commerce, Science and Transportation; the Committee on Armed Services; and the Committee on Rules and Administration.



(Contact: Jessica Davis at jdavis@nareit.com)