Content

Message from the President

Here's the best advice I can give the REIT community today: Tune out the noise and listen to the facts.

Last week, a Wall Street Journal article noted that a House Ways and Means Committee spokesperson effectively said "everything is on the table" when it comes to the tax reform review underway by the committee.

Not surprisingly, when the committee says "everything," it means "everything" in the tax code. Wouldn't it be odd for the committee to review the entire tax code but not anything in it to do with REITs?

To be sure, this is not breaking news. Ways and Means Committee Chair Dave Camp (R-MI) has been saying this for months to the media, to large groups, to small gatherings, to people meeting with him one-on-one. I've had the pleasure of hearing him say it in each of these settings. In fact, NAREIT's officers heard it as well when we met with Camp as well as other congressional leaders during our Washington Leadership Forum in February.

More than 50 years ago, Congress created REITs to ensure that all Americans, not just the wealthy, would have the opportunity to benefit from diversified real estate investment, collectively undertaken in large scale with the assistance of expert management. Ever since, NAREIT has worked to preserve, perfect and promote the REIT approach to real estate investment.

There can be no doubt that the U.S. REIT industry today is the successful realization of the vision Congress had more than five decades ago. That's why REIT regimes have spread around the world to 30 different nations. And that's why REITs have strong, bipartisan support in Congress. For years, policymakers have embraced the vision, furthered the underlying policy and supported the REIT approach to real estate investment.

There's no reason now to believe that is about to change.

Last Wednesday I addressed recent news developments concerning REITs, including the Journal article, in a conference call for NAREIT members. A transcript of it may be found here.

Finally, as you read, write and talk about the news from Washington about REITs, keep in mind a quote from earlier this month at the NYU REIT Conference, one you didn't find in last week's Wall Street Journal article: "REITs are great for America!" Most policymakers agree, and I imagine you do, too.







Steven A. Wechsler
President and CEO
 
NAREIT Comments to Ways and Means on Tax Reform Proposal for Financial Products

As the House Ways and Means Committee continues its study of fundamental reform of the tax code, NAREIT last week submitted comments on the tax-writing committee's discussion draft proposal regarding financial products.

In a letter to Ways and Means Committee Chairman Dave Camp (R-MI) and Ranking Member Sander Levin (D-MI), Tony Edwards, NAREIT executive vice president and general counsel, described the proposal as "too broad" and said it would apply mark-to-market accounting to many common commercial transactions. Among a number of recommendations, Edwards said the draft should clarify that "traditional investments, such as stock in mutual funds, exchange traded funds, and stock of corporations owning real estate such as REITs, would not be subject to mark-to-market accounting."

The Ways and Means Committee's tax reform working group on financial services also met last week for a roundtable discusion. NAREIT was represented at the meeting by Mark Van Deusen, partner with the law firm of Hunton & Williams LLP. In his comments to the group, Van Deusen echoed the same sentiments expressed by Edwards in his letter to the entire committee.

(Contact: Tony Edwards at tedwards@nareit.com)
REIT.com Video: Keven Lindemann, SNL Real Estate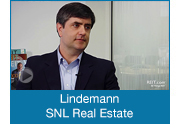 Keven Lindemann, director with SNL Real Estate, joined REIT.com for a video interview to discuss REITs' performance in the first quarter of 2013.

Lindemann noted that REITs' net asset values (NAVs) indicate that the stocks are trading at a premium of about 14 percent, which, historically, has been on the high side for the industry. REITs' stock prices relative to funds from operations (FFO) are also high, according to Lindemann.

"I think there is some reason for concern, but earnings growth continues to be reasonably strong, and the companies tend to keep clean balance sheets. If the economy continues to recover, I think the outlook is still very positive," he said.

(Contact: Matt Bechard at mbechard@nareit.com)
Marketplace Fairness Act on Verge of Senate Approval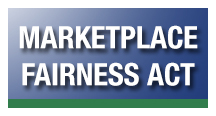 The Senate voted last week to bring debate to a close on the Marketplace Fairness Act (S. 743), a NAREIT-backed bill that would authorize the collection of state sales taxes for remote purchases.

The Senate voted to invoke cloture, which limits remaining debate on the bill, by a vote of 63-30.

The Senate will not complete action on the bill until May 6 following a one-week recess.

(Contact: Dara Bernstein at dbernstein@nareit.com)
REIT.com Videos: REITWise 2013
REIT.com was on hand at REITWise 2013: NAREIT's Law, Accounting and Finance Conference in La Quinta, Calif., to talk with some of the attendees about some of the most pressing issues facing the industry.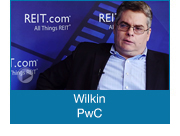 Thomas Wilkin, partner with PwC, discussed the issues and views surrounding the convergence of global accounting standards, as well as the impact of other financial proposals on REITs.

"I think at this point there's a fair amount of dissatisfaction and just tiredness of dealing with the whole convergence project in general. It's been going on many years longer than it was supposed to, and there doesn't seem to be any light at the end of the tunnel," he said.

He also spoke about how the Financial Accounting Standards Board's (FASB) new revenue recognition proposal will impact companies. Wilkin indicated that some companies are questioning the need for change at all.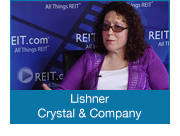 Melisa Lishner, director with Crystal and Company, discussed trends in D&O insurance litigation.

"Even though federal class actions have slowed down, we anticipate that it is not going to continue," she said. "With the economy slowly strengthening, you end up with more transactions, which require more documentation, which require either shareholder approval or more scrutiny over those documents. Whenever you have a transaction, you are going to get noticed, and with mergers and acquisitions, you have a 95-percent-chance of getting a claim once the transaction is announced."

(Contact: Matt Bechard at mbechard@nareit.com)
NAREIT Speaks to The Advisor Group in New York

Last week, Abby McCarthy, NAREIT's vice president for investment affairs and investor education, and Brad Case, NAREIT's senior vice president for research and industry information, spoke to a group of financial advisors at The Advisor Group in New York. Their presentation, "Equity Real Estate Investment Through the Public Markets," provided information on U.S. REIT market stock cycles and market dynamics, the long-term investment attributes of REITs and the importance of meaningful REIT allocations in diversified portfolios.

The Advisor Group is the largest network of independent broker-dealers in the United States. It's comprised of four independent broker-dealer firms, including FSC Securities Corporation, Royal Alliance Associates, SagePoint Financial and Woodbury Financial Services. Collectively, those firms employ more than 6,000 financial advisors.

(Contact: Abby McCarthy at amcCarthy@nareit.com)
NAREIT Welcomes Seven New Members
NAREIT is pleased to welcome seven new Corporate Members. Included in this total are five new public, non-listed REITs to the existing group of four American Realty Capital REITs already included among NAREIT's membership. The five new REITs are: ARC Realty Finance Trust, Inc., a commercial mortgage REIT whose president is Peter Budko; American Realty Capital Trust IV, Inc., an equity REIT focused on free-standing retail properties; American Realty Capital Daily Net Asset Value Trust, Inc., an equity REIT focused on free-standing retail properties; American Realty Capital-Retail Centers of America, Inc., an equity REIT focused on retail properties; and American Realty Capital Global Trust, Inc., an equity REIT focused on free-standing retail properties. All of these companies are based in New York City with Nicholas Schorsch as their chairman and CEO. Edward M. Weil is the president and COO of the four equity REITs.




Broadtree Homes, Inc. is a new private equity REIT established to acquire and lease single-family homes. Broadtree is externally managed by Broadstone Real Estate LLC, the same entity that manages its sister REIT, NAREIT member Broadstone Net Lease, Inc. Based in Rochester, N.Y., Broadtree's chairman, president and CEO is Amy Tait, a current NAREIT board member.



CyrusOne (NASDAQ: CONE) is a public, internally managed equity REIT that specializes in data center properties for more than 500 customers, including nine of the Fortune 20 companies. Based in Carrollton, Texas, CyrusOne's chairman is Jack Cassidy and its president and CEO is Gary Wojtaszek.

(Contact: Bonnie Gottlieb at bgottlieb@nareit.com)
Conference to Highlight Latest in REIT Research


NAREIT is co-hosting a complimentary, one-day REIT Research Conference to discuss results of leading REIT research papers submitted to American Real Estate and Urban Economic Association, publisher of Real Estate Economics, the premier academic journal for real estate investment related topics. This event takes place on June 4 at the Hilton Chicago, one day before REITWeek 2013 begins.

Important real estate investment related topics to be discussed include:
Can Securitization Work? Lessons from the U.S. REIT Market.


Returns, Volatility, and Information Transmission Dynamics in Public and Private Real Estate Markets.


REIT and Commercial Real Estate Returns: A Post Mortem of the Financial Crisis.


Macroeconomic Risk Factors in the Returns from International Real Estate Securities


Sources of Risk Spillovers among U.S. REITs: Asset Similarities and Regional Proximity


This event is complimentary and open to anyone interested in the latest research related to REITs and real estate.
Ventas Inc.
(NYSE: VTR) Chairman and CEO Debra Cafaro and Green Street Advisors Chairman and Director of Research Mike Kirby are program directors for the event. To attend the REIT Research Conference,
a separate registration form
from REITWeek must be completed.
(Contact:
Megan Peichel
at mpeichel@nareit.com)