Content

Message from the President

For many years, NAREIT has worked with a number of associations to bring equity to the collection of onsite and online state sales and use taxes. Traditional storefront retailers consistently collect taxes on customer sales; yet, online retailers typically don't do so if they don't have a presence in the customer's state, even if the customer's state has a use tax in place. Because of the potential "burden" the collection responsibility might place on interstate commerce, the U.S. Supreme Court ruled years ago that only an Act of the U.S. Congress could authorize states to require remote and online retailers to collect these taxes. This is inherently unfair and inappropriate in today's world in which the availability and power of computers and the Internet itself make collection of these taxes a minimal burden.

Over the last year or so, this long-time initiative, referred to by many as Marketplace Equity, has gained traction and taken on new urgency. There are many reasons for this development, but one important reason is the push undertaken by the International Council of Shopping Centers. NAREIT very much supports the leadership of ICSC in this initiative and is pleased to work with the group as its partner.

One reason NAREIT is able to work so well with groups like ICSC is that we often share members. With the leadership of industry CEOs like Kimco Realty Corp. (NYSE: KIM) CEO Dave Henry, who currently serves as ICSC Chair and is on NAREIT's Board of Governors, we can craft a focused message and effectively harness resources to achieve results.

In Washington, legislative progress is often slow. However, positive results are possible when the message is clear and the resources are in place to convey it. That is one reason why cooperation and coordination with other like-minded organizations, such as ICSC, always has been, and always will be, central to many of our successes.








Steven A. Wechsler
President and CEO

 
Full Agenda for April PNLR Council Meeting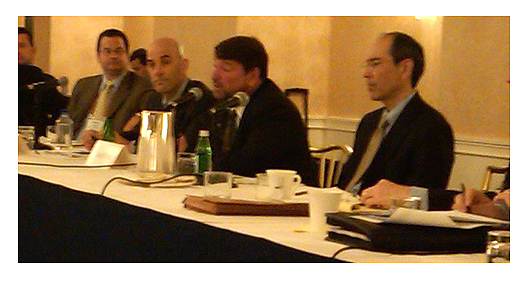 Pictured (left to right): Gary Goldsholle, FINRA vice president and counsel, regulatory practice and policy; Joseph Price, FINRA senior vice president, corporate financing/advertising regulation; Paul Mathews, FINRA director, corporate financing.

NAREIT's Public Non-Listed REIT Council (PNLR Council), chaired by Daniel Goodwin, chairman and CEO of The Inland Real Estate Group Inc., met last week in Washington to discuss a number of issues and meet with industry and regulatory representatives, including three FINRA officials who addressed the group. The discussion was centered around FINRA's Regulatory Notice 12-14 addressing the per share estimated values that public non-listed REITs and Direct Participation Programs report on customer account statements.

Other major topics on the agenda included the Investment Program Association's Proposed Valuation Guideline. Council members met with representatives from the IPA to provide feedback and ask questions on this guideline.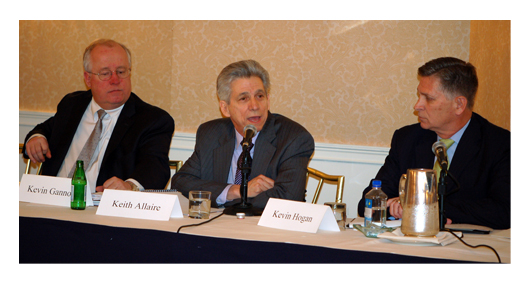 Pictured (left to right): Kevin Gannon, president and managing director, Robert A. Stanger & Co. Inc.; Keith Allaire, managing director, Robert A. Stanger & Co. Inc.; Kevin Hogan, CEO and president, IPA.

The council's research working group meeting focused on discussions about the council's research initiative and the next steps in gathering data from the members regarding information on the full cycle of events for those REITs. The council is going to gather data on member PNLR properties by their type, size and geographic region.

Prior to the meeting, NAREIT and The Inland Real Estate Group hosted dinners for the executive committee of the council and the full council.

(Contact: Bonnie Gottlieb at bgottlieb@nareit.com)

 
REIT.com Video: Brad Case, NAREIT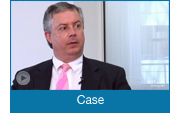 REITs continued to show strength during the first quarter of 2012 with total returns of 10.4 percent, according to Brad Case, NAREIT's senior vice president of research and industry information.

In a video interview with REIT.com, Case discussed how the REIT market performed in the first quarter of the year.

"It was another strong quarter," he said. "It's actually a little bit less than the broad stock market gain, but that's to be expected, given that REITs have outperformed the broad stock market the last three years."

Some of the top performers from the first quarter of 2012 included the industrial, regional mall and lodging sectors.

"The industrial sector gained more than 25 percent during the quarter, and the regional malls and hotel sectors are very strong," Case said.

He attributed this strength to a growing confidence among investors that the broader economic expansion is going to continue. Case said that investors anticipate an increase in manufacturing and trading activity, which will translate into an increase in the demand for industrial space.

Additionally he said investors are confident that travel for business purposes and vacations will increase, thus increasing the demand for hotel space.

The mortgage REIT sector also fared well in the first quarter, up 9.2 percent for the three-month period. Case attributed the gains to positive investor sentiment.

"I suspect that there's a growing confidence that the overall economy is going to generate the income that commercial mortgage borrowers need to make their mortgage payments going forward," he said. "So there is a sense that there's less risk in that sector going forward."

(Contact: Brad Case at bcase@nareit.com)

 
2012 REITWise® Sourcebook Now Available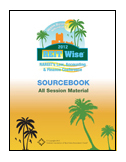 The 2012 REITWise® Sourcebook is available in a complimentary downloadable format on NAREIT's Web site for registered attendees.

If you are having difficulty logging in to the 2012 REITWise Sourcebook, please feel free to contact Member Services at 202-739-9400.

This Sourcebook is provided as a benefit to REITWise® attendees only. Permission is granted to registered REITWise attendees to download the Sourcebook materials for their personal use only.

(Contact: Laura Hawxhurst at lhawxhurst@nareit.com)

 
NAREIT's Leader in the Light Working Forum Only Three Weeks Away

NAREIT corporate members with responsibility for activities related to sustainability are encouraged to attend NAREIT's second annual Leader in the Light Working Forum. The event will be held April 23 - 24 in the Dallas office of RealFoundations, a management consulting firm that is actively assisting NAREIT to enhance the Leader in the Light program's framework.

Since 2005, NAREIT's Leader in the Light award program has honored NAREIT member companies that have demonstrated superior and sustained energy use practices and sustainability initiatives. In recent years, NAREIT also has been involved in an advisory capacity with the Global Real Estate Sustainability Benchmark (GRESB) survey, a science-based benchmark to measure the environmental performance of property portfolios based on an annual survey produced by the GRESB Foundation.

With the GRESB initiative backed by more than 30 of the world's largest institutional investors, representing over $1.7 trillion in assets under management (including APG Asset Management, Aviva Investors, PGGM Investments and others), together with leading academics and industry bodies, NAREIT is evaluating taking a more active role in helping to increase the visibility of the upcoming 2012 GRESB survey.

An integral element of the upcoming Leader in the Light Working Forum will be for NAREIT corporate members to evaluate whether NAREIT's Leader in the Light award program should be more integrated and aligned with the GRESB platform; and, if so, whether a NAREIT "Sustainability Committee" would be helpful to the assessment of future activities.

Visit the Leader in the Light home page on REIT.com to learn more about the event and register online.

(Contact: Sheldon Groner at sgroner@nareit.com)

 
REIT.com Videos: REITWise 2012
REIT.com had the opportunity to interview a number of leading practitioners and investors at REITWise 2012®: NAREIT's Law, Accounting & Finance Conference in Hollywood, Fla., to hear their thoughts on some of the most important issues currently facing REITs and the commercial real estate industry. Be sure to visit REIT.com in the weeks to come for more insights from REITWise 2012.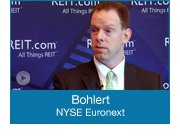 There are a number of strong REIT IPOs preparing to come to market, says Ron Bohlert, director of NYSE EuroNext's global client group. More than a dozen are active in the planning process. Another sign of a robust 2012: Two came to market in early March. "Fortunately, the market has been cooperating," he said. "We've had a nice rally since early January, and volatility is back to more manageable levels." Bohlert attributed the limited number of REIT IPOs in 2011 to the tsunami in Japan in the spring, the European credit crisis and the resulting U.S. credit concerns later in the summer.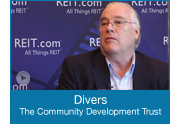 The Community Development Trust, a private REIT formed to preserve and enhance the affordable housing stock, is working to improve local communities. John Divers, the company's chief financial officer and chief operating officer, said the company has seen improvements in the performance of both its debt and equity portfolios, which he attributed to increased rents and stable vacancies. "Both markets have continued to improve. On the debt side, there's been a reasonable increase in the lending opportunities, and on the equity side, we are starting to see transactions developing again," Divers said.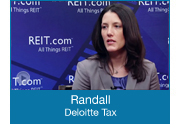 Michele Randall, director in the tax department with Deloitte, said transfer taxes can be a significant part of any transaction. She added that 39 states currently have a transfer tax. "When you have an asset sale and you record a deed you pay a transfer tax," Randall said. "If you transfer an entity, not all states have a transfer tax so there can be a large amount of difference in the amount of tax that you pay depending on how the deal is structured." Randall said because state budgets are extremely tight, states are trying to find ways to expand the tax base and controlling interest transfer taxes are part of that. She said 16 states have a controlling interest transfer tax currently. Most recently, one was enacted in Michigan.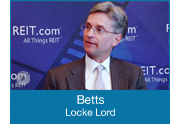 More public non-listed REITs are choosing to list in the public markets, and Kenneth Betts, an attorney with Locke Lord, hopes it's the start of a trend. "We haven't seen many real liquidity events in terms of the listing of non-listed entities since 2007," he said. "So this movement in late 2011 and early 2012 is very exciting for those of us who practice in that area." Non-listed REITs listing in the public market helps to validate the non-listed investment model and makes the non-listed real estate more attractive to both investors and real estate operators, according to Betts. "We can list these REITs and give the investors the opportunity to hold on to it and appreciate in a public market, or have a very efficient vehicle for selling it off through the marketplace," Betts said. "So, from my perspective, it's encouraging that this is, in fact, occurring now."

(Contact: Matt Bechard at mbechard@nareit.com)


 
Get Your Daily Dose of Real Estate News with SmartBrief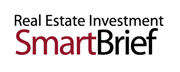 Real Estate Investment SmartBrief is a free, daily e-mail newsletter covering the publicly traded real estate industry. It provides the latest news and information you need to stay informed about important issues impacting your business. The publication is read by nearly 26,000 industry professionals each day. Sign up today to receive Real Estate Investment SmartBrief.

(Contact: Matt Bechard at mbechard@smartbrief.com)

 
Real Estate Luminaries Event to Feature Roth, Kirby

The next installment of the Real Estate Luminaries Series is set for April 19, 2012.

Identifying investment opportunities during this period of economic recovery will be the focus of the latest event hosted by NAREIT and Georgetown University's McDonough School of Business. The April 19 event will be held from 4 p.m. to 7:30 p.m. at Georgetown's Lohrfink Auditorium.

This event will feature a discussion between Vornado Realty Trust (NYSE: VNO) Chairman Steven Roth, Green Street Advisors Chairman and Director of Research Mike Kirby and NAREIT President and CEO Steven Wechsler. There will also be several guest speakers, including Tobin Cobb, co-CEO, LNR Property LLC; Stephen Plavin, CEO, Capital Trust; and Robert O'Brien, partner, vice chairman and U.S. real estate services leader, Deloitte. Immediately following the speaking portion of the event, NAREIT will host a reception for all attendees.

The event is complimentary, but space is limited, so RSVP's are required. Click HERE to RSVP.

(Contact: Jeff Henriksen at jhenriksen@nareit.com)