Content

Message from the President

Through the first seven months of 2014, the FTSE NAREIT All REITs Index was up nearly 16 percent. Those returns come after a strong sell-off across the entire market at the end of last week.

With the S&P 500 up approximately 6 percent year to date, this has certainly been a good year for stock exchange-listed REITs and their investors. The performance so far in 2014 shows that favorable economic fundamentals are outweighing interest rate concerns in the minds of investors.

However, the benefits of real estate investment through REITs are not a short-term story. REITs continue to build on their long-term track record of providing investors with performance, dividend-based income, capital appreciation and portfolio diversification.

In fact, if you look at historical compound annual total returns over a five-, 10-, 15-, 20- or 25-year time frame, stock-exchange listed REITs outperformed the broader market each time.

NAREIT regularly underlines the enduring attributes of REITs to investors, policymakers and the media. The REIT approach to real estate investment has proven over time to be the most efficient and effective method for owning and operating real estate supporting a broad range of U.S. economic activity.









Steven A. Wechsler
President and CEO
REITs Retreat, but Still Outperform Broader Market in July
The total return from the FTSE NAREIT All REITs Index dipped 0.2 percent in July, although the decline was smaller than the 1.4 percent fall in the S&P 500 Index over the same period.

July's modest pull-back came in the wake of a strong performance for REITs during the first half of 2014. As of July 31, the FTSE NAREIT All REITs Index had a total return of 15.9 percent, compared with a 5.7 percent advance for the S&P 500 Index.

Infrastructure REITs were among the best performers in July, up 2.9 percent. Residential REITs also had a strong showing in July with total returns rising 2.4 percent. Timber REITs lagged as returns dropped 5.4 percent for the month.

(Contact: Sarah Borchersen-Keto at sborchersen-keto@nareit.com)
Job Growth Spurs Demand for Rental Housing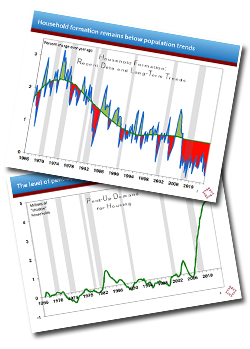 Recent job gains are lifting rental housing markets and supporting earnings in the multifamily property sector. There was a 336,000 increase in the number of rental households nationwide in the second quarter, the largest gain in more than two years, according to data from the U.S. Census Bureau.

Rental housing markets are benefitting from the improving job market. Nonfarm payrolls have risen more than 200,000 per month over the past six months, the first such string of robust job gains since 1997. Rental occupancy has steadily accelerated this year as recent hires, who may have previously been living with parents or doubled-up with roommates, sign leases and move into places of their own. The national vacancy rate on rental units fell sharply, from 8.3 percent in the first quarter to 7.5 percent in the second, the lowest level since 1997. These improvements in fundamentals in rental housing markets have contributed to positive surprises in second quarter earnings for several multifamily REITs.

NAREIT analysis of housing market trends finds there is a record level of pent-up demand for rental housing. These "shadow households," which are currently doubled-up with others, are expected to bolster rental occupancy as the overall economy continues to improve in the quarters ahead.

(Contact: Calvin Schnure at cschnure@nareit.com)
Investor Outreach Team Holds More Than 30 Meetings in July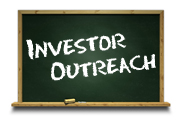 NAREIT's Investor Outreach team held direct meetings in July with a diverse group of 32 investment organizations controlling more than $6 trillion in assets in the institutional investment market.

The 32 meetings were held with organizations across all targeted investment cohorts, including: six with prominent domestic pension plans representing close to $200 billion in assets; six with investment consultants with assets under advisement of $223 billion; and 11 with investment managers sponsoring global and domestic products for the institutional and retail investor markets and more than $6 trillion in assets under management. Another eight meetings were held with other organizations and associations active in investment management and the retirement industry.

NAREIT's outreach meetings with investment managers provide significant opportunities to influence REIT allocations within the broad asset allocation products sold through multiple channels, including through institutional defined contribution (DC) plan provider platforms as well as through firms whose products are distributed through financial advisor networks. Ten of the meetings held with investment managers during July were with managers active in both the $5.4 trillion DC and $5.4 trillion IRA markets, and our meetings and ongoing relationships with these leading firms provide us with the opportunity to influence two-thirds of the entire $16.6 trillion retirement market.

(Contact: Abby McCarthy at amccarthy@nareit.com)
Call for Nominations for NAREIT Board of Governors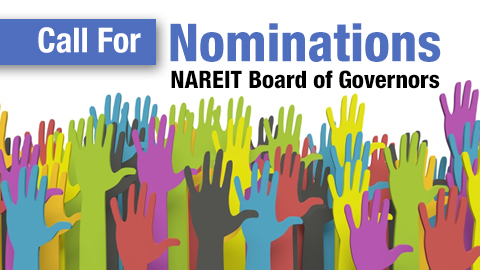 NAREIT's Governance Committee is asking NAREIT members for help in identifying appropriate candidates for the NAREIT Board of Governors.

Members of the Board of Governors must commit to participate in and provide support to NAREIT through their elected terms, including reasonable efforts to attend meetings and to assist NAREIT's policy, political and investor outreach initiatives.

Through its nominations process, the Governance Committee will develop a slate of candidates to serve as NAREIT officers, as elected members of the Executive Board, as members of the Board of Governors and as members of the Audit & Investment Committee. In undertaking its responsibilities, the Governance Committee also strives to ensure that the Executive Board and the Board of Governors represent the geographical dispersion, asset size, property type and structural configuration of NAREIT member companies.

As a matter of practice, the Governance Committee especially seeks candidates not currently serving on the Board of Governors. A current list of both the Executive Board and Board of Governors can be found at REIT.com.

(Contact: Megan Peichel at mpeichel@nareit.com)
CPE Credits Available at NAREIT's SFO Workshop


Attendees at NAREIT's 2014 SFO Workshop in September will have the chance to earn up to 12 hours of CPE credits.

The SFO Workshop program has been tailored to meet the needs of REIT executives with responsibility for accounting, financial reporting, capital markets and/or investor relations. The event is being held Sept. 22-23 at the Fairmont Copley Plaza in Boston.

CLICK HERE for program details. CLICK HERE to register.

(Contact: Katelyn Rowland at krowland@nareit.com)
NAREIT Compensation Survey Covers 127 Positions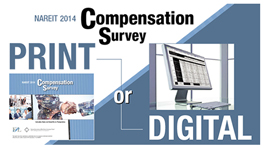 The 2014 NAREIT Compensation Survey is now available and includes compensation and benefits data from a record 130 participating companies.

Data from the report provide answers as to whether executive management base pay, incentives and stock grants are rising or decreasing. This year, the survey is offered in both print and digital formats.

CLICK HERE to order your copy of the 2014 NAREIT Compensation Survey.

(Contact: Jeff Henriksen at jhenriksen@nareit.com)
| | |
| --- | --- |
| Follow us on:   | REIT.com RSS Feeds:   |