Content

Message from the President

As the story below in this issue of NewsBrief reports, assets in exchange traded funds benchmarked to the FTSE EPRA/NAREIT Global Real Estate Index have jumped by more than 90 percent in the past year as investors around the world have committed funds to global real estate strategies.

There are a number of reasons for this growth, including yields on global listed real estate that have outpaced those of the broader equity market and bonds. A more fundamental reason for the growth of these ETFs, however, is the growing global spread of REITs based on the U.S. model.

The REIT today has become a global brand. Nearly 30 countries have their own REITs, and others with growing economies, like China, India and Indonesia, are considering REIT regimes. All but one of the G-8 nations (Russia) have REITs, and of the $1 trillion equity market capitalization of the FTSE EPRA/NAREIT Global Real Estate Index, three-fourths is from REITs.

The fact that the majority of countries with REITs have patterned them on the U.S. model has helped make REIT investment more familiar and understandable to global investors, and it has supported the development and popularity of products like REIT mutual funds and ETFs in markets around the world.

NAREIT and its partner organizations in the Real Estate Equity Securitization Alliance have actively worked with policymakers around the globe to achieve the harmonization of the REIT rules that has helped produce today's global REIT brand. We will continue this work as the REIT investment proposition takes root and grows in still more countries around the world.








Steven A. Wechsler
President and CEO

 
Fund Flows into Global Real Estate ETFs Up Sharply in Last Year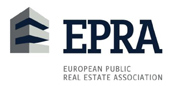 The European Public Real Estate Association (EPRA) announced last week that the global assets in exchanged traded funds (ETFs) linked to the FTSE EPRA/NAREIT Stock Index Series have grown by more than 90 percent in the last year. EPRA reported that $7.1 billion are now invested in the ETFs, up from $3.7 billion at the end of October 2011.

The FTSE EPRA/NAREIT Global Total Return Index of developed market real estate stocks gained more than 17 percent during that 12-month period.

Global real estate ETF issuers include HSBC, BlackRock iShares, Easy ETF, Deutsche Bank, Lyxor and First Trust.

(Contact: Ron Kuykendall at rkuykendall@nareit.com)
Investor Outreach Closes Active November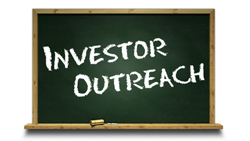 NAREIT's Investor Outreach team spent November visiting with a diverse range of 33 organizations in the institutional investment market controlling close to a combined $11.9 trillion in assets. The 33 meetings were held with organizations across all targeted investment cohorts, including: 10 with prominent domestic and international pension, retirement and sovereign wealth fund plan sponsors representing more than $488 billion in combined assets; seven with investment consultants with assets under advisement totaling $5.6 trillion; and nine with investment managers sponsoring global and domestic products for the institutional and retail investor markets and representing almost $6 trillion total in assets under management.

In response to growing investor interest, many of our meetings continue to lead off with a discussion of the current macroeconomic outlook and the implications for commercial real estate and REITs. The macroeconomic news has been disappointing, and despite the modest pickup in job gains in recent months, overall employment growth has been subpar, while the unemployment rate remains elevated. Given this weak macroeconomic backdrop, it has been somewhat surprising that commercial property markets have firmed modestly in 2012, with occupancy rates edging higher. This favorable relative performance is due to new construction levels that are well below the long-term trend, as well as significant pent-up demand, especially in the multifamily sector. Over the medium and longer term, the supply picture suggests REITs are well positioned for strong performance as the fundamentals for commercial real estate continue to improve.

Through the end of November, NAREIT has conducted 391 meetings in 2012 with many of the largest and most influential investment organizations within the institutional investment marketplace. Collectively, these entities represent close to $41 trillion in assets under management or advisement.

(Contact: Kurt Walten at kwalten@nareit.com)
REIT.com Videos: CEO Spotlights
REIT.com's video team sat down with 35 REIT CEOs during REITWorld 2012 to get their insights into their companies and trends they are watching. New videos will be made available on REIT.com regularly for the next several weeks. Below is a sample of the interviews currently available.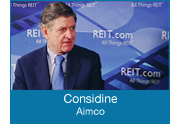 Now that the residential housing market is showing signs of recovery, multifamily property owners will have to be extra vigilant about quality, according to Terry Considine, chairman and CEO of multifamily REIT Aimco (NYSE: AIV). "I think the economy will be choppy as people work through the government funding problems. There will be the emergence of new supply that will affect pricing at the high end of the price lines," he said.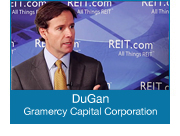 Gramercy Capital Corp.'s (NYSE: GKK) strategic refocus on the net lease asset class has paid off, said CEO Gordon DuGan. The company underwent a review of its operations earlier this year and decided to shift away from lending. "The issue at Gramercy was they did both lines of business with high leverage. And high leverage going into the downturn was a recipe for disaster," he said.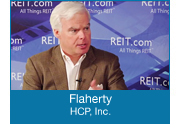 The industry can expect more operator consolidation in the health care real estate sector, said Jay Flaherty, chairman and CEO of HCP (NYSE: HCP). "We believe that, much like what happened in the aerospace defense industry consolidation after the defense budget got cut significantly in the late 1980s, you're going to see a lot of consolidation and you're going to see the best-in-class companies get larger," he said.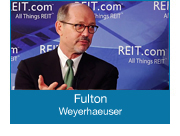 The housing market is in a strong recovery, which is giving timber REIT Weyerhaeuser (NYSE: WY) a boost, said Dan Fulton, president and CEO. "We're seeing the recovery manifest itself in improved orders for our wood products and some upward price pressure," he said. That said, he noted that starts are still low. "I think we'll see some fits and starts as the supply channel readjusts to this increased volume."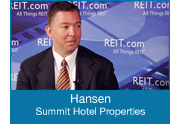 Economies of scale can add to the value of an acquisition if it is located in an area where the company already has a strong presence, said Daniel Hansen, president, CEO and director of Summit Hotel Properties (NYSE: INN). However, in the end, each acquisition must stand on its own. "With several of our more recent acquisitions, some of those are in new markets. They are markets in which we are keen to expand in with the brands we grow with, but it's not an exclusive, needs-to-be-in-a-cluster versus not-in-a-cluster," he said.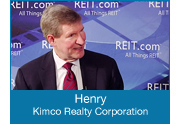 Kimco Realty Corporation (NYSE: KIM) remains true to its core mission of investing in neighborhood and community shopping centers despite its move into other asset classes, said David Henry, vice chairman, president and CEO. "Kimco's core expertise and the relationships the company has built over the decades are generally retail oriented," he said.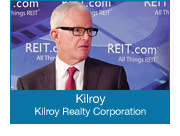 There is a lot to like about West Coast market fundamentals, said John Kilroy, president and CEO of Kilroy Realty Corp. (NYSE: KRC). "A couple years ago when the downturn hit, we knew there would be terrific opportunities up and down the West Coast," he said. The REIT took the opportunity to reposition itself in the West Coast office market.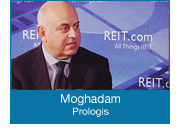 Industrial REITs are "climbing their way back from the basement" following some lean years, said Hamid Moghadam, chairman and co-CEO of Prologis (NYSE: PLD). "With good demand and virtually no construction in the market, we're seeing a very strong recovery in rents and occupancy, particularly in the larger spaces," he said.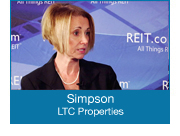 The assisted-living sector, buoyed by the private sector, is seeing strong fundamentals, said Wendy Simpson, president and CEO of LTC Properties (NYSE: LTC). "But in terms of pricing deals in the future, to really understand where the reimbursement is going and what the real estate values are, I think it's going to be a little later in the year," she said.

(Contact: Matt Bechard at mbechard@nareit.com)


 
NAREIT Joins Coalition in Voicing Concerns Regarding Basel III

NAREIT joined a number of industry organizations last week in writing a letter to members of the House Financial Services Committee to express reservations about the "unintended consequences" of the Basel III Capital Standards.



The letter was sent to House Financial Services Subcommittee on Insurance, Housing and Community Opportunity Chairmen Shelley Moore Capito and Judy Biggert and Ranking Members Carolyn Maloney and Luis Gutierrez in conjunction with a hearing on the proposed rules.

"In considering the implementation of Basel III, we believe that the Federal Reserve Board, Federal Deposit Insurance Corporation and Office of the Comptroller of the Currency have failed to consider the impacts of Basel III upon Main Street businesses and how Basel III interacts or conflicts with these other initiatives," the organizations wrote.

(Contact: Victoria Rostow at vrostow@nareit.com)
NAREIT Represented at European Pension Funds Congress

Meredith Despins, NAREIT's vice president for investment affairs and investor education, and Gareth Lewis, director of finance for the European Public Real Estate Association (EPRA), last week attended the European Pension Funds Congress in Frankfurt.

The pension event, hosted by the European Federation for Retirement Provision, was one of a series of events comprising Euro Finance Week. Held annually, Euro Finance Week is among Europe's premier events for the finance and insurance industry to convene and discuss topics currently impacting the industry. The pension funds event focused on the challenges European schemes are facing as long-term investors in an environment of economic and financial markets uncertainty.

Among the topics discussed were pension innovations from around the world and the changing pension landscape. In particular, the developing role of defined contribution plans in providing retirement security and how pension and retirement plans might be structured in the future to address what has been described as a 'crisis in confidence' with regards to the European retirement market.

The event was attended by senior investment executives from a number of large European and multinational pension funds; global investment consulting firms and pension industry associations; as well as ranking officials from several governmental authorities including the European Commission. The event provided NAREIT with the opportunity to engage in conversations with attendees regarding how U.S. pension and retirement funds have responded to similar challenges. NAREIT and EPRA also discussed investment trends and strategies that these plans are adopting to help them address those challenges, including the role of real estate and REITs within both traditional pension plans and defined contribution plans.

(Contact: Meredith Despins at mdespins@nareit.com)
REIT.com Videos: Industry Insights
REIT.com's video team sat down with nearly 70 industry leaders during REITWorld 2012 to get their insights into the current state of the REIT market, where things are heading in 2013 and what specific issues and trends they are watching. New videos will be made available on REIT.com regularly for the next several weeks. Below is a sample of the interviews currently available.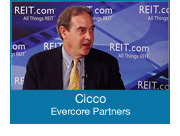 REITs have found the capital markets wide open to them this year, said Marty Cicco, senior managing director with Evercore Partners. "The preferred market is obviously healthy, and that market is very attractive. And when companies need equity the market has been very receptive," Cicco said.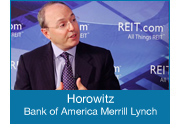 The industry will see more private companies go public in the coming year, predicted Jeff Horowitz, global head of real estate, gaming and lodging for Bank of America Merrill Lynch. "I do think when you look forward you're going to see this continuation of large-scale, high-quality companies coming back to the markets just because so many went private in the 2005-2007 time period," he said. However, he added, it won't be at the pace in the mid-1990s, when 20 or 30 companies would go public per year.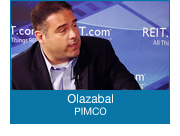 REITs proved their model is resilient to stresses during the recession, Josh Olazabal, vice president and credit analyst with PIMCO. He attributes the resiliency in part to REIT bonds' covenant packages. "During the downturn, we saw that those limitations on debt basically kept the companies from going overboard and essentially ensured that they would be viable through the downturn," he said.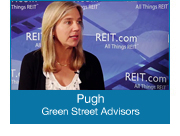 The Green Street Advisors Commercial Property Price Index has, by and large, recovered back to the peak of mid-2007, said Rosemary Pugh, marketing manager with Green Street Advisors. The CPPI's forecast for the next six months shows a continued upward trend in real estate prices, she said.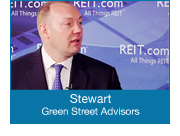 The industrial sector's recovery should continue at a steady pace, says John Stewart, senior analyst with Green Street Advisors. "Provided that interest rates don't rise, which is a big wild card, we think there is a good possibility that we could have room to run in the industrial sector," he said.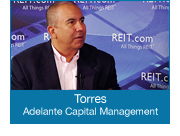 There is still room for higher REIT returns in 2013, said Michael Torres, CEO of Adelante Capital Management. "Clearly there are some headwinds as the economy adjusts to fiscal changes, but I think fundamentals are good. The surprise, really, is around the lease structure that we get in real estate, so I think 2013 will be pretty good, actually," he said.

(Contact: Matt Bechard at mbechard@nareit.com)
 
NAREIT Participates in Schwab IMPACT Conference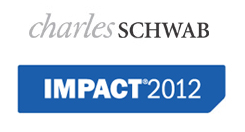 From Nov. 13-16, NAREIT participated in the Schwab IMPACT Conference in Chicago. Participation in the conference is a component of NAREIT's Investor Outreach program focused on promoting REIT investment to the retail investor marketplace through financial intermediaries such as family wealth officers, registered investment advisors (RIAs) and financial planners. Financial intermediaries are important in the investment marketplace because they have significant influence over the $5.3 trillion assets in individual retirement accounts (IRAs) in the U.S., which represents approximately 33 percent of the overall $15 trillion retirement savings market. The size, scope, diversity and fragmentation of its many audiences can make reaching this investor cohort especially challenging.

The Schwab event is the premier industry event, attracting more than 3,000 financial advisors, RIAs, investment management firms, financial publishers and software developers. It provides NAREIT with an opportunity to inform and educate the financial advisor and RIA attendees on the benefits of REIT investing, while also providing the opportunity to develop stronger relationships with many of the participating investment firms with which NAREIT maintains a regular dialogue through its direct meeting program. These include FTSE, CBRE Clarion Securities, Cohen & Steers, PIMCO, BlackRock, Guggenheim Investments and Schwab.

(Contact: Abby McCarthy at amccarthy@nareit.com)
Case Speaks to Boston Security Analysts Society

Brad Case, NAREIT's senior vice president of research and industry information, spoke to the Boston Security Analysts Society, which is the organization for chartered financial analysts (CFAs) in the Boston area.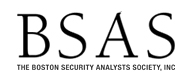 Approximately 50 people attended from organizations in both the institutional (defined benefit plans, endowments, etc.) and individual (including family office and high-net-worth) segments of the market. Case talked about the recent real estate market downturn and liquidity crisis; the importance of considering the correct investment horizon; the investment return performance of different real estate investment strategies; the factors that will affect relative performance going forward; and the ways in which listed REITs and unlisted real estate investments complement each other in diversified real estate portfolios. Case also introduced the FTSE NAREIT PureProperty® Index series and the FTSE NAREIT USGBC Green Property Index series to the audience.

(Contact: Brad Case at bcase@nareit.com)
NAREIT Welcomes New Member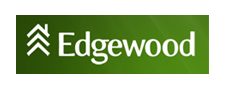 NAREIT welcomes Edgewood Real Estate Investment Trust as its newest Corporate Member. Edgewood is a private, externally managed equity REIT that invests in multifamily and senior housing real estate located in Minnesota, North Dakota and South Dakota. Based in Grand Forks, ND, Edgewood's chairman is Earl Strinden and its president and CEO is Phil Gisi.

(Contact: Bonnie Gottlieb at bgottlieb@nareit.com)
NAREIT and U.S. Census Bureau Meet, Share Housing Data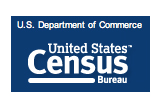 Calvin Schnure, NAREIT vice president for research and industry information, met with the staff at the U.S. Census Bureau who produce and analyze the official reports on vacancy rates in rental housing markets and on household formation. Schnure presented his research on the slowing of household formation and the resulting growth of pent-up demand for apartments since the recession began.

The number of rental households has recently begun rising rapidly, increasing 1.3 million over the past four quarters, suggesting that the young adults who "doubled up" during the recession are starting to move out to their own apartments, even as job growth remains sluggish. The Census Bureau staff shared with Schnure some of their own analysis documenting the same trends, which suggest that demand for rental apartments, and multifamily REITs, will benefit from positive fundamental forces for quite some time.

(Contact: Calvin Schnure at cschnure@nareit.com)
REIT Magazine Lands New Online Home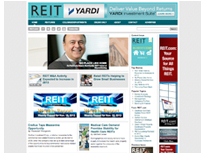 REIT: Real Estate Investment Today, the bimonthly magazine published by NAREIT, has a new online home at RealEstateInvestmentToday.com. The new site features all the content of the award-winning print magazine and adds exclusive video and news content created just for REIT magazine readers.

Now available on the site is the November/December issue of REIT magazine, which features articles on how various segments of the REIT industry are positioned heading into 2013.

(Contact: Matt Bechard at mbechard@nareit.com)