Content

Message from the President

Last week, the Terrorism Risk Insurance Act (TRIA) Reauthorization Act of 2013, H.R.508, was introduced in the House of Representatives by Rep. Michael Grimm (R-NY) and nine co-sponsors. The new legislation would reauthorize TRIA, the federal reinsurance public-private risk sharing mechanism, without which private terrorism risk insurance coverage would not be sufficiently available – as was the case following the 9/11 terrorist attacks. The legislation currently in place enabling this coverage is scheduled to sunset at the end of 2014.

After 9/11, private reinsurance firms would no longer provide coverage for acts of terror. Without reinsurance, the primary insurance firms that provide coverage for REIT-owned properties – as well as manufacturing facilities, transportation hubs, entertainment venues and many other types of properties – also stopped writing terrorism risk coverage.

Studies by the Government Accountability Office, the President's Working Group on Financial Markets and other terrorism risk analysts concluded that acts of terrorism, by their very nature, are uninsurable risks, and that no private market for terrorism reinsurance was likely to re-emerge in a meaningful way.

TRIA filled this critical reinsurance gap, enabling the primary market for terrorism risk insurance to come back to life. NAREIT, as a founding member of the Coalition to Insure Against Terrorism (CIAT), which represents real estate and other industries that rely on terrorism risk insurance, actively supported the original TRIA legislation in 2002, as well as its subsequent reauthorizations. We are working now to ensure that this vitally important program is continued past 2014 and beyond.








Steven A. Wechsler
President and CEO

 
TRIA Extension Proposed

Rep. Michael Grimm (R-NY) proposed legislation last week to extend the Terrorism Risk Insurance Program Reauthorization Act of 2007 (TRIPRA).

Nine cosponsors in the House of Representatives joined Grimm in supporting the bill, the Terrorism Risk Insurance Act (TRIA) Reauthorization Act of 2013, H.R.508, which would reauthorize TRIA, the federal reinsurance public-private risk sharing mechanism. The legislation currently in place enabling this coverage is scheduled to sunset at the end of 2014.

NAREIT and its partner organizations in the Coalition to Insure Against Terrorism (CIAT) endorsed the reauthorization proposal.

"The current federal terrorism risk insurance program has been a tremendous success," the CIAT groups wrote in a letter of support to Grimm. "At almost no cost to the taxpayer, the national terrorism insurance program has made it possible for more than a decade for businesses to purchase terrorism risk coverage."

(Contact: Robert Dibblee at rdibblee@nareit.com)
 
REIT.com Video: Brad Case, NAREIT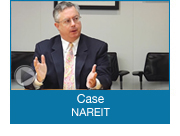 U.S. REITs were up in the first month of 2013. The FTSE NAREIT All REIT Index had total returns of 4.28 percent in January, while equity REITs gained 3.74 percent for the month. REITs trailed the S&P 500, which climbed 5.18 percent in January. The industrial sector got off to a particularly strong start, up nearly 9 percent, while timber REITs had total returns of 7.55 percent in January.

In a video interview with REIT.com, Brad Case, NAREIT's senior vice president for research and industry information, said timber REITs have produced strong returns for months now as new construction has increased, including residential construction. Case said other strong performances came from sectors that are benefitting from the broader economic recovery. These include the industrial and lodging sectors.

Case also discussed REITs' relationship with the capital markets in the current environment. Relatively easy access to capital is helping boost REITs' performance and ability to make favorable acquisitions, according to Case.

Additionally, Case discussed what some investors often refer to as the "January effect," in which stocks typically over perform in the first month of the year. He downplayed the impact of the phenomenon on the REIT market in this case.

The January effect occurs "for various reasons, including how investors treat the end of the year. They may sell stocks in which they have a capital loss for tax reasons," he said. "But what we've seen, generally, is that REITs have performed well in December as well, both in December 2012 and 2011. So, it's not as though the January effect is making up for lost ground in December."

(Contact: Brad Case at bcase@nareit.com)
Commercial Property Update – Fourth Quarter, 2012
Commercial property markets improved in late 2012 despite uncertainty about the fiscal cliff. Apartment vacancies declined further and rents accelerated on a year-over-year basis, while office rents posted the strongest quarterly gain in years. The retail sector, however, lags the other sectors and is still moving sideways.

Property sector returns reflect economic fundamentals, and the recent economic news has been mixed. GDP contracted slightly in the fourth quarter, as inventories and defense spending were weak, but core GDP private domestic final sales posted moderate gains. Such a strengthening of private demand often precedes further improvement in economic growth; indeed, more recent news on auto sales and chain store sales in January suggest that consumers maintained their momentum into the New Year. Job growth underpins any scenario of a move to a more robust economic recovery. Employment growth was significantly stronger late last year than was initially reported, according to the latest news from the Labor Department, with an average monthly hiring of 200,000 per month for the fourth quarter.

(Contact: Calvin Schnure cschnure@nareit.com)
Register for REITWise Before Discounts Expire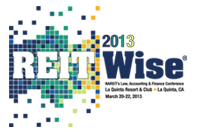 Registration for REITWise 2013®: NAREIT's Law, Accounting & Finance Conference® is open, and we encourage you to act now to take advantage of the current registration discounts which will expire Feb. 15.

Approximately 1,000 legal, financial, tax and accounting professionals attend each year to hear industry leaders speak at the variety of sessions, roundtables, meetings and events.



REITWise offers attendees more than 35 sessions, meetings, and events, providing participants with the opportunity to maintain their professional accreditations. Attendees earn up to 19.5 CPE or 17.75 CLE credits to help meet their mandatory educational requirements. To find a list of the sessions and compelling topics that will be covered this year, click here.

One of the featured speakers at this year's event will be Chuck Todd, NBC News' chief White House correspondent. Todd is also host of "The Daily Rundown" on msnbc. He became NBC News' political director in March 2007. He also serves as NBC News' on-air political analyst for "NBC Nightly News with Brian Williams," "Today," "Meet the Press" and msnbc.

(Contact: Katelyn Rowland at krowland@nareit.com)