Content

Message from the President

Listed REITs raised a record amount of capital -- $73.3 billion – from the public markets in 2012, easily surpassing the $51.3 billion raised in 2011, the prior record year for capital raising. The two record years followed two more strong years for REIT capital market activity in 2010 and 2009.

The volume of equity and debt raised by the industry in recent years led NAREIT to conduct an analysis of how REITs have used the funds they have raised. The results of that analysis provide insight into how REITs are managed and why they continue to reward their shareholders.

NAREIT evaluated balance sheet and securities offerings data for 92 listed REITs that had consistent information available for the period from the end of 2006, approximately the prior market peak, through the Great Financial Crisis and emerging recovery, up to the end of the third quarter of 2012. The data showed the REITs' total assets increased $148 billion during this period, $131 billion of which was reported as net investment in real estate.

Over the same period, the companies raised $85 billion in equity, and their net issuances of debt added $59 billion in balance sheet debt, for a combined $144 billion in new equity and debt. At the same time, their balance sheet leverage increased from 37 percent at the end of 2006 to 57 percent at the end of 2008, near the market trough, and since has fallen to 36 percent.

Consequently, the answer to the question of what REITs have done with the capital they have raised is that they have acquired new assets for their portfolios during a favorable period in the market price cycle and financed them, primarily with equity, while reducing leverage at the same time.

Liquidity and transparency, resulting in access to public capital, combined with business models and management teams aligned with shareholder interests continue to be the basis for REITs' solid performance and investor appeal.








Steven A. Wechsler
President and CEO

 
Investor Outreach Team Active in January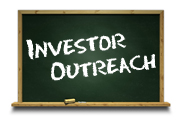 NAREIT's Investor Outreach team spent January visiting with a diverse range of 38 organizations in the institutional and retail investment markets controlling close to a combined $8.7 trillion in assets. Almost half of these meetings were held with investment managers with $2.8 trillion in assets under management that distribute products through financial advisor networks. Impacting the products developed for financial advisors is important because these individuals have influence over a significant portion of the $4.9 trillion IRA market. This represents one-third of the entire $15.1 trillion retirement market and is soon to become the largest segment.

A substantial number of meetings were held with organizations across other targeted investment cohorts, including: 13 with prominent domestic and international pension, retirement and sovereign wealth funds representing more than $175 billion in assets and five with investment consultants with assets under advisement of $5.7 trillion.

In response to growing investor interest, many of our meetings continue to lead off with a discussion of the current macroeconomic outlook and its implications for commercial real estate and REITs. In addition to the outlook, these meetings provide an opportunity to share our latest research, both internal and sponsored, illustrating the long-term investment attributes of REITs – dividends, performance, inflation protection, diversification, transparency and liquidity.

NAREIT was also active on the institutional investment conference circuit during the first month of the year, participating in seven events and speaking at three. For perspective, during the same time period in 2012, NAREIT participated in one such conference.

(Contact: Abby McCarthy at amccarthy@nareit.com)
 
NAREIT Comments on AIFM Directive

NAREIT wrote to the European Securities and Markets Authority (ESMA) last week to express its views on the regulatory body's Alternative Investment Fund Managers (AIFM) Directive and types of AIFM.

In its Jan. 31 letter to the ESMA, NAREIT said it had concerns that real estate businesses might be confused with funds that invest in securities and assets backed by real estate: "We believe that the scope of the [AIFM Directive] should be clearly defined in such a way as to include fund managers, including fund managers that invest in real estate, and exclude real estate firms that are not fund managers, but rather own and operate land and buildings as a business, a category that includes most listed U.S.-based equity REITs and many other publicly listed real estate concerns."

NAREIT said it is encouraging a more precise definition to help promote regulatory certainty in Europe.

(Contact: Tony Edwards at tedwards@nareit.com)
NAREIT Speaks to Florida Public Pension Trustees
Meredith Despins, NAREIT's vice president of investment affairs and investor education, spoke on a panel at the Florida Public Pension Trustees Association (FPPTA) Trustees School in Jacksonville, Fla., last week. The topic of the panel session was "Real Estate Diversification….Boom or Bust."

The trustees school provides a venue for trustees of Florida's public sector pension funds to obtain the designation of certified public pension trustee. The school's curriculum is intended to provide new and experienced trustees with information on investments and pension plan operations and enable them to effectively fulfill their responsibilities on behalf of their pension systems.

Despins' comments highlighted the role REITs can play in pension investment portfolios to build portfolio value, deliver income and to serve as a risk management tool when combined with private equity real estate investments in the construction of a real estate investment program. The school was attended by more than 300 pension trustees as well as a number of investment consulting and asset management organizations.

(Contact: Meredith Despins mdespins@nareit.com)
NAREIT Establishes Derivatives Task Force
Last week, House Ways and Means Committee Chairman Dave Camp (R-MI) released a discussion draft and related documents that would modify the tax treatment of derivatives.

Camp is interested in receiving comments on the proposal. NAREIT has established a task force that will analyze the proposal's potential effect on equity and mortgage REITs and evaluate whether and how to provide comments concerning the proposal.

(Contact: Dara Bernstein at dbernstein@nareit.com)
Latest Issue of REIT Magazine Now Available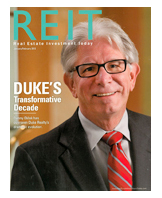 The new issue of REIT magazine is now available in print and online. The portfolio transformation overseen by Denny Oklak at Duke Realty Corp. (NYSE: DRE) is the focus of this issue's cover story, "Duke's Transformative Decade." Duke has made great strides on its plan to significantly reduce the company's exposure to suburban office holdings while ramping up its allocation to medical office and industrial facilities.

Also in this issue, one of the investment industry's most influential players, PIMCO, discusses its views on REITs and how it feels the industry has passed an important test. "PIMCO and the Resilient REIT" explores the reasons the firm recently issued a paper touting "the Great REIT Revival."

REIT magazine interviewed five leading investment bankers to garner insights as to what they see ahead for the real estate capital markets. In "Opportunities Await," the bankers interviewed expected to see REITs continue to grow through acquisitions in 2013 while recycling capital along the way.

The final feature in the issue looks at the emergence of the Global Real Estate Sustainability Benchmark (GRESB) and looks at what the results of its most recent survey mean for U.S. REITs. "Serving Sustainability" features comments from a number of REITs on the front lines of "going green" and how they are enhancing their efforts regarding best energy use practices.

(Contact: Matt Bechard at mbechard@nareit.com)
Peer Interaction Key at LITL Working Forum

NAREIT will be holding its third-annual Leader in the Light Working Forum March 18-19, 2013 at the La Quinta Resort & Club in La Quinta, CA, just prior to NAREIT's REITWise 2013 Law, Accounting & Finance Conference, which will take place at the same venue on March 20-21.

The 2013 Leader in the Light Working Forum will provide NAREIT Corporate Members the opportunity to gain an in-depth understanding of the 2013 Global Real Estate Sustainability Benchmark (GRESB) Survey, including the supplemental Leader in the Light questions that this year will be embedded directly within the GRESB Survey. Importantly, the 2013 Leader in the Light Working Forum will take place in advance of the April 1, 2013 – June 30, 2013 timeframe during which GRESB/Leader in the Light submissions will be accepted.

In addition to GRESB/Leader in the Light, the 2013 Leader in the Light Working Forum will provide NAREIT Corporate Members the opportunity to discuss the recently announced FTSE NAREIT USGBC U.S. Green Real Estate Index Series, and to hear from Brad Case, NAREIT senior vice president, Research & Industry Information, one of the principal architects of the index. Chris Pyke, vice president of research with the USGBC, will also be in attendance.

Designed as an interactive, hands-on, collaborative workshop, the 2013 Leader in the Light Working Forum will give NAREIT Corporate Members the opportunity to once again advance the sustainability conversation, and to better understand leading sustainability practices among their peers.

(Contact: Sheldon Groner at sgroner@nareit.com)
REITs in the Community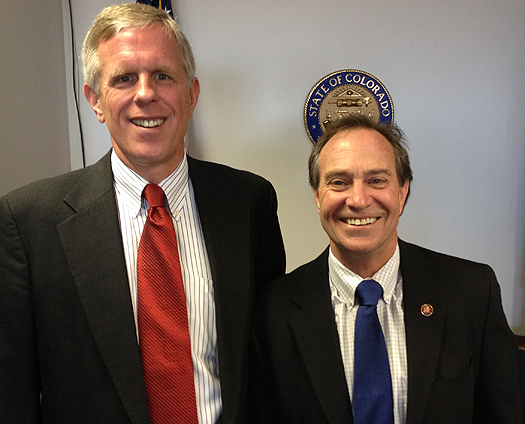 Jan. 31: Rep. Ed Perlmutter (D-CO), a member of the House Financial Services Committee, met with DCT Industrial Trust Inc. (NYSE: DCT) CEO Phil Hawkins (left) in Lakewood, Colo. Hawkins described DCT's operations in Colorado and across the nation for Perlmutter. He also described some of the benefits and burdens of the REIT approach to real estate investment.

(Contact: Kate Smith at ksmith@nareit.com)
Register Today for Next Month's REITWise



Registration for REITWise 2013®: NAREIT's Law, Accounting & Finance Conference® is open, and we encourage you to act now to take advantage of the current registration discounts. Approximately 1,000 legal, financial, tax and accounting professionals attend each year to hear industry leaders speak at the variety of sessions, roundtables, meetings and events.

Not only does REITWise enable attendees to remain up-to-date on the latest opinions, techniques, legislation, and guidelines surrounding law, finance and accounting, it helps many attendees maintain their accreditation. REITWise participants can earn up to 19.5 CPE or 17.75 CLE credits to meet mandatory educational requirements.

Sessions at the event will cover a number of compelling topics. NAREIT would like to thank this year's program directors for their contributions: Timothy Hall of HCP Inc. (NYSE: HCP), Jeffrey Horowitz of Bank of America Merrill Lynch, Robert McCadden of Pennsylvania Real Estate Investment Trust (NYSE: PEI) and Ann McCormick of Home Properties (NYSE: HME).

The REITWise program is known for presenting information in the most effective way possible. Whether it is through general sessions, concurrent sessions or smaller, more personal roundtable discussions, attendees have many opportunities to engage in meaningful dialogue about the issues that matter most to them. Participants leave the conference feeling they have a far better understanding of the latest legal, financial and accounting practices most relevant to REITs.

(Contact: Katelyn Rowland at krowland@nareit.com)