Content

Message from the President

Building understanding of the REIT investment proposition is central to our mission at NAREIT, and in 2013 we will be using a number of tools to carry on this important work.

For example, we are working with the investment and consulting firm Wilshire Associates on a study of the advantages that REITs can provide in annuities and other income-oriented investment products. In an environment of continuing low interest rates and changeable equity markets, these products are becoming increasingly popular among a generation of investors seeking ways to plan for their retirement. Our new research should help our industry better demonstrate the benefits of REITs to the providers of these products.

In addition, NAREIT regularly meets with members of Congress in Washington and in their home districts. This year, we're planning to increase the number of these meetings and work in local districts to connect lawmakers with REIT CEOs to provide them with opportunities to visit REIT-owned properties that support economic growth in their communities.

Notwithstanding new research and increased site visits with policymakers, the central message of the REIT story remains the same. Our message is communicated in this new video, which currently is featured on our web site, REIT.com. I hope that you'll take a moment to watch it and that you'll find it useful in passing the REIT story on to others.







Steven A. Wechsler
President and CEO

 
NAREIT Video Highlights "The REITWay"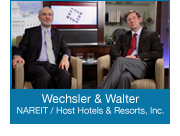 As part of NAREIT's efforts to tell the story of REIT-based real estate investment, NAREIT has produced a "REITWay" video, which we debuted at our REITWorld 2012 meeting in San Diego.

The video tells the essential tale of the ways in which the REIT approach to real estate investment benefits investors from all walks of life, the real estate marketplace, the economy at-large and our nation. NAREIT plans to use this video and a variety of other communications tools throughout the year to ensure REITs are better understood by all our constituents.

We hope you enjoy the video and find it useful in explaining the REITWay to others. We encourage you to offer a link to the video on your own site and to share it with your network of contacts. Please contact Matt Bechard for a link to the video or to host the file on your own site.

(Contact: Matt Bechard at mbechard@nareit.com)
PIMCO's Inflation Responsive Multi-Asset Strategy Includes REITs

In a January 2013 issue of its Strategy Spotlight, PIMCO analyzed the potential of different asset classes to provide high inflation protected real returns in diversified investment portfolios. PIMCO reviewed the investment returns of different asset classes to identify assets that historically have responded well to inflation, especially in response to unexpected increases in the level of inflation. In developing its Inflation Responsive Multi-Asset Strategy to enhance a portfolio's responsiveness to inflation risk, PIMCO notes, "Today, as long-term inflationary risks loom, we believe investors may benefit from reassessing their portfolios' sensitivity to inflation."

PIMCO's Inflation Responsive Multi-Asset Strategy identifies five critical asset classes that, according to the PIMCO report, "have historically responded positively over different time frames to inflation and inflation surprises." All five assets were shown to deliver excess returns during periods of high inflation surprises over the past 40 years. The five assets included Treasury Inflation-Protected Securities (TIPS), Commodities, Real Estate Investment Trusts (REITs), Non-Dollar Currencies and Gold. Nominal bonds and other stocks were reported to historically have responded negatively to inflation surprises. REIT returns used in the PIMCO analysis were based on the FTSE NAREIT All Equity REITs Index.

To implement its Inflation Responsive Multi-Asset Strategy, PIMCO has developed the Inflation Response Index, composed of 45 percent TIPS, 20 percent commodities, 15 percent currencies, 10 percent REITs and 10 percent gold. The PIMCO analysis provides a timely reinforcement of other research that has revealed the important role REITs can play in providing inflation protection for long-term investors.

(Contact: Michael Grupe at mgrupe@nareit.com)
REIT.com Video: REITs Enjoy a Strong 2012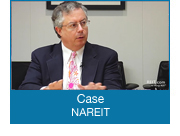 In a video interview with REIT.com, Brad Case, NAREIT's senior vice president of research and industry information, offered his analysis of the REIT market's performance in 2012.

"It was another strong year for REITs. In fact, if you look at REIT returns, over not just 2012, but the previous years, REITs have outperformed all three segments of the stock market in each of the past four years," Case said. "So, the story of REIT outperformance over the rest of the stock market is not a new one."

U.S. REIT stocks outperformed the broader equity market for the fourth consecutive year in 2012, according to data from NAREIT released on Jan. 8.

The FTSE NAREIT All REITs Index, which includes both equity and mortgage REITs, delivered a 20.14 percent total return for the year, and the FTSE NAREIT All Equity REITs Index returned 19.70 percent compared to the S&P 500's 16 percent gain.

The FTSE NAREIT All Equity REITs Index's 2012 gain came on top of total returns of 8.28 percent in 2011, 27.95 percent in 2010 and 27.99 percent in 2009. The S&P 500 returned 2.11 percent, 15.06 percent and 26.46 percent, respectively, in those years.

Case gave his assessment of the volatility of REITs last year as well.

"Many investors know that the volatility of not just the stock market, but even more so the REIT market, went up dramatically during the liquidity crisis of 2008 and 2009," Case said. "What many investors may not realize, though, is how strongly volatility has dropped since then. Volatility has come down by more than two-thirds since the peak in early 2009. Volatility in the REIT market now is just barely greater than the volatility of the broader stock market. In fact, it's even less than it was for most of the 15 years before the liquidity crisis hit. At the same time, the correlation between REITs and the stock market is only at about 75 percent."

(Contact: Brad Case at bcase@nareit.com)
Ireland Preparing REIT Regime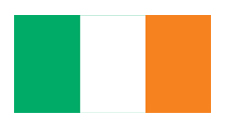 Years after the country's commercial real estate market collapsed, Ireland is preparing to enact REIT legislation in hopes of sparking a revival.

The Irish government currently holds approximately 80 billion euros ($60.5 billion) worth of commercial real estate assets in the National Asset Management Agency (NAMA), which was established in December 2009 as an initiative to address the problems created by excessive property lending. NAMA's assets include properties, property-related debts and unfinished developments.



The Irish government and real estate industry began considering the creation of a REIT regime in 2010. The goal would be to make acquiring NAMA's assets more appealing to investors, according to Philip Charls, CEO of the European Public Real Estate Association (EPRA). EPRA estimates that about 2 billion euros ($1.5 billion) worth of NAMA's portfolio would appeal to the newly created listed property companies.

"It's not the complete solution, but one of the solutions," Charls said. While the new legislation would be unlikely to lead to the immediate creation of large-scale companies on par with REITs in the United States, it would represent an important step in the Irish market, according to Charls.

"This is not going to be a revolutionary process," Charls noted. "But if the timing is right, then I think all of the fundamentals for a successful launch will be there."

(Contact: Carisa Chappell at cchappell@nareit.com)
REIT.com Video: Some Improvement in Fourth Quarter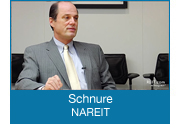 In the January 2013 edition of Fundamentally Speaking, Calvin Schnure, NAREIT's vice president of research and industry information, discussed the mixed results in the fourth quarter from the commercial real estate market and the fiscal cliff deal in Washington.

"There was some improvement, but it really wasn't very exciting," he said in reference to the fourth quarter performance. He added that a weak economic recovery contributed to the lackluster performance.

Schnure said that the performance was offset by the fact that there continues to be little in the way of new supply, especially in the retail sector. While there was little improvement in demand, Schnure said there was even less new supply and fewer deliveries coming to the market.

Schnure said there has been a divergence within the retail sector, with community and neighborhood shopping centers and second-tier malls not doing as well as class-A malls.

(Contact: Calvin Schnure at cschnure@nareit.com)
NAREIT Welcomes New Member
NAREIT welcomed The American Home as its newest Corporate Member. The American Home is a private, internally managed equity REIT that acquires, renovates, leases and manages single-family properties in the Southeastern U.S.

Based in Alexandria, Va., The American Home's CEO is Aaron Edelheit and its COO is Myron Thomas.

(Contact: Bonnie Gottlieb at bgottlieb@nareit.com)
REITWise is Quickly Approaching



Join your legal, financial and accounting colleagues at REITWise 2013®: NAREIT's Law, Accounting & Finance Conference®, Mar. 20-22, 2013. Approximately 1,000 professionals attend each year to hear industry leaders speak at the variety of sessions, roundtables, meetings and events offered over the course of three days.

Topics covered include the latest legal, financial and accounting insights concerning capital markets, financial standards, SEC policies, tax updates and more. By attending, you can earn valuable CPE or CLE credits to meet your mandatory educational requirements.

Adding value to the event are the many networking and social opportunities to connect with peers and colleagues in a collaborative setting.

Registration for REITWise 2013 opened Dec. 17. Visit the REITWise Event Page to get all the details regarding the event as they become available.

(Contact: Afia Nyarko at anyarko@nareit.com)
No NewsBrief Next Week
NewsBrief won't be published next week in observance of Martin Luther King Day.

(Contact: Matt Bechard at mbechard@nareit.com)