Content

Message from the President

NAREIT's Investor Outreach team completed a very active year in 2011, conducting 317 briefings with institutional investors, investment advisors and consultants representing more than $30 trillion in assets. Our momentum continues into 2012. In the first weeks of January, we conducted briefings with a number of major investment firms, including BlackRock, Invesco and Prudential.

Research-focused elements of our Investor Outreach program are critical to building out the REIT story that we present in our investor meetings, and these efforts also continue apace in 2012. Our sponsored and internal research program provides much of the information content that makes our briefings valuable for investors and helps us build ongoing relationships with these decision makers. In this year's first quarter, we will release new research from Wilshire Associates showcasing the importance of including REIT allocations in target date funds. We also will release a study by Morningstar illustrating how REITs can help cushion portfolios from downside market shocks.

Additionally, we actively utilize our Investor Outreach team to communicate the benefits of REIT investment through the media. This issue of NewsBrief contains a story on NAREIT Senior Vice President Brad Case's article on the portfolio diversification benefits of REITs in the January issue of the American Association of Individual Investors Journal. It also includes NAREIT Vice President Calvin Schnure's recent economic outlook video that appears on REIT.com.

The REIT investment proposition is compelling, and we will work through the year ahead to effectively place it before the investment community and the public.








Steven A. Wechsler
President and CEO
 
NAREIT Joins Associations in Asking SEC to Delay Proposed Compensation Rules

NAREIT co-signed a letter sent last week by the U.S. Chamber of Commerce to the Securities and Exchange Commission (SEC) asking for a delay in the release of proposed rules regarding employee compensation.

The proposed rules stem from Section 953(b) of the Dodd-Frank Wall Street Reform and Consumer Protection Act. The letter's signatories noted that the relevance of the compensation information being sought under the proposed rules has yet to be vetted thoroughly. As such, the rules require further consideration before adding additional compliance requirements for companies covered under the rules, according to the associations.

Among the suggestions put forward by the associations, they called for a roundtable discussion with stakeholders about the potential effect of the proposed rules.

(Contact: Robert Dibblee at rdibblee@nareit.com)
REIT.com video: Calvin Schnure, NAREIT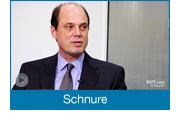 The U.S. Labor Department's report in early January that 200,000 jobs had been added to payrolls was "a breath of fresh air," said NAREIT Vice President of Research and Industry Information Calvin Schnure. However, the economy and the real estate industry will need more momentum to support a full recovery, he said. "Every analyst is cautious in predicting a 'recovery' as we've seen several false starts over the past two years or so."

The key to a full recovery continues to be job growth, he said. "This is most obvious in the office sector, which has lagged to date due to the weak employment growth so far," Schnure said. "But payrolls are pretty lean as firms slashed their workforce during the recession and so far have been cautious in any new hiring. This means they will need to add new staff to deal with sales and output growth, which will help boost the demand for office properties."

(Contact: Calvin Schnure at cschnure@nareit.com)
NAREIT Submits Brief in EPA Supreme Court Case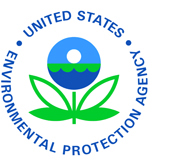 Earlier this month, NAREIT joined in the submission of an amicus curiae brief for a U.S. Supreme Court case related to the Clean Water Act and its impact on future developments.

On Jan. 9, the Supreme Court heard oral arguments in the case of Sackett v. U.S. Environmental Protection Agency, 622 F.3d 1139 (9th Cir. 2010). The case involves a dispute between the Environmental Protection Agency (EPA) and a family trying to build a home on a lot in a residential subdivision in Priest Lake, Idaho. The EPA determined that the site contained jurisdictional wetlands under the Clean Water Act (CWA) and that the family, the Sacketts, had failed to obtain an appropriate permit, in violation of the CWA. The EPA issued an administrative compliance order preventing further construction work on the site, requiring the Sacketts to restore the wetlands and threatening the family with fines of as much as $32,500 a day.

The Sacketts did not believe that the wetlands on their site were jurisdictional under the CWA and asked the EPA for a hearing before enforcement of the order commenced. When the hearing was denied, the family then sued the EPA in federal district court in Idaho, arguing that the wetlands on their property are not "waters of the United States." The district court dismissed the case, which was affirmed by the Ninth Circuit.

Along with other interested real estate and business entities, NAREIT joined in the submission of an amicus curiae brief in this case because current case law, as evidenced by the Ninth Circuit's decision, has narrowly limited the circumstances under which a landowner or other entity can obtain judicial review of the EPA's or the Army Corps of Engineer's assertion of CWA jurisdiction.

The practical effect of the current situation is basically to coerce all landowners and other project proponents into the arduous CWA permitting process before they can obtain judicial review of the jurisdictional claims that may arise. This could pose a significant negative impact on any future development, including commercial properties.

A decision in this case is expected later in the year.

(Contact: Robert Dibblee at rdibblee@nareit.com)
The Role of REITs for Long-Term Investors

Brad Case, NAREIT's senior vice president, research and industry information, authored an article in the January 2012 edition of the AAII Journal (published by the American Association of Individual Investors) titled "The Role of REITs for Long-Term Investors."

In the article, Case pointed out that asset volatilities and correlations may change over different investment horizons, in which case "you can potentially make better portfolio decisions by understanding investment characteristics at your own most relevant horizon."

In most sectors of the stock market, "return correlations over longer investment horizons are much greater than over shorter horizons," with the result that sectors "provide little diversification benefit relative to the broad market for investors with relatively long investment horizons." The opposite, however, is true for the REIT industry: "For investment horizons greater than six months, the decline in REIT-stock correlations is both steady and dramatic."

As Case pointed out, this implies that "strategic investors with long investment horizons can take advantage of greater diversification opportunities with larger holdings of REITs within their stock portfolios."

(Contact: Brad Case at bcase@nareit.com)
House Judiciary Committee Urged to Pass Marketplace Equity Act

In a letter sent on Jan. 18 to the House Judiciary Committee, NAREIT joined a host of industry associations and individual businesses in calling for the passage of the Marketplace Equity Act (H.R. 3179).

The legislation is aimed at closing a loophole that harms brick-and-mortar retailers. Under current law, states are prohibited from requiring remote sellers to collect sales and use taxes on purchases from out-of-state vendors. Closing the loophole would generate an estimated $23 billion in uncollected state sales taxes related to Internet commerce.

The Marketplace Equity Act was introduced by Reps. Steve Womack (R-AR), Jackie Speier (D-CA) and Peter Welch (D-VT).

(Contact: Dara Bernstein at dbernstein@nareit.com)
REIT.com Video: Sustainability and Green Building
The issues of sustainability and energy efficiency remain important topics in the commercial real estate space. As such, REIT.com regularly interviews leading executives and professionals to gain their insights in this area. Summaries of two recent interviews are listed below.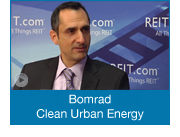 Now that sustainability efforts are more commonplace, the need to measure results is even more important. Operational investments in energy efficiency, even those that cost little or nothing, can return 5 percent to 10 percent a year if they are maintained, said Phil Bomrad, president of Clean Urban Energy. Lighting will typically have an 18- to 24-month payback, he said. "Then there's also your ongoing operational savings versus a one-time retrofit project; those savings will typically be lower but will also be sustainable," he said.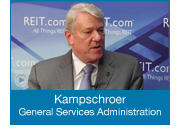 The federal government can point to a 20 percent to 30 percent total adoption rate of sustainable building practices, said Kevin Kampschroer, federal director of the General Services Administration. Now the government is looking at the relationship between how buildings work and how they work for the building's occupants. "So we are very interested in making sure the people in the buildings get what they need to out of the building and use it very effectively," said Kampschroer, adding that the government is considering a number of energy-saving initiatives.

(Contact: Matt Bechard at mbechard@nareit.com)
NAREIT Announces Two Promotions

NAREIT announced two promotions last week. Bonnie Gottlieb was promoted from vice president to senior vice president of industry and member affairs. Gottlieb joined NAREIT in April 2006.



Senior Director of Government Relations Kirk Freeman was named vice president of government relations. Freeman joined NAREIT in May 2009.


(Contact: Mackenzie Kilcawley at mkilcawley@nareit.com)
Register Today to Get REITWise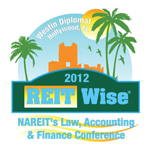 REITWise 2012®: NAREIT's Law, Accounting & Finance Conference® brings together REIT executives and leading service providers that support their legal, financial and accounting needs. Registration is now available online for this important event, which will be held March 21 to 23 in Hollywood, Fla. Complete conference information, including a detailed schedule of events, is also available now on REIT.com.

More than 40 sessions, roundtables and events provide attendees with many opportunities to hear the latest legal, financial and accounting insights concerning capital markets, financial standards, global investment opportunities, SEC policies, tax updates and more. The educational program provides attendees with the opportunity to earn up to 22 hours of CPE credits or 18 hours of CLE credits.

NAREIT would like to thank this year's REITWise program directors for their participation. They are Dawn Becker of Federal Realty Investment Trust (NYSE: FRT), Jeff Clark of Host Hotels & Resorts (NYSE: HST), Glenn Cohen of Kimco Realty Corporation (NYSE: KIM) and Scott Schaevitz of Barclays Capital.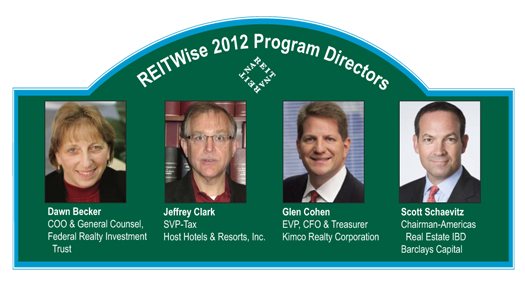 Visit the REITWise 2012 home page for complete event information and online registration.

(Contact: Katelyn Rowland at krowland@nareit.com)