Content

Message from the President
As reported in this week's edition of NewsBrief, leaders in the field of sustainability within the REIT industry gathered last week in Reston, Va., for the 2015 Leader in the Light Working Forum. The annual event is a hands-on collaborative workshop that provides NAREIT corporate members with the opportunity to share ideas and advance the sustainability conversation.

This year's program included panels and speakers on financing green initiatives, reducing carbon emissions, developments in the environmental regulatory landscape, and real estate and sustainability reporting. Attendees also had a chance in breakout sessions to brainstorm and gain a better understanding of the leading sustainability practices among their peers.

NAREIT takes seriously its role in encouraging development and adoption of effective sustainability practices in REIT-based real estate investment, and the annual working forum is just one of the many ways in which NAREIT plays its part.

For example, NAREIT began presenting the Leader in the Light Awards in 2005 to honor member companies that have demonstrated superior and sustained energy use practices. Beginning in 2012, NAREIT modified its judging criteria to include the results of the Global Real Estate Sustainability Benchmark (GRESB) Annual Survey, enabling the companies competing in Leader in the Light to measure their performance against a global benchmark. GRESB's annual survey measures the environmental performance of property portfolios around the world. The survey is endorsed and closely watched by many of the world's largest institutional investors, representing, in 2014, more than $5.5 trillion in institutional capital under management.

Going forward, NAREIT will not only build on efforts such as the Leader in the Light Working Forum, but seek out partnerships with like-minded organizations such as GRESB and RealFoundations, a participant in this year's event, and others. Just as it communicates the investment benefits of REITs to the broader public, NAREIT will continue to highlight the REIT industry's contributions to sustainable real estate ownership and operations.








Steven A. Wechsler
President and CEO
Sustainability Leaders Gather at Working Forum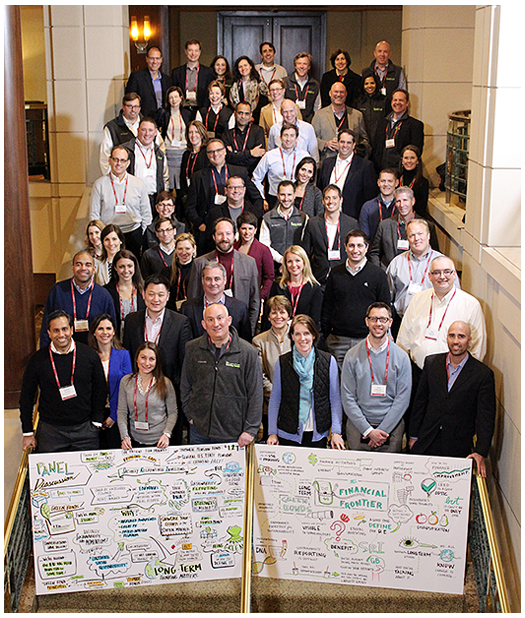 REIT industry executives who focus on enhancing sustainability gathered in Reston, Va., last week for NAREIT's fifth-annual Leader in the Light Working Forum. The event has grown substantially from 14 NAREIT corporate members represented during the inaugural event to 31 this year.

"NAREIT member companies are more focused on sustainability than ever, and the growth of this event illustrates the leading role REITs are playing in advancing the sustainability discussion in the U.S.," said Sheldon Groner, NAREIT executive vice president of finance and operations. "This event is an opportunity for them to share best practices and learn from their peers, as well as to hear from representatives of leading organizations and associations in the field of sustainability."

NAREIT would like to thank this year's program directors: Jeffrey Bedell of Macerich (NYSE: MAC), Brad Molotsky of Brandywine Realty Trust (NYSE: BDN), Sukanya Paciorek of Vornado Realty Trust (NYSE: VNO) and Will Teichman of Kimco Realty Corp. (NYSE: KIM). Their efforts combined with input from program participants RealFoundations and GRESB helped produce sessions that were spot-on with the leading issues facing the industry, Groner said.

Topics at this year's forum included financing green initiatives, the relationship between financial performance and sustainability, an update on regulatory issues and industry initiatives, the future of sustainability reporting and a look at where the GRESB survey is headed. The event closed with a series of members-only panels and interactive discussions.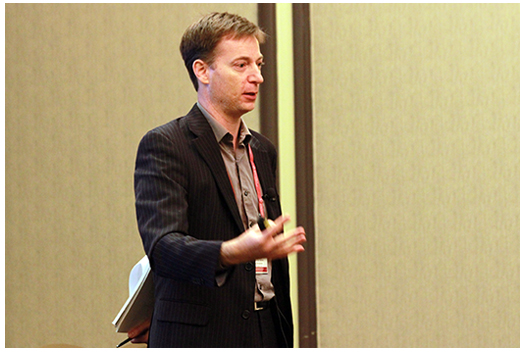 2015 Leader in the Light Working Forum: Cliff Majersik, executive director with the Institute for Market Transformation, provided attendees with an update on the regulatory landscape.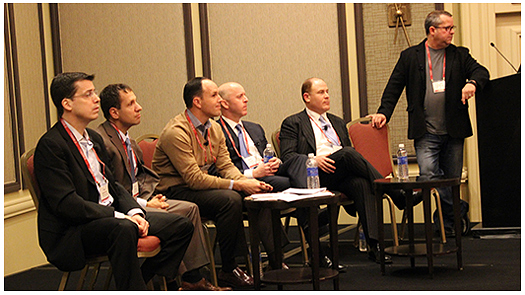 2015 Leader in the Light Working Forum: RealFoundations' David Stanford (far right, standing) led a panel on financing sustainability. Participants included (seated from left to right): Dan Guglielmone, senior vice president for capital markets, Vornado Realty Trust; Gabriel Thoumi, senior sustainability analyst, Calvert Investments; Michael Mas, senior vice president for capital markets, Regency Centers (NYSE: REG); Shawn Cepeda, managing director, Bank of America Merrill Lynch; and Jared Birnbaum, managing director, Deutsche Bank.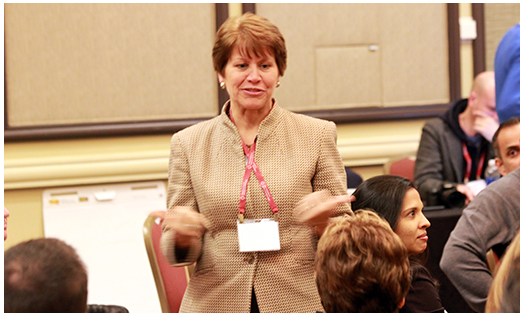 2015 Leader in the Light Working Forum: Jody Clark, vice president of sustainability at Hannon Armstrong (NYSE: HASI), was one of the many REIT executives in attendance.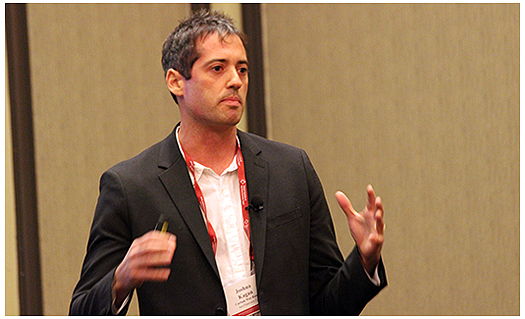 2015 Leader in the Light Working Forum: Joshua Kagan, operation lead for energy efficiency with Carbon War Room, spoke at this year's event on socially responsible investing and financial performance in the REIT sector.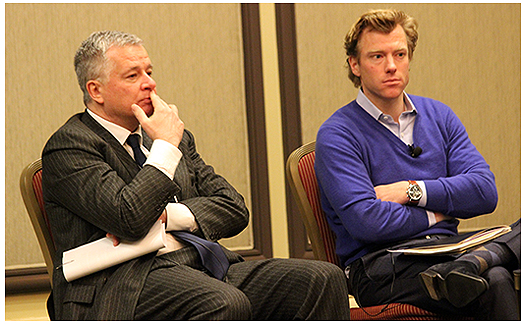 2015 Leader in the Light Working Forum: Kevin Parker (left), a member of the board of directors for the Sustainability Accounting Standards Board, and GRESB CEO Nils Kok (right) were on a panel focused on real estate and sustainability reporting. Alok Singh, director for energy solutions with RealFoundations, moderated the panel, which also included Lenora Suki, head of sustainable finance product strategy with Bloomberg LP.

(Contact: Sheldon Groner at sgroner@nareit.com)
NAREIT Collecting 1099-DIV Data
NAREIT's annual effort to collect data on 2014 IRS Form 1099-DIV reporting by stock exchange-listed and public, non-listed NAREIT member companies is officially underway.

The data repository offers an excellent way to make sure that shareholders (as well as the mutual funds and brokers who are their intermediaries) receive correct 1099 data on REIT dividends on a timely basis for the purpose of preparing their tax returns. This year, NAREIT completely revised the way corporate members report the data to improve the process.

To improve understanding of REIT-based real estate investment and to encourage more investors to invest in REITs, NAREIT provides 20 years of REIT dividend data that are used by investors and academics alike.

(Contact: Dara Bernstein at dbernstein@nareit.com)
Latest Issue of REIT Magazine Now Available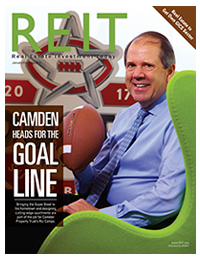 Camden Property Trust (NYSE: CPT) Chairman and CEO Ric Campo is on the cover of the January/February 2015 issue of NAREIT's REIT: Real Estate Investment Today. The issue's cover story features an interview with Campo touching on Camden's efforts to design millennial-approved apartments and the sustained strength of the multifamily property market.

The magazine also includes a look at the burgeoning market for farming REITs. A profile of Farmland Partners Inc. (NYSE: FPI) traces the company's roots in the farming business and decision to operate as a REIT starting last year. The article profiles Gladstone Land Corp. (NASDAQ: LAND), the first listed farmland REIT, as well.

In "Capitol Comment," Rep. Pat Tiberi (R-OH) offers an update on some of the key policy matters for the real estate industry in the current session of Congress, including comprehensive tax reform and the Marketplace Fairness Act.

The latest edition of REIT magazine also highlights real estate's inclusion as a headline sector under the Global Industry Classification Standard (GICS) and chronicles the evolution of Urstadt Biddle Properties Inc. (NYSE: UBA) from its founding in 1969.

The January/February 2015 edition is now available in print and online.

(Contact: Matt Bechard at mbechard@nareit.com)
NAREIT Participates in DCIIA Board Meeting
The NAREIT Investor Outreach team participated in the Jan. 13-14 board meeting of the Defined Contribution Institutional Investment Association (DCIIA), an organization seeking to incorporate best practices into the $7.0 trillion defined contribution (DC) retirement market.

The purpose of the meeting was to review the accomplishments of DCIIA in 2014 and to discuss and decide the strategic direction of the Association for 2015 and beyond. NAREIT continues to serve on the organization's public policy, investment policy and design committees.

Since it was established, DCIIA has steadily built an impressive membership roster including a vast majority of the most visible thought leaders in the DC industry. The organization was formed in 2010 by 42 founding members and has since grown to 164 members.

(Contact: Kurt Walten at kwalten@nareit.com)
NAREIT Opposes Hawaii Bill to End Dividends Paid Deduction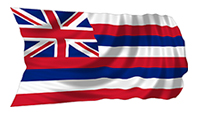 As was the case in 2014, legislation has been proposed in Hawaii that would eliminate the "dividends paid deduction" (DPD) for REITs from the state's tax laws.

NAREIT opposes the proposal (H.B. 82, S.B. 118) and, just as it did a year ago, will work to see that the DPD is maintained in Hawaii.

Please contact Dara Bernstein (dbernstein@nareit.com) if you would like to be involved in NAREIT's efforts to oppose this legislation.

(Contact: Dara Bernstein at dbernstein@nareit.com)
NAREIT Welcomes New Corporate Member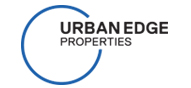 NAREIT is pleased to welcome Urban Edge Properties (NYSE: UE) as its newest Corporate Member. The stock exchange-listed Equity REIT, which was recently spun off from Vornado Realty Trust, acquires, develops, owns, manages and improves shopping centers in close proximity to urban communities. Its portfolio consists of 83 properties concentrated in the corridor between Washington, D.C., and Boston. It also has a presence in Puerto Rico and California. Based in New York, Jeffrey Olson is the company's chairman and CEO.

(Contact: Bonnie Gottlieb at bgottlieb@nareit.com)
| | |
| --- | --- |
| Follow us on:   | REIT.com RSS Feeds:   |